By: Farrah Rajan
Justice Minister Peter Mackay claims that women are not applying to be judges because it may take them away from time with their children.  Although his comments were made in reference to the lack of diversity on federally appointed courts, the mindset can be applied to all people in the workforce, regardless of gender or profession.
After reading about his comments, I was both confused and offended because:
He did not address the scarcity of visible minorities (which is an issue that deserves its own post)
Not all women are, or will be, mothers
Classifying all women as mothers is sexist
He is blaming women for the lack of diversity
In a unanimous decision in October 2010, the Ontario Court of Appeal affirmed that a sexual assault complainant may wear a niqab, a Muslim facial veil, while testifying. The Muslim Canadian Congress had intervened on behalf of the two accused men who had requested the order that the complainant remove her niqab. Upon the judgement's release, Tarek Fatah, founder of the MCC, argued that the decision made "a fool of the Canadian judicial system and values of gender equality". In fact, the court had paid careful attention to balancing the witness's freedom of religion and the accused's right to make full answer and defence. To date, Fatah is perhaps the only person to so openly argue that allowing a sexual assault complainant to testify in front of her alleged attackers in the clothes in which she feels safest is a denial of gender equality. For some context, it is worth noting that Fatah has long been a vociferous advocate of a total ban of the niqab in Canada. His response to attempts in Quebec to ban the niqab was to proclaim, "I welcome the rescue of all Muslim-Canadian women." The wholesale paternalism of his language is revealing: to the extent that Fatah wishes to counter gender inequities, his position has persistently emerged from a patriarchal perspective that infantalises Muslim women by denying their agency in making sartorial and religious choices for themselves, even such highly contested choices as the one to wear niqab.
To be sure, generalised public discomfort around the niqab did inform most mainstream debate about the decision. However, in this paper I want to shift the discussion away from the Huntington-esque clash-of-civilisations characterisation advocated by Fatah to a more considered analysis of both the specific reasonings and the broader implications of the judgement. I argue here that the judgement actually signals a substantive attempt by the OCA to address some of the systemic inequities that entrench the pervasiveness of gendered violence in society.
FACTS AND HISTORY
The facts of the case are distressing, but not atypical for sexual assault cases. The complainant, N.S., alleged that between the ages of six and 11 she had been repeatedly sexually assaulted by her uncle and her cousin, the accused. In 1992, when she was 16, N.S. disclosed the assaults to a teacher, but the accused were not charged until 2007.
In 2004, as part of her practice of Islam, N.S. began wearing the hijab, a headscarf, and niqab, a veil that covers her face, whenever in the presence of males who are not her direct relatives. At the preliminary inquiry in 2008, after electing trial by judge and jury, both accused men sought an order that would require N.S. to remove her niqab before testifying. The preliminary inquiry judge ruled in favour of the accused. Read more
"…[P]robably the most exciting day was the day I found out I became dean. And I remember the person who phoned me said, 'Are you sitting down?' And I said, 'No.' And the person said, 'Well, you are about to make history.' And I was, like, 'Oh, my God.' [I]t was scary, of course, but really, really incredible because I was the first woman." – Dean Mayo Moran
I am encouraged.
Elena Kagan isn't the only one getting a promotion this year.  Recently, Kimberley Brooks and Camille A. Nelson were appointed as deans at the Schulich School of Law (Dalhousie) and Suffolk Law School, respectively.
The last year alone has seen the appointment of quite a few female law scholars to the rank of dean in Canadian law schools, namely the aforementioned Professor Brooks, Jinyan Li, Odette Snow and Lorna Turnbull.  In fact, of the fifteen law schools in Canada, a record breaking eight of them (more than half!) were very recently or are currently headed by women:
It is interesting to note, however, that all of the deans of the law schools in Quebec are Caucasian and male.  I suppose change is slower in some parts of the country…
Camille Nelson deserves special mention, not only because is she a Canadian appointed as a dean at an American law school (Suffolk School of Law to be exact), but because she is a woman of colour — the first woman and the first person of colour to hold the position of dean in the 104-year history of the law school.  Although not recent news, it should also be noted that it is a woman who currently heads one of the top law schools in the States; Martha Minow is currently the dean at Harvard Law School.
Now, this is news.  This is ground-breaking.  I am so used to reading articles and blogs bemoaning the lack of diversity and upward female mobility in the legal profession, but I write this article on a happier and (slightly) more optimistic note.  One can only hope that the trend will continue.  I can finally see cracks in the glass ceiling (even if only in academia) and as a female law student and a minority, I am encouraged.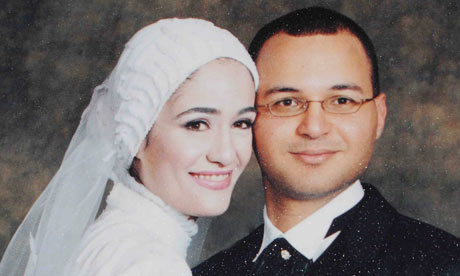 This woman is dead, and her husband is in critical condition in a hospital. A man accused of screaming "terrorist" and "Islamist whore" at her on a children's playground, stabbed the woman, who was pregnant, 18 times during his own trial. When her husband ran to protect her, a police officer shot him.
http://www.guardian.co.uk/world/2009/jul/07/german-trial-hijab-murder-egypt