Here is a link to my website for a case comment on the Gomboc that will be published in an upcoming issue of RegQuest.
Enjoy the reading.
AIDWYC.  Does that mean anything to you?
I, Ryan Venables, am very please to announce that thanks to Jonathan Thoburn and Lisa Lutwak, a couple of very keen and persistent (that's a good thing) 1L law students, that UWO law students are now going to have the opportunity to be reviewing cases in association with AIDWYC.
I think this is a perfect time to bring this story forward considering the recent news of the acquittal of Ivan Henry, who spent 26 years in a B.C. prison for a series of sexual assaults that he did not commit.
Don't know AIDWYC?  Well, keep reading, and soon you will.  Here's how this great partnership has come to be.
As the President for the Criminal Law Student's Association this year, I was contacted by Jonathan, an incoming 1L, who was eager in starting up AIDWYC under the umbrella of the CLSA.  He had already contacted the administration and was given the green light and it was suggested to him that while in its infancy, that AIDWYC @ Western be under the umbrella of the CLSA.
Since I had never heard of AIDWYC I had to do some digging.  Here is what I found out.  From the AIDWYC Website:
*****
AIDWYC is a non-profit organization that has developed a strong reputation as an advocate for individuals who have been wrongly convicted.
AIDWYC's primary mandate is to review and support claims of innocence in homicide cases.
However, because individual exonerations do not eliminate the conditions which foster these miscarriages of justice, AIDWYC is also dedicated to addressing the causes of wrongful conviction by:
Making representations to governments on reforms to the legal system
Raising public awareness about miscarriages of justice
Participating in public inquiries related to wrongful convictions
Intervening in legal cases which seek to rectify miscarriages of justice
There is no system in place at present in Canada for an independent review of claims of wrongful conviction. AIDWYC fills this gap, attracting some of the top legal experts in Ontario to identify these cases and, where warranted, prepare an application for ministerial review to the Criminal Conviction Review Group of the Federal Department of Justice, known as a Criminal Code Section 696.1 application.
AIDWYC's office is located in Toronto and much of our work is done in Ontario. However, we have dedicated volunteers throughout Canada and in the United States. AIDWYC welcomes applications from across the country. AIDWYC is currently reviewing over sixty claims of innocence and actively pursuing more than 40 cases.
All Canadian citizens stand to benefit from AIDWYC's efforts to free those who have been wrongly convicted and to reform the justice system wrongfutem of justice, but everyduce or prevent wrongful convictions in the future. Canada has an excellent sysand safeguard its integrity. Wrongful convictions are not easily corrected. The resistance to AIDWYC's efforts is formidable and the correction of miscarriages of justice is always hard-won.
*****
Successes? Robert Baltovich; James Drisk; Anthony Hanemaayer; Clayton Johnson; David Milgaard; Guy Paul Morin; William Mullins-Johnson; Gregory Parsons; Romeo Phillion; Sherry Sherrett-Robinson; Thomas Sophonow; Steven Truscott; Kyle Unger; Erin Walsh.
Fast forward to today.  AIDWYC @ Western is in the final stages of picking volunteers who will be assigned cases, reviewing them, and working hard to have the wrongfully convicted freed.  It is hoped that as this project grows it will be able to come out from underneath the support of the CLSA and to form a group at Western Law akin to Pro Bono Student's Canada.
Not only does this give fledgling lawyers a great way to get involved with a great cause, it will also give them practical experience that law student's seem to lack coming out of school.
I personally look forward to seeing this great opportunity for students grow here at Western.
From Volume III, Issue II of Amicus Curiae, Western Law's Student Paper
Canada was a different place before Trudeaumania swept the nation, and the man we know as Ivan Rand, founding Dean of this law school and former Justice of the Supreme Court of Canada, was a product of his times.  It would be easy to dismiss Dean Rand as an intolerant bigot, but as William Kaplan explained to an audience at Western Law on Nov. 11, [2009,] Rand was complicated character.
"Canadian judicial biography has been, with a few exceptions, mostly uncritical and largely celebratory, written by unabashed admirers," Kaplan writes in his new book, Canadian Maverick – The Life and Times of Ivan C. Rand. "To my great surprise, this book turned out to be different."
Ivan Rand was born and raised in the Maritimes and graduated from Harvard Law in 1912. It was his exposure to the American Bill of Rights that, according to Kaplan, differentiated Rand from other Canadian lawyers. And it's Justice Rand's decisions as a Justice of the Supreme Court that make his legal legacy so difficult to reconcile with his private views, which have been largely hidden until now.
By 1951, the court in Noble v. Alley assessed a restrictive covenant against selling property in the Grand Bend area to Jews, blacks, or those with "coloured race or blood." It was Justice Rand who interrupted oral submissions by the respondent saying,"If Albert Einstein and Arthur Rubinstein purchased cottages there, the property values would increase, and the association should be honoured to have them as neighbours."
Despite his position on restrictive covenants in this case, he was a member of two restrictive clubs that excluded Jews. He defended the right of Communists to hold elected positions, and famously opposed the internment of Japanese citizens, all the while refusing to meet his sister's Acadian husband for 30 years because of his background.
"It's this hypocrisy – because he did know better – that ultimately leads me to conclude: first-rate mind, third rate temperament," said Kaplan, noting that the most influential judges are rarely collegial consensus builders. "Not such a bad combination."
What, if anything, changed during his lifetime?
Kaplan suggests that Rand's exposure to Jews in the Palestine Mandate may have led him to develop a more favourable impression of Jews. Rand was impressed by the largely secular, often highly educated and industrious, and was sometimes even disdainful of the religious establishment of the Holy Land. He believed that rational law could resolve all human conflict, and was a social engineer at heart.
Robert Mackay, one of Rand's colleagues at Western who would eventually succeed him as Dean, recalls Rand's rants against Jews and people with ethnic names that ended with a vowel: "Rand would declare he had enough of them."
Yet he continued to donate to Hebrew University in Jerusalem for the rest of his life. A forest in Israel was named after him, and he would tour the country receiving awards.
So what is Rand's legacy for this school?
Kaplan tellingly notes, "Almost all of his great civil libertarian decisions reversed the actions of state authorities in Quebec." Mackay explained, "Rand had to decide who he hated more – the French-Canadian Roman Catholics, or Jehovah's Witnesses."
Rand believed that ethics could not be taught – either you had them or you didn't. Western is now known as a pioneer in legal ethics education.
The Ivan Rand window in the Moot Court Room looms menacingly above all those who dare try their hand at advocacy. Rand himself believed that mock trials courts were entertaining, but not educational. He preferred his old 1909 Harvard law texts for the students.
Rand felt that women were good as solicitors but did not have the fortitude for criminal law, a notion that would not bode well for our classes in which women outnumber men , the legal aid clinic, or our struggling criminal law program.
Dean Rand defied utilitarian economics by taking surplus budgets and returning them to the university, much to the chagrin of his staff. He abandoned the administration of the law school only months after its opening to attend to a coal crisis in Cape Breton.
Yet the students loved him.
The Rand formula, where workers pay union dues irrespective of membership, is still one of the hallmark characteristics of Canadian labour law. One of Rand's recommendations (which was never adopted) was that unions be recognized as legal entities that could sue and be sued [directly, and not through agents]. Another was abolishing picketing altogether.
Overall, Kaplan describes Rand's own hand at labour relations as nothing less than "disastrous," with nearly every stakeholder and political party expressing strong criticism. "Reforming labour law," Kaplan said, "is best done incrementally."
As our own Dean Holloway acknowledges, "it's difficult to write fairly about Ivan Rand… What emerges is a picture of a principled man, who thought deeply about the best way to enhance the standards of this profession."
Kaplan suggests that what makes Rand impressive is his ability to draw bright lines between his public and private life, especially when on the Court. And for a man whose vision in many ways may have been ahead of his time, perhaps that is the most we can ask for.
From the October 2009 issue of Amicus Curiae
Many law students find law school to be so painful that few can understand or relate when I say I actually enjoy the ordeal. They would probably understand even less if I told them that I enjoy it so much that I actually subjected myself to an extra semester of it voluntarily, and not for an LLM.
This is the story of my 2L summer.
I had the opportunity to work for a local law firm during my first year and through my first summer. I had a pleasant enough experience, but I learned all that I could as a law student in that context. For my next summer I decided to do something different.
Most of my time this summer was dedicated to consulting and writing projects. My work projects took me to several locations, including Calgary and B.C. While on the West Coast, I also managed to catch a federal political convention.
Some of my friends outside of law already joke that I do law school on the side. I figured I could probably pick up some legal experience this summer while I was running around. I checked out some summer law abroad programs, and registered for ABA-approved courses at UofT, Bar Ilan in Israel, and Universidad Autonoma de Guadalajara in Mexico.
Before you get any smart ideas, keep in mind that Western doesn't accept summer transfer credits, even though many other Canadian law schools do. I'm not saying that they should, but if they did I would have graduated before my January term even began. Yes, it was a pretty intense summer.
The trip to Israel had some personal reasons behind it, in addition to my other activities. During my last trip there about 10 years ago I stayed in (primarily Arab) East Jerusalem and the Territories. I enjoyed a rather privileged lifestyle in the primarily Jewish West Jerusalem, staying in Golan resorts overlooking the Galilee, driving through the Negev desert, floating
in the Dead Sea, and swimming on the beaches of Tel Aviv. The tensions within a very complicated country were highlighted with a visit to the assassination site of Yitzak Rabin.
My last summer destination was Mexico. After an unexpected stop in Monterrey when someone decided to have a baby mid-flight, I arrived at my destination in Guadalajara. I soaked up a lot of local culture during my stay including assorted local crafts, Mexican ballet (sans any sign of tutus), Lucha Libra wrestling, and horseback riding along Lake Chapala.
But it seems that politics and law is inescapable no matter where you go. Prime Minister Harper, President Obama, and President Calderon were in town for the North American Leaders' Summit. Calderon was even staying a few doors down from me at my five-star hotel. One of the major issues on the agenda for them was the North American Free Trade Agreement (NAFTA), which was becoming increasingly contentious to citizens of all countries during the current economic turbulence.
So what exactly did I study while I was running around the world? Most law abroad programs focus on international legal issues, for obvious reasons, so there were courses on the International Criminal Court, environmental law, international economics and NAFTA, cyberspace law and human rights. But I also got some specialized training in Jewish law, holocaust law, and national security issues that I probably would not get anywhere else.
Some of the faculty I studied with included world-renowned rabbis, someone who worked on the Rome Statute through an NGO, and even the infamous Kenneth Starr from the Clinton-Lewinsky case. Starr held a special session to discuss his role in Proposition 8, the same-sex bill that was shot down in California last year.
There is one key lesson unrelated to my summer courses that I would like to impart and share with others. In the summer of your second year you will typically be applying for your articling position. I was extremely fortunate that it worked out for me, but I would not recommend taking your interview call on a Tel Aviv beach, actually doing the interview on a Mexican cell phone, and skipping the law firm reception entirely to tour a Spanish cathedral.
You'll have a hard time making an impression and competing with candidates who actually bothered to be in the country to interview in person.
And no matter how many excuses you make, or how many times you show them this article, they're just not going to buy that someone voluntarily subjected themselves to additional law school that they won't get credit for.
Western Law hosted a forum on pension reform this past Thursday, featuring community leaders, legal academics, and practitioners.
Pension Plan Basics
Prof. Robert Brown of the University of Waterloo explained some of the basics behind pensions.
There are two kinds of pension plans, defined benefit and defined contribution plans.  A defined benefit plan provides flat benefits at a specified amount per year of work.  They can present a pretty good idea of what to expect in terms of benefits, but if investments are hit hard it can decrease amount of funds, and they are often open to the vagaries of the market.  A defined contribution plan allows you to determine how much goes into the plan, but you don't know what you will get when you retire.
A multiple employer pension plan allows you to work for many different people, all of whom contributing to funds in your pension, and are common in the building trades. Single employer pension plans are far more common, and are usually what people think about when they refer to pensions.
A further refinement of types of plans are jointly sponsored pension plans, quite common in the public sector, where there is a shared risk with the government, who matches contributions to the plan. The largest of these Ontario Teachers' Pension Plan, which is considered one of the better plans available, with a 12% matching.
There have been four major panels on pension reform across Canada in five different provinces.  The Province of Quebec came up with a member funded pension plans which are defined benefit, but the benefit is not a guarantee but a target benefit.  The plan sponsor just has to make a defined contribution, with very little risk to them, in a large co-mingled asset pool providing risk-sharing.   Indexation of benefits, both before and after retirement is contingent on funding health of plan.  They can be multi-employer or single employer, and is intended to stay funded at all times.
The Nova Scotia Pension Review Panel pointed out in their report early this year that existing rules inhibit innovation, and they liked the idea of some multi-employer and jointly sponsored plans in the province that a jointly-governed with share decision-making, but with some contingent benefits.  They suggested joint governance and transparency would create a lot less regulation. They also suggested a province-wide plan by an independent agency that would be voluntary but open to everyone, and could take over some orphaned pension plans or fully managed ones, as a target-benefit plan.
Alberta and B.C.  had a joint commission, the ABC Report, which also criticized the inflexibility in pension plans, and said there was a need for someone to champion pension reform. Plans should state how they will be governed and their funding policies.  Both are starting their own defined contribution provincial plans that will be available to everyone, with co-mingled assets and pooling of risk, and expenses of less than 0.4% basis points.  Defined target benefits and indexation would not be available unless the funding was healthy.  You have to act to opt-out, but it is not mandatory.  An independent board would do the investing, similar to the Canada Pension Plan.
Prof. Brown worked for the Ontario Expert Commission on Pensions and made similar recommendations, stating that the rules under the Pension Benefit Act and Income Tax Act stifle innovation.  He said it was a good idea to co-mingle assets because you get lower administration costs, lower investment expenses, can hire in-house expertise, and invest in some new types of plans, and pool some of the risks.  The size they are considering are in the magnitude of $10 billion.  If there was shared responsibility for the plan, they could have a lot less regulation.  He suggested they should have consultation with retirees, which are not normally considered part of the plan, and provide more information more often. It could be used by single employers, but there would be co-mingling of assets, through an Ontario pension agency or one of the large existing plans like Ontario Teachers Pension Plan (OTPP), OMERS, or Hospitals of Ontario Pension (HOOP).  Management fees would be kept down.
If none of this works, they would consider expanding the Canada Pension Plan.  The similarity in findings between all of these panels suggests that there might be some merit behind the recommendations.
Looking for an Alternative
Mitch Frazer, a Partner at Torys LLP and adjunct faculty at UofT specializing in pensions, continued the discussion, focusing on the creation of a supplemental pension plan. He joked that pension law was a bit like the Maytag repair-person – people sit around and ask you questions without understanding what he does.  Then suddenly because of the economy pensions are a big topic with considerable media attention.
He saw two major portions for reform – trying to fix the system in the way described by Prof. Brown, but also looking at alternative solutions.  A lot of politicians are interested in this as well, and he noted that Glen Pearson and Doug Ferguson were in attendance.
Frazer provided some background behind pension alternatives.  Canada's aging population is foremost among this.   By 2031, over 25% of the population will be older than 65, and only 13% of the population was over this age in 2005, almost a doubling of the aging population.  There is also less participation in occupational pension plans, anything not a CPP, by private sector employees.  Pension plan participation is just over 20% in Alberta and B.C., 25% in Ontario.  As people are getting older and need some form of pension plan, there are less people contributing to them.
A lot of employers are terminating plans, or not offering it at all.  His clients do not approach him these days about creating a new pension plan.  The decline in the stock market has resulted in diminished retirement funds, so there is a decrease in personal savings rate coupled with record-high debt.
There have been some initiatives to address the problems, including the provincial reviews of legislation mentioned above.  The Federal government has also initiated consultations on the federal regulatory framework, and there is increased commentary by professionals and academia.  But only Quebec has been successful in considerably revising their pension plan, and they continue to revise it on an annual basis to keep abreast of changes, leaving all the other provinces behind.  The one positive thing out of the economic crisis is that everyone is now focusing on pension plans, similar to the mid-90s and the focus on CPP reform.
The objectives of reform would be improving retirement income security and enhancing pension coverage.  Pensions are going down, and we need to address that halt and figure out a way to prevent it from going further down.  We can take advantage of economies of scale by pooling assets, and benefit from the management and expertise in larger plans top reduce administrative burdens and costs.  We need to improve benefit portability and reduce risk and uncertainty.
The details of a supplemental plan are difficult to list, because there is no ideal plan, it is to be custom tailed for everyone.  But a lot of the discussion around a supplemental plan is going to be what the features are about.  There are some ideas of what it could consist of.  There could be automatic enrollment of employers and employees, with an opt-out option.  If the employer opts out, an employee could still participate by contributing.  There could be an option for self-employed individuals to opt-in, or not.  A minimum earnings threshold for eligibility, so the plain does not catch people with no discretionary income.  All these features provide flexibility for the type of coverage offered.
Some of the possible features for contribution and participation include allowing employees to transfer the value of their current pension plan to a new plan, to provide some portability.  You could allow an employee to continue to contribute to a plan even if the employer discontinues or terminates the pension plan.   There could be a minimum contribution rate, with an option for additional voluntary contribution beyond that.
Governance and administration could also take different forms.  It could be governed by an expert board with full transparency, so that participants would have confidence in the management of money.  Confidence in the plan is essential.  The reason why CPP works is transparency and their ability to provide confidence that their managed properly.  Alternatively, some cost savings might be realized by a fully governmental body controlled plan with no options for contributions, even though it would compromise flexibility.  Reducing administrative burdens by direct payroll contributions might work, but how do you deal with self-employed individuals?  Efficiency comes with trade-offs.
The role of government in an alternative plan is also debated.  They could the legislative and regulatory framework for operation of the plan, and probably should.  They could provide investment at the initial stage to ensure a successful launch, or put out a tender for private bidders so that it doesn't cost the government anything.  But government involvement might also be needed to create confidence in the public.
Some of the criticisms of the alternatives are that since participation would not be mandatory, people would out and choose not to participate at all.  Most people don't have extra money.  Even worse, employers could participate and then drop out of it when there is a recession.  They could use it as a recruiting tool during good times, and lost it during bad ones.  The plan may not require employers to match employee contributions, which reduces one of the key benefits for employees and encourages they to save.
If based on a defined contribution model, there is a big risk during a downturn of not getting the returns would would want.  Although RRSPs can be held out as an alternative benefit to those without pension plans, there are enormous benefits that those excluded from pensions are missing out on as well.  Some argue that creating a pension is the responsibility of each individual, and people should be able to make their own decisions about retirement.
Perspectives from the Community
The panel also included some comments from community members, to provide some perspectives from people who would be affected by pension reforms.
Janis Mark, a local teacher in London and President of the local chapter of the Congress of Black Women pointed out that with all the living expenses, it's difficult for the average person to put away money.  Many people get older and then realize they haven't saved as much as they would have liked, and they wonder, "Is it too late for me?"
She also noted that most of what is being considered by the other panelists wouldn't even affect our generation, it would be for our grand-kids.  But this is also why for many citizens this is too much of a headache to figure out, and they don't want to even worry about it.
Robert Sexsmith, a local retiree, added that workers everywhere feeling pressure.  Governments have advocated responsibility in name of economic realism or competitiveness, but the reality is that the "war against pensions" has received less attention than it should.
People complain about taxes, and they complain when it rises.  They understand wages.  But pensions baffle us, and the implications of pensions is not something we understand.
Even before the recession it was clear that pensions were under the gun.  Retirement benefits interfere with the labour market's flexibility, and the willingness of people to take low-wage jobs.  There is even serious discussion about raising retirement age to 75, and many of these people do not want to work.
Tax reforms not enough, and tax concessions don't work because retirees are not paying taxes.  The labour movement has argued for immediate improvements to old age security for this increasingly vulnerable population.  He believes that nationalizing all private pensions would be a first step, because they are almost always underfunded, unlike public sector.
A Human Rights Perspective of Pension Reform
Michael Lynk, currently Associate Dean (Academic) at UWO, addressed the human rights and equality issues and dimensions of pension issues, which are very much becoming in the forefront in Canada and the world.
The Organisation for Economic Co-operation and Development (OECD) has produced reports and documents relating to the pension issue.  So has the World Economic Forum (WEF), with a report looking at scenarios to 2030.
All Western societies are facing the same types of demographic and financial challenges, with a greying and shrinking workforce, with less resources.  In Canada 2/3 of our workforce will not have a pension plan.
There are three major reasons why pensions are becoming topical in Canada:
Charter issues and human rights legislation does apply to pension plans
Age discrimination is becoming more prevalent in litigation
Pension issues already play a discreet role in advancing human rights, especially in the area of sexual orientation
We already have an extraordinary human rights Canada.  According to Lynk, we probably have the most advanced human rights system anywhere in the world, with major breakthroughs in gender issues, race, family status, and sexuality.  This is something to revel in.  Even Europe laws on human rights is still about 5-15 years behind us.
However, one of our major deficits has been in age discrimination.  Most of the case law has focused on mandatory retirement.  Virtually every case at the Supreme Court of Canada through the 90′s were unsuccessful, based on the "lump of coal" trade-off.  Retirement allows others to progress in society by making room for others, and was an exception in respect to other human rights cases.  Most of the cases also assume a declining ability with older age.
Unions did have the resources to fund further litigation, but just weren't interested in it.  They often had seniority clauses that they felt provided adequate protection.  Same-sex benefits cases at the tribunal level started to side-step the stance taken by the Supreme Court, and by the late 90′s the Court started to agree with them.  This was one example of how litigation was able to advance interests for these types of benefits.
But the court was unwilling to apply these broader tests developed in this period for disabilities to age discrimination cases, despite the 1999 B.C. v. BCGSEU ["Meiorin"] case that said we have to make human rights standards higher.  The test in Law v. Canada imposed a higher and more difficult threshold in respect to Charter litigation.
A more recent case in N.B. v. Saskatchewan Potash dealt with the term "bona fide pension plan," and whether the appropriate test was Meiorin or Law.  The decided with the more modest standard, and said the differential standard used in N.B. did not offend the Charter.
Although Lynk was discouraged that the Court has left age discrimination behind, there are a range of questions that need to be asked on how we structure our pension plans.  He was pessimistic in the way age discrimination has been treated in the past, but he was optimistic that the Court or legislatures were going to catch up and enforce a more broader, enlightened, and liberal view towards age discrimination.  It would be impossible to keep building a higher silo of other human rights, and keep out other forms such as age discrimination out of it.
He reached this conclusion because:
Average age in Canada is steadily increasing.  This cohort of aging population is the most educated in our history, but also most healthy, and some will want to continue to work.
Pension benefits are rising to the forefront.  There is a huge amount of money involved in this, and it will continue to be an important policy and litigation issue.  The sheer volume of cases will eventually force the issue.
Lynk pointed to one upcoming case before the SCC, Withler v. Canada, dealing with supplementary death benefits, but with the potential to provide a wider interpretation for pension benefits.  Survivors of spouses receiving benefits would decrease by 10%, and the question was whether it is discrimination if the benefits are decreasing as people get old.  The trial judge ruled against claimants, and the B.C.C.A. decision upheld the decision. The dissent held that it was a s. 15 violation on equality, and not justified by s. 1, because an improper distinction was made.
The decision is expected some time in March 2010, and will likely be published about a year from now.  Even though the case is a small and discreet issue, it could determine the direction of age discrimination for future cases to come.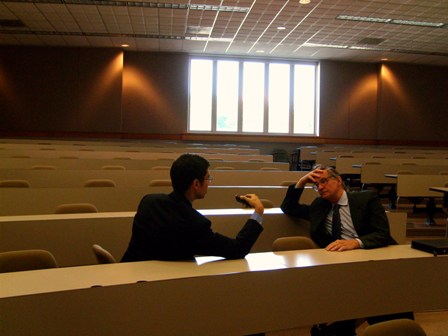 Ahmed Farahat of UWO's new law paper interviews Justice Ian Binnie. From the February issue of Amicus.
If I can start by asking you: when did you first decide to embark on a career in law?
I think when I was in college. I arrived at it by a process of elimination. I could see all sorts of jobs that I was congenitally incapable of doing. I did a lot of debating in my undergraduate years, and becoming a barrister seemed like fun.
I noticed in your biography on the Supreme Court's website that you did your LL.B. in Cambridge. Why did you get your law degree from the UK?
At the time I went, Ontario accepted entry to the British bar to go straight to the Bar Admission Course. So I thought: here is an opportunity to see another part of the world and get an educational qualification that is recognized in Ontario. Unfortunately, when I was away they changed the rules and when I came back, they said well, now you have to get an LL.B. from an Ontario law school. Seemed like a good idea at the beginning.
How was the Cambridge experience different from the one you had here at the University of Toronto?
The experience in the UK is totally different from University of Toronto. In the UK, they studied medieval English, Roman law, and all kinds of topics that were absolutely of no practical importance whatsoever. Toronto, when I got there, was experiencing quite a golden age with Bora Laskin and many interesting professors. So there was eventually no duplication at all between the three years I spent at Cambridge and the two years I spent at Toronto. And there is no doubt that Toronto's education was of a higher order. The English system has law as an undergraduate degree, so you go straight from high school to law, whereas in Canada, students already completed their undergraduate degree. In England, there was no real reason to go into law other than escaping history and literature and all the other courses you performed poorly in during high school.
Last week I met with Mitch Kowalski of the Legal Post.  He mentioned our conversation earlier today on the site, which is the kick in the butt I needed to do my own write-up on it during our break from school.
Mitch is an alumn from my school, Western Law, but has chosen a career path unique from most. After practicing for many years on Bay St. he decided to open a writing center, first at Yorkville, and then moving to a more central location on Bloor West.
And just like those television infomercials, Mitch not only runs the place, but he's a client too.
Mitch's column on the Legal Post (RSS) has become a popular one among many lawyers and law students wary of these tough economic times.
Mitch forecasts that current graduates (2009) will probably have it the worst because nobody really knows what to expect.  Canadian law school grads might just be fighting for shifts at Tim Horton's for a few years.  They should probably be looking at other careers such as NGOs or trying their hands at magic.  In any case, it's probably still better than doing porn.
Major law firms continue to be in denial in a scenario scarier than Halloween.  Most of these firms have come into existence well after the Great Depression, and their size has never been tested by a serious and prolonged recession.
The problem is that lawyers don't have a lot of work during a recession.
Some of the potential growth areas such as labour and employment, IP, and even bankruptcy and insolvency, won't make up for shortages in major corporate work that employs massive numbers of lawyers within the major firms.
With every economic threat there are also opportunities, and Mitch thinks this is an opportunity to transform the legal profession.  The very nature of law firms may change, with some even incorporating other professionals like accountants into their partnership structure, and others even going public.
Cost-saving may force firms to look overseas, instead of using inexpensive articling students (who get paid just over twice minimum wage in some firms when salary/hours is calculated).
The days of sending armies of students to the law library to photocopy into the wee hours of the morning may be ending, because these students still cost too much resources for their office space, workstations and training.  Overhead from downtown rent continues to be one of the major costs after salaries in most large law firms.  Associate turnover due to burnout and mismanagement is completely ignored and accepted as the price of doing business.
The billable hour also attracts considerable wrath from Mitch's scrutiny.
Naysayers might shun worrying over the 'sky is falling' rhetoric.  New grads might feel like they've been slipped a mickey by the legal industry.  But those who want it raw and are entering the brave new economic world willing to turn to the blogs for advice, Mitch's column is a good place to start for a translation of things to come.
The Legal Post is also up for an ABA Award, and you can vote for them here to help make Canadian blogs a prominent landmark in the legal blogosphere.
Cross-posted to Slaw