Michael Ignatieff, Leader of the Opposition, spoke to students at the University of Toronto – Mississauga today.
He addressed recent comments about airport security and the use of profiling, as well as discrimination generally in Canada:
He also made some interesting comments on the use of social media in politics:

It's a law student's dream – or maybe a nightmare.  Law firm recruiters scouring social media networks to find an appropriate candidate for their firm.
The current recruitment process does little to reveal the personality, collegiality, drive and habits of applicants.  It does nothing to demonstrate their business connections, an important quality for "finders," or political involvement, for firms that engage in lobbying and government relations.
The majority of law students do spend hours on social media platforms, usually behind walled gardens that they think are impermeable, so why wouldn't law firms go where they are?  We've already seen Edward Prutschi discuss how his firm used Twitter during articling recruitment, which helped them find Joel Welch.
Earlier today Michael Fitzgibbons of Borden, Ladner, Gervais LLP in Toronto pointed to this Globe article, showing an increasing trend by employers to use social media for recruitment.  But is this just commentary about management-side employment practices, or could law firms be using it too?  What about BLG, the largest law firm in Canada? (Hi Halla!)
The firm does have a Facebook group for employees, and another one for law students and lawyers to connect.
But the telling sign is a tweet from last Friday by the firm,
The Toronto office of BLG is looking for a Financial Services Associate with 3 to 4 years experience http://bit.ly/2RJO9I #law #job #career

It appears as if Bay St. firms are not only using Twitter for recruiting, but they're using shortened urls and hash tags properly too!  Kudos.
For our part, law students are trying to meet the law firms half way.
Enter the brainchild of Steven Pulver – a 1L at UWO  – the first-ever Chief Technology Officer for our Student Legal Society.  Pulver is working on ObiterTweet, an upcoming platform to help law students and law firms interact.
Or as he says,
Twitter, Meet Law School.
Law firms, meet Twitter at Law School too.  Send him an email if you're interested in participating.
If you're just starting law school, law blawgs can be your best friend. In addition to this site, here are 99 other blog posts that you should read to help prepare for your adventure.  It won't help you though if you're a judge about to be tested.
Most law students want to be in the top 10-15% of their class, and there are career opportunities that depend on that. Ken DeLeon of Top-law-schools.com provides some tips for success in law school, including a handy flowchart on how to prepare for your law school exams. But keep in mind that the end of the billable hour might result in some changes to your legal education, and law students have different learning styles than the rest of the population.
Still applying to law school? An undergraduate degree in physics or math might be your best option to get a solid LSAT score. Remember that these days a law career is considered a risky option, and there are lawyers in Jersey actually working for free. Where else is success defined by more work (even for less pay), and not more recreational or family time?  Larry Ribstein still thinks law school is the cool choice.  But is it really worth it?
On the other hand  you could elect to skip your classes, get intoxicated regularly, sleep with all the members of the opposite sex, gain a reputation as being a total douche bag, and then score a book and movie deal.
Introducing Tucker Max – asshole extraordinaire – a graduate of Duke Law that claims assholes finish first.

An inspiring personality, certainly, and an approach that John Infante of Fearfully Optimistic would definitely disagree with.  It does make you wonder how many Dukes are faking the Daisy to hazard "celebrity bias."  The Bitter Lawyer has an exclusive interview with Tucker that is, at the very least, amusing.
Then again, "skipping classes, playing basketball, doing cocaine and getting drunk" might help you become President of the United States – but eventually someone might start asking for your law school transcripts.  None of this is likely to come up during the President's special advice to students tomorrow (Sept. 8).  An open and transparent government, perhaps, but not that open. Reality check: the last refuge of the persecuted crack smoker may not be in law school.
Hey, "Some people snort cocaine, others snort religion," and the latter is not necessarily better.  The Exit at My Legal Fiction suggests wearing lipstick as a law school study aid, for some very compelling reasons.  If you're a missionary in Kenya, please don't vow to go to law school out of religious convictions, unless you're going to a low-ranking religious-affiliated law school.  Happy Belated Todd, but I won't be paying $25,000 for dinner any time soon.
Still, your biggest youthful indiscretion might be going to law school itself (and graduating at the bottom of your class hardly precludes success).  If your indiscretions precede law school and include a criminal record, there are some disclosure issues you should consider.  Using stolen Social Security Numbers to steal student loans for partying, with  Tucker, Todd, or otherwise, probably isn't a great idea.  Assistant Deans at law schools?  Not a good idea either.
Robert J. Ambrogi also tells us about Branigan Robertson of Chapman University School of Law, who won $10,000 for this video in the My Inspiration video contest:
These law students are doing better than a lot of lawyers these days. When life gives you lemons (or a recession), you should just make lemonade.  Dan Markel is asking, what kind of juice are you making?
On the other hand, if you're looking to avoid personalities like Tucker Max at all costs,  you might be interested in Above the Law's Douchiest Law School Contest.
No surprise that Harvard and Duke are currently heading the pack as finalists.  Also check out Paul Caron's review of U.S. News Law School Rankings for Judicial Clerkships, which includes data from Brian Leiter's rankings. If douchiness turns you off of Yale and clerkships are really important to you, the University of North Dakota might be a good alternative.  However, great credentials don't always make more satisfied lawyers, because these guys tend to be plagued by that green-eyed monster.
Charon QC's musings might be useful in determining if a "douchy law school" is worse than a "McDonalds of law schools," while Dan Slater of the NYTimes suggests just locking the doors to all law schools because there are too few hiring positions. Still having a hard time picking a law school? The iPhone app Law School 100 is free until midnight tonight (Sept. 7). Study aids are becoming more interactive, with West's new Interactive Case Series now linking to directly to law review articles cited in the case series.
Keep in mind that law school is different than undergrad, and you should probably clean up those social networks you're on. After all, you wouldn't want your mom witnessing you pulling a Tucker Max, and some employers might require you to submit your social media for a background check. Social media is also being increasingly being used in the courtroom, and no, the judge doesn't really want to be your "friend."  Don't get rid of that social media entirely though, because "People don't find lawyers in the phone book… They find them through TV ads or friends or by searching the Internet, including blogs and social networking tools."
Apparently what clients really want from their lawyer is to "feel the love," so if someone comes to your office complaining they hurt their "tushy bone," try not to laugh too hard. Be forewarned though – that volenti non fit injuria doctrine you learn in Torts class also applies to contracting Herpes Simplex I from wrestling, also known as Herpes Gladiatorium.
That's probably not what Lauren in Law School had in mind when she suggested gladiator games as an alternative to On Campus Interviews (OCIs).  You can get a list of the guys in your university with herpes from the new Campus Gossip site just to be on the safe side.
Although the number of followers you have on Twitter is no sign of of expertise or influence, it might land you a job (or lose it) with a firm or get you published, even if Perz Hilton decides to sue you for defamation. No "love" (or wrestling) for him, sorry.  Some people do take Twitter seriously, perhaps too seriously.
Eric Goldman's interview with David Lat highlights the importance of students networking during a crisis.  Dennis Jansen also thinks that networking with your peers might be useful, but consists of more than "beaming your peers with business cards or mass-adding people on Facebook and LinkedIn." As popular as WordPress may be for blogs, it just might not be for your law firm, and you even might be held liable for content on your site to a tune of $32.4 million.
The Law Society or State Bar is probably not going to like it if you steal other people's Twitter content and pass it off as your own, like Melina Beninghoff did . Stealing content doesn't take brilliance, and it barely takes effort.  What is clever is coming up with this CraigsList listing from Los Angeles.  But is stolen content any worse than fake content?
Today is also Labour (sic) Day in Canada and the U.S.  That's the Canadian spelling, because Labour Day did originate in Canada in 1872 with the Trade Unions Act, which legalized unions.  The United States followed in 1882 with informal observance in New York City, and by 1894 it was observed by 23 states through legislation. Still, it was the American President Lincoln, not a Canadian, who said in December 1881,
It is assumed that labor is available only in connection with capital; that nobody labors unless somebody else, owning capital, somehow by the use of it induces him to labor…
Labor is prior to and independent of capital. Capital is only the fruit of labor, and could never have existed if labor had not existed.
Although most Canadian law schools start the day after Labour Day, many Americans start a week or two earlier. According to Blawg Review 122 it seems that in Dublin they start as late as October, but it might just be that everyone (students and profs) are recovering from prolonged hang-overs.
Labour relations are highly relevant for this edition of Blawg Review, since law professors at the University of California are considering a walk-out despite having the "best public education in the world." Perhaps they could use this list of 24 alternative mediation dispute resolution sites to read.
Maybe they should just settle this all over a beer. Then again, those Canadian brewers are at it again with their trade-mark litigation! Next time someone tells you "I Am Canadian," you might want to do your due diligence.
The big thing up here in Canada right now is Copyright Consultation Reform. Although over-reaching legislation is great for the lawyers, it does little for end-users of copyright material.  If you're one of those folks with a keen attention for cyberspace cases, this new blog following the 10 most important U.S. cases will probably be of interest.
But the big thing about Canada in the U.S. right now seems to be our healthcare system, which we're rather partial to, despite what they mights say (Ignore those pesky suits).  Send us your gladiators with herpes, and your perdurable impetus. All that talk over at Volokh about a "lottery system" can only be described as nonsense.
(At 1:53 Glenn Beck repeats lottery libel, and at 3:21 yells at a caller to get off his phone, "you little pinhead," for not listening to the "facts."  The remix is even funnier.)
Although she acknowledges that healthcare reform is needed, Althouse has 10 things she hates about it.  Change is always hard due to "status quo bias." Madeleine Begun Kane has a limerick she wrote just for the spats over healthcare in the U.S. (watch your pinkies!):
"Majority rule is just great,"
Said Gregg in the drilling debate.
"You've got 51 votes,
Then you win." Check his quotes.
Yet 51 Dem votes don't rate.
Seeking medical treatment is probably the first thing you should do after a car accident, irrespective of whether it occurs in Canada or the U.S.  Passen Law provides 9 other things you should do, including, of course, getting an experienced personal injury lawyer.
Another thing we have in Canada absent in the U.S. is a prohibition against the death penalty.  Perhaps the fact that 45% of wrongful convictions in capital cases are based on jailhouse snitches has something to do with it.  Mark Bennett of Defending People points out the interesting observation that a Texan executioner appears to be committing murder by that state's law,
…would you participate in a death penalty trial, knowing that, for the rest of your life, with the turn of a tide of public opinion you could be prosecuted for making what you believed to be the right decision? You may be betting your life.
Do you think that employment contract with the State would protect you?  Don't count on it, as Jeffery I. Gordon mentions that most contracts are too brittle to withstand scrutiny, even if those FirstDrafter clauses look like they can do the job.
On the other hand, if your employment contract follows an affirmative action plan that is not remedial and narrowly tailored for past discrimination, it may constitute unlawful discrimination.  We're still not sure if a stripper constitutes an employee or an independent contractor in Employment Law class.

More guys in that class would probably express their anticipation for seeing Jessica Alba as the stripper-law student Nancy Callahan in the upcoming Sin City 2 if they weren't concerned about objectifying women.
Don't lose any sleep over it, unless you've sexually assaulted employees and are settling for $1.72 million.  Be careful though – the risk of contracting gladiator herpes (and sins) rises exponentially when wrestling with strippers.  You could also get robbed or raped.
Personally, I would be okay with any affirmative action that sought to get everyone but Tucker Max and any potential douches into my law school.  Nancy Callahan might get a pass, as long as she doesn't hook up with Tucker while she's there.
---
Special thanks to David Shulman for editing on this piece.

That's it for this week's edition! Remember: Blawg Review has information about next week's host, and instructions how to get your blawg posts reviewed in upcoming issues.
I am currently in Halifax, Nova Scotia where I am attending the biennial federal convention of the New Democratic Party as a delegate for the Saint Boniface Riding Association. Our party's last convention was in 2006 at a time when political blogs were just beginning to take off and Twitter was in its infancy. Today, party activists, journalists, and other observers are live-twittering policy panels, sharing photos through social media, and blogging every aspect of the convention. In this post, I want to explore some of the more interesting social media stories of the convention.
Democrats Live, Twitter, and Flickr: By the Numbers
I was one of a small handful of party activists who took this convention as an opportunity to promote social media in the party. To that end, we build a social media aggregator called "Democrats Live" (the name was in anticipation of a proposal to drop the "New" from "New Democratic Party"). The site mashes up tweets, blog posts, videos, and photos from social media sites to serve as a one-stop shop for online coverage of the convention. As of writing (about 1PM Atlantic), the site has received more than 10,000 hits from more than 1,000 unique visitors. Despite some issues with abuse of the rating system (which has now been disabled), the site has been working smoothly.
By far the most active social medium at this convention is Twitter. As of writing, the site has pulled together 1,254 tweets from 252 twits. This includes convention delegates, journos, and several observers watching the action unfold live on CPAC.
Dozens of photos from the convention have been posted to the HFX09 Group on Flickr, including shots of the keynote speakers, policy debates, MPs, and social events (incidentally, New Democrats know how to throw a hell of a party).
Video content has been slower in coming, which is as expected. I have a hunch that some delegates will be posting their videos only after the convention has ended due to the limited time available to edit and process video content. Personally, my goal of shooting video at convention has fallen by the wayside as I've been busy participating in the convention.
Dana Larsen Controversy
The biggest story in the social sphere has been the controversial decision by NDP national director Brad Lavigne to oust BC marijuana legalization activist Dana Larsen. On two occasions, Larsen posted messages on the left-wing discussion forums at rabble.ca indicating that he would subsidize travel and accomodations for those willing to support some of his drug policy motions. The party has taken the position that this constitutes a form of vote buying that is counter to the democratic spirit of the democracy.
Larsen and his supporters have been protesting outside the convention centre and making noise through social and traditional media. In particular, nearly half of the Twitter noise on Friday related to the Larsen controversy, both pro-Larsen and pro-party.
From my point of view, the most interesting dimension of this story is the party's lack of understanding of social media in the whole controversy. As New Democrat activists take to emerging media to voice their concerns, the party is unable to control the story in a way that used to be possible in the days before Twitter. The party's handling of the situation has actually created a platform for Larsen to promote his policies that he would not have had if the party had attempted to resolve the issue more amicably.
The bottom line here is that the party can no longer expect to do message control to the same extent that it could just three years ago at the last federal convention in Quebec City.
Where are the Bloggers?
While the activity on Twitter has been extremely promising , I have been somewhat surprised at the lack of convention coverage in the blogosphere. While a handful of bloggers such as Cameron Holmstrom, Northern BC Dipper, and Accidental Deliberations have been dutifully reporting on the debates and surrounding stories, other high profile New Democrat bloggers have been silent thus far. I think that there are a few reasons for this. Some bloggers were not able to attend this convention while others chose to travel light and leave their laptops at home. Facilities for blogging are limited at the convention centre; although there is wireless access, there aren't a lot of great spaces for sitting and writing. Those on Blackberries (is that the proper pluralization?) have informed me that reception is sub-par.
Perhaps we will see more activity as the convention winds down and delegates have a bit more time to take a break and write their thoughts out online.
Tweet Up
On a final note, I am delighted that there will be a "Tweet Up" as part of tonight's festivities. As one of the co-organizers of the event, I'm really hoping to see a large turnout of social media activists and party brass. The event is being held at the Carleton Restaurant and Pub, 1685 Argyle St. Several caucus members have already confirmed their attendance.
A Dime a Dozen Political Blog ranks Law is Cool as one of the top 25 political blogs this summer.
1. http://www.michaelgeist.ca/ – pr7 – 182,020
2. http://thetyee.ca/Blogs/TheHook/ – pr6 – 169,602
3. http://westernstandard.blogs.com/ – pr6 – 266,842

…

23. http://lawiscool.com/ – pr5 – 874,663

…
All the sites I talked about in previous posts are relatively open. You can at least freely read their content, even if you can't contribute. Legal OnRamp is a closed community. According its website, it's a "Collaboration system for in-house counsel and invited outside lawyers and third party service providers." You can request an invitation, which give you access to members' blogs, a pretty active forum, a member directory, and other features common to many other online communities. The barrier to entry in the form of the invitation requirement apparently weeds out frauds, spammers, and other nuisances. I got my invitation as a law student. Legal OnRamp is especially interesting if you like following the debates on the future of the legal profession.
Don't forget: some of these sites mostly target lawyers, while others address the general public. Take this into account when you are coming up with an online marketing strategy. Sites like Legal OnRamp let you network, outreach, and hopefully get referrals from other lawyers. Even some legal blogs reach mostly members of the legal profession. Other blogs such as Law is Cool or forums like AdviceScene attract readers from all walks of life. Many visitors to these sites look for legal information or advice. Of course, how you talk to potential clients is different from how you talk to fellow lawyers. A good online strategy takes this into account.
If you are an absolute neophyte in the world of online communications and social media, hopefully you benefitted from this introduction. You learned what social media means, how it works, and where it plays out. You also know now a few websites that target the legal profession or its clients. There are many opportunities to get your name out there in a professional and consistent way, so your image and reputation online reflect the quality of your work in the real world.

(Part 1)
So how do a lawyer or a firm use social media to promote themselves for free? The first step to a following is to know your audience. You have to give readers some content. The nature of the content depends on the audience. And who wants to read your stuff? Potential clients, lawyers, law students, and even legislation drafters and politicians. If you share really useful stuff, online communities will take care of much of the promotion. That's where sites like Twitter come in. You post a link to your content and interested followers will spread the message or at least look at your stuff.
But to share content, you need to post it somewhere. The most basic way is to slap some writings on your personal or the firm's website. If you don't have a website and can't afford a professional one, get a free one from Google Sites. They have easy tools to put together descent looking pages quickly. But there are better ways than just having your page out there. Some websites will host your content and help promote it at the same time. Their advantage lies in existing communities, distribution channels, and tools helping create content. These sites can be organized as blogs, content directories, lawyer-only social networks, or forums. To choose the format, keep in mind some basic differences among these services described in my previous post.
Assuming you already have a website, you can complement it by creating a profile on many legal and non-legal sites that have some social media aspect. The more sites list your profile, the more often search engines will associate your name with important keywords. That's how people find you online, so take all the publicity you can get plus more. Have a profile on LinkedIn, Facebook, forums like AdviceScene, and on any other open sites that let you create a profile for free. Don't just put your name there. Include links to your website, email addresses, descriptions of your practice, and photos if you're comfortable with that. And for your profiles to gain you any reputation, begin sharing content.
A popular content directory is JD Supra. You start there by creating your page and adding some expert content on it. JD Supra organizes members' articles or documents into categories and spreads them to audiences of interest to you. It also helps your content appear in search results when potential clients or colleagues are looking for related information. JD Supra has free or paid accounts differing in the number of services added to basic hosting of your documents. The site also publishes rankings of contributors based on the number of documents they shared. Check out their FAQs for more information.
Legal blogs are another, simpler way to get your content and name out. Two things matter: the blog owner must be interested in your content to let you contribute; the blog must be highly popular for your contribution to be worthwhile. Two Canadian legal blogs stand out: Slaw and Law is Cool. Most contributors on Slaw are practitioners or academics. It is also widely read in the legal profession. Law is Cool is run by law students who create most of its content. It is also highly respected by search engines and read across diverse audiences. Also, take a look at The LexPublica Blog. And don't forget: you can always contribute to more than one blog as long as blog owners want you in the first place.
Another notable player in the legal social media field is AdviceScene. Its core is a forum organized by legal topics and a lawyer directory. The idea is to let lay people ask legal questions on the forum. Lawyers interested in getting their name out there answer questions on the forum and add themselves to the directory. One of the big contributors on AdviceScene is Justice Brownstone, a well-known Canadian family-court judge and the author of "Tug of War." Another contributor is John Gustafson, a criminal lawyer from British Columbia. You or your firm can advertise on AdviceScene for free by answering questions. Each time you post, you can have links to your website and other contact information published too.
JusticeNet.ca is also a legal directory. Its approach is quite special. This not-for-profit service will refer clients to you if you agree to take them at a reduced rate. So although it does involve some cost on your part, even if in the form of giving up some income, JusticeNet.ca appeals to your interest in access to justice and offers a chance to make a difference. The site definitely promotes you and lets you do some public service. Besides, it's all about the network. The next paying client may very well be referred by the previous one charged at the reduced rate. The directory on JusticeNet.ca is fully searchable by area of practice, keyword, location, spoken languages, and even wheelchair access.
(to be continued)

Don't you cringe when you hear marketing and lawyers in the same sentence? Didn't you go to law school instead of an MBA program so you never had to deal with marketing or sales of some sort? That may be true, but I am afraid you're stuck with marketing as long as you have or need clients. The good news is the Internet and social media can take both the stigma and the pain out of the process. It works, and it is often absolutely free. You just need to know some basics.
Let's assume you're not Edward Greenspan or Abraham Lincoln. You're interested in reaching out to three groups: clients, potential clients and colleagues. You know how to use the Internets, and you don't mind some publicity. Before you go any further, remember: choose strong passwords and use some password management software. That should keep you reasonably safe from identity theft. Finally, have an open mind and grow a thick skin. Some people on the Internet have a foul mouth. Beyond these simple warnings lie huge online marketing opportunities.
The power of free online marketing is in social media. Here is how it works. Social media is a way to publish messages for a circle of followers. If some of these followers have their own followers, you all form a network. When your message reaches your circle, one or more of its members can pass it on. It's exactly how rumours spread in small towns. But social networks are bigger and faster thanks to instant and massive online communications. Some celebrities have online circles consisting of hundreds of thousands of people. Imagine the PR possibilities. And the media is social because online audiences themselves do a lot of heavy lifting in spreading the message.
That's exactly how sites like Twitter work. You get your own page. You can post short messages on it. If you get someone to care about it, they can subscribe to your updates. You can subscribe to other people's updates. Each subscriber can scroll through a page consisting of updates posted by his or her circle. If a message is interesting enough, it can propagate through the network reaching awfully many people.  All for free. You just need to get the community to care. Facebook and LinkedIn are similar, but they used to focus on building online people networks. Now they imitate Twitter by encouraging members to post updates. Social media works because millions of people are on these sites typing away or reading every minute of every day—millions connected into a network.
Every message on the Internet that matters works like this today. Forums, blogs, good old websites, you name it. Unless the message gets into social media, it's probably lost. I am not talking about paid advertising of course. That's an exception, but you probably already know that money can buy you eyeballs. If you don't want to spend a lot of money, social media can help you.
Take blogs, for example. A blog (click for an example) is just a webpage where you post articles on a regular basis. It usually looks like a sequence of postings sorted in chronological order. Often authors allow readers to post comments or questions under each posting. Twitter postings are similar to blog posts, but there are two important differences. First, your posts on Twitter must be 140 characters or less. There is usually no length limits on blogs. Second, Twitter organizes readers into a cohesive community making it easy to pass on posts (tweets) through the network. The length limit also simplifies spreading a message through the community. Shorter messages on average probably have higher chances of being read than long blog posts. Remember, the key to social media is the speed and the reach of your message.
Forums are one of the oldest methods of online discussion and content distribution. A forum (click for an example) is a webpage with a list of topics. Each topic is a link to another webpage with a list of posts on this topic. Each post is also a link leading to a page that contains responses to the post. That's how people talked online fifteen years ago. That's how many of us still talk today. Unless the forum is members-only, anyone can choose to check the postings. But you have to scroll through all of them to see if anything interests you. Then you can choose to respond. If you are interested in several forums, you have to check all of them regularly. There is no circle trusted to post only what interests you. You have to sift through the content yourself. But some forums are so popular that this is not an issue.
(to be continued)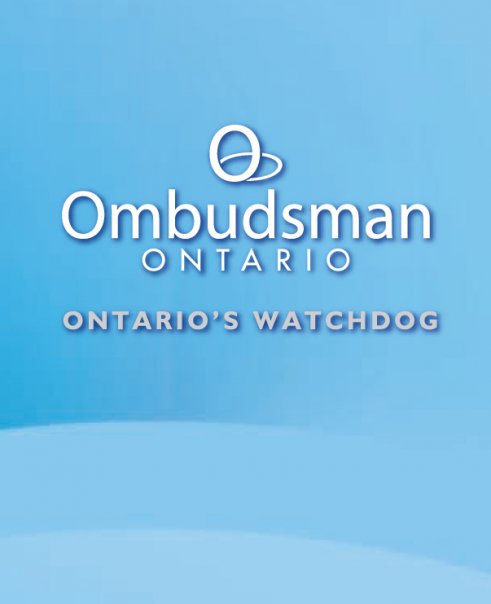 The office of Ontario Ombudsman is on Twitter and Facebook. The Ombudsman is a pretty unique independent oversight officer accountable directly to the provincial legislature. He investigates people's complaints under the authority granted by the Ombudsman Act.
Add or follow the Ombudsman. It's cool to see government trying to get on the social media bandwagon.
The ABA Journal reports that second-year law student Adam Reich of the University of Southern California was instrumental in the release of a woman imprisoned for the past 29 years.
Connie Keel sat in the car while her husband and his cousin shot and killed a liquor store owner during a botched robbery. Prior to the robbery, Keel's husband had abused her and threatened her with a gun. At the time of prosecution, however, the defence of "battered women's syndrome" didn't yet exist.
Reich made that argument on Keel's behalf before the parole board — her sixth appearance before that body. Reich also used Twitter and a website to foster support for Keel's application.
Those of us who use social media principally to make snide remarks about people we've never met would do well to emulate Reich's dedication.
The scholars, captains of industry and champions of justice who compose Law is Cool's readership will have long since scoured their online social networks for photos or other items tending to compromise their integrity — reports of "the dark side of social networking" are thick on the ground. But a recent court decision may renew paranoia that privacy is an artefact of the twentieth century, doomed to join its contemporaries (pagers, Chris Tucker, student activism, literacy, the Ark of the Covenant) in oblivion.
Just weeks after finding that Canadians have no expectation of privacy in their online identities, Ontario's Superior Court of Justice has ruled that posts on Facebook and other online social networks may be discoverable against their makers, according to the Star's Tracey Tyler.
Plaintiff John Leduc claims that injuries sustained in a car accident in 2004 have lessened his enjoyment of life. The court found that Leduc may be cross-examined on the contents of his Facebook account where such contents are relevant to his claim — despite the fact that security settings on his account restricted access to his profile to only his close friends.
If Leduc's Facebook account contained evidence of him
exerting himself,
stopping to smell roses,
"seizing the day" in any fashion, or
otherwise engaged in merriment,
such evidence might undermine his claim. Pictures of him sitting on the roof of his car watching the sun set over a northern lake, or snowboarding through thick powder with the caption "Go for it!" beneath him, would be especially damning.
The decision overturns a Superior Court case management master's ruling that forcing Leduc to produce the contents of his Facebook account amounted to a "fishing expedition", since there was nothing — except Leduc's opposition to disclosure — to suggest that any compromising photos in fact existed. Leduc's profile consisted only of his name and picture.
A search of Facebook for accounts registered to "John Leduc" yielded 129 results — many of whom appeared to be enjoying themselves.
Is it possible to be both happy and successful in law?
Laura Milligan of Job Profiles thinks so. They wrote in last night and brought an article to our attention that provides tips and other resources that can help lawyers in their careers.
They suggest that lawyers join associations. For us it would be the Canadian Bar Association, as well as the provincial organization where you live. There are also practice focused groups like the Ontario Trial Lawyers Association and the Canadian Defence Lawyers.
To keep abreast of changes in the field, they list a bunch of lawyer blogs. Of course the best way to do that is to write a blog yourself, which keeps you in the loop and adds your voice to the discussion.
Social media is also something they mention, citing Kevin O'Keefe's article from earlier this year that says that Law Firms Should Learn to Love Social Media Sites.
Love is a strong word. I've got my hand it dozens of social media sites, but I only use a handful because the rest are too time consuming, redundant, and have limited scope. FriendFeed has become a very useful tool because it aggregates several social media sites for you.
The newest site I'm trying out is Martindale by Lexis-Nexis. Given it's specific legal focus it might prove useful, but has limited functions to students, who can't create public profiles or be listed in the search functions. Law students marketing themselves is still something new to the industry. Firms might be interested in getting listed on Lawyers.com's new site, Canadian-Lawyers.
Continuing education is hardly a concern for law students. But I still attend a number of CE events to broaden my horizons, gain perspectives from practitioners rather than academics, and network with members of the bar.
Avoiding burnout and creating a work/life balance should start now, while we are in school. Unfortunately the most successful students are too often the ones with the least balance. And although it might be a calculated sacrifice at this point in their career, it's not sustainable in the long-term.
Jobs, and the fear of not getting one, is probably the reason why law students burn themselves out. The number of positions out there should provide some assurances that there are positions for everyone. Last month we were contacted by Stephen Fine, who provides other options at www.AlternativeLawJob.com. We plan on doing an interview with him in the future to explore this further.
References, referrals, humour are also important to add to the mix, and Milligan provides a smattering of them. But they also provide resources for new lawyers and students, how to get out of debt, and how to fight discrimination.
Jordan Furlong has also written to us in the past, and pointed out resources for Canadian law students and lawyers in creating work/life balance.
But will all of this help make lawyers, as Hon. Patrick J. Schiltz said, "happy, healthy and ethical?"
You tell us.