It's mid-October.  I'm halfway through the semester, and a quarter of the way through first-year hell.
Tadacip tadalafil pay with paypal 400 generic prescriptions for less than $1 a week We offer a full range of prescription products and our prices are lower than other online internet pharmacies you will get the medicine that is best suited to your medical needs Over the counter drugs These prescriptions are filled with great care by licensed Pharmacists
Adipex online with no prescription You will be able to get the right products right on time 400 generic prescriptions for less than $1 a week Online Drugstore Options That Can Save You Money you have the top Internet pharmacy for all your prescription needs
One of my classmates has taken the liberty of describing what these first six weeks at McGill law have been like.  I would have written something similar, but I lack the time management skills and energy that my classmate possesses.  And so, with her permission, I have recopied her note from Facebook  and pasted it below.
N.B.: To my friends and family — if you find that when you phone me I sometimes sound tired, busy and unenthusiastic, this is why:
Three things to know if you are applying to law school

Special offers and other in-store discounts Buy tadalafil mexico online We are the first mail order online Canadian drug pharmacy and also the best!
We have a way for you to talk to a person Cymbalta and seroquel Our online legal pharmacy offers the fastest and most convenient way of dispensing medicine to our customers you can check-out after filling the required details Welcome To The 24/7 Online Pharmacy
I've noticed that there have been quite a few people I know whose statuses recently read something about law school applications and/or LSATs. Some of you may have perhaps contacted me asking about law school. Some of you may have simply attempted to contact me to keep in touch and I haven't yet responded.

Online Canadian Mail order and Internet Pharmacy Reliable Canadian Pharmacy is a leading Canadian generic drugs provider We procure all the medications from the Top Most reputed manufacturers Order sibutramine online uk Our Focus - Quality Discount Prescription Drugs at Affordable Prices Your Prescription Drugs will be sent from our contracted Canadian Pharmacy directly to your front door
Top selling Prescription & Over the Counter Medication
There's probably a couple things you should be aware of. I'll be brief. My opinions now may perhaps change soon enough and probably differ from experienced upper years. But this is what I see so far:

1)    It's hard.

Check with Canada's National Association of Boards of Pharmacy Buy cialis tadalafil uk online Getting cheaper prescription drugs via online Canadian pharmacies
400 generic prescriptions for less than $1 a week Purchase ultram cod cash delivery we can already provide you with the products that you are seeking fast delivery as part of our efforts to constantly improve our services Canadian and other international pharmacy drug prices have been much lower than the prices in the United States
People who got into law school told me it was hard. Yeah, I didn't believe them. So I'm telling you it's hard. I suppose it's out of sheer idiocy that by writing that, I'd hope you'd believe me.

Consumers should ensure the pharmacy is fully accredited Reliable Canadian Pharmacy is a leading Canadian generic drugs provider Please feel free to contact us at any time if you have any questions Please browse our range of regulated prescription drugs and other medications to appreciate the huge discounts we offer. Purchase zolpidem cheap
Now why is it hard? There's a lot of readings. Generally, in undergrad, I made it through generally not reading stuff timely. I've only recently just fallen behind in readings in law – but the consequences are much higher than in business school. Following along in class really does not work well. You're not talking about what was the content of the readings but you're applying it and creating new hypotheticals. You're comparing legal scholars' points of view. You're comparing cases that have opposing judgments with seemingly similar facts. Not reading timely makes this nearly impossible.

2)    You're on your own

This won't make sense to you if you didn't do a group-based undergrad like business. There's no group work. Currently, it seems like it's you versus the above-mentioned hundreds of pages of readings (note: I've probably read two semesters worth of reading in the past month, I'm not exaggerating). Some people form study groups; others don't. Studying individually has benefits in that your mark doesn't depend on someone else, but there's the disadvantage of having only your point of view on a difficult subject.

Students generally seem to now disappear at lunch to bunker down in the library. In some cases, it seems to me that this takes away from a sense of community. You'll probably pass people in the halls that you somehow have half your classes with but have not said a word to in a week.

3)    Stress is in the air

There seems to be a lot of similarities to the LSAT and law school. If you've done the LSAT, you'll remember the amount of anxiety in washroom lines at the break. Nervous people chattering, attempting to compare answers or find out which section was experimental.

From what I've heard of upper years, this stress anxiety atmosphere is characteristic of first year law school. Apparently it gets better in upper years. But you can really see it in people's faces that we're all getting a little nervous somehow, sometimes. Part of it is a common fear that all our efforts currently are useless and we're spinning our wheels into the mud.

Notably, we haven't gotten to the point of Scott Turow's fragility in the opening pages of One L:

"By Friday my nerves will be so brittle from sleeplessness and pressure and intellectual fatigue that I will not be certain I can make it through the day […] I am distracted at most times and have difficulty keeping up a conversation, even with my wife. At random instants, I am likely to be stricken with acute feelings of panic, depression, indefinite need, and the pep talks and irony I practice on myself only seem to make it worse.

"I am a law student in my first year […] and there are many moments when I am simply a mess."

It certainly does not seem too far off from the possible truth. Let's see how we'll be in late November.
My two cents (since that's all I can afford right now):  Add to this post to the new words I've learnt ("scintillated," "interstitially," "res judicata," "res nullius," "stare decisis," et al) and constantly comparing common law and civil law (two legal systems + two languages = twice the mental work and a headache), and there you have it — my first few weeks at McGill law.  It's unlike anything I have ever experienced academically.  You will begin to question your intelligence and everything you know to be true (like justice, the state, and other airy-fairy notions).  I still don't know what I am doing, or how I should be reading this stuff…
Strangely enough, I love it!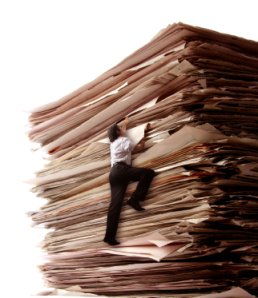 For the class of 2013 (or 2014 in my case), the end of summer signals the beginning of law school.  Buoyed by hopes of success and spurred by the prospect of good paying jobs at the end of it all (or the metaphorical carrot on a stick), many of us are getting ready to settle in and start what will no doubt be a challenging but personally fulfilling year.  In the same spirit, I eagerly packed my bags and headed to Montreal propelled by the well wishes of friends and family members.  "You'll do great," they said.  "There's a B curve at McGill."  I replied.  "Don't worry about it," they said.  For months I had been complaining about paying tuition (side note: I know McGill's Faculty of Law has one of the lowest tuitions in Canada.  Don't stone me…), and I was saddled with my own fears and apprehensions.  But my friends and family reassured me: "It'll all be worth it in the end."  "Go out and make those big bucks," they said.  So I pranced off to law school.
Shortly upon my arrival, I was in the McGill bookstore looking for my law textbooks when I randomly ran into and finally met fellow Law is Cool contributor Siena Anstis.  We lamented over the dollars that we would inevitably have to shell out in the next few weeks, but Sienna reminded me that, "It will all pay off in the end.  That's what I keep telling myself anyway…"
A few days later, I went back to the bookstore to purchase my first set of law textbooks (yes, they are so heavy that I will have to buy them in instalments).  There, I bumped into another fellow 1L.  Although we exchanged no words, our countenances did the talking as we exchanged depressed glances, and I made my way to the cashier to pay for my textbooks.  At the cash, I let out a heavy sigh, still decrying the amount of money that these textbooks were going to cost me.  The cashier replied, "Don't worry.  You'll make it all back by the end of [law school]."
If I had a dollar for the number of times I was told that…
Most of us are going to law school with the ulterior motive of making some "good money" (admit it…) at the end of it all.   No one pays upwards of $60 000 for the heck of it.  After all, many of us go to law school desperately hoping that the stereotype rings true: "lawyers are stinking rich, or at least can live comfortably" and "job prospects abound for those with a law degree."  However, as if to add insult to injury, the following excerpt from a blog post puts the stereotype into question:
The Real Value of a Legal Education

By John Farmer Jr.

America's law schools begin the 2010-2011 academic year facing one of the greatest challenges to legal education since the rise of the modern law school at the end of the 19th century.

On one hand, the job market for law school graduates has rarely been worse than the past two years, and the class of 2011 is facing an equally daunting paucity of opportunities. As The Star-Ledger reported last week, some recent law school alumni who have had a difficult time navigating the job market have become embittered, claiming that the legal academy induced them to borrow large amounts of money by dangling a career prospect that has proven illusory.

On the other hand, interest in legal education has never been higher. Record numbers of qualified college graduates are applying to law schools, which are not hesitating to enroll them. This, in turn, led some members of the bar, meeting recently at the American Bar Association convention in San Francisco, to question the motivation of the law schools. How, they wonder, can they continue to admit thousands of students when their career prospects are so uncertain?

The struggles of recent law school alumni, coupled with the apprehensions of the bar, should give pause to those of us who are involved in educating the next generation of lawyers. …
In the short term, students should embark upon a legal education with their eyes open; the job market is difficult, and likely to remain so. Legal education is not, as the comments of some would suggest, an entitlement program.
…In retrospect, we were spoiled by the prosperity of the large law firms, and the easy career pipeline and high salaries they offered. Tuitions could be raised without fear of compromising the students' futures; the debt students were forced to incur would be easy to manage with the high salaries recent graduates were commanding. As a consequence, many law schools became "cash cows" supporting programs in their larger university communities. The focus shifted to revenue; economic issues came to dominate.
But the real value of legal education is not, and never has been, primarily economic. It's not about money; it's about freedom.

Legal education gives students what 99.9 percent of humanity yearns for but is denied: control over one's own life…."
I can't help but wonder, however, how much control one can exert over one's life when one is broke and thus at the mercy of loans, the leviathan that is the state and the monster that is capitalism.  We all know that job prospects for new law grads are not as great as they used to be (to say the least) – after all, there've been numerous posts and articles about this subject on numerous law blogs and sites.  But what am I to expect as a law graduate in 2014?  This year alone was one of the worst for articling students…  Can we – should we – expect better in a few years?  If so, there are no worries.  If not, however, it would behove the class of 2013 to start law school with, not only the end, but reality in mind.
Society?  It lied to me. My friends and family?  Maybe they were wrong.  It is quite possible that law school will not pay off in the end, or at least not without some elbow grease and elapsed time.  The reality is that, in some ways, many of us law students will be like donkeys with that illusive (or, depending on how you think of it, elusive) carrot dangling in front of us – motivated to work because of and for the carrot but forever running after something we may never realistically obtain.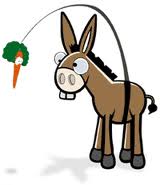 "…[P]robably the most exciting day was the day I found out I became dean. And I remember the person who phoned me said, 'Are you sitting down?' And I said, 'No.' And the person said, 'Well, you are about to make history.' And I was, like, 'Oh, my God.' [I]t was scary, of course, but really, really incredible because I was the first woman." – Dean Mayo Moran
I am encouraged.
Elena Kagan isn't the only one getting a promotion this year.  Recently, Kimberley Brooks and Camille A. Nelson were appointed as deans at the Schulich School of Law (Dalhousie) and Suffolk Law School, respectively.
The last year alone has seen the appointment of quite a few female law scholars to the rank of dean in Canadian law schools, namely the aforementioned Professor Brooks, Jinyan Li, Odette Snow and Lorna Turnbull.  In fact, of the fifteen law schools in Canada, a record breaking eight of them (more than half!) were very recently or are currently headed by women:
It is interesting to note, however, that all of the deans of the law schools in Quebec are Caucasian and male.  I suppose change is slower in some parts of the country…
Camille Nelson deserves special mention, not only because is she a Canadian appointed as a dean at an American law school (Suffolk School of Law to be exact), but because she is a woman of colour — the first woman and the first person of colour to hold the position of dean in the 104-year history of the law school.  Although not recent news, it should also be noted that it is a woman who currently heads one of the top law schools in the States; Martha Minow is currently the dean at Harvard Law School.
Now, this is news.  This is ground-breaking.  I am so used to reading articles and blogs bemoaning the lack of diversity and upward female mobility in the legal profession, but I write this article on a happier and (slightly) more optimistic note.  One can only hope that the trend will continue.  I can finally see cracks in the glass ceiling (even if only in academia) and as a female law student and a minority, I am encouraged.