Ever want to take on an opponent in court from the comfort of your living room?  This legal themed chess set might provide an outlet.
"Approach the Bench" was designed by a lawyer's son as a gift to his dad.  After realizing there aren't many legal-themed chess sets out there, the man behind the idea decided to make his own.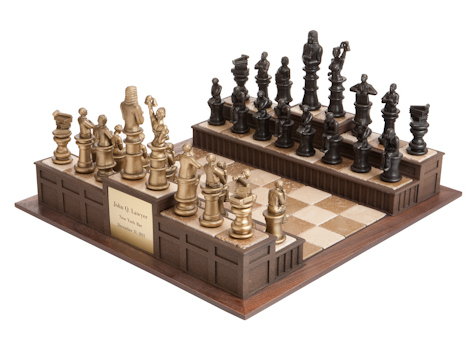 From the website:
The chessboard is uniquely "stepped" to resemble a jury-box and a bench…  handcrafted from cold cast bronze and Italian stone tile.
You can also see Lady Justice as the Queen, a bailiffs as knights, attorneys as bishops, and casebook piles as rooks.
My favourite: the small army of sleepy jury members as pawns.
Maybe if real-life chess games were brought back into style, the image of an advocate as a civil, patient, strategist would come back into focus.  What do you think?

For the class of 2013 (or 2014 in my case), the end of summer signals the beginning of law school.  Buoyed by hopes of success and spurred by the prospect of good paying jobs at the end of it all (or the metaphorical carrot on a stick), many of us are getting ready to settle in and start what will no doubt be a challenging but personally fulfilling year.  In the same spirit, I eagerly packed my bags and headed to Montreal propelled by the well wishes of friends and family members.  "You'll do great," they said.  "There's a B curve at McGill."  I replied.  "Don't worry about it," they said.  For months I had been complaining about paying tuition (side note: I know McGill's Faculty of Law has one of the lowest tuitions in Canada.  Don't stone me…), and I was saddled with my own fears and apprehensions.  But my friends and family reassured me: "It'll all be worth it in the end."  "Go out and make those big bucks," they said.  So I pranced off to law school.
Shortly upon my arrival, I was in the McGill bookstore looking for my law textbooks when I randomly ran into and finally met fellow Law is Cool contributor Siena Anstis.  We lamented over the dollars that we would inevitably have to shell out in the next few weeks, but Sienna reminded me that, "It will all pay off in the end.  That's what I keep telling myself anyway…"
A few days later, I went back to the bookstore to purchase my first set of law textbooks (yes, they are so heavy that I will have to buy them in instalments).  There, I bumped into another fellow 1L.  Although we exchanged no words, our countenances did the talking as we exchanged depressed glances, and I made my way to the cashier to pay for my textbooks.  At the cash, I let out a heavy sigh, still decrying the amount of money that these textbooks were going to cost me.  The cashier replied, "Don't worry.  You'll make it all back by the end of [law school]."
If I had a dollar for the number of times I was told that…
Most of us are going to law school with the ulterior motive of making some "good money" (admit it…) at the end of it all.   No one pays upwards of $60 000 for the heck of it.  After all, many of us go to law school desperately hoping that the stereotype rings true: "lawyers are stinking rich, or at least can live comfortably" and "job prospects abound for those with a law degree."  However, as if to add insult to injury, the following excerpt from a blog post puts the stereotype into question:
The Real Value of a Legal Education

By John Farmer Jr.

America's law schools begin the 2010-2011 academic year facing one of the greatest challenges to legal education since the rise of the modern law school at the end of the 19th century.

On one hand, the job market for law school graduates has rarely been worse than the past two years, and the class of 2011 is facing an equally daunting paucity of opportunities. As The Star-Ledger reported last week, some recent law school alumni who have had a difficult time navigating the job market have become embittered, claiming that the legal academy induced them to borrow large amounts of money by dangling a career prospect that has proven illusory.

On the other hand, interest in legal education has never been higher. Record numbers of qualified college graduates are applying to law schools, which are not hesitating to enroll them. This, in turn, led some members of the bar, meeting recently at the American Bar Association convention in San Francisco, to question the motivation of the law schools. How, they wonder, can they continue to admit thousands of students when their career prospects are so uncertain?

The struggles of recent law school alumni, coupled with the apprehensions of the bar, should give pause to those of us who are involved in educating the next generation of lawyers. …
In the short term, students should embark upon a legal education with their eyes open; the job market is difficult, and likely to remain so. Legal education is not, as the comments of some would suggest, an entitlement program.
…In retrospect, we were spoiled by the prosperity of the large law firms, and the easy career pipeline and high salaries they offered. Tuitions could be raised without fear of compromising the students' futures; the debt students were forced to incur would be easy to manage with the high salaries recent graduates were commanding. As a consequence, many law schools became "cash cows" supporting programs in their larger university communities. The focus shifted to revenue; economic issues came to dominate.
But the real value of legal education is not, and never has been, primarily economic. It's not about money; it's about freedom.

Legal education gives students what 99.9 percent of humanity yearns for but is denied: control over one's own life…."
I can't help but wonder, however, how much control one can exert over one's life when one is broke and thus at the mercy of loans, the leviathan that is the state and the monster that is capitalism.  We all know that job prospects for new law grads are not as great as they used to be (to say the least) – after all, there've been numerous posts and articles about this subject on numerous law blogs and sites.  But what am I to expect as a law graduate in 2014?  This year alone was one of the worst for articling students…  Can we – should we – expect better in a few years?  If so, there are no worries.  If not, however, it would behove the class of 2013 to start law school with, not only the end, but reality in mind.
Society?  It lied to me. My friends and family?  Maybe they were wrong.  It is quite possible that law school will not pay off in the end, or at least not without some elbow grease and elapsed time.  The reality is that, in some ways, many of us law students will be like donkeys with that illusive (or, depending on how you think of it, elusive) carrot dangling in front of us – motivated to work because of and for the carrot but forever running after something we may never realistically obtain.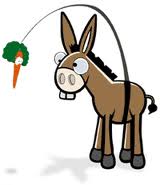 By: Law is Cool · August 21, 2008 · Filed Under
Criminal Law
·
Comments Off
Or, when a cross-examination goes nuts.
Courtesy of ABA Journal,
A Michigan defense lawyer's cross-examination of an informant went awry yesterday when the witness became angry and said the lawyer questioning him had sold drugs.

Informant David Maki's outburst came after defense lawyer Tim Barkovic called him a liar and a snitch, the Detroit Free Press reports. Maki "got angry and said defiantly on the stand that Barkovic had sold drugs, after which the judge dismissed the jury," the story reports.

Barkovic is representing a co-defendant accused of felony murder in a store robbery that left one clerk dead and another injured. Jurors were instructed to ignore the comments by Maki.

Judge Donald Miller of Macomb Circuit Court denied the co-defendant's request for a new lawyer, the Detroit News reports.

Barkovic says the charge of selling drugs is ridiculous and sought a mistrial. Miller also denied that request, the Detroit Free Press reports in an updated account.