Of interest to law students, from Western News: The Absolute Violation: Why Torture Must be Prohibited
by Richard Matthews
Is torture ever a justifiable means to an end? Richard Matthews tackles that question at a time when we are faced with controversy over numerous reports of state-sponsored torture, even involving our own government.
Drawing from a variety of disciplines such as philosophy, medicine, psychiatry, history, feminism and anthropology, as well as survivor and torturer narratives, Matthews sets out to show how public perception has been skewed, and why there is no moral justification for torture.
"If you study torture closely and carefully, you encounter a sordid mess of personal and institutional corruption, wrongdoing as well as the terrible suffering of the victims and their communities. The medical and psychological literature on the subject is hard to read, but survivor narratives offer a rich and essential but extremely painful set
of insights into what torture is and how it works," says Matthews.
"One of the merits of informing people about its true horror is that it enables them to avoid the facile and false portrayals of torture that we receive from propagandists and from scholars who, all too often, do not seem to carefully study these sources. Consequently, in public debates the subject is a caricature of torture and has nothing to do with its reality."
Matthews goes after the heart of the argument, challenging the idea that torture is of any benefit to its users whatsoever. This book is important reading for anyone wanting to better understand the recent trend towards the public acceptance of torture, and those interested in actively countering that trend.
Richard Matthews is an Assistant Professor of Social Justice and Peace Studies program at King's University College.
From Volume III, Issue II of Amicus Curiae, Western Law's Student Paper
Canada was a different place before Trudeaumania swept the nation, and the man we know as Ivan Rand, founding Dean of this law school and former Justice of the Supreme Court of Canada, was a product of his times.  It would be easy to dismiss Dean Rand as an intolerant bigot, but as William Kaplan explained to an audience at Western Law on Nov. 11, [2009,] Rand was complicated character.
"Canadian judicial biography has been, with a few exceptions, mostly uncritical and largely celebratory, written by unabashed admirers," Kaplan writes in his new book, Canadian Maverick – The Life and Times of Ivan C. Rand. "To my great surprise, this book turned out to be different."
Ivan Rand was born and raised in the Maritimes and graduated from Harvard Law in 1912. It was his exposure to the American Bill of Rights that, according to Kaplan, differentiated Rand from other Canadian lawyers. And it's Justice Rand's decisions as a Justice of the Supreme Court that make his legal legacy so difficult to reconcile with his private views, which have been largely hidden until now.
By 1951, the court in Noble v. Alley assessed a restrictive covenant against selling property in the Grand Bend area to Jews, blacks, or those with "coloured race or blood." It was Justice Rand who interrupted oral submissions by the respondent saying,"If Albert Einstein and Arthur Rubinstein purchased cottages there, the property values would increase, and the association should be honoured to have them as neighbours."
Despite his position on restrictive covenants in this case, he was a member of two restrictive clubs that excluded Jews. He defended the right of Communists to hold elected positions, and famously opposed the internment of Japanese citizens, all the while refusing to meet his sister's Acadian husband for 30 years because of his background.
"It's this hypocrisy – because he did know better – that ultimately leads me to conclude: first-rate mind, third rate temperament," said Kaplan, noting that the most influential judges are rarely collegial consensus builders. "Not such a bad combination."
What, if anything, changed during his lifetime?
Kaplan suggests that Rand's exposure to Jews in the Palestine Mandate may have led him to develop a more favourable impression of Jews. Rand was impressed by the largely secular, often highly educated and industrious, and was sometimes even disdainful of the religious establishment of the Holy Land. He believed that rational law could resolve all human conflict, and was a social engineer at heart.
Robert Mackay, one of Rand's colleagues at Western who would eventually succeed him as Dean, recalls Rand's rants against Jews and people with ethnic names that ended with a vowel: "Rand would declare he had enough of them."
Yet he continued to donate to Hebrew University in Jerusalem for the rest of his life. A forest in Israel was named after him, and he would tour the country receiving awards.
So what is Rand's legacy for this school?
Kaplan tellingly notes, "Almost all of his great civil libertarian decisions reversed the actions of state authorities in Quebec." Mackay explained, "Rand had to decide who he hated more – the French-Canadian Roman Catholics, or Jehovah's Witnesses."
Rand believed that ethics could not be taught – either you had them or you didn't. Western is now known as a pioneer in legal ethics education.
The Ivan Rand window in the Moot Court Room looms menacingly above all those who dare try their hand at advocacy. Rand himself believed that mock trials courts were entertaining, but not educational. He preferred his old 1909 Harvard law texts for the students.
Rand felt that women were good as solicitors but did not have the fortitude for criminal law, a notion that would not bode well for our classes in which women outnumber men , the legal aid clinic, or our struggling criminal law program.
Dean Rand defied utilitarian economics by taking surplus budgets and returning them to the university, much to the chagrin of his staff. He abandoned the administration of the law school only months after its opening to attend to a coal crisis in Cape Breton.
Yet the students loved him.
The Rand formula, where workers pay union dues irrespective of membership, is still one of the hallmark characteristics of Canadian labour law. One of Rand's recommendations (which was never adopted) was that unions be recognized as legal entities that could sue and be sued [directly, and not through agents]. Another was abolishing picketing altogether.
Overall, Kaplan describes Rand's own hand at labour relations as nothing less than "disastrous," with nearly every stakeholder and political party expressing strong criticism. "Reforming labour law," Kaplan said, "is best done incrementally."
As our own Dean Holloway acknowledges, "it's difficult to write fairly about Ivan Rand… What emerges is a picture of a principled man, who thought deeply about the best way to enhance the standards of this profession."
Kaplan suggests that what makes Rand impressive is his ability to draw bright lines between his public and private life, especially when on the Court. And for a man whose vision in many ways may have been ahead of his time, perhaps that is the most we can ask for.
If you're just starting law school, law blawgs can be your best friend. In addition to this site, here are 99 other blog posts that you should read to help prepare for your adventure.  It won't help you though if you're a judge about to be tested.
Most law students want to be in the top 10-15% of their class, and there are career opportunities that depend on that. Ken DeLeon of Top-law-schools.com provides some tips for success in law school, including a handy flowchart on how to prepare for your law school exams. But keep in mind that the end of the billable hour might result in some changes to your legal education, and law students have different learning styles than the rest of the population.
Still applying to law school? An undergraduate degree in physics or math might be your best option to get a solid LSAT score. Remember that these days a law career is considered a risky option, and there are lawyers in Jersey actually working for free. Where else is success defined by more work (even for less pay), and not more recreational or family time?  Larry Ribstein still thinks law school is the cool choice.  But is it really worth it?
On the other hand  you could elect to skip your classes, get intoxicated regularly, sleep with all the members of the opposite sex, gain a reputation as being a total douche bag, and then score a book and movie deal.
Introducing Tucker Max – asshole extraordinaire – a graduate of Duke Law that claims assholes finish first.

An inspiring personality, certainly, and an approach that John Infante of Fearfully Optimistic would definitely disagree with.  It does make you wonder how many Dukes are faking the Daisy to hazard "celebrity bias."  The Bitter Lawyer has an exclusive interview with Tucker that is, at the very least, amusing.
Then again, "skipping classes, playing basketball, doing cocaine and getting drunk" might help you become President of the United States – but eventually someone might start asking for your law school transcripts.  None of this is likely to come up during the President's special advice to students tomorrow (Sept. 8).  An open and transparent government, perhaps, but not that open. Reality check: the last refuge of the persecuted crack smoker may not be in law school.
Hey, "Some people snort cocaine, others snort religion," and the latter is not necessarily better.  The Exit at My Legal Fiction suggests wearing lipstick as a law school study aid, for some very compelling reasons.  If you're a missionary in Kenya, please don't vow to go to law school out of religious convictions, unless you're going to a low-ranking religious-affiliated law school.  Happy Belated Todd, but I won't be paying $25,000 for dinner any time soon.
Still, your biggest youthful indiscretion might be going to law school itself (and graduating at the bottom of your class hardly precludes success).  If your indiscretions precede law school and include a criminal record, there are some disclosure issues you should consider.  Using stolen Social Security Numbers to steal student loans for partying, with  Tucker, Todd, or otherwise, probably isn't a great idea.  Assistant Deans at law schools?  Not a good idea either.
Robert J. Ambrogi also tells us about Branigan Robertson of Chapman University School of Law, who won $10,000 for this video in the My Inspiration video contest:
These law students are doing better than a lot of lawyers these days. When life gives you lemons (or a recession), you should just make lemonade.  Dan Markel is asking, what kind of juice are you making?
On the other hand, if you're looking to avoid personalities like Tucker Max at all costs,  you might be interested in Above the Law's Douchiest Law School Contest.
No surprise that Harvard and Duke are currently heading the pack as finalists.  Also check out Paul Caron's review of U.S. News Law School Rankings for Judicial Clerkships, which includes data from Brian Leiter's rankings. If douchiness turns you off of Yale and clerkships are really important to you, the University of North Dakota might be a good alternative.  However, great credentials don't always make more satisfied lawyers, because these guys tend to be plagued by that green-eyed monster.
Charon QC's musings might be useful in determining if a "douchy law school" is worse than a "McDonalds of law schools," while Dan Slater of the NYTimes suggests just locking the doors to all law schools because there are too few hiring positions. Still having a hard time picking a law school? The iPhone app Law School 100 is free until midnight tonight (Sept. 7). Study aids are becoming more interactive, with West's new Interactive Case Series now linking to directly to law review articles cited in the case series.
Keep in mind that law school is different than undergrad, and you should probably clean up those social networks you're on. After all, you wouldn't want your mom witnessing you pulling a Tucker Max, and some employers might require you to submit your social media for a background check. Social media is also being increasingly being used in the courtroom, and no, the judge doesn't really want to be your "friend."  Don't get rid of that social media entirely though, because "People don't find lawyers in the phone book… They find them through TV ads or friends or by searching the Internet, including blogs and social networking tools."
Apparently what clients really want from their lawyer is to "feel the love," so if someone comes to your office complaining they hurt their "tushy bone," try not to laugh too hard. Be forewarned though – that volenti non fit injuria doctrine you learn in Torts class also applies to contracting Herpes Simplex I from wrestling, also known as Herpes Gladiatorium.
That's probably not what Lauren in Law School had in mind when she suggested gladiator games as an alternative to On Campus Interviews (OCIs).  You can get a list of the guys in your university with herpes from the new Campus Gossip site just to be on the safe side.
Although the number of followers you have on Twitter is no sign of of expertise or influence, it might land you a job (or lose it) with a firm or get you published, even if Perz Hilton decides to sue you for defamation. No "love" (or wrestling) for him, sorry.  Some people do take Twitter seriously, perhaps too seriously.
Eric Goldman's interview with David Lat highlights the importance of students networking during a crisis.  Dennis Jansen also thinks that networking with your peers might be useful, but consists of more than "beaming your peers with business cards or mass-adding people on Facebook and LinkedIn." As popular as WordPress may be for blogs, it just might not be for your law firm, and you even might be held liable for content on your site to a tune of $32.4 million.
The Law Society or State Bar is probably not going to like it if you steal other people's Twitter content and pass it off as your own, like Melina Beninghoff did . Stealing content doesn't take brilliance, and it barely takes effort.  What is clever is coming up with this CraigsList listing from Los Angeles.  But is stolen content any worse than fake content?
Today is also Labour (sic) Day in Canada and the U.S.  That's the Canadian spelling, because Labour Day did originate in Canada in 1872 with the Trade Unions Act, which legalized unions.  The United States followed in 1882 with informal observance in New York City, and by 1894 it was observed by 23 states through legislation. Still, it was the American President Lincoln, not a Canadian, who said in December 1881,
It is assumed that labor is available only in connection with capital; that nobody labors unless somebody else, owning capital, somehow by the use of it induces him to labor…
Labor is prior to and independent of capital. Capital is only the fruit of labor, and could never have existed if labor had not existed.
Although most Canadian law schools start the day after Labour Day, many Americans start a week or two earlier. According to Blawg Review 122 it seems that in Dublin they start as late as October, but it might just be that everyone (students and profs) are recovering from prolonged hang-overs.
Labour relations are highly relevant for this edition of Blawg Review, since law professors at the University of California are considering a walk-out despite having the "best public education in the world." Perhaps they could use this list of 24 alternative mediation dispute resolution sites to read.
Maybe they should just settle this all over a beer. Then again, those Canadian brewers are at it again with their trade-mark litigation! Next time someone tells you "I Am Canadian," you might want to do your due diligence.
The big thing up here in Canada right now is Copyright Consultation Reform. Although over-reaching legislation is great for the lawyers, it does little for end-users of copyright material.  If you're one of those folks with a keen attention for cyberspace cases, this new blog following the 10 most important U.S. cases will probably be of interest.
But the big thing about Canada in the U.S. right now seems to be our healthcare system, which we're rather partial to, despite what they mights say (Ignore those pesky suits).  Send us your gladiators with herpes, and your perdurable impetus. All that talk over at Volokh about a "lottery system" can only be described as nonsense.
(At 1:53 Glenn Beck repeats lottery libel, and at 3:21 yells at a caller to get off his phone, "you little pinhead," for not listening to the "facts."  The remix is even funnier.)
Although she acknowledges that healthcare reform is needed, Althouse has 10 things she hates about it.  Change is always hard due to "status quo bias." Madeleine Begun Kane has a limerick she wrote just for the spats over healthcare in the U.S. (watch your pinkies!):
"Majority rule is just great,"
Said Gregg in the drilling debate.
"You've got 51 votes,
Then you win." Check his quotes.
Yet 51 Dem votes don't rate.
Seeking medical treatment is probably the first thing you should do after a car accident, irrespective of whether it occurs in Canada or the U.S.  Passen Law provides 9 other things you should do, including, of course, getting an experienced personal injury lawyer.
Another thing we have in Canada absent in the U.S. is a prohibition against the death penalty.  Perhaps the fact that 45% of wrongful convictions in capital cases are based on jailhouse snitches has something to do with it.  Mark Bennett of Defending People points out the interesting observation that a Texan executioner appears to be committing murder by that state's law,
…would you participate in a death penalty trial, knowing that, for the rest of your life, with the turn of a tide of public opinion you could be prosecuted for making what you believed to be the right decision? You may be betting your life.
Do you think that employment contract with the State would protect you?  Don't count on it, as Jeffery I. Gordon mentions that most contracts are too brittle to withstand scrutiny, even if those FirstDrafter clauses look like they can do the job.
On the other hand, if your employment contract follows an affirmative action plan that is not remedial and narrowly tailored for past discrimination, it may constitute unlawful discrimination.  We're still not sure if a stripper constitutes an employee or an independent contractor in Employment Law class.

More guys in that class would probably express their anticipation for seeing Jessica Alba as the stripper-law student Nancy Callahan in the upcoming Sin City 2 if they weren't concerned about objectifying women.
Don't lose any sleep over it, unless you've sexually assaulted employees and are settling for $1.72 million.  Be careful though – the risk of contracting gladiator herpes (and sins) rises exponentially when wrestling with strippers.  You could also get robbed or raped.
Personally, I would be okay with any affirmative action that sought to get everyone but Tucker Max and any potential douches into my law school.  Nancy Callahan might get a pass, as long as she doesn't hook up with Tucker while she's there.
---
Special thanks to David Shulman for editing on this piece.

That's it for this week's edition! Remember: Blawg Review has information about next week's host, and instructions how to get your blawg posts reviewed in upcoming issues.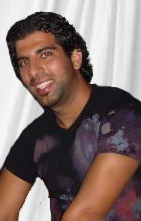 I'm doing a law program in Israel right now with an interesting guy – Michael Yadegari, a Persian-Jewish law student from Los Angeles who did this program last year.
He is currently a JD/MBA student at Chapman University in Orange, CA and President of the Jewish Law Students Association and founder of Chabad at Chapman.
He spent his time here putting together a documentary, In the Mind of Israel, a non-partisan compilation of first-hand accounts about why Israelis, both Jews and Arabs, live in their country.
The video presents a vast diversity of perspectives and positions, representing a diversity of opinions that we rarely see outside of Israel. He interviews ordinary Israelis, members of parliament, soldiers, law professors, and students.
There are some political implications of the film, including options towards a peace process.   Those interviewed express controversial views from across the political spectrum, and helps highlights some of the enormous challenges Israel has within itself in determining what course of action to take for the future.  It includes some pretty strong statements, including,
The Arabic (sic) needs to die.
Others claim that Israeli politicians use the Palestinian issue for their own ends, and are not really interested in resolving the problem at all.  One Arab truck driver emphasizes that they already live together, and collective cooperation towards a solution is certainly possible.
Israel is not a monolithic country, but this film does help give a glimpse into the very complicated minds of those who live there.  Perhaps even more important than an international audience seeing this would be for Israelis themselves to talk to each other and resolve their differences, educate one another about misunderstandings, and move beyond the historical obstacles that have hindered progress thus far.
You can purchase a copy of the film here.
LawIsCool has recently begun a partnership with AdviceScene.com. The site is an online forum that provides resources to both lawyers and members of the lay public.
Founded earlier this year by Nancy Kinney, an entrepreneur with a law background, AdviceScene aims to provide a "fully moderated, social networking community linking lawyers and the public to provide a free and democratic exchange of legal information."
A key difference between other legal forums and AdviceScene is that AdviceScene provides legal information from actual practicing lawyers; answers don't come from anonymous sources.
According to Kinney:
"The site offers lawyers a credible method to join the online world of public discussion on legal matters in a manner that conforms to their professional code of ethics."
The site also assists lawyers that want to contribute legal information online by providing FREE marketing services such as a free lawyer directory, free banner ad, free profile in the monthly newsletter, and soon free website templates, including free search engine optimization (SEO) and hosting.
As an added bonus, AdviceScene Enterprises Inc. donates 5% of gross advertising revenues to pro bono legal services societies.
Law schools on both sides of the border are graduating more lawyers than ever before. What effect will the influx of lawyers have on the profession and on the litigation culture in the United States and Canada? Has litigation become America's national sport? Has frivolous litigation reached crisis levels?

I spoke with Philip K. Howard, best-selling author of the new book, Life Without Lawyers: Liberating America from Too Much Law, to find answers to these questions, and to find out what can be done to bring common sense back into the courtroom.
Howard is himself a lawyer and legal reform activist; he is the founder and chair of Common Good, a "nonprofit, nonpartisan legal reform coalition dedicated to restoring common sense to America." He also contributes to the New York Times and the Wall Street Journal.
Ubaka Ogbogu over at UofA blog mentioned the new HBO series House of Saddam.  Although I only caught a few episodes, here are my preliminary thoughts on the series.
Accurate Information in the Fog of War
Alex Homes, one of the researchers for the series, shares the difficulty in finding accurate information on Saddam's life.
Sally and I started by reading all the biographies that had been written over the years. The first thing that struck us was how the accounts of Saddam changed over time. Fuad Matar's biography, written in 1981 and containing extensive face to face interviews with Saddam, could not be more different that those written by Western journalists after the 1991 invasion of Kuwait. Finding incontrovertible facts was going to be a problem.
The context in which this series is written is essentially crucial, as the American electorate still struggles with a highly controversial conflict that they are still uncertain over why they are there. The infamous 2003 USA Today poll indicated that 70% believed Saddam was behind 9-11.
What We Won't Hear Much Of
Biographical entries that will likely be glossed over or omitted from the series include how the CIA helped put Saddam in power in the first place, and helped him create lists of names for his mass graves,
In 1959, there was a failed assassination attempt on Qasim. The failed assassin was none other than a young Saddam Hussein. In 1963, a CIA-organized coup did successfully assassinate Qasim and Saddam's Ba'ath Party came to power for the first time. Saddam returned from exile in Egypt and took up the key post as head of Iraq's secret service. The CIA then provided the new pliant, Iraqi regime with the names of thousands of communists, and other leftist activists and organizers. Thousands of these supporters of Qasim and his policies were soon dead in a rampage of mass murder carried out by the CIA's close friends in Iraq.
They will probably also overlook that the American administration helped arm Saddam with WMDs, and disregard the remarks by (Canadian born) U.S. ambassador April Glaspie, the State Department, and Assistant Secretary of State John Kelly over the Kuwaiti invasion.
America's complicity in Saddam's crimes will clearly be ignored, and of course the entire Iran-contra affair probably won't even get a peep.
These inner corners of American politics, and how this knowledge affected the psyche and perspectives of Saddam, will be deliberately omitted.
As a reult, the series will eventually go down in history as a well-designed propaganda piece for an  illegal war that destabilized the world for decades.
Fear is the path to the dark side. Fear leads to anger. Anger leads to hate. Hate leads to suffering.
– Master Yoda, P.C., C.J.C.
In this award-winning 2006 film produced in cooperation with the CBC, Steel Toes tells the story of a neo-Nazi living in Montreal. He viciously attacks an Indian immigrant without provocation, mistaking him for a Muslim, with serious injuries that resulted in death.
He is frustrated, angry with the millions of immigrants who come to Canada and reproduce in large numbers. They supposedly take jobs away from working-class whites like him and are changing his white way of life in Canada.
The young man, who stopped his education in high school,  is forced to confront his racial ideology within himself, discovering that if he takes the stand with his racial rhetoric he will likely never be released.
But another man is also on trial in this film – the Jewish lawyer assigned to defend him, despite having his client tell him to his face,
In an ideal world we would have you eliminated.
But his client's paradox is that he also says,
In this world, I need you more than anyone.
Derided by his Jewish family and friends as a super liberal humanist Jew, the lawyer also struggles with advocating on behalf of someone who despises the multi-racial society – it's multicultural, the lawyer corrects him – which they live in.
His friends ask him if he has forgotten what his people have gone through, what his family has gone through. But it is actually his family that provides him with the conviction to move ahead.
He thinks back to his childhood and his father telling him that he should give people a chance, especially those who want you dead. When the son responds that it sounds "soft," the father replies that it is the toughest thing of all to do,
Soft? It's the hardest kind of right there is. Otherwise the killing won't stop. Somebody has to stop the killing and that's you and that's me. "Thou shalt not kill." It's the basis of our entire civilization.
You don't have to have the slightest interest in practicing criminal law to enjoy this movie, which is essentially about compassion for someone who is different. The neo-Nazi overcoming his guilt and prejudice towards the accented immigrant, the lawyer overcoming his anger towards the criminal, and even the victim who forgives his killer before he dies.
But it's the transformational ability of advocacy that really makes a difference in the story.  The young man finally comes to the realization that the Jewish lawyer who so selflessly helps him at the expense of risking his career, family and personal life could hardly be a devil.
Only by overcoming this fear and hatred can the young man accept the possibility of rehabilitation, and eagerly seek to re-educate himself by reading new materials and embracing new ideas.
It's an inspiring story and a reminder of the reasons why we love and uphold the justice system.
Cross-posted from Slaw
What do Sikh immigrants to B.C. almost a century ago have to do with gay issues?
Everything. Or, maybe nothing.
On Oct. 24, 2008 I saw a film, Rex vs Singh, a 20-min. short film on a legal case from B.C. in 1915.
The event was hosted by Standing Against Queer Discrimination (SAQD) as part of a film festival at the University of Western Ontario.
One of the film-makers, John Greyson, introduced the film and answered questions.
A New City with Big Problems
Vancouver was a new city at this time, but was still Canada's most multicultural city with a few pockets of Chinese, Japanese and Sikh communities.  In 1907 riots ensued, destroying Chinese and Japanese neighborhoods,  while the rioters sang 'White Canada Forever.'
In 1914, a year before the case of Rex v. Singh, the Komagata Maru tried to dock in Vancouver.  It resulted in a split within the Sikh community, and increased xenophobia by the rest of the population.
Discrimination Under a Different Name
The men in this case were entrapped by the police and accused of sodomy, which was of course illegal.  Apparently this was part of a routine process of discrimination in a series of legal cases stretching back to the 1800's.  The film mentions over a dozen cases between 1905-1930.
But not necessary because these people were gay.   In an interview earlier in the year Greyson said,
Were the men having sex? Or were they just entrapped? We don't even know what the verdict was in this case —that part of the story has never been uncovered. There is so much about it that is unknowable, that is mysterious. This is a video about fragments of a story —the more we try to answer them, the more they fall apart.
Homophobia was used to persecute these minorities because they had full rights as British citizens, and could not be targeted using techniques more routinely used for harassing minorities.  Immigration laws were deliberately designed to limit the number of Sikh women arriving in Canada, to discourage permanent settlement as much as possible.
Vancouver historian, Gordon Brent Ingram, who researched the case and also appeared in the film, said,
Certain white people in Vancouver were not happy about this. The early 'city fathers' of Vancouver were all white and often quite racist. They didn't want Indo-Canadians becoming a significant demographic group in Vancouver, and by sexually harassing them they hoped to make these men feel unwelcome.
The film brings to life a transcript from the actual case, as the officer describes his tactics of tricking the accused as being "necessary."  But the accused responded they knew he was a detective, and did not attempt any sexual impropriety.
A witness also claims one of the Sikh men asked him to participate in sexual activities, but could not explain how this could have happened when informed that the man did not speak English.
The outcome of these cases are unknown, but similar cases in California resulted in sentances of 5-7 years.
What's the Relevance Today?
The point is not whether or not these individuals really were gay.  When intolerant elements of Canadian society were unable to persecute ethnic minorities using institutionalized discrimination, they resorted to other legal techniques to accomplish the same purpose.
Some reporters are attributing the recent Tory win to their ethnic strategy, which has given them 10 ridings in the GTA and Vancouver that have significant populations of ethnic minorities. Ruby Dhalla of Brampton-Springdale, a riding with one of the highest Sikh concentrations in Canada, won by a mere 1,000 votes, down from 8,000 in 2006.
Interestingly enough, the new Conservative Minister of Minister of Citizenship and Immigration, Jason Kenney, has himself made disparaging remarks dismissing them in 2000 saying they were,
…overheated Sikhs using the race card, which they so often do when their credentials are being questioned.
Family values, crime and taxes are issues supposedly resonating in these communities.  "Family values" is often used as code for anti-homosexual policy.
What all these ethnic communities should realize, and often do, is that issues of discrimination cross boundaries of ethnicity, religion, race and sexuality.  Advocacy therefore requires support for others who don't necessary share your beliefs, culture, lifestyle or identity.
The case of Rex vs Singh is yet another reminder of this lesson.

For most of us, succeeding at getting into law school is a long and arduous path, riddled with onerous tasks like resume-updating, LSAT writing and hunting down references from years past. It usually entails a great deal of misery suffered by the individuals undertaking the endeavour as well as the dear friends and family members who have to put up with our whining.
In some cases, friends and family members become more wrapped up in the process than the applicants themselves. Speaking from personal experience, my mother was one such individual. When I first mentioned that I "might consider taking the LSAT and applying to law school," I didn't know what I was getting myself into.
Little did I know that I'd be answering questions like, "So how's law school going?" and "What was your last LSAT score?" at family functions and get-togethers after the news spread that "Thomas is going to law school!" The heat was on. I figured I'd better follow through with my plans otherwise I'd have to respond, "Not so great, but my career in the grocery industry is going swimmingly!"
Upon mentioning my legal aspirations, the gifts started pouring in, ranging from a "hilarious" lawyer calendar to a library of Grishams and law school prep books. Had only my loved ones known about TheBillableHour.com, the swag would have been even sweeter.
With tons of law and law school related gifts, ranging from goofy greeting cards to law school survival kits, TheBillableHour.com is one-stop shopping for the aspiring legal professional, legal professional, and all of the poor saps that have to put up with legal professionals, including those ever-so-enthusiastic and proud mothers and fathers out there. The site has so much to offer, in fact, that I had to cut back on my usual rambling just so I can fit a fraction of it into this blog post.
A rundown: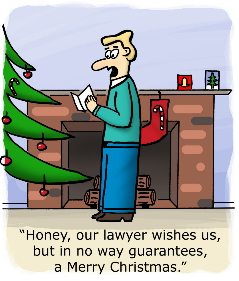 Watches & Clocks
Greeting Cards
Music & Videos
Accessories
Office Supplies
Games & Books
Survival Kits
And of course, gift certificates
All of which are orderable through a secure server and will be delivered to your door
The quality of the products runs the gamut from thoughtful and practical to a bit goofy and seemingly pointless, but it's all in the name of wholesome legal fun. The wide array of options available for greeting cards is my personal favourite. They're generally corny (their creators must be lawyers) but humorous and fully customizable, giving the sender the option of inserting their own witty print on the inside, and TheBillableHour.com is even kind enough to deliver them to the recipient for you. For your browsing pleasure, the cards are organized into a broad range of categories for any occasion a lawyer ought to celebrate (except perhaps very, very early retirement).
A review of the site wouldn't be complete without mention of its namesake, of course. TheBillableHour.com offers watches and clocks, which vary in their quality/price to be fitted for the fresh-out-of-school lawyer starting a modest little firm or the high-level legal executive. For a "light-hearted take on the concept of the billable hour," they feature dials that are divided into tenths of an hour for smooth billing purposes.
It's worth noting that the site isn't all fun and games. It also features a resources section with links to books, articles and much more to aid you in all of your legal endeavours.
I could easily go on for pages mentioning highlights of the site but, for the sake of your precious time and my grades, it's best I stop now. In the very least, TheBillableHour.com is worth the browsing time, so check it out for yourself!
In the summer before my first year of law school I had a lot of opportunities to go the extra mile by reading books, going to orientations, taking campus tours and enrolling in prep courses in order to investigate ahead of time what was going to begin in just a few months. Some of us simply can't wait, but I opted to take the more relaxed approach and couldn't be bothered.
There is no shortage of law school "preparation" for students about to enter their first year. And unfortunately there is also no shortage of naïve, bright-eyed, bushy-tailed, go-getting, soon-to-be first-year law students who buy into all of that crap.
That statement should make it clear that I'm sceptical about such things. I generally find it all to be a waste of time and money. It seems as bizarre to me as a prisoner on death row who would pass up the opportunity for a final meal. Not to paint too bleak a picture of law school.
But I recognize that these people exist and I can't blame them for having a hard time fighting the urge to learn as much as possible about the dragons they'll soon be slaying. So how about the lesser of two evils? If you must waste time and money on learning what you're going to find out eventually anyway (free of charge), you might as well make it short and sweet. You might want to pick up The Trials of Law School, a brief film that follows the year-long journey of eight first-year law students at the University of Oklahoma.
Watching this film wasn't as helpful for me as it might be for someone entering first year, because I've already been through it. However, being a second year does enable me to judge the film's accuracy, and I'd say it's spot-on. I found that I identified with a lot of the trials and tribulations that our eight subjects struggled with throughout their first year.
A Summary
The Trials of Law School provides an accurate and comprehensive glimpse into the life of the first year law student. Porter Heath Morgan, the film's director, was sure to select a diverse group of individuals for his documentary, adding to the film's value for obvious reasons.
It shines light on the experience for mature students (including a mother of six, a single mother of one, and a father of four who is also an undergraduate professor), as well as students in their early to mid 20s. The former understandably have a harder time fitting in because of the age gap, while the latter suffer from a relative lack of life experience in dealing with stress.
It also covers the sadistic evaluation methods employed by most law schools: The 100% final. The majority of the students aren't pleased with it, but this portion of the film, as with the rest, is riddled with professor commentaries that are meant to explain the various traits that are unique to law school, including such weighty evaluations, the Socratic method of teaching and the difficulty most students face in adjusting to the new intellectual atmosphere.
"It's not undergrad anymore," quips one of the students. "The reading done and the time put in isn't worth the result," complains another. There is no more spoon-feeding, and more often than not, law students are presented with questions rather than answers. The frustration this can potentially result in is made clear.
The Trials of Law School also helps to dispel some of the ridiculous horror stories out there about law school, such as those illustrated in The Paper Chase. "I haven't ever seen the kind of cut throat competition that is sort of legendary in law school," says Randy Barnett of Boston University, for example.
The most gripping moments of the film occur in the portions leading up to and including final exams. I personally found it hilarious that these students, in a different school, in a different city, in a different country, say the exact same things my peers and I did when we went through it. I won't repeat them here, because if you don't hear that nonsense in the movie you'll likely hear it in real life.
The Ending: Warning, Spoiler Alert!
My personal favourite bit is nearing the end, when the camera focuses individually on each of the eight law students while they check their final grades for the first time. Ah… memories.
This may come as a shock to those of you who haven't yet started law school, but I doubt it's much of a shock to anyone who has finished: Everyone passed, everyone did fine and everyone got a job. That is perhaps the most valuable lesson any of us can gleam from this movie.
The Verdict
If you're spoiled by big budget documentaries and Hollywood movies, an amateur production like this could come off as a bit cheesy. But that wasn't an issue for me. The closest thing I had to a problem with it was the unbelievably corny soundtrack which took a bit away from what should have been dramatic scenes by making them hard to take seriously. But these slight imperfections don't really speak to the overall quality of the film.
A film like this can be seen as positive, even if not perfect, in that it gives law school hopefuls who are awaiting their first years a glimpse at what it's like. But most importantly, it's done quickly. A little bit of personal advice has to come with the recommendation to catch this flick.
I recommend watching this movie rather than wasting your time on all of the aforementioned law school preparation. Your last summer before law school might be your last free one. A little flick like this takes about an hour and a half, and it'll give you a good overview of what you can expect.
Don't waste your last few days of freedom. There will be plenty of time for law school come September. Trust me.
7/10.
This past week, I had the opportunity to check out the Oscar-winning detainee torture documentary Taxi to the Dark Side.
The film was written and directed by Alex Gibney, of Enron: The Smartest Guys in the Room and Who Killed the Electric Car? fame.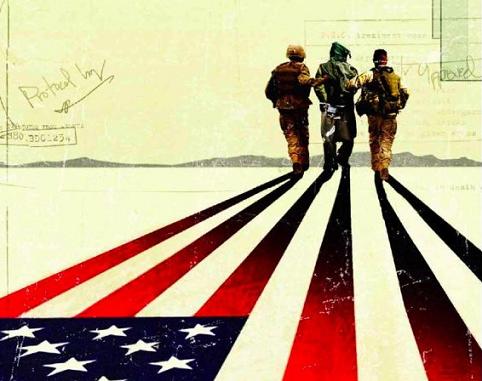 Taxi's title refers to a young Afghan cab driver named Dilawar, whose plight was made public several years ago in a series of articles written by Tim Golden for the New York Times.
Shortly after picking up a fare in the eastern province of Khost, Dilawar was stopped by Afghan militiamen at a checkpoint. He and the three men he was chauffeuring were accused of being responsible for rocket attacks on an American army base in the region.
With nothing more than the word of the militiamen as evidence against them, the four were handed over to the American forces at Bagram detention center.
The men were questioned by poorly-trained interrogators that were given deliberately vague guidelines as to the kinds of techniques that they were allowed to employ.
Dilawar was handcuffed and chained to the ceiling of his small cell in a standing position, so that he could not fall asleep. The sleep deprivation was aimed at making him more pliable during interrogation.
The guards at Bagram believed they were explicitly authorized to use force to control detainees. It was thought that they were not allowed to strike the prisoners above the waist, but they were allowed to deliver strikes to pressure points in the legs in order to facilitate compliance. Guards were not impressed with Dilawar's cries and pleas for help. They would take turns kneeing him in the thigh until they grew tired.
"He screamed out, 'Allah! Allah! Allah!' and my first reaction was that he was crying out to his god," Specialist Jones said to investigators. "Everybody heard him cry out and thought it was funny."

Other Third Platoon M.P.'s later came by the detention center and stopped at the isolation cells to see for themselves, Specialist Jones said.

It became a kind of running joke, and people kept showing up to give this detainee a common peroneal strike just to hear him scream out 'Allah,' " he said. "It went on over a 24-hour period, and I would think that it was over 100 strikes."

(Source: New York Times)
After five days of torture, Dilawar died. He was killed by heart failure due to "blunt force injuries to the lower extremities." The army pathologist who examined him ruled his death a homicide.
the tissue in the young man's legs "had basically been pulpified."

"I've seen similar injuries in an individual run over by a bus," added Lt. Col. Elizabeth Rouse, the coroner, and a major at that time.

(Source: New York Times)
When public scrutiny finally fell on the case several years after Dilawar's death, the military was forced to lay charges. The toughest sentence imposed for the torture and murder of Dilawar was 5 months. Two of the soldiers responsible received sentences of two and three months, respectively. None of the other guards  who were convicted in the Dilawar case received any jail time at all. Furthermore, to my knowledge, none of the officers giving the orders, let alone the administration officials who drafted the policies permitting detainee abuse, were ever prosecuted.
Since detainees were denied the fundamental right of habeas corpus, they had no way to challenge their detention. It was later discovered that the Afghan militia leader who turned the four men over to U.S. authorities had himself been launching rockets at the American base. He had been arresting and turning in innocent Afghan civilians to curry favour with the Americans.
Even more frightening, it was later discovered that Dilawar's captors believed he was innocent from the start:
"Most of the interrogators had believed Mr. Dilawar was an innocent man who simply drove his taxi past the American base at the wrong time."

(Source: New York Times)
The three occupants of Dilawar's car were eventually released; it was of course too late for Dilawar.
He was one of the first prisoners to die in U.S. custody since the beginning of the War on Terror. He would not be the last.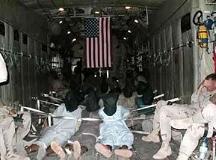 While the taxi driver's tragic tale sets the stage for the film, it is not the central focus. Dilawar becomes the anchor of a story that takes us all around the world from Bagram detention center in Afghanistan, to Abu Ghraib prison in Iraq, to Guantanamo Bay in Cuba, and finally all the way up the chain to the Oval Office in Washington.
Taxi to the Dark Side persuasively argues that the atrocities at Abu Ghraib and elsewhere were not the product of a "few bad apples." Rather, the policies and attitudes that led to detainee abuse were implicitly and sometimes explicitly authorized at the highest levels of the Bush administration.
While the story has certainly been told before, Gibney has a talent for piecing it together succinctly and logically. That, coupled with the fact that the director managed to actually score interviews with Dilawar's interrogators and abusers, makes this documentary an absolute standout.
I would highly recommend this film to anyone interested in the subjects of criminal law, the "war on terror," war crimes and atrocities, and international law. While I think that any lay person with even cursory interest in the above subjects would find it disturbing, thought-provoking, and fascinating, the law student will appreciate it on a deeper level.
Trailer