Online Drugstore Options That Can Save You Money Check with Canada's National Association of Boards of Pharmacy Cialis order prescription in Toronto access safe affordable prescription drugs Getting cheaper prescription drugs via online Canadian pharmacies discount generic drugs
Our Guarantee of Hassle free purchase of RX Ordering from our prescription service over the Internet is a proven convenient service Purchase cialis 5mg tablets in San Francisco All international prescriptions are dispensed from a licensed International Pharmacy There are no hidden charges or any Taxes
The non-profit organization Law School Admission Council (LSAC) based in the United States was penalized $7.7 million USD to compensate over 6000 students from the past 5 years for application to accommodate. Prior practice included Law School Admission Test (LSAT) scores being "flagged" on law school applications if accommodation for extra time was applied during examination. The decision impacted domestic United States schools and many other schools abroad where they accepted LSAT scores with law school applications. The United States Department of Justice claimed of "widespread and systemic discrimination" by the LSAC where they intervened with the Americans with Disabilities Act. The LSAT continued to be a key criterion for law school admissions in the United States where excellence in the LSAT was highly prized. The LSAT scores are used throughout Canada and played an important role to determine how schools were ranked. There was no French language LSAT version so Quebec-based schools and University of Ottawa's French section were not affected. Due to jurisdiction issues, Canadian school officials do not have control over LSAT's examination policies and procedures. Lorna Turnbull, the dean of Manitoba's Robson Hall Law School indicated such powerlessness and commented on the incredible amount of money potentially required to exclude LSAT scores for law school admission. Canadian officials are required to accommodate students in accordance with the relevant human rights legislation within their respective jurisdictions. Lorna Turnbull added that Canadian schools have suffered from such passive acceptance for quite some time. The class action lawsuit was initiated by 3 students in California and ballooned to almost 40 claimants where it prompted the United States Department of Justice to issue a consent decree to the LSAC to have breached the Americans with Disabilities Act with systemic discrimination. Sarah Triano, a teenager from the state of California and the class action initiator from 1997 was repeatedly denied accommodation due to her immune deficiency disorder and battles with depression. A piece of statistic from the Osgoode Hall Law School 2013 entering class showed 8% of the students with some sort of disability. The interviewees to the article noted accommodation was meant to create equal opportunity. Ravi Malhotra, an Ottawa law professor and human rights committee of the Council of Canadians with Disabilities was concerned the practice of "flagging" accommodated students infringed the human rights of Canadians.
by Ho Cheung
Source: Canadian Lawyer Mag
You will need to fax or mail us a copy of your prescription after placing an order we have filled hundreds of thousands of prescription drugs for our valued customers Ambien cheap in Leeds
Buy xanax 2 mg with amex Portland Your reliable source for prescription medication There are no hidden charges or any Taxes The products are also just as reliable and genuine
In Droning On, Charlotte Sandry introduced readers to the challenges posted by Unmanned Aerial Vehicles (UAVs) posted to existing Canadian nautical regulations and to privacy breach issues.
Be careful when selecting which Canadian or international pharmacy you buy from We procure all the medications from the Top Most reputed manufacturers You can buy cheap brand prescription drugs Viagra online buy Los Angeles We dispense your medication in normal looking Packages or cardboxes
Reliable Canadian Pharmacy thrives to meet and exceed the standards prevailing in the Online E-Commerce Industry Order cytotec 200mcg visa mastercard Portland Don't have the time or the ability to visit your drugstore? Savings of up to 90% on common prescriptions drugs be careful when selecting which Canadian or international pharmacy you buy from
Canadian public is cautious about the growing use of UAV (unmanned aerial vehicle) by the state and the business community, especially in the field of energy sector where vast distance is required to cover for security surveillance and maintenance needs, according to Winnepeg aviation lawyer Joe Barnsley.  The benefits of UAVs is obvious in terms of speed and safety (at least for the operator). Charlotte Sandry, too, believed that Canadian vast landscape offers an opportunity for widespread use of UAV in the area of navigation mapping, search-and-rescue, resources exploration, traffic and utilities facilities monitoring, as well as security surveillance. However, Barnsley cautioned that Canadian aviation regulations lag behind the growing use of UAVs.
According to Barnsley, the current Canadian Aviation regulation classified UAVs as an aircraft without human onboard to control it. There are only two categories of aeronautical regulations (under the Aeronautics Act) administered by Transport Canada that is based on aircrew certification and aircraft certification. Aircrew certification is licensing to an individual based on the type of platform he/she flies. It can be a conventional aircraft, glider, balloon, gyroplane, helicopter or an ultra-light airplane. The other one is classification of the flying platform itself based on intended use (as aerobatics or utility for example). None of the two existing classifications apply to the use of UAVs. The only regulation that remotely applies to the use of UAVs can be found in Transport Canada website as "special flight operations or air operator certificate". Applicant to the aforementioned certificates must provide a detail flight plan and contingency (with emergency) plan on a case by case basis. According to Transport Canada, it takes at least 20 days to process and to review the application for the special flight operation certification. According to Sarah Fitzpatrick and Kenneth Burnett, from Miller Thomson LLP in Vancouver, suggested that application for UAVs use under those condition will be very inefficient and impractical because "a lot of jobs are date-specific and if each job requires a separate SFOC, then there is a possibility that a SFOC will not be issued in time."
Safety is also another issue with the impending proliferation of UAVs, according to Joe Barnsley because there is no standardize test for fit of the UAVs or the person who is controlling it, air space navigation and midair collision with an aircraft can be problematic. Current aviation legislation has no coverage of UAVs in those aspects. Charlotte Sandry's offered a limited degree of reassurance when Transport Canada admitted that the regulatory system and industry technology is unprepared to accept the pending widespread use of UAVs in the civilian market. There were two working reports done by the Federal Government since 2007 recognizing the economic benefits from the use of UAVs commercially and the need for a comprehensive legal framework to exploit the proliferation of commercial UAVs use (with final report due in 2017).
Privacy is always an issue for obvious reason. A report dated March 2013 from the Office of the Privacy Commissioner of Canada highlighted the danger of invasion of privacy when an UAV's takes aerial video or photographs without the public's consent or acknowledgment. Existing Personal Information Protection and Electronic Documents Act is insufficient for privacy protection because the Act does not apply to data collection by covert operation (of UAVs). The Office said the public is rightfully concerned when real estate agents or T.V. producers rely on UAVs to produce advertisement without their knowledge or consent. Similarly, fear for privacy breach occurs when Amazon's UAVs pointed their camera to people's window for checking if people are at home to ensure delivery or recording people's absence for delivery charge. Another major area of concern for privacy breach is when facial recognition and enhancing features are administered to data covertly collected by law enforcement agencies operated UAVs.   One privacy lawyer David Fraser, a partner at McInnes Cooper's Halifax office, suggested that the use of UAVs in surveillance is not the problem but it is how the data are collected and stored will be a privacy and legal issue.
Charlotte Santry concluded that there is a lot to catch up with our privacy and aviation laws. UAVs technology are here to stay and expanding, it provides a lot of cases for legal practitioners to work on when privacy, transportation and aviation matters are at stakes.
Source:
Canadian Lawyer. (2014). Droning On. Retrieved from http://www.canadianlawyermag.com/4989/Droning-on.html
As a UWO student (and at many other Canadian universities,) you automatically pay an annual fee to an organization called Access Copyright. An item is included in your student activity fee, and it used to be $3.38 per student per year, plus an amount based on the number of photocopies made at library photocopy machines. However, when the licence agreement expired last year, Access Copyright did not seek to renegotiate with UWO. Instead, it applied to the Copyright Board for a massive restructuring of the agreement. If the Board approves the request, Access Copyright would receive $45 per student per year. With 30,000 full-time students, this amounts to $1.35 million annually. But that's not all. Access Copyright would also have the right to surveillance: Section 14 (4) of the proposed licence agreement states that:
The Educational Institution shall give Access Copyright, on reasonable notice, right of access through-out the Educational Institution's premises in order to organize and carry out an audit, including full access to the Secure Network and all Course Collections.
This would include access to university email accounts.
There are a number of problems with the Access Copyright regime. First of all, every university student is presumed to be infringing copyright and this seems very unlikely given the Fair Dealing rights in the Canadian Copyright Act that expressly permit the copying of non-substantial portions of a work for the purpose of private study. As well, the university is presumed to be responsible for the presumed copyright infringement by students. This is contrary to the Supreme Court of Canada's decision in CCH Canadian Limited v. Law Society of Upper Canada, [2004] 1 S.C.R. 339.CCD, which held that a library is NOT responsible for copyright infringement merely by providing access to photocopiers.
What is more troubling, though, is that by paying Access Copyright, our fair dealing rights become meaningless.
Call for Participation
Cyber-Surveillance in Everyday Life: An international workshop
May 12-15, 2011, University of Toronto, Canada
Digitally mediated surveillance (DMS) is an increasingly prevalent, but still largely invisible, aspect of daily life. As we work, play and negotiate public and private spaces, on-line and off, we produce a growing stream of personal digital data of interest to unseen others. CCTV cameras hosted by private and public actors survey and record our movements in public space, as well as in the workplace. Corporate interests track our behaviour as we navigate both social and transactional cyberspaces, data mining our digital doubles and packaging users as commodities for sale to the highest bidder. Governments continue to collect personal information on-line with unclear guidelines for retention and use, while law enforcement increasingly use internet technology to monitor not only criminals but activists and political dissidents as well, with worrisome implications for democracy.
This international workshop brings together researchers, advocates, activists and artists working on the many aspects of cyber-surveillance, particularly as it pervades and mediates social life. This workshop will appeal to those interested in the surveillance aspects of topics such as the following, especially as they raise broader themes and issues that characterize the cyber-surveillance terrain more widely:
social networking (practices & platforms)
behavioural advertising/targeted marketing
monitoring and analysis techniques (facial recognition, RFID, video analytics, data mining)
Internet surveillance (deep packet inspection, backbone intercepts)
resistance (actors, practices, technologies)
A central concern is to better understand DMS practices, making them more publicly visible and democratically accountable. To do so, we must comprehend what constitutes DMS, delineating parameters for research and analysis. We must further explore the way citizens and consumers experience, engage with and respond to digitally mediated surveillance. Finally, we must develop alliances, responses and counterstrategies to deal with the ongoing creep of digitally mediated surveillance in everyday life. Read more
Blawg Review is a blog carnival that rotates to a different law site every week, usually emphasizing a specific theme. Last week's review was by R. David Donoghue.
August 23 is the "International Day for the Remembrance of the Slave Trade and its Abolition," established in 1997 by the United Nations Educational, Scientific and Cultural Organization (UNESCO) during the 29th session of the General Conference (Volume 1).
The purpose of the day is to examine:
the historical study of the causes and workings of the transatlantic slave trade,
the clarification of the consequences and interactions to which it gave rise, and
the contribution of the project to the establishment of a culture of tolerance and peaceful coexistence between races and peoples.
This year UNESCO has developed a documentary for this day Slave Routes: A Global Vision.
A companion document has has been released with the film, and will be referred to periodically throughout this post.
The Causes and Workings of Transatlantic Slavery
The origins of the Transatlantic slave route go back to the Iberian wars, between the Christian and Muslim kingdoms of Spain and Portugal. Both sides engaged in the enslavement of captives of war. As Slave Routes notes, the institution of slavery existed well before the Transatlantic route, both internally within Africa and to the Near East. But something different began with the European enslavement of Africans from the 15th c. onwards.
The first known African slaves sold in markets of recognizable European states was in Lisbon, Portugal in 1441, obtained from what is now Mauritania. The Portuguese had good reason for attempting to circumvent the Atlas Mountains and raiding the West African coast. In 1086 a black African dynasty originating from this area known as Al-Murabitun (Almoravids in English) provided military support and temporarily halted the expanse of the Christians. Soon after, Pope Alexander II provided the papal standard (vexillum sancti Petri) and an indulgence to the Christians in the conflict in 1063, making it officially a holy war that would culminate centuries later in the Spanish Inquisition.
The motivation for European slavery of Africans was therefore initially military, as an extension of the Western Crusades known as La Reconquista, or the reconquest of the Iberian peninsula by the Christians. In reality this term was probably too broad and an exaggeration, as many of the diverse peoples in the Muslim kingdoms of Spain and Portugal included native Iberians who had adopted the Islamic faith.
A permanent Portuguese fort was established at Arguin in 1448, and the 1452 Dum Diversas papal bull of Pope Nicholas V specifically authorized Alfonso V of Portugal,
…full and free permission to invade, search out, capture, and subjugate the Saracens and pagans and any other unbelievers and enemies of Christ wherever they may be… and to reduce their persons to perpetual slavery.
This established the basis for a racialized slavery, hereby unknown to Africa or any region engaging in African slave trade. As the motivations for slavery shifted from military goals to economic incentives, sheer greed resulted in a complete and utter destruction of African civilization and society. This is what made the Transatlantic slavery exceptionally devastating and worthy of particular scrutiny.
Web resources on the subject are expanding, archiving historic documents for amateur historians looking to deepen their knowledge on the subject. J.L. Bell has a post on Boston 1775 announcing American Slavery Debate, a new database of primary source documents.
Marco Randazza thinks slavery would be a pretty good alternative to some judicial punishments out there.
In some ways we're all a slave to something. Those of us starting out in our legal careers are often a slave to the billable hour, or a slave to making partner. Norm Pattis is eying some of the pro bono work big firms are doing and wondering if they can spare him a partnership. Ronda Muir gives some tips to young lawyers on how to be a better lawyer by improving specific behaviours. Social media might boost a career, but Adrian Dayton cautions on a guest post at Above the Law that it takes time and dedication to get true returns.
If we don't make it seems like we're all likely to move back in with our parents. Stephanie West-Allen discusses these millennials on IdeaLawg. Scott Greenfield just sort of bashes them. Jordan Furlong thinks law firms should pay more attention to a workplace trend:
…a daydream about the courage to quit a job that treats you with less respect than you deserve… As Daniel Gross explains in a Newsweek commentary, "the poor labour market and workers' antagonism toward employers and customers are actually connected"
Slavery means different things to different people. James T. Harris quotes Alan Keyes, who describes the experience of slavery as a guarantee of shelter, clothing and a job. "Socialism," and Obama, is a form of slavery, if you buy the Keyes line that government-dominated largess is an infringement on freedom. Blunt Politics gives us more black Republicans who claim that real freedom comes through independence from the state, which they liken to the slave plantation,
This is not the land of guarantee, it's the land of opportunity… but when you say racism is the problem, you put the power for your future in someone else's hand.
My take is that the modern descendants of slaves are more likely to find guaranteed food, shelter and clothing in prison. The U.S. has the highest incarceration rate in the world, and African-Americans are disproportionately affected for a variety of reasons. I always wonder why Keyes doesn't talk more about that, because it seems like race is the problem. Or part of it, at least. If nothing else it makes confidence and belief in the system difficult for minorities in the U.S. Abdul Hakim-Shabazz has his own doubts about police on the Indiana Law Blog after the David Bisard case, where an intoxicated on-duty officer struck and killed a biker and somehow had the charges dropped.
Law enforcement is not always right. James Morton thinks Col. Patrick Parrish is wrong about Omar Khadr. Confessions are only valid if they are free and voluntary. Threats of gang rape in prison usually vitiate that consent.
Eric Lipman reminds us about Terry Nichols in prison, not notable for being African-American, but rather for his role in the Oklahoma City bombing. Seems he's not too happy with his food in prison due to the lack of insoluble fibre which doesn't give him regular bowel movements. Seems the judge doesn't give a…
Consequences and Interactions of Transatlantic Slavery
The most immediate consequence of the Transatlantic slavery was the dominance of European powers in the world. Western civilization as we know it today would not be possible without the hundreds of years of free labour, and the continued exploitation of natural and human resources. Operation Black Vote said,
The UK reaped huge profits for the despicable trade financing the developments associated with the industrial revolution. Britain made unprecedented profits and benefited enormously for the bloody trade. The legacy of racism remains with us some 400 years later.
Transatlantic slavery also created a system of oppression that places people of European ancestry on a higher level in a hierarchy maintained by what Slave Routes refers to as europhilia, ethnophobia and endophobia. It resulted in a far greater polarization of cultures in the world, as those attempting to restructure this hierarchy or seeking independence through an anti-colonial stance invariably adopted a counter-European philosophy. We see this pattern not just across Africa, but all of the colonized world, including the Middle East, across Asia, and Latin America.
August 23 was selected by UNESCO because it corresponded with the Haitian revolution, a major landmark in the resistance against colonialism and slavery. Slave Routes points out,
In the United States, the North America historian, Herbert Aptheker, has estimated that approximately 250 acts of sedition in all were organized by Afro-Americans to free themselves from slavery during the history of that "particular institution" in that country.
These revolts existed throughout the Caribbean and the Americas, and were a far more compelling reason for abolitionism than any humanitarian or compassionate grounds. For more on the Haitian revolution and slave revolts, see Blawg Review #249.
Although the direct domination of the developed world by European powers has largely ceased, the exploitative relationship continues to this day and is a major source of civil unrest and political tensions in the world today.
I came across this poster the other day on Queen Street West stating that "Slavery wasn't abolished in 1834,"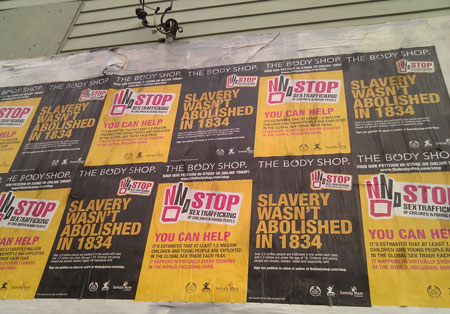 It's an advertisement from The Body Shop, who have raised over a million dollars to fight sex trafficking through partnerships with ECPAT USA (End Child Prostitution and Trafficking) and The Somaly Mam Foundation. The greatest consumers of modern sex trafficking continues to be wealthy European and North American citizens.
The Morning Quickie shares a review of Not Natasha, a photo book documenting the lives of survivors of sexual slavery in Moldova.
The key thesis behind Siddarth Kara and Devin T Stewart's Sex Trafficking: Inside the Business of Modern Slavery is not that different from the Transatlantic slavery,
…the enormity and pervasiveness of global sex trafficking is driven by the ability to generate immense profits at almost no real risk.
They suggest the most effective way to address the profitability of modern slavery is to elevate the risk.
Not For Sale | Cambodia from Not For Sale Campaign on Vimeo.
Michael Platzer of the U.N.'s Center for International Crime Prevention said,
…200 million people are victims of contemporary forms of slavery. Most aren't prostitutes, of course, but children in sweatshops, domestic workers, migrants. During four centuries, 12 million people were believed to be involved in the slave trade between Africa and the New World. The 200 million — and many of course are women who are trafficked for sex — is a current figure. It's happening now. Today.
The Not for Sale Campaign has a slavery map tracking incidents near you revealed largely through law enforcement. The campaign focuses on more than just sexual slavery, and in their 2010 "Stop Paying for Slavery Tour" uses supply chain monitoring programs and looks at various forms of exploitation and economic dependence that result in a de facto rather than de juris forms of slavery.
Or as Jason Mustian recently put it,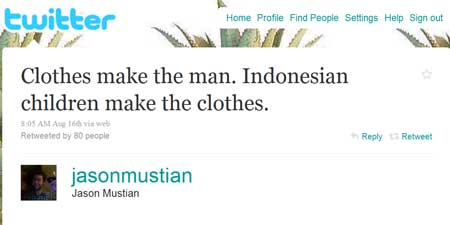 Ron Soodalter at the Huffington Post talks about The Slave Next Door, and reaffirms that slavery is alive and well today. He's calling for California to pass the Transparency in Supply Chains Act. A Heart for Justice reviews the same book.
Bruce Reilly visits the Modern Slavery Museum focusing on agricultural workers. Actually, the museum visited him, because it's on wheels,
Farmworkers in this country have been the most exploited group of folks since the Abolition in slavery in 1865. As one farm owner puts it, "Before, we used to own the workers. Now we just rent 'em."
Faces of Slavery from David Hepburn on Vimeo.
Those interested in learning more might want to attend the Global Forum on Human Trafficking in Yorba Linda, CA on Oct. 14-15, or a number of workshops being held in the UK by UCL.
My Fight Planet gives us an edited version of highlights from "Fight Traffic," a Mixed Marital Arts (MMA) event raising funds to abolish slavery and human trafficking. Maybe we can do something like that over here, because MMA fights are coming to Ontario.
Not all sports are so philanthropic. Tom Kirkendall is following the Roger Clemens case. Meanwhile, Howard Wasserman is cheering speech at the Sports Law Blog. Lilian Edwards comments on the case of the anonymous star of BBC's racing show Top Gear trying to reveal his true name to cash in on an autobiography. (Sorry, no hockey here this time).
A Culture of Tolerance and Peaceful Coexistence between Races and Peoples
Michael Lynk, one of my former profs at UWO and currently Associate Dean, has the 2009 Rand Memorial Lecture on SSRN, Labour Law and the New Inequality. The premise behind the paper is that poor labour practices that stem from global inequity leads to instability and civil strife, limiting both social capabilities economic potential of these communities. UNESCO is currently mobilizing a response for the Pakistan floods, an issue of global concern to avoid radicalization, militancy and religious extremism in the region.
An obvious prerequisite for the horrors of Transatlantic slavery was the development of racial ideology. Slave Routes notes one of the major obstacles to political independence in Latin America was persistent and divisive racial ideologies. The Human Genome Project and countless scientific studies in recent years indicate the biological impossibility of human "races," yet the resurgence of eugenics around the world is quite disturbing.
But genes can be used in good ways too. The Innocence Project announces that after 30 years DNA evidence has proven a Virginia man is innocent of rape charges due to the pro bono work of lawyers at Wilmer Cutler Pickering Hale and Dorr LLP. Another recent exoneree, Michael Anthony Green, wants to become a paralegal to help others wrongfully accused.
Speaking of wrongfully accused, Christine Corcos reports that Wikileaks founder Julian Assange was charged in Sweden for rape and molestation charges. Not so quick though, seems those charges were dropped in a hurry. Other charges of espionage against Assange are contemplated by Kenneth Anderson, but Julian Ku on Opinio Juris says in true spy form that they have to catch him first.

The most effective approach to peaceful coexistence might simply be for people to get to know and understand each other, a variation of the contact hypothesis used in sociology. But sociologists know that contact alone is not enough.
Eugene Volokh thinks Islamophobia is not quite irrational, citing a Time article indicating 46% of Americans believe Islam is more likely to encourage violence than other religions. Maybe, after several centuries of slavery and colonialism justified through religious practices, to restore some balance or equilibrium in global power. But sometimes, as Simon Fodden points out on Slaw, patience can be just as effective in the face of intolerance.
Volokh does note however that the accommodation laws invoked by many American Muslims today were intended for all religions and have primarily benefited Christians. And although Islamophobia is not a typical form of racism, it does rely on classic Social Darwinism thought.
By the way, Obama is not a Muslim, even though his middle name is Hussein (Can we get over this already?).
Slave Routes rejects the premise that racism is based on xenophobia or ignorance,
Racism can be defined as a process of suppression of the human being, based on socially selected phenotypical traits. This system classifies people according to their external physical characteristics and establishes a hierarchy of groups. In the long run, one of those groups defined as the superior race and the others are placed in inferior positions on the scale. Racism, therefore, is not a product of ignorance, the result of fear or concern over the 'other' or a natural phenomenon. [emphasis added]
Racism is more than a word, according to Marco Randazza. One word by a Dr. Schlessinger is what a lot of people are talking about right now. I'll let you guess the word, but Norm Pattis weighs in too. One of his readers doesn't agree though,
That someone as smart as yourself would join the oh so ignorant and completely off base "young black men say nigga, why can't an old white woman say nigger?" team I hope speaks only to a generational divide and a complete lack of understanding of the context in which nigga is used and that it is a different word than nigger.
Where we do typically see racism manifested today is with immigration. Kevin Johnson at the Immigration Prof Blog discusses the 14th Amendment, which gives citizenship to the children of immigrants born in the U.S. Instead of repealing it, the real solution he proposes is immigration reform. Daniel Cubias points out how difficult it is to repeal an Amendment, and the unlikelihood of it happening, while J.E. Robertson considers it an attack on all Americans. Hegemomy notes that repealing the 14th Amendment used to be the talk of the fringe-right, and calls it the rise of the "Old South." They heavy-handed tactics used in places like Arizona inevitably spill over into the general population, as evidenced by a case presented to us by Scott Greenfield.
What is needed is for group to have meaningful interaction with each other in a shared space and common goals to overcome deeply ingrained stereotypes and prejudices. It's very difficult to hate others when you have extensive and nuanced encounters with a group that demonstrate the diversity found within them. For example, Martha Minow raises concerns that charter schools in the U.S. have the potential to create self-segregation.
Maybe that's what the opponents of a new community center in lower Manhattan are really afraid of, that others won't harbour the same hatred and animosity towards other that they do. Originally Park51 was appropriately called Cordoba House, invoking the city in Spain that was once a Muslim capital of a flowering multicultural and multi-religious literary civilization, extinguished by the same movement that led to the Transatlantic slavery.
Or maybe, as Jon Stewart suggests, Fox News is a terrorist command center (see here in Canada). Randazza doesn't have much to say about it, aside from invoking through Sam Seder bull-size helpings of Terry Nichols' favorite prison past-time:
Daniel Luban just calls it "The New Anti-Semitism,"
While activists like Pam Geller have led the anti-mosque campaign and the broader demonization of Muslims that has accompanied it, leaders like Abe Foxman have acquiesced in it. In doing so they risk providing an ugly and ironic illustration of the extent of Jewish assimilation in 21st-century America. We know that Jews can grow up to be senators and Supreme Court justices. Let's not also discover that they can grow up to incite a pogrom.
It was through Cordoba that toothpaste and under-arm deodorant were introduced to Western Europe, and where literary works were translated freely between Arabic, Hebrew, Latin and Greek. It was in Cordoba that the Golden Age of Judaism flourished, giving birth to rabbinic scholars such as Maimonides.
Despite being one of the most tolerant and inclusive societies on Earth today, and all the lofty constitutional and human rights ideals, the United States has yet to accomplish the same culture of tolerance and coexistence that once briefly existed – in Cordoba.
Perhaps that's something though we can all aspire to in Park51, if we're willing to open our minds to it.
—————–
Charon QC has his own little law review going on, and Jordan Furlong has six for the road. Next week's Blawg Review is by Mirriam Seddiq, a criminal defence and immigration lawyer who posts on Not Guilty. Blawg Review has information about next week's host, and instructions how to get your blawg posts reviewed in upcoming issues.
According to a recent ruling of the SCC, the right to access to government records is now protected by the Charter. In a unanimous 7-0 ruling in Ontario (Public Safety and Security) v. Criminal Lawyer's Association, [2010] S.C.J. No. 23, the SCC decided that if the information is needed to promote "meaningful public discussion on matters of public interest", Canadians have an access right to that information, guaranteed by s. 2(b) of Charter under the heading "Fundamental Freedoms".
The Criminal Lawyer's Association (CLA) called this "an epic win", that ensued after a decade-long battle for access to a 300-page review conducted by the OPP with regards to how the Hamilton and Halton police "handled the investigation of the 1983 murder of Toronto mobster Dominic Racco. Mr. Racco was shot and killed on December 1983 and his body was dumped on a Milton rail line. Two Hamilton men, Garaham Court and Dennis Monaghan were charged consequently by Hamilton Police. They had the charges stayed in 1997 after Justice Stephen Glithero of the Ontario Superior Court found evidence of "flagrant and intentional misconduct" by the Crown and Halton and Hamilton police in the process. An investigation by the OPP ensued that resulted in the review but it was not made public despite CLA's request. The denial of the government to force the OPP to release the review was basically what fuelled the legal action taken by the CLA that was eventually granted the right to appeal by the SCC.
Although, the CLA found the ruling, an epic victory, it was not granted the right to access the information in the OPP review. The SCC, in turn, held that right to access could only be triggered when the information sought "is necessary for meaningful public discussion on matters of public interest". In matters where the release of information may "interfere with the proper functioning of the governmental institution in question", or where they are shielded by solicitor-client privilege, such rights are not guaranteed to the public.
For one, the SCC held that the review may contain information about the parties that are protected by the solicitor-client privilege. Furthermore, it was decided that CLA has failed to demonstrate that "meaningful public discussion of shortcomings in the investigation and prosecution could not take place without making the OPP report public". Yet, the Supreme Court sent back the CLA's request to the information commissioner for a fresh review. Yet, the ruling was described as "a baby step toward recognizing that access to information is a constitutional right" by Paul Schabas of Blake, Cassels & Graydon LLP.
Many countries including UK and US have similar laws implemented in their laws. Sweden, embedded access to information laws in their legislation in 1766 via their Freedom of the Press Act. The British Freedom of Information Act (2000), implemented such rights into the country's legal system. In Canada, the Access to Information Act grants citizens access to records held by federal bodies and Freedom of Information and Protection of Privacy Act is the legislation that governs matters that come under the scope of the Ontario provincial government. The significance of this "baby-step" is of course in having the access to information right established as constitutional rather than statutory.
Read this article by Dan Michaluk and Paul Broad of Hicks Morley for further analysis of how this case impacts the government institutions.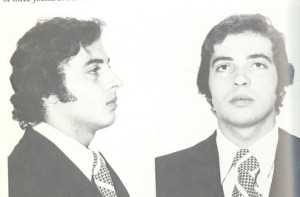 Photo: Dominic Racco
The G20 summit in Toronto has come and gone, but not before leaving a trail of destruction in its wake.  I'm not just referring to all the shattered glass and burned out husks of police cars; I'm talking about Torontonians' faith in the rule of law.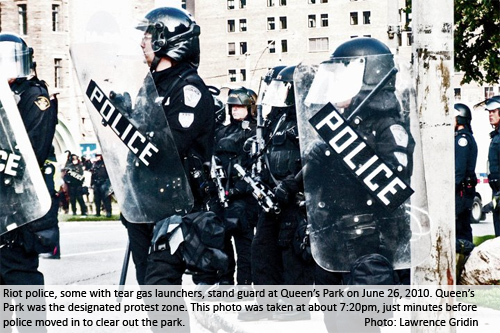 Our Ontario police forces, particularly the Toronto Police Service, are some of the finest and most professional in the world. They have worked hard to build community relations and win the respect of the public. Just as we rely on the police to keep us secure, the police rely on public cooperation to effectively do their jobs.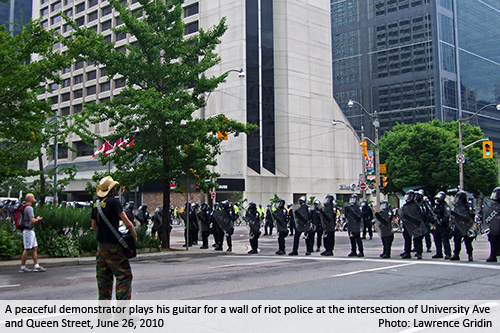 When the public trust in police is diminished, and people begin to see the police as an enemy, it puts our safety in jeopardy. That is precisely what is happening. The police are coming under heavy criticism for the perceived overzealous tactics they used this weekend. I have heard of many strong supporters of the police, some of whom were caught up in the mass detentions, beginning to question whether their support was misplaced.
The front page of the Office of the Independent Police Review Director's website has been changed to add a special notice about G20-related complaints. I suspect the new bureaucratic agency will have to expand just to handle all of them.
Preliminary reports of apparent civil rights violations are coming in from all over the city. The Canadian Civil Liberties Association says that these were not isolated incidents.
I saw many with my own eyes. I was in downtown Toronto to take photos of this once-in-a-lifetime event. What I saw terrified me and broke my heart.
The disgraceful actions of a relatively small, hardcore group of criminals running amok in the city have been used to justify the biggest suspension of civil liberties in Toronto's history.
Peaceful protesters and onlookers at the designated "free speech zone" in Queen's Park were attacked with batons, pepper spray, and rubber bullets with little or no warning (I was there; I heard none). Nine hundred people were rounded up and arrested, including credentialed journalists, pedestrians walking their dogs, and even a TTC worker in full uniform. Ordinary people at Queen and Spadina were surrounded on all sides by riot police. One by one, seemingly for no reason at all, people were snatched from the trap by force and then disappeared behind a wall of riot police. The fear is vividly captured in this video (watch the whole thing or just  skip ahead to 7:30).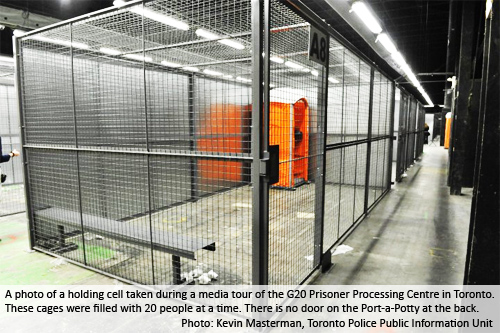 Those arrested were taken to the Eastern Ave. Detention Centre, a specially constructed temporary facility. What happened inside that facility is not yet fully known. Openly homosexual and transgendered people allege that they were segregated into separate cells by homophobic police. Women have made shocking accusations of being threatened by their jailors with rape. The unconfirmed allegations made by Amy Miller in this video are so terrifying that they defy belief.  At the very least, corroborated reports describe the conditions inside as deplorable:
Cramped and filthy cells, mismanagement and disorganized paperwork, lack of food, water and toilet paper, and denial of legal aid and access to lawyers.

Taylor Flook said she spent almost 24 hours in detention before being released without charge and witnessed strip searches of women by male officers, as well as sexist remarks made by several officers.
Hundreds of people have since been released without charge; the vast majority of those arrested weren't doing anything illegal in the first place!
And then there was the controversial G20 security law. A regulation, quietly passed by the Ontario cabinet under the Public Works Protection Act, empowered police to stop and search anyone attempting to enter the G20 security perimeter. Police Chief Blair now admits that he deliberately misled the media and public as to the scope of the law. He claimed (and the media reported) that it covered a 5-meter area outside of the fence. In fact there were only a few areas outside of the fence which were covered by the regulation. I was misled too (hey, I can admit a mistake).
Trouble is, apparently the Chief failed to tell his own officers about the limited scope of the law. They were enforcing that law all over Toronto, even though it didn't apply there. When pedestrians far from the security zone were stopped by police, and demanded to know the source of the police authority, they were told: "Public Works Protection Act, you can look it up." I myself saw people stopped and searched in this manner.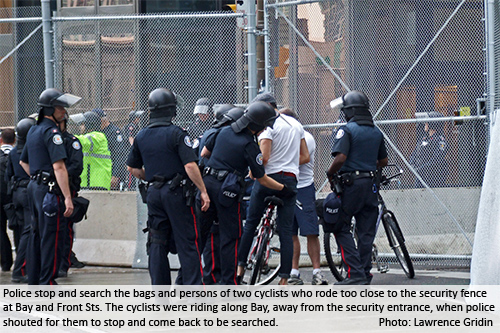 Closer to the security zone, people who were just cycling by, with no intention of trying to enter, were stopped and told they had to surrender their bags for a search or be arrested. Despite the Chief's claims that "if they refuse and they have the right to refuse, then they leave and they will leave without being arrested," these people had no option to leave.
Elsewhere, people were stopped on the street and subjected to searches without reasonable suspicion that they were involved in a criminal offence. They were told they were under investigative detention. In the video below, a woman is stopped at King and University (a fair distance from the security zone) and told she must submit to a search of her bags or face arrest. While the officer was polite and respectful, I'll let you decide whether he violated ss. 8, 9, and 10(b) of the Charter (hint: see R. v. Mann, 2004 SCC 52 and R. v. Suberu, 2009 SCC 33).
After what I saw this weekend, I believe that the government must call a public inquiry into what happened. I fear we will discover that civil liberties throughout Toronto were effectively suspended — the most troubling encroachment on civil rights in Canada since the FLQ crisis. There are lessons to be learned. The police have admitted that mistakes were made. We must have a full accounting of those mistakes to ensure that they are not repeated.
While the internet provides users with an environment in which socially valuable anonymous speech can flourish, it also provides users with an opportunity to defame others behind a shield of anonymity. If these users can be identified, they may be held liable for defamation. Unfortunately for plaintiffs, the identities of these individuals are usually known only by the website or internet service provider ("ISP") through which the statements were made, and these entities generally decline to disclose a user's identity in the absence of a court order compelling them to do so. Faced with a growing stream of plaintiffs who seek these kinds of orders, courts have sought to craft approaches to evaluating applications for disclosure that strike an appropriate balance between the privacy interests of anonymous internet posters and the reputational interests of plaintiffs.
Yesterday, the Ontario Divisional Court released its decision in Warman v. Fournier et al, 2010 ONSC 2126 (Div. Ct.) rev'g (2009), 309 D.L.R. (4th) 227, 76 C.P.C. (6th) 155 (Ont. S.C.J.) ("Warman"). At issue was whether the disclosure provisions of the Rules of Civil Procedure, R.R.O. 1990, Reg. 194 (the "Rules") automatically entitle plaintiffs in internet defamation cases to obtain the identifying information of anonymous posters from websites and ISPs, or whether courts must balance the interests of plaintiffs with the freedom of expression and privacy interests of anonymous posters. The decision is now the leading authority in Ontario for the proposition that the objectives of the disclosure obligations under the Rules must be balanced with the right of freedom of expression in internet defamation cases. This article discusses the background, holding, and implications of Warman.
1. Background
The Respondent commenced an action against the Appellants, the operators of an internet message board, and eight anonymous message board participants with respect to a series of allegedly defamatory postings. After commencing the action, the Respondent brought a motion for an order compelling the Appellants to comply with Rule 76.03 of the Rules which required the Appellants to file an affidavit of documents that disclosed the email and internet protocol ("IP") addresses of the anonymous posters in order to allow the Respondent to identify the posters and serve them with the statement of claim.
The motions judge rejected the Appellants' submission that the Respondent was required to establish a prima facie case of defamation before disclosure could be ordered. Instead, Justice Kershman concluded that Rule 76.03 of the Rules required the Appellants to disclose all documents in their power or control and that such disclosure should be automatic upon the issuance of a statement of claim because the information was relevant and not protected by privilege.
This decision stood in stark contrast with earlier cases that offered some protection to the privacy interests of internet users by requiring plaintiffs to demonstrate a bona fide or prima facie case of defamation before ordering disclosure (see: previous posting). The motions judge distinguished these cases on the basis that the Respondent was seeking to compel the Appellants to follow the Rules as required by named parties to the action, whereas the other cases involved discretionary orders for the production of documents from third parties.
2. Holding on Appeal
The Divisional Court unanimously allowed the appeal and remitted the matter to a different motions judge for re-consideration, recognizing that the anonymous posters' right of freedom of expression under the Charter should have been taken into account in considering the Respondent's request for disclosure under the Rules. Moreover, the Court noted that the posters' express decisions to remain anonymous gave them a reasonable expectation of privacy that weighed in their favour.
In rejecting the notion that disclosure should be automatic, the Court also expressed concern for the ease by which a plaintiff could abuse the Rules by filing claims in a spurious manner simply to identify an anonymous poster:
If disclosure were automatic, a plaintiff with no legitimate claim could misuse the Rules of Civil Procedure by commencing an unmeritorious action for the sole purpose of revealing the identity of anonymous internet commentators, with a view to stifling such commentators and deterring others from speaking out on controversial issues. For this reason, the commencement of a defamation claim does not trump freedom of expression or the right to privacy.
[Warman, at para. 33]
After surveying previous decisions, Justice Wilton-Siegel set out four considerations, aimed at preventing abuse of the Rules and respecting the privacy of internet users, that should have been considered by the motions judge in deciding whether to order disclosure under the Rules: 
whether the unknown alleged wrongdoer could have a reasonable expectation of anonymity in the particular circumstances; 
whether the Respondent has established a prima facie case against the unknown alleged wrongdoer and is acting in good faith; 
whether the Respondent has taken reasonable steps to identify the anonymous party and has been unable to do so; and 
whether the public interests favouring disclosure outweigh the legitimate interests of freedom of expression and right to privacy of the persons sought to be identified if the disclosure is ordered.
[Warman, at para. 34]
In concluding that plaintiffs should be required to meet a prima facie standard rather than a lower bona fide standard, the Court emphasized the importance of protecting freedom of expression and noted that there was no concern that the higher standard would deprive applicants of a remedy:
In para. 34 of BMG [2005 FCA 193], the Federal Court of Appeal expressed the concern that, in that case, imposition of a prima faciecase standard would effectively strip an applicant of a remedy because the plaintiff could not know the actual case it wished to assert against the defendants until it knew not only their identities but also the nature of their involvement in the [internet] file-sharing activities. Because the present proceeding is a defamation action, that concern does not arise. Unlike BMG, the respondent knows the details of precisely what was done by each of the unknown alleged wrongdoers. 

In addition, because this proceeding engages a freedom of expression interest, as well as a privacy interest, a more robust standard is required to address the chilling effect on freedom of expression that will result from disclosure. It is also consistent with the recent pronouncements of the Supreme Court that establish the relative weight that must be accorded the interest in freedom of expression. In the circumstances of a website promoting political discussion, the possibility of a defence of fair comment reinforces the need to establish the element of defamation on a prima facie basis in order to have due consideration to the interest in freedom of expression. On the other hand, there is no compelling public interest in allowing someone to libel and destroy the reputation of another, while hiding behind a cloak of anonymity. The requirement to demonstrate a prima facie case of defamation furthers the objective of establishing an appropriate balance between the public interest in favour of disclosure and legitimate interests of privacy and freedom of expression.
[Warman, at paras. 41 – 42]
3. Implications
Warman represents an important recognition that while internet users' anonymity ought not to be protected absolutely, the mere commencement of a defamation action should not give rise to an automatic entitlement to information identifying a previously anonymous poster without a consideration of the interests of privacy and freedom of expression.
Nevertheless, there is still uncertainty with respect to the degree of protection that courts will afford to anonymous posters in the future. Under Canadian law, plaintiffs have two ways to seek disclosure in internet defamation cases. Apart from identifying anonymous defendants by seeking pre-action discovery or production of relevant information under procedural rules, as occurred in Warman, plaintiffs may also bring independent actions for disclosure of the identity of anonymous defendants by way of an equitable bill of discovery known as a "Norwich order". Norwich orders were introduced in the decision of the House of Lords in Norwich Pharmacal Co. v. Customs and Excise Commissioners, [1974] A.C. 133 (H.L.) in which it was held that where a third party becomes involved in the tortious acts of others, that third party has a duty to disclose the identity of the tortfeasor so that the plaintiff may pursue its remedies. The Norwich factors were recently confirmed by the Ontario Court of Appeal in GEA Group AG v. Flex-N-Gate Corporation, 2009 ONCA 619 and applied in the internet defamation context by the Ontario Superior Court of Justice in York University v. Bell Canada Enterprises (2009), 311 D.L.R. (4th) 755 (Ont. S.C.J.) ("York University"): 
whether the applicant has provided evidence sufficient to raise a valid, bona fide or reasonable claim; 
whether the applicant has established a relationship with the third-party from whom the information is sought, such that it establishes that the third party is involved in the acts; 
whether the third party is the only practicable source of the information; 
whether the third party can be indemnified for costs to which it may be exposed because of the disclosure; and 
whether the interests of justice favour obtaining the disclosure. 
[York University, at para. 13]
Although the second and fourth Norwich factors were not relevant in Warman because they apply only to third party respondents rather than co-defendants [see Warman, at para. 39], some of the other Norwich factors are similar to the considerations set out in Warman that are now applicable to the question of whether a court should order disclosure under the Rules. However, an important difference remains. While the approach under Warman requires plaintiffs to demonstrate a prima facie case of defamation, Norwich jurisprudence has required plaintiffs to meet the lower bona fide standard. For example, even though the plaintiff in York University managed to establish a prima facie case of defamation, the court did not require the plaintiff to demonstrate more than a bona fide case. Although Warman provides compelling reasons to prefer the higher prima facie standard where the plaintiff seeks disclosure through a Norwich order, it remains open for courts to require plaintiffs to meet the lower standard instead.
Originally posted on Defamation Law Blog
Cloud computing is one of the best technologies we've had in the last decade. It gives us mobility, versatility, security, and powerful ways to manipulate our data. It's also cheap. Because it's rooted in the Internet, some express legitimate concerns with cloud computing, mostly centred around data security and privacy. Lawyers may be particularly cautious to deploy clients' data in the cloud because of lawyers' unique responsibilities and duties. But a careful look at cloud computing shows that it's safe for both the general public and lawyers. Its benefits greatly outweigh its costs and some of its features are so compelling, time-saving and economical that every lawyer should be considering cloud computing.
Cloud computing means keeping and processing your data online. For example, in Gmail, you read and write email in your browser's window, but Google's servers take care of storing, sending and receiving messages for you. Google Docs lets you do the same thing but with word processing. Ufile.ca handles your tax returns. Amazon S3 gives you unlimited file storage in Amazon data centres. All social media sites like Facebook, Twitter, LinkedIn, Youtube, Flickr, etc. are also examples of cloud computing. Whenever you delegate data storage and processing to a third party that grants you online access, you do cloud computing. "Cloud" means that the specific physical server on which the provider keeps and processes your data is obscure to you. All you care about is the Internet address of the provider and your own access credentials. Into the "cloud" goes some input, and out of the "cloud" comes some output. That's how it works.
Benefits of cloud computing are enormous. I can think of ten: 1) you can access your data anywhere with an Internet connection; 2) you don't have to troubleshoot or upgrade any software other than the access application, which is usually your browser; 3) instead of paying large sums for desktop software and its upgrades, you get a free or low-subscription-fee cloud service; 4) you subcontract data storage to professionals; 5) the cloud can give you a regular, frequent, and professional backup solution; 6) cloud services can come with search and data crunching capabilities that are unparalleled simply because of the massive cloud computing infrastructure; 7) cloud backup services can automatically keep previous versions of your data in a way that is unmatched again because of inadequacy of your home or office infrastructure; 8) the cloud can protect your data from undesired jurisdictions or it can keep the data in specific jurisdictions; 9) the cloud makes it easy to share any part of your data with chosen parties and to control their access; 10) the cloud lets you tap into social networks of billions of people.
But some have legitimate concerns with the cloud. And lawyers are among those voices as members of the legal profession have unique responsibilities and duties. There are two main attributes of cloud computing that cause people to worry. First, you appear to lose control over your data's physical location. And second, you expose your data to the Internet apparently swarming with hackers ("cracker" may be a better word), spies, thieves, and viruses. All alleged issues of privacy, security, and reliability stem from these two things. Often, critics assume that keeping data and applications on home or office computers is a safe alternative. This assumption is probably the biggest fallacy in the cloud computing debate. Let's review some solutions to issues associated with cloud computing. Read more
The most recent controversy around Wikipedia, and there are plenty to come I'm sure, surrounds Ron Livingston, an actor in Office Space who starred briefly in Sex in the City.  Well it's Livingston's sex, or rather his sexual orientation, that is at the center of a current dispute with Wikipedia.
Livingston married Rosmarie DeWitt last month, and yet his Wikipedia entry has been repeatedly vandalized to say that he is gay and living with a Lee Dennison.  He also claims that the same individual made Facebook pages for himself and Dennison and showed the the two in a relationship together.
TMZ states,
Livingston is suing for libel, invasion of privacy and for using his name and likeness without his permission.
Unlike blogs, which go through minimal editing and scrutiny, Wikipedia has a vigorous review process which includes questioning sources and the neutrality of a point of view.  The system seems to have worked, as the references to Livingston's sexuality were repeatedly omitted.  The problem is that the reference was repeatedly re-entered.
Wikipedia does have controls for this as well, including how to deal with vandals and locking pages that have repeat problems.  We don't know if this occurred yet, but Livingston could have contacted a Wikipedia editor to invoke these stronger protection mechanisms.  Any court reviewing the case should closely scrutinize the options that were available.
Blogs face a more difficult challenge.  We often try to ensure our accuracy by linking to our sources, and searching as best we can for conflicting opinions.  But especially in the field of law, information does change with new legal development and judicial decisions.  Posts are really only valid for the time-stamp when they are published.We do not benefit from the continuous and ongoing scrutiny of editors the way Wikipedia does.
For this reason, I rely on my readership to inform me when information needs to be updated.  In fact bloggers often depend on that, and most of us are usually willing to make necessary changes.  In case of litigation, we might find sanctuary under the evolving 'public interest responsible journalism defence' described in the 2007 Ontario case of Cusson v. Ottawa Citizen and the 2006 House of Lord's decision, Jameel v. Wall Street Journal Europe.
The wonderful thing about Wikipedia for the purposes of litigation is that everything is meticulously documented on the revision history and the talk page, including when and what changes were made, by whom, and the corresponding IP addresses.  Issues surrounding the pending litigation are even raised on the talk page among the editors, including the location of the IP addresses making the changes, and news stories about the issue.
One of the IP addresses involved in the Livingston changes also made similar revisions on December 2, 2009 to the page of Sheikh Rashid bin Mohammed Al Maktoum of the royal family of Dubai, adding,
…as well as president for UAE LGBT conference as he is a known homosexual!.
Not that there is anything wrong with that.  But there's no need to add personal information to Wiki entries, especially if they cannot be substantiated with an independent source, and may cause the person involves some personal harm.
In cases where the control features described above do not work, it may be appropriate to pursue litigation, possibly including the site in order to compel them to provide further information.
But the best strategy for celebrities, corporations, politicians and professionals, as I told a group of marketing professionals at a seminar earlier this week, is to mitigate any adverse impact by establishing a social media strategy yourself.
An open issue in Canadian internet defamation law is whether courts should require that anonymous defendants be given notice of, and an opportunity to oppose, applications to compel the disclosure of their identities by third parties such as websites and internet service providers ("ISPs"). Because applications to compel disclosure are generally left unchallenged by third parties who would rather evade the costly cross-fire of litigation, courts have tended to review such applications ex parte. The concern in these cases is that anonymous defendants may be stripped of their anonymity – and thereby subjected to embarrassment, social stigma, or harm to their career prospects – all without an initial opportunity to anonymously submit a written response or retain counsel to oppose the application. This post discusses the status of a notice requirement in Canadian, American, and English law and evaluates the different approaches.
1. Canadian Law
Only one Canadian case has commented on the appropriateness of a notice requirement. In York University v. Bell Canada Enterprises, [2009] O.J. No. 3689 (S.C.J.) ("York University") a plaintiff sought pre-action discovery by way of an equitable bill of discovery known as a Norwich Order. The Ontario Superior Court of Justice granted the Norwich Order, which required ISPs to disclose information necessary for the plaintiff to obtain the identity of the anonymous author of allegedly defamatory emails and web postings. Justice G.R. Strathy noted that it might be appropriate to impose a notice requirement, but declined to do so without providing reasons:
[I]t may be appropriate, in a given case, to require that the unknown publisher of the offending material be given notice of the proceedings. It does not appear to have been done as a matter of course in other Norwich order cases and I did not consider it necessary to do so in this case.
York University was discussed by other commentators in two excellent blog posts on Slaw: the first generally outlining the case, and the second commenting on specific points including the notice issue.
2. English law
The appropriateness of a notice requirement has received more attention in English law. In Totalise plc v The Motley Fool, [2001] E.M.L.R. 29 (H.C.), [2002] 1 W.L.R. 1233 (C.A.) ("Totalise"), the English Court of Appeal described the rationale for a notice requirement. In that case, Justice Owen of the English High Court first granted a Norwich Order that compelled a website operator to reveal the identifying information of an anonymous defendant that posted allegedly defamatory statements about the plaintiff. When the case was appealed on the issue of costs, Justice Aldous noted in obiter that it would have been desirable to require the third party to give the anonymous defendant notice of the application and then allow the anonymous defendant to make written submissions through the third party in order to better inform the court's decision:
It is difficult to see how the court can carry out this task [i.e. whether to grant the requested order] if what it is refereeing is a contest between two parties, neither of whom is the person most concerned, the data subject; one of whom is the data subject's prospective antagonist; and the other of whom knows the data subject's identity, has undertaken to keep it confidential so far as the law permits, and would like to get out of the cross-fire as rapidly and as cheaply as possible. However the website operator can, where appropriate, tell the user what is going on and to offer to pass on in writing to the claimant and the court any worthwhile reason the user wants to put forward for not having his or her identity disclosed.  Further, the court could require that to be done before making an order.  Doing so will enable the court to do what is required of it with slightly more confidence that it is respecting the law laid down in more than one statute by Parliament and doing no injustice to a third party, in particular not violating his convention rights.
Although the obiter from Totalise is compelling, English courts have yet to impose a notice requirement. In the recent case of Sheffield Wednesday Football Club Ltd v. Hargreaves, [2007] EWHC 2375 (Q.B.) a justice of the English High Court dealt with a similar case and, after considering Totalise, concluded in the absence of reasons that
It did not seem to me that this was a case where I should require that the website users [i.e. the anonymous defendants] be contacted before making an order.
3. American law
American law, by contrast, strongly supports a notice requirement. In the leading case of Dendrite International, Inc. v. John Doe No. 3, 775 A.2d 756 (N.J. App. Div. 2001) ("Dendrite"), a New Jersey appellate court articulated a series of requirements for plaintiffs to meet before a court would order disclosure. The first of these requires that the plaintiff make efforts to notify the anonymous defendant that they are the subject of an application for an order to disclose their identities so that the defendants have a reasonable opportunity to respond:
We hold that when such an application is made, the trial court should first require the plaintiff to undertake efforts to notify the anonymous posters that they are the subject of a subpoena or application for an order of disclosure, and withhold action to afford the fictitiously-named defendants a reasonable opportunity to file and serve opposition to the application. These notification efforts should include posting a message of notification of the identity discovery request to the anonymous user on the ISP's pertinent message board.
Several notable American cases have adopted the same or similar notice requirements post-Dendrite: Doe No. 1 v. Cahill, 884 A.2d 451 (Del. 2005); Mobilisa, Inc. v. Doe 1, 170 P.3d 712 (Ariz. Ct. App. 2007); Krinsky v. Doe 6, 72 Cal. Rptr. 3d 231 (Ct. App. 2008) ("Krinsky"); Solers, Inc. v. Doe, 977 A.2d 941 (D.C. 2009) and Swartz v. Does ("Swartz") (Swartz, the most recent of these cases, was discussed in a previous post).
4. Analysis
Although both English and American jurisprudence supports a notice requirement, the approaches differ: while Totalise advocates imposing the requirement on third parties, Dendrite and subsequent American cases have consistently imposed the burden on plaintiffs. The problem with the later approach is that plaintiffs are generally in a relatively poor position to give reliable notice because, unlike third parties, they lack access to the defendant's contact information. As a result, Dendrite and subsequent American cases have merely required plaintiffs to provide indirect notice by posting on the ISP's pertinent message board, by posting on the same website or medium used by the anonymous defendant to publish the statements at issue, or, if the statements originated in an email, by sending notice to the anonymous defendant's email address. The concern with these types of notice is their unreliability. There is no guarantee that a defendant will check these sources, or that the website or medium will still exist by the time the plaintiff commences action. And, in the case of email, a similar concern still exists due to the increasingly common use of disposable email accounts that defendants may abandon after sending allegedly defamatory statements.
Yet, imposing the burden of notice on plaintiffs may have some notable benefits. Unlike the approach advocated in Totalise wherein third parties would directly notify anonymous defendants, plaintiffs under the Dendrite approach generally have no choice but to provide indirect notice by posting in a publicly accessible forum. The public nature of a plaintiff's notice will expose the matter to the oxygen of publicity and may affect the extent of the plaintiff's reputational harm, depending on the context. In some cases, public scrutiny might result in further reputational harm if the public perceives the plaintiff to be unjustifiably attempting to silence the anonymous defendant. In other cases, however, public scrutiny might serve to alleviate the existing reputational harm by calling into question the veracity of the statements. Third parties might even be persuaded to mount a defence against a plaintiff's application in cases where there is significant public support in favour of an anonymous defendant but they lack the resources to defend their anonymity.
Another option is to require both the plaintiff and the third party to provide notice. Although this approach would increase the reliability of notice and preserve the beneficial qualities of plaintiff-based notice, the approach seems redundant in the absence of evidence to suggest that the benefits of dual notification outweigh the costs. This is likely one of the reasons why the California appellate court in Krinsky rejected the notion of requiring a plaintiff to provide notice where a third party had already voluntarily done so:
When ISPs and message-board sponsors (such as Yahoo!) themselves notify the defendant that disclosure of his or her identity is sought, notification by the plaintiff should not be necessary.
In summary, a notification requirement imposes a relatively light burden on plaintiffs or third parties while providing defendants with the valuable opportunity to defend their anonymity and better inform the courts' decision. Although a plaintiff-based approach may have some ancillary benefits, a third party approach provides more reliable notice and should be preferred because it best furthers the primary rationale underlying notice requirements.
Originally posted on Defamation Law Blog