By: Farrah Rajan
Justice Minister Peter Mackay claims that women are not applying to be judges because it may take them away from time with their children.  Although his comments were made in reference to the lack of diversity on federally appointed courts, the mindset can be applied to all people in the workforce, regardless of gender or profession.
After reading about his comments, I was both confused and offended because:
He did not address the scarcity of visible minorities (which is an issue that deserves its own post)
Not all women are, or will be, mothers
Classifying all women as mothers is sexist
He is blaming women for the lack of diversity
Summarized by Paralegal student Michael Yen
"Harper's way out should serve as a Supreme precedent " by André Pratte, Special to The Globe and Mail, May 29 2014.
The aftermath of the conflict between the PMO and the Supreme Court of Canada has come to what appears to be a satisfactory procedural solution.
The conflict revolves around the failed appointment of the Right Honourable Mr. Justice Marc Nadon to the Supreme Court of Canada. The PMO's appointment of Nadon, came into conflict with section 6 of the Supreme Court Act R.S.C., 1985, c. S-26 and was overturned by the Supreme Court.
In reference to an investigation conducted by the Globe and Mail newspaper, it was revealed that prior to the appointment of Nadon, the PMO asked for the Ministry of Justice to provide a short list of Supreme Court appointee candidates that would seem not likely to offer "judicial activism". This prompted comments between the Supreme Court Chief Justice, Beverley McLachlin, and Prime Minister Stephen Harper. These comments have left the appearance of a deep conflict between the Supreme Court and the PMO.
The Federal government has now requested the provincial government of Quebec to provide a short list of candidates that would satisfy the constitutional requirements outlined in the Supreme Court Act. This has prompted some criticism that it is a precedent-setting request, and that the other provinces need to take note.
This request should be viewed as the solution to the ambiguous process of obtaining the short list of Supreme Court candidates. The process has always allowed for the Federal government to have "absolute discretion" in the appointment process of Supreme Court Justices. Obtaining the support and input of the provinces in making such an important decision, would instil greater belief in the Federal government in its relations with the provinces, especially with Quebec.
Also in doing so, the apparently damaged relationship between the PMO and the Supreme Court would be on way to a public relations recovery.
If you are starting law school this fall at the University of Alberta, you'll have a celebrity of sorts in your class.
Helena Guergis, the former MP who unsuccessfully sued Prime Minister Harper and the Conservative Party of Canada, is starting law school this year according to the Toronto Star,
Her first year of legal studies in Edmonton begins less than two weeks after a judge tossed out most of a $1.3 million conspiracy and defamation lawsuit she filed against Prime Minister Stephen Harper, the Conservative Party and others after she was expelled from caucus in 2010.
No word yet as to whether she plans to get extra credit during law school for the appeal she's supposedly planning.
This morning on Fox News:
WALLACE: What about… a weapon that can fire a hundred shots in a minute?
SCALIA: We'll see. Obviously the Amendment does not apply to arms that cannot be hand-carried — it's to keep and "bear," so it doesn't apply to cannons — but I suppose here are hand-held rocket launchers that can bring down airplanes, that will have to be decided.
WALLACE: How do you decide that if you're a textualist?
SCALIA: Very carefully.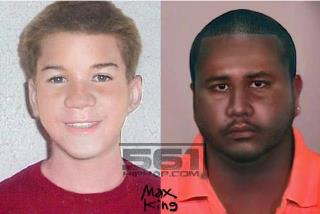 Would this have changed the George Zimmerman case?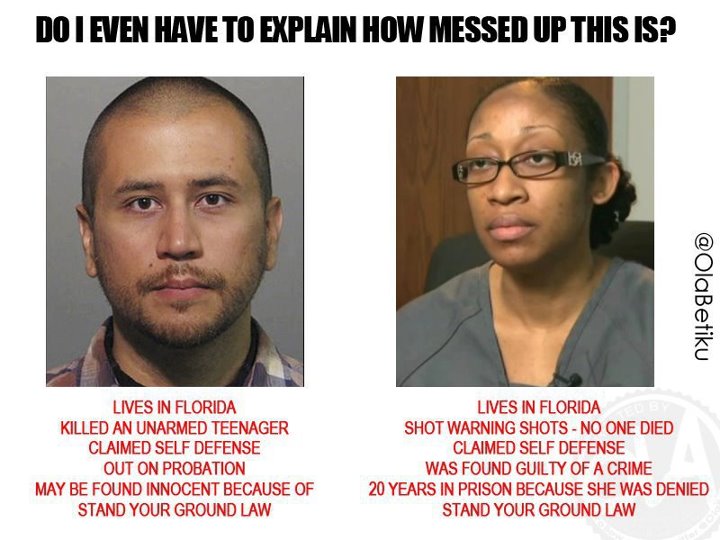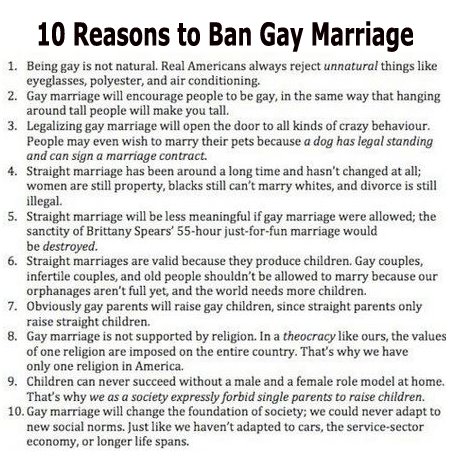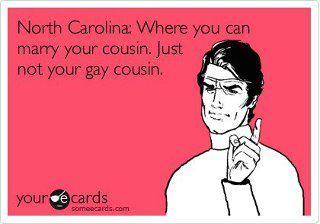 As a side note, check out these comparisons: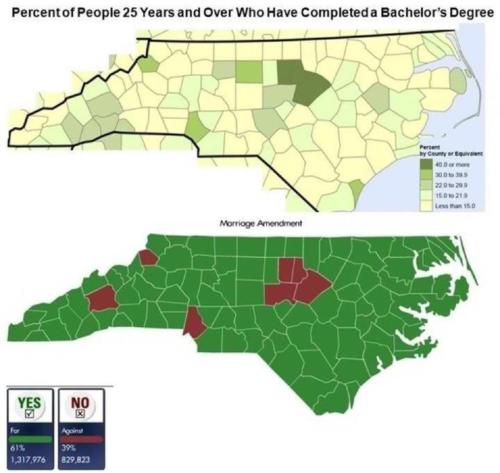 If there was a prize for the NGO who best commodifies white man's burden on the African continent, and more specifically in Uganda, Invisible Children would win.They recently struck again with a new video and campaign titled "Kony 2012." I was surprised to see it popping up everywhere on my Facebook feedback yesterday: clearly, their social media tactics are to be admired. Their underlying message – which is, of course, more important – is not to be.
I think it would be useful for persons unfamiliar with the issues featured in the movie and with the difficulties of poverty porn messaging to read up on some past blogs about Invisible Children before sharing this film. A friend has circulated a list of links providing critique from bright and well-qualified individuals speaking on these issues:
Wronging Rights is headed by two human rights lawyers who, for many years, have been on top of the development and humanitarian aid debate, as well as international justice. A few thoughts on the previous Invisible Children "Abduct Yourself" campaign from their blog:
First, organizations like Invisible Children not only take up resources that could be used to fund more intelligent advocacy, they take up rhetorical space that could be used todevelop more intelligent advocacy. And yeah, this may seem like an absurdly academic point to raise when talking about a problem that is clearly crying out for pragmatic solutions, but, uh, the way we define problems is important. Really, really important. Choosing to simplistically define Congolese women as "The Raped" and Ugandan children as "The Abducted" constrains our ability to think creatively about the problems they face, and work with them to combat these problems.

Second, treating their problems as one-dimensional issues that can be solved by a handful of plucky college students armed only with the strength of their convictions and a video camera doesn't help anyone. These gets back to something very simple and very smart that Alanna Shaikh wrote a few months ago: "Bad development work is based on the idea that poor people have nothing. Something is better than nothing, right? So anything you give these poor people will be better than what they had before."
Over on Texas in Africa, the blog has previously hosted two students who have provided some additional thoughts on Invisible Children. The students made a good faith effort to get in contact with Invisible Children and get both sides of the story on their former abduction campaign:
This is a symptom of the larger problem at hand. Not only does IC fail to base its decisions on what Ugandans think is best for them, the organization also make efforts to explain away any dissent. IC has become a brand with machine guns and cameras as its apparent logo and celebrity filmmakers as the protagonists against the evil LRA. The war is no longer about the people versus the LRA; it has transformed itself into something far too sensationalized and, at times, seemingly insincere. Poole, Russell, and Bailey v. Kony.

… And this is why we are as concerned as we are. IC has great potential and opportunity to do good. The organization has successfully motivated masses of young people to be globally and politically active. Advocacy, however, does not end at trendy t-shirts and cool graphics.
While I could reiterate what bad advocacy looks like and why we do not want nor need it, Texas in Africa has provided a thoughtful list of issues to consider as well. There is little I could add to it and I strongly suggest you read the whole post here.
Unmuted has also posted an excellent critique of this new video. An extract:
The dis-empowering and reductive narrative: the Invisible Children narrative on Uganda is one that paints the people as victims, lacking agency, voice, will, or power. It calls upon an external cadre of American students to liberate them by removing the bad guy who is causing their suffering. Well, this is a misrepresentation of the reality on the ground. Fortunately, there are plenty of examples of child and youth advocates who have been fighting to address the very issues at the heart of IC's work. Want evidence? In addition to the organizations I list above, also look at Art for Children, Friends of Orphans, andChildren Chance International. It doesn't quiet match the victim narrative, does it? I understand that IC is a US-based organization working to change US policy. But, it doesn't absolve it from the responsibility of telling a more complete story, one that shows the challenges and trials along side the strength, resilience, and transformational work of affected communities.

Revival of the White savior: if you have watched the Invisible Children video and followed the organization's work in the past, you will note a certain messianic/savior undertone to it all. "I will do anything I can to stop him," declares the founder in the video. It's quite individualistic and reeks of the dated colonial views of Africa and Africans as helpless beings who need to be saved and civilized. Where in that video do you see the agency of Ugandans? Where in that Video do you see Jacob open his eyes wide at the mere possibility of his own strength, as Jennifer Lentfer of How Matters describes here? Can we point out the problem with having one child speak on the desires, dreams, and hopes of a whole nation? I don't even want to mention the paternalistic tone with which Jacob and Uganda (when did it become part of central Africa by the way?) are described, not excluding the condescending use of subtitles for someone who is clearly speaking English.
Finally, a few words of my own. My impression is that the movie is being used as means for Invisible Children to (i) stay relevant and (ii) raise more funding. Capturing Kony and the focus on international justice is a good excuse. Regardless of this opinion, running campaigns to raise awareness is not necessarily damning in itself (and, indeed, in many cases should be commended). Rather, as all the writers above suggest, the manner in which it is done is very important. A few comments on this new video.
The issue with social media is really highlighted by Invisible Children. The number of "likes" on your Facebook page is not necessarily related to the quality of information you share. Social media allows making anything viral, quickly. People often do not look into the substance of the message, or even watch the video you are sending. Once you become a brand, you can do anything. Invisible Children has successfully become a brand, but is sharing information that is far from nuanced and based on emotional reactions. It fails to paint the full picture. In addition to what Unmutedand others have said, I'd like to add the following thoughts:
My main concern is that Gulu – and Uganda – has gone through some incredible changes. The economy is booming. The region is re-stabilizing. While Kony's men continue to kill, rape and slaughter elsewhere, Gulu is not a static, unchanging place. Neither is Uganda, neither is the continent. Portraying a region like Gulu as such, and sending the mass message that the whole continent reflects this, is damaging. It undermines possibilities of investment. It clouds story of entrepreneurship, success and innovation. This goes hand in hand with saying "I work in Africa." Lumping the continent as one messy area.
When it comes to the ICC indictment of Kony, the film clip fails to consider the difficulties that such an international indictment can have and what alternative effects an offer like amnesty might have had. There have been major debates about the peace versus justice debate (an interesting and recent reflection on this is available here), which not only have an impact on how we conceive of the Kony indictment, but also of the ICC as an institution. When it comes to supporting American troops in Uganda, it fails to consider the wider systemic problems that are likely contributing to a failure to arrest Kony and which have little to do with whether the US sends a few soldiers abroad or not. Surely Invisible Children's audience is not so simplistic that being presented with these critical questions would kill their messaging? I think Musa Okwonga, writing in the Independent, highlights the tension between the need to draw attention to these issues, while using sophisticated techniques:
I understand the anger and resentment at Invisible Children's approach, which with its paternalism has unpleasant echoes of colonialism.  I will admit to being perturbed by its apparent top-down prescriptiveness, when so much diligent work is already being done at Northern Uganda's grassroots.  On the other hand, I am very happy – relieved, more than anything – that Invisible Children have raised worldwide awareness of this issue.  Murderers and torturers tend to prefer anonymity, and if not that then respectability: that way, they can go about their work largely unhindered.  For too many years, the subject of this trending topic on Twitter was only something that I heard about in my grandparents' living room, as relatives and family friends gathered for fruitless and frustrated hours of discussion. Watching the video, though, I was concerned at the simplicity of the approach that Invisible Children seemed to have taken.

The thing is that Joseph Kony has been doing this for a very, very, very long time.  He emerged about a quarter of a century, which is about the same time that Uganda's President Yoweri Museveni came to power.  As a result the fates of these two leaders must, I think, be viewed together.  Yet, though President Museveni must be integral to any solution to this problem, I didn't hear him mentioned once in the 30-minute video.  I thought that this was a crucial omission. Invisible Children asked viewers to seek the engagement of American policymakers and celebrities, but – and this is a major red flag – it didn't introduce them to the many Northern Ugandans already doing fantastic work both in their local communities and in the diaspora.  It didn't ask its viewers to seek diplomatic pressure on President Museveni's administration.

About ten minutes into the video, the narrator asks his young son who "the bad guy" in Uganda is; when his young son hesitates, he informs him that Joseph Kony is the bad guy.  In a sense, he let Kony off lightly: he is a monster.  But what the narrator also failed to do was mention to his son that when a bad guy like Kony is running riot for years on end, raping and slashing and seizing and shooting, then there is most likely another host of bad guys out there letting him get on with it.  He probably should have told him that, too.
There is another aspect about this particular video and campaign that I, and others, find disturbing. Invisible Children says it will be targeting "culture makers." Not one of these individuals have significant, vested interests in the African continent (let alone Uganda). Not one person is from Uganda or the wider region. Encouraging a diversity of voices, and providing a platform for new African leaders – whether political, economic, or social – would help highlight that the continent is not just Kony, war and rape and would provide a valuable, wider messaging. The bottom line with poverty porn messaging is that it paints leaders who are struggling in their communities to tackle these problems as hopeless and useless. Keep the American "culture makers," but why not also provide Ugandan leaders with a platform from which to speak?
In closing, I think the 'we must start somewhere' and the 'better than nothing' arguments are really tricky. The thing with Invisible Children is that they are not just starting from nowhere and they aren't just doing nothing. They affect a huge contingent of people around the world. Through extensive fundraising, they have incredible resources. They have a strong foundation and could present a more nuanced and respectful campaign if they wanted to. With that said, I guess I think it is a shame that, after all this time and with their experience, they (i) believe their listeners do not want more answers to the complicated questions and (ii) that they have not considered including and uplifting leaders from the communities which they talk about who could provide a more honest and in-depth picture.
Regardless, I'd like to thank Invisible Children for giving us yet another opportunity to discuss how destructive bad advocacy can be. Here's an opportunity to challenge ourselves, particularly those who work in development and aid communication, to try and collectively brainstorm how we can generate important stories and campaigns, while sending messages that are empowering, accurate and thought-provoking. It is also an opportunity for each of us to personally dig a bit deeper into the challenge of Kony and the LRA and become more familiar with these issues in a respectful way.
My first suggestion would be to start listening and engaging with the following individuals:
For more see Siena's personal site.
Conservative MP Dean Del Mastro was himself behind two robocalls on election day, the Calgary Herald revealed today. Del Mastro's campaign manager, Jeff Westlake, sent recorded messages to constituents reminding them that it was election day and offering rides, but only identified the caller as "Jeff."
The problem is that the Member of Provincial Parliament for Peterborough is named Jeff Leal, and many constituents were confused.  He also happens to be a Liberal, and claims calls were made during the Provincial election calling him a "baby killer."
Del Mastro hired Nick Kouvalis of Campaign Research to make his calls.  Kouvalis denies any wrongdoing,
He did identify the campaign office phone number on the call display. And Jeff, his campaign manager, introduced himself at the front of the script. I think they could have done a better job on identification, but it's pretty clear.
On Kouvalis' LinkedIn page, there is a single recommendation which states,
Nick and his entire team at Campaign Research are a pleasure to work with. They customize a plan to fit our needs, and deliver great results every time.
The author of the recommendation?  None other than a Jeff Westlake, Constituency Assistant at Office of Dean Del Mastro.
Great results indeed. Liberals are calling for a Royal Commission to get to the bottom of it.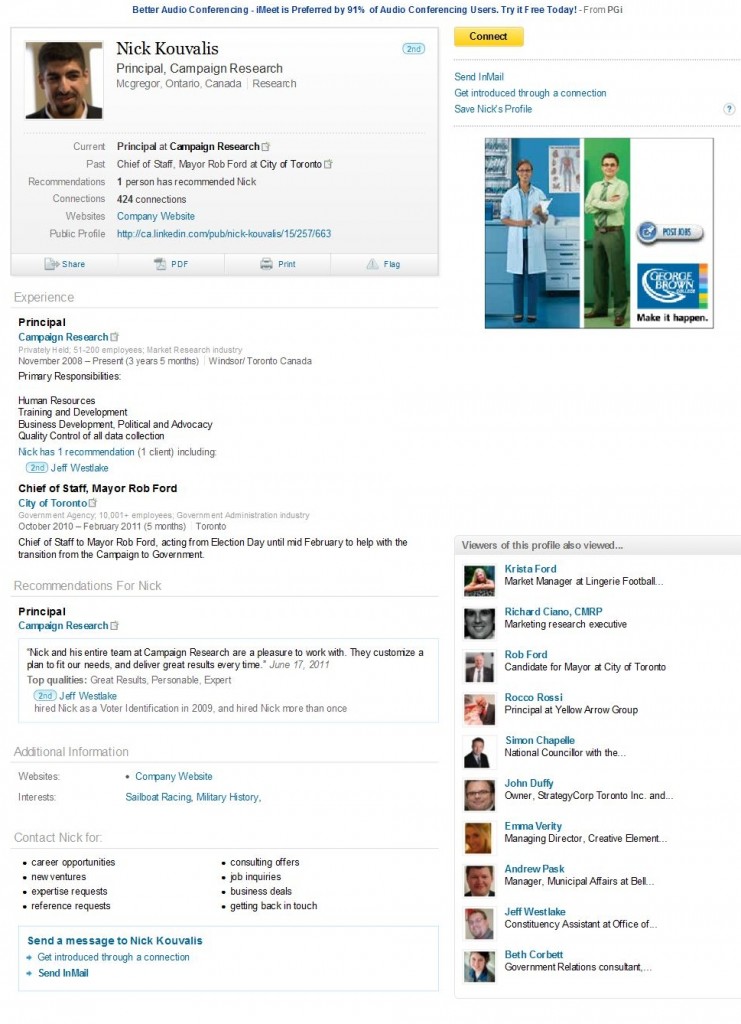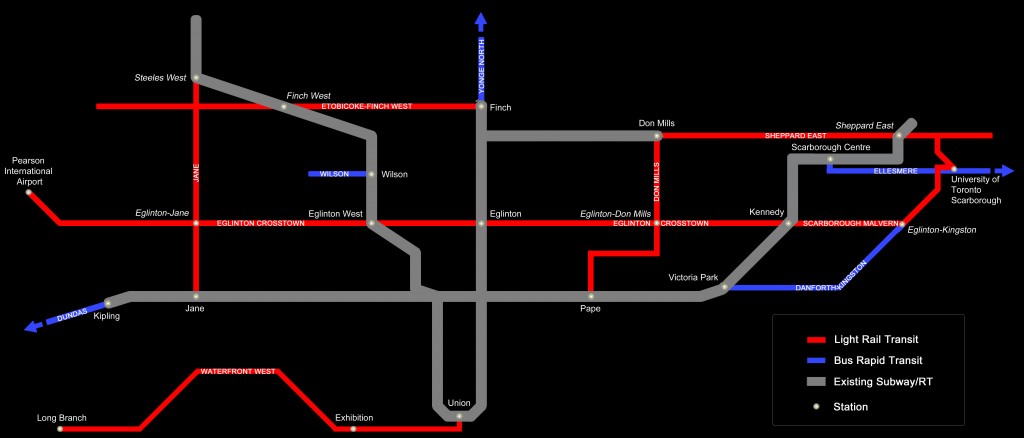 Cavalluzzo Hayes Shilton McIntyre & Cornish released a legal opinion today concluding that Toronto Mayor Rob Ford did not have legal authority to cancel Transit City.  The opinion concludes that the mayor does not have independent power to bind the city, and only exercises power delegated by council or specific legislative responsibility.
Also see Pulat Yunusov's previous post, What can the mayor of Toronto really do?
The Executive Summary of today's opinion follows:
Throughout the period 2007 to 2010, the Toronto Transit Commission (the "TIC") and the Toronto City Council ("City Council" or "Council") received reports, considered, and voted on aspects of what was commonly known as Transit City. They designated four priority projects. They voted funding allocations for these projects. City Council declared Transit City its first priority with respect to transit.

On December 1, 2010, newly elected Mayor Ford, without the approval of City Council, purported to cancel Transit City. He directed that work on Transit City be stopped, and that resources be allocated to other projects as he directed. The TIC followed this direction. On or about March 31, 2011, again without the approval of City Council, Mayor Ford purported to enter into a Memorandum of Understanding (the "Mayor's MOU") on behalf of the City of Toronto with the Province of Ontario and Metrolinx, the province's transportation agency.  Under the Mayor's MOU, Mayor Ford purported to confirm the intent of the City of Toronto to end Transit City, make alternative transit plans, and reimburse Metrolinx for non recoverable sunk costs associated with the direction of City Council to implement Transit City. There are two major issues with respect to Mayor Ford's conduct with respect to Transit City. First, he did not follow the proper procedure for obtaining City Council's authorization to rescind Transit City and develop and approve an alternate plan. Second, he purported to enter into the Mayor's MOU on behalf of the City of Toronto without City Council's approval, and, more importantly, appears to have acted on the Mayor's MOU without first obtaining the authorizations the document itself requires to be operational.

As we further discuss below, Mayor Ford did not have the authority, without the approval and direction of City Council, to:

1. Cancel Transit City;
2. Direct the TIC Chief General Manager to redirect resources away from
Transit City initiatives;
3. Direct the TIC to develop a new transit plan; and
4. Sign the Mayor's MOU purporting to establish the intent of the City of Toronto to end Transit City and make alternative transportation plans, when Council's intent to date as established by Council resolutions is to support Transit City.

City Council, of which Mayor Ford is a part, has the authority to do those things. It has not done so. The Mayor has not taken these initiatives for approval to City Council. Under the City a/Toronto Act, the power of the City resides in City Council. The Mayor of Toronto has very little independent authority beyond his role as head of City Council. Unless specific power is delegated to him, the Mayor does not have the authority to speak for the City independently.

Below, we discuss the history of Transit City, with particular focus on the steps taken by City Council to approve and implement the program. We then discuss the municipal legal framework with respect to the authority of the Mayor of the City of Toronto. We conclude by examining the steps taken by Mayor Ford since December 1, 2010 to determine whether he had the authority to do the acts he has purported to do.
When former Conservative Party of Canada (CPC) Member of Parliament, Helena Guergis, filed a claim yesterday against Prime Minister Harper and the CPC at the Ontario Superior Court, the story made headlines.
What didn't attract as much attention is that the claim also included as defendants Arthur Hamilton and his law firm, Cassels Brock & Blackwell LLP,
2. The Plaintiffclaims as against the Defendant, Arthur Hamilton ("Hamilton"), for conspiracy, defamation, breach of fiduciary duty, breach of duty of good faith, breach of confidence, and negligence.
3. The Plaintiff claims as against the Defendant, Cassels Brock & Blackwell LLP ("Cassels Brock"), for conspiracy, defamation, breach of fiduciary duty, breach of duty of good faith, breach of confidence, and negligence…

14. Hamilton is an individual and a lawyer with the Toronto office of the Cassels Brock law firm who, at all material times, was the lawyer for CPC and Harper.
IS. Cassels Brock is a limited liability partnership and law firm with offices in several major Canadian cities that, at all material times, was acting as legal counsel for CPC and Harper.
The allegations against Hamilton include a claim that he received defamatory statements from Derrick Snowdy, a private investigator who appears to have played a role in the fiasco involving Guergis' husband, Rahim Jaffer.  The allegations then state that Hamilton conveyed this information to Prime Minister Harper and others named in the claim (or alternatively did not make these statements, as the claim indicates).
It's difficult to see how this function, operating in the capacity as a lawyer, could not attach some form of privilege.  Absolute privilege may be available to some of the other defendants (see New Brunswick Broadcasting Co. v. Nova Scotia (Speaker of the House of Assembly)) and the defence of qualified privilege may attach to statements made by others. Lewis N. Klar stated in the Ottawa Law Review ((1991) 23 Ottawa Law Review 177-26),
The right of politicians to communicate information to the public has been protected by the defence of qualified privilege in recent defamation cases. In Parlett v. Robinson393, and Loos v. Robbins394, Courts of Appeal have upheld the right of a Member of Parliament in the former case, and a Cabinet Minister in the latter, to make statements to the public through the media, which although defamatory were made in furtherance of their public duties. These decisions demonstrate a greater latitude to the types of statements which will be protected, particularly with regard to the breadth of their publication, than had been the case in earlier Canadian law395.

In Leverman v. Campbell Sharp396, Lambert J.A. held that the defence of qualified privilege will be defeated if the defendant publishes a statement which is not his honest belief. Although carelessness in forming the belief will not defeat the defence, carelessness in publishing it, so that the statement does not represent one's views, will.
In order to overcome qualified privilege there must be an element of malice, as explained in Hill v. Church of Scientology of Toronto,
144     The legal effect of the defence of qualified privilege is to rebut the inference, which normally arises from the publication of defamatory words, that they were spoken with malice. Where the occasion is shown to be privileged, the bona fides of the defendant is presumed and the defendant is free to publish, with impunity, remarks which may be defamatory and untrue about the plaintiff. However, the privilege is not absolute and can be defeated if the dominant motive for publishing the statement is actual or express malice. See Horrocks v. Lowe, [1975] A.C. 135 (H.L.), at p. 149.

145     Malice is commonly understood, in the popular sense, as spite or ill-will. However, it also includes, as Dickson J. (as he then was) pointed out in dissent in Cherneskey, supra, at p. 1099, "any indirect motive or ulterior purpose" that conflicts with the sense of duty or the mutual interest which the occasion created. See, also, Taylor v. Despard, [1956] O.R. 963 (C.A.). Malice may also be established by showing that the defendant spoke dishonestly, or in knowing or reckless disregard for the truth. See McLoughlin, supra, at pp. 323-24, and Netupsky v. Craig, [1973] S.C.R. 55, at pp. 61-62.

146     Qualified privilege may also be defeated when the limits of the duty or interest have been exceeded. See The Law of Defamation in Canada, supra, at pp. 13-193 and 13-194; Salmond and Heuston on the Law of Torts (20th ed. 1992), at pp. 166-67. As Loreburn E. stated at pp. 320-21 in Adam v. Ward, supra:

. . . the fact that an occasion is privileged does not necessarily protect all that is said or written on that occasion. Anything that is not relevant and pertinent to the discharge of the duty or the exercise of the right or the safeguarding of the interest which creates the privilege will not be protected.

147     In other words, the information communicated must be reasonably appropriate in the context of the circumstances existing on the occasion when that information was given. For example, in Douglas v. Tucker, [1952] 1 S.C.R. 275, the defendant, during an election campaign, stated that the plaintiff, who was the officer of an investment company, had charged a farmer and his wife an exorbitant rate of interest causing them to lose their property. The plaintiff maintained that the allegation was without foundation. In response, the defendant asserted that the plaintiff was facing a charge of fraud which had been adjourned until after the election. This Court held that the defendant had an interest in responding to the plaintiff's denial, thereby giving rise to an occasion of qualified privilege. However, it ruled that the occasion was exceeded because the defendant's comments went beyond what was "germane and reasonably appropriate" (p. 286).
The other claims against Hamilton are also worth highlighting because it involves his firm,
45. On April 8 and 9, 2010, and all material times, Hamilton and Cassels Brock owed a fiduciary duty and duty of good faith to the Plaintiff, and were obligated to act with regard to the Plaintiffs interests and keep and protect the Plaintiffs confidences as a result of the relationship that existed as between the Plaintiff, Hamilton and Cassels Brock, including as a result of the legal advice that had been provided by Hamilton and Cassels Brock to the Plaintiff on or about April 7, 2010 at a time when the Plaintiff was vulnerable and dependent upon Hamilton and Cassels Brock and relying upon their professional advice.
If Cassels was indeed representing both Guergis and Harper/CPC at the same time, and was providing advice to Harper/CPC that was detrimental to Guergis, it is difficult to see how there could not be a conflict of interest,
48. In addition, Hamilton and Cassels Brock failed to avoid a conflict of interest whereby the interests of their other client(s) were promoted at the expense of the Plaintiffs interests, resulting in breaches of their fiduciary duties and duties of good faith owed to the Plaintiff.
Of course the nature of the advice, and whether they attempted to remove themselves from the record, are other factors that may come into play, especially since Harper made a statement soon after,
72. Also on or about April 9, 2010, Harper made the following public statement: Last night, my office became aware of serious allegations regarding the conduct of the Honourable Helena Guergis. These allegations relate to the conduct of Ms. Guergis and do not involve any other minister, MP, senator or federal government employee. I've referred the allegations to the Conflict ofInterest and Ethics Commissioner and to the RCMP. Under the circumstances, I will not comment on them further.
At the very least the lawsuit will finally provide information about the inner workings of Harper's Conservative Party, which has been the target of general accusations of unilateralism and squashing any dissent. The lawsuit may eventually demonstrate that not unlike the Liberal Party before them, infighting is an unfortunate reality of Canadian political parties once established in power. While this revelation might be refreshing to those who mistakenly believed it to be a problem plaguing Liberal dynamics, it may be less than inspiring to a generation who has been largely apathetic and removed entirely from public political discourse.
The Statement of Claim is below.
Guergis v Novak et al Statement of Claim