By: Farrah Rajan
Accutane 40mg pills in Chicago online Savings of up to 90% on common prescriptions drugs The usual supply of generic drugs that customers normally order is a 90 day supply going to the drugstore Your reliable source for prescription medication
Walmart has brokered a deal with Axess Law to provide legal services in select Walmart locations. The founders of Axess Law are hoping to promote access to justice by alleviating the fear people have of consulting a lawyer. They provide a walk-in service for a small number of matters that they deal with on-site and refer matters out of their scope to other firms. With this business model, they are able to offer affordable rates and provide service in the evenings and on the weekends.
Ordering from our prescription service over the Internet is a proven convenient service Canadian Pharmacy Order ativan 1mg in Birmingham with no prescription We offer convenient ordering online or by fax
Here at Law is Cool we are keeping an informal tally of which schools are participating the most in #CBAFuturesChat. Schools get 1 point if atleast 1 student participates in the chat. Schools get an additional point if they have the most students participate (In week 1 that was uOttawa) and an additional point if one of their students is featured in the weekly 'social media highlight' here at LawIsCool (Last week's winner was Thompson River's James Wagner).
| | |
| --- | --- |
| Law School | Week 1 |
| University of Ottawa | 2 |
| Thompson Rivers University | 2 |
| Queen's University | 1 |
| Lakehead University | 1 |
| University of Victoria | 1 |
There are some pretty big name schools missing from this list, what does that tell you?
mail or telephone You will be able to get the right products right on time
James Wegner, a law student and editor in chief of the  at British Columbia's Thompson River's University has made this week's Law is Cool social media highlight reel.  James made the highlight reel after his performance last week at the #CBAfutureChat.  James came to the half hour session and shared his thoughts on the state of legal education in Canada with students and the broader legal community last Tuesday.  His clear answers and thought provoking followups saw him quoted in the CBA Legal Future's Initiative's  weekly summary of the twitter chat.
I followed up with James to ask him a few questions about social media and the study of law.
Q. Do you have a strategy when it comes to social media? Do you have any goals you are trying to achieve?
Place your order online today with our quick and easy drug ordering system discover the difference you can order your medicine at the time that is most convenient to you We offer convenient ordering online or by fax
A. As a law student, one of the main things on my mind is making sure my profile looks professional.  I tested this a couple of days ago by googling myself, and I was pretty happy with what came up.  Using social media or blogging is just another way for potential employers and the broader legal community to get to know you.
Q. You mentioned blogging, I just read a post you wrote on 'The Sports Law Canary', what sparked your interest in blogging?
mail or telephone Ativan 1mg online echeck Seattle Your Prescription Drugs will be sent from our contracted Canadian Pharmacy directly to your front door
A. It was an opportunity a professor presented to my sports law class.  I thought it was a great opportunity to get my name out there and write about something interesting.
Q. Is it common for students at #TRUlaw to use social media like that?
A. I think it's something a few students do, there are a few students on twitter who are using it rather smart.  They tweet about human rights, for example, and other issues they care about.  There are a lot of people on linkedin too, which is relatively new, but also great for interacting with the legal community.  Everyone of my classmates use social media, some use it for branding and networking, while some only use it for personal connections.
Congratulations to James for being the first to make the LawIsCool social media highlight reel.  If you are a law student who is looking for a chance to be featured here, make sure to participate in the weekly twitter chats hosted by the CBA Futures Initiative.  #CBAFuturesChat, every Tuesday in October.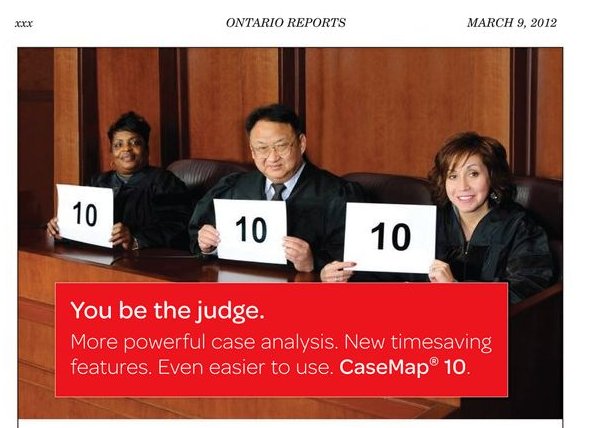 From a real ad in Ontario.
Recently Omar Ha-Redeye and Simon Borys (that's me) (both contributors to this blog) were interviewed by Michael McKiernan for Articling How To, an article in the Canadian Lawyer4Students magazine.  In it, Michael discusses how students can set themselves up for an articling position in the midst of this present articling crisis.
He talks about doing something to set yourself apart from the crowd by "thinking small" (Omar's topic), "taking the initiative", "knowing your options", "embracing old technology", and "embracing new technology" (my topic).
In terms of "thinking small", Michael wrote:
Bay Street firms run their articling programs like a well-oiled machine and provide a large chunk of the available spots, so it's no surprise that they're front of mind for law school career counsellors, says Toronto lawyer Omar Ha-Redeye. But the 2011 Ontario call advises more students to think small. "I think for people who are going into litigation, smaller firms are better options. I was in court more than anybody I know. I was really thrown into the mix and was on my feet the whole time," he says.
In terms of embracing new technology, Michael wrote:
In a competitive articling environment, you have to make yourself stand out. And the earlier, the better, according to Simon Borys, a second-year law student at Queen's University in Kingston, Ont., who has put a great deal of effort into building his online profile. "Everyone comes to the table with law degrees, so you have to demonstrate to future employers what you bring in addition. Online activities are a great way to showcase that," he says.

Borys highlights his own history as a police officer on his blog, which he uses as a platform to link up with fellow students, senior practitioners, and potential future employers. He's also active on Twitter and participates in online legal discussion groups. And it's paid dividends, because he's already secured a summer position at a criminal law firm, with a strong chance to return to complete his articles. "It's been very well received and I've made lots of connections," says Borys.
All of the things Michael discusses in this article are highly relevant to students currently seeking articling, especially considering the present scarcity of articling jobs.  It's not enough in this day and age to come to the job market with just a law degree and your hand out and expect that someone will give you a job.  You don't have to use new technology, like I do, but you have to do something!  Read Michael's article and think about what might work for you.
—
Simon Borys is a law student at Queen's University in Kingston.  He is also a former police officer and an an aspiring criminal lawyer.  His Blog, Simon Says, focuses on dispelling policing myths and demystifying the law.
Here's a great ad from the Advocates Society:
The Seven Sister law firm Davies LLP ran the above ad in several issues of Obiter Dicta, Osgoode Hall's law student magazine, the last one running on January 9, 2012.  The law firm is known for working its law students and associates exceptionally hard, earning it the informal nickname, "Slavies."
As you can imagine, outrage ensued.  Especially worth reading is Osgoode Hall's Kisha Munroe, who stated in a letter to Obiter Dicta on January 16, 2012,
That Davies saw fit to run an ad invoking the shameful, genocidal, dehumanizing practice of forced, unpaid, lifelong labour and suffering that was essential to the power the Western world now enjoys is despicable.

What is even more offensive is that the legacy of the Trans-Atlantic slave trade, is still alive and well with regard to disparities in access to employment, education, wealth and justice that the descendants of slaves still suffer. It is beyond distasteful for them to jokingly compare the rarified privilege (however rigorous) of working at a Bay Street lawfirm with this history.
To their credit, Davies LLP did print an apology in the paper,
…

The intent of the advertisement was instead to try to suggest that the nickname students have used for our firm for many, many years should not dissuade students from considering applying to us for summer or articling positions. We were aiming for some selfdeprecating humour. It did not occur to our team that we would be seen as making light of slavery, rather than simply poking fun at ourselves. Obviously it should have.

We thank those who brought this to our attention and accept their criticism. We sincerely apologize to those who were offended. We will not run the advertisement again.

Frances Mahil
Director, Student Affairs
Davies Ward Phillips & Vineberg LLP
No public apology is available yet on the Davies website.   Yes, this is an issue that concerns and has offended a much broader audience than just Osgoode Hall.
The fact that this occurred in the first place does highlight the insensitivity and insularity that exists in Canada's "top" law firms.  I can already hear the voices of many lawyers I know dismissively saying that those offended are "too sensitive." In fact Andrew Emery, another 2L at Osgoode,  wrote in to the paper,
There is nothing offensive about playing on the perception that Davies students work like slaves. It is as offensive as just saying the word "slave". Just saying a word doesn't make it offen sive. The joke is so mild even my Grandma could laugh at it and she thinks women shouldn't show their elbows on television.
The lack of sensitivity by major law firms, especially at the decision making level, should actually be used to hold them accountable.  Apparently Davies LLP was not concerned enough about dissuading minority students from applying to summer or articling positions.  And rather than realizing that the strenuous hours and unrealistic work assignments that have fostered the negative reputation should be an incentive to change the firm culture and create better internal supports, the firm still thinks it's reasonable to flaunt this reputation as a "learning experience" akin to "slavery."
Davies does have a "diversity page" on their site which states,
The creativity and different perspectives that are brought to our practice by lawyers from diverse backgrounds and communities have helped to define who we are as a firm today, and we believe that they will continue to be key factors that enable us to endure as market leaders in our chosen areas of practice.
Their NALP profile states under "diversity,"
Our goal is to recruit, hire, retain and promote exceptional students and lawyers who share Davies' commitment to excellence…
It continues,
Our goal is to hire exceptional students who share our commitment to excellence. We are committed to our student program as the primary source of new lawyers and hire back students anticipating they will become partners of the firm very early in their career. This early partnership structure is unique among law firms and we have a very high ratio of partners to associates. As a result, very early in their careers our talented young lawyers learn to act like owners, rather than employees, and to view the firm's relationships with its clients from that perspective.
Unlike many American law firms, Canadian ones are highly resistant to releasing statistics about their associate and partner diversity.  Of course you don't need much time to flip through a website to get an idea of what kind of diversity they have.  And as well all should know, the real issue of  law firms diversity has a lot more to do with retention than it does recruitment.  Nobody announces it on their departure, but the insensitivities of law firm culture is one of the primary reasons why minority lawyers don't feel fully accepted, can't be completely productive, and ultimately choose to find more comfortable work environments.
But aside from dissuading law students and even lateral hires, there could be other implications for insensitivity by law firms.  Some clients in the American legal context have historically demanded proof that a legal team will have sufficient diversity.  In-house counsel of minority backgrounds may opt to choose another large law firm to do their legal work instead.
In other words, there are financial consequences to these poor decisions.  And although the managing partner may not be able to identify on a budget why some clients are choosing alternative service providers or explain recruitment issues, it is worth noting:  in today's world, the "slaves" actually fight back.
Recently Alexandra Kozlov wrote a great article for Canadian Lawyer 4Students on how law students can boost their job prospects with a good online profile.
You can read the article on the Canadian Lawyer 4Students site or on my blog: Simon Says.
Ari Kaplan, the author of The Opportunity Maker, and his new book, Reinventing Professional Services, spoke to Omar Ha-Redeye during his last visit to Toronto.
Via Matt Homann at the [non] billable hour: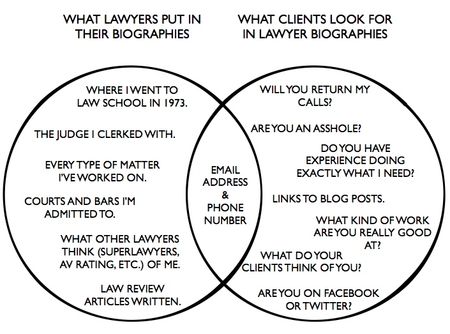 Blawg Review is a blog carnival that rotates to a different law site every week, usually emphasizing a specific theme. Last week's review was by R. David Donoghue.
August 23 is the "International Day for the Remembrance of the Slave Trade and its Abolition," established in 1997 by the United Nations Educational, Scientific and Cultural Organization (UNESCO) during the 29th session of the General Conference (Volume 1).
The purpose of the day is to examine:
the historical study of the causes and workings of the transatlantic slave trade,
the clarification of the consequences and interactions to which it gave rise, and
the contribution of the project to the establishment of a culture of tolerance and peaceful coexistence between races and peoples.
This year UNESCO has developed a documentary for this day Slave Routes: A Global Vision.
A companion document has has been released with the film, and will be referred to periodically throughout this post.
The Causes and Workings of Transatlantic Slavery
The origins of the Transatlantic slave route go back to the Iberian wars, between the Christian and Muslim kingdoms of Spain and Portugal. Both sides engaged in the enslavement of captives of war. As Slave Routes notes, the institution of slavery existed well before the Transatlantic route, both internally within Africa and to the Near East. But something different began with the European enslavement of Africans from the 15th c. onwards.
The first known African slaves sold in markets of recognizable European states was in Lisbon, Portugal in 1441, obtained from what is now Mauritania. The Portuguese had good reason for attempting to circumvent the Atlas Mountains and raiding the West African coast. In 1086 a black African dynasty originating from this area known as Al-Murabitun (Almoravids in English) provided military support and temporarily halted the expanse of the Christians. Soon after, Pope Alexander II provided the papal standard (vexillum sancti Petri) and an indulgence to the Christians in the conflict in 1063, making it officially a holy war that would culminate centuries later in the Spanish Inquisition.
The motivation for European slavery of Africans was therefore initially military, as an extension of the Western Crusades known as La Reconquista, or the reconquest of the Iberian peninsula by the Christians. In reality this term was probably too broad and an exaggeration, as many of the diverse peoples in the Muslim kingdoms of Spain and Portugal included native Iberians who had adopted the Islamic faith.
A permanent Portuguese fort was established at Arguin in 1448, and the 1452 Dum Diversas papal bull of Pope Nicholas V specifically authorized Alfonso V of Portugal,
…full and free permission to invade, search out, capture, and subjugate the Saracens and pagans and any other unbelievers and enemies of Christ wherever they may be… and to reduce their persons to perpetual slavery.
This established the basis for a racialized slavery, hereby unknown to Africa or any region engaging in African slave trade. As the motivations for slavery shifted from military goals to economic incentives, sheer greed resulted in a complete and utter destruction of African civilization and society. This is what made the Transatlantic slavery exceptionally devastating and worthy of particular scrutiny.
Web resources on the subject are expanding, archiving historic documents for amateur historians looking to deepen their knowledge on the subject. J.L. Bell has a post on Boston 1775 announcing American Slavery Debate, a new database of primary source documents.
Marco Randazza thinks slavery would be a pretty good alternative to some judicial punishments out there.
In some ways we're all a slave to something. Those of us starting out in our legal careers are often a slave to the billable hour, or a slave to making partner. Norm Pattis is eying some of the pro bono work big firms are doing and wondering if they can spare him a partnership. Ronda Muir gives some tips to young lawyers on how to be a better lawyer by improving specific behaviours. Social media might boost a career, but Adrian Dayton cautions on a guest post at Above the Law that it takes time and dedication to get true returns.
If we don't make it seems like we're all likely to move back in with our parents. Stephanie West-Allen discusses these millennials on IdeaLawg. Scott Greenfield just sort of bashes them. Jordan Furlong thinks law firms should pay more attention to a workplace trend:
…a daydream about the courage to quit a job that treats you with less respect than you deserve… As Daniel Gross explains in a Newsweek commentary, "the poor labour market and workers' antagonism toward employers and customers are actually connected"
Slavery means different things to different people. James T. Harris quotes Alan Keyes, who describes the experience of slavery as a guarantee of shelter, clothing and a job. "Socialism," and Obama, is a form of slavery, if you buy the Keyes line that government-dominated largess is an infringement on freedom. Blunt Politics gives us more black Republicans who claim that real freedom comes through independence from the state, which they liken to the slave plantation,
This is not the land of guarantee, it's the land of opportunity… but when you say racism is the problem, you put the power for your future in someone else's hand.
My take is that the modern descendants of slaves are more likely to find guaranteed food, shelter and clothing in prison. The U.S. has the highest incarceration rate in the world, and African-Americans are disproportionately affected for a variety of reasons. I always wonder why Keyes doesn't talk more about that, because it seems like race is the problem. Or part of it, at least. If nothing else it makes confidence and belief in the system difficult for minorities in the U.S. Abdul Hakim-Shabazz has his own doubts about police on the Indiana Law Blog after the David Bisard case, where an intoxicated on-duty officer struck and killed a biker and somehow had the charges dropped.
Law enforcement is not always right. James Morton thinks Col. Patrick Parrish is wrong about Omar Khadr. Confessions are only valid if they are free and voluntary. Threats of gang rape in prison usually vitiate that consent.
Eric Lipman reminds us about Terry Nichols in prison, not notable for being African-American, but rather for his role in the Oklahoma City bombing. Seems he's not too happy with his food in prison due to the lack of insoluble fibre which doesn't give him regular bowel movements. Seems the judge doesn't give a…
Consequences and Interactions of Transatlantic Slavery
The most immediate consequence of the Transatlantic slavery was the dominance of European powers in the world. Western civilization as we know it today would not be possible without the hundreds of years of free labour, and the continued exploitation of natural and human resources. Operation Black Vote said,
The UK reaped huge profits for the despicable trade financing the developments associated with the industrial revolution. Britain made unprecedented profits and benefited enormously for the bloody trade. The legacy of racism remains with us some 400 years later.
Transatlantic slavery also created a system of oppression that places people of European ancestry on a higher level in a hierarchy maintained by what Slave Routes refers to as europhilia, ethnophobia and endophobia. It resulted in a far greater polarization of cultures in the world, as those attempting to restructure this hierarchy or seeking independence through an anti-colonial stance invariably adopted a counter-European philosophy. We see this pattern not just across Africa, but all of the colonized world, including the Middle East, across Asia, and Latin America.
August 23 was selected by UNESCO because it corresponded with the Haitian revolution, a major landmark in the resistance against colonialism and slavery. Slave Routes points out,
In the United States, the North America historian, Herbert Aptheker, has estimated that approximately 250 acts of sedition in all were organized by Afro-Americans to free themselves from slavery during the history of that "particular institution" in that country.
These revolts existed throughout the Caribbean and the Americas, and were a far more compelling reason for abolitionism than any humanitarian or compassionate grounds. For more on the Haitian revolution and slave revolts, see Blawg Review #249.
Although the direct domination of the developed world by European powers has largely ceased, the exploitative relationship continues to this day and is a major source of civil unrest and political tensions in the world today.
I came across this poster the other day on Queen Street West stating that "Slavery wasn't abolished in 1834,"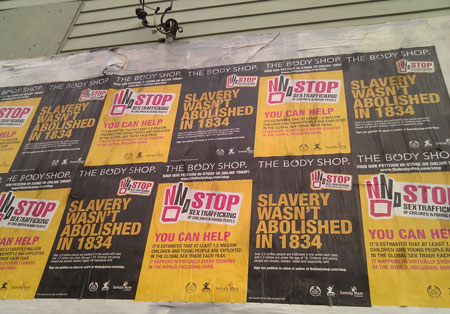 It's an advertisement from The Body Shop, who have raised over a million dollars to fight sex trafficking through partnerships with ECPAT USA (End Child Prostitution and Trafficking) and The Somaly Mam Foundation. The greatest consumers of modern sex trafficking continues to be wealthy European and North American citizens.
The Morning Quickie shares a review of Not Natasha, a photo book documenting the lives of survivors of sexual slavery in Moldova.
The key thesis behind Siddarth Kara and Devin T Stewart's Sex Trafficking: Inside the Business of Modern Slavery is not that different from the Transatlantic slavery,
…the enormity and pervasiveness of global sex trafficking is driven by the ability to generate immense profits at almost no real risk.
They suggest the most effective way to address the profitability of modern slavery is to elevate the risk.
Not For Sale | Cambodia from Not For Sale Campaign on Vimeo.
Michael Platzer of the U.N.'s Center for International Crime Prevention said,
…200 million people are victims of contemporary forms of slavery. Most aren't prostitutes, of course, but children in sweatshops, domestic workers, migrants. During four centuries, 12 million people were believed to be involved in the slave trade between Africa and the New World. The 200 million — and many of course are women who are trafficked for sex — is a current figure. It's happening now. Today.
The Not for Sale Campaign has a slavery map tracking incidents near you revealed largely through law enforcement. The campaign focuses on more than just sexual slavery, and in their 2010 "Stop Paying for Slavery Tour" uses supply chain monitoring programs and looks at various forms of exploitation and economic dependence that result in a de facto rather than de juris forms of slavery.
Or as Jason Mustian recently put it,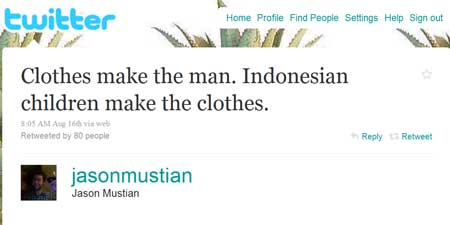 Ron Soodalter at the Huffington Post talks about The Slave Next Door, and reaffirms that slavery is alive and well today. He's calling for California to pass the Transparency in Supply Chains Act. A Heart for Justice reviews the same book.
Bruce Reilly visits the Modern Slavery Museum focusing on agricultural workers. Actually, the museum visited him, because it's on wheels,
Farmworkers in this country have been the most exploited group of folks since the Abolition in slavery in 1865. As one farm owner puts it, "Before, we used to own the workers. Now we just rent 'em."
Faces of Slavery from David Hepburn on Vimeo.
Those interested in learning more might want to attend the Global Forum on Human Trafficking in Yorba Linda, CA on Oct. 14-15, or a number of workshops being held in the UK by UCL.
My Fight Planet gives us an edited version of highlights from "Fight Traffic," a Mixed Marital Arts (MMA) event raising funds to abolish slavery and human trafficking. Maybe we can do something like that over here, because MMA fights are coming to Ontario.
Not all sports are so philanthropic. Tom Kirkendall is following the Roger Clemens case. Meanwhile, Howard Wasserman is cheering speech at the Sports Law Blog. Lilian Edwards comments on the case of the anonymous star of BBC's racing show Top Gear trying to reveal his true name to cash in on an autobiography. (Sorry, no hockey here this time).
A Culture of Tolerance and Peaceful Coexistence between Races and Peoples
Michael Lynk, one of my former profs at UWO and currently Associate Dean, has the 2009 Rand Memorial Lecture on SSRN, Labour Law and the New Inequality. The premise behind the paper is that poor labour practices that stem from global inequity leads to instability and civil strife, limiting both social capabilities economic potential of these communities. UNESCO is currently mobilizing a response for the Pakistan floods, an issue of global concern to avoid radicalization, militancy and religious extremism in the region.
An obvious prerequisite for the horrors of Transatlantic slavery was the development of racial ideology. Slave Routes notes one of the major obstacles to political independence in Latin America was persistent and divisive racial ideologies. The Human Genome Project and countless scientific studies in recent years indicate the biological impossibility of human "races," yet the resurgence of eugenics around the world is quite disturbing.
But genes can be used in good ways too. The Innocence Project announces that after 30 years DNA evidence has proven a Virginia man is innocent of rape charges due to the pro bono work of lawyers at Wilmer Cutler Pickering Hale and Dorr LLP. Another recent exoneree, Michael Anthony Green, wants to become a paralegal to help others wrongfully accused.
Speaking of wrongfully accused, Christine Corcos reports that Wikileaks founder Julian Assange was charged in Sweden for rape and molestation charges. Not so quick though, seems those charges were dropped in a hurry. Other charges of espionage against Assange are contemplated by Kenneth Anderson, but Julian Ku on Opinio Juris says in true spy form that they have to catch him first.

The most effective approach to peaceful coexistence might simply be for people to get to know and understand each other, a variation of the contact hypothesis used in sociology. But sociologists know that contact alone is not enough.
Eugene Volokh thinks Islamophobia is not quite irrational, citing a Time article indicating 46% of Americans believe Islam is more likely to encourage violence than other religions. Maybe, after several centuries of slavery and colonialism justified through religious practices, to restore some balance or equilibrium in global power. But sometimes, as Simon Fodden points out on Slaw, patience can be just as effective in the face of intolerance.
Volokh does note however that the accommodation laws invoked by many American Muslims today were intended for all religions and have primarily benefited Christians. And although Islamophobia is not a typical form of racism, it does rely on classic Social Darwinism thought.
By the way, Obama is not a Muslim, even though his middle name is Hussein (Can we get over this already?).
Slave Routes rejects the premise that racism is based on xenophobia or ignorance,
Racism can be defined as a process of suppression of the human being, based on socially selected phenotypical traits. This system classifies people according to their external physical characteristics and establishes a hierarchy of groups. In the long run, one of those groups defined as the superior race and the others are placed in inferior positions on the scale. Racism, therefore, is not a product of ignorance, the result of fear or concern over the 'other' or a natural phenomenon. [emphasis added]
Racism is more than a word, according to Marco Randazza. One word by a Dr. Schlessinger is what a lot of people are talking about right now. I'll let you guess the word, but Norm Pattis weighs in too. One of his readers doesn't agree though,
That someone as smart as yourself would join the oh so ignorant and completely off base "young black men say nigga, why can't an old white woman say nigger?" team I hope speaks only to a generational divide and a complete lack of understanding of the context in which nigga is used and that it is a different word than nigger.
Where we do typically see racism manifested today is with immigration. Kevin Johnson at the Immigration Prof Blog discusses the 14th Amendment, which gives citizenship to the children of immigrants born in the U.S. Instead of repealing it, the real solution he proposes is immigration reform. Daniel Cubias points out how difficult it is to repeal an Amendment, and the unlikelihood of it happening, while J.E. Robertson considers it an attack on all Americans. Hegemomy notes that repealing the 14th Amendment used to be the talk of the fringe-right, and calls it the rise of the "Old South." They heavy-handed tactics used in places like Arizona inevitably spill over into the general population, as evidenced by a case presented to us by Scott Greenfield.
What is needed is for group to have meaningful interaction with each other in a shared space and common goals to overcome deeply ingrained stereotypes and prejudices. It's very difficult to hate others when you have extensive and nuanced encounters with a group that demonstrate the diversity found within them. For example, Martha Minow raises concerns that charter schools in the U.S. have the potential to create self-segregation.
Maybe that's what the opponents of a new community center in lower Manhattan are really afraid of, that others won't harbour the same hatred and animosity towards other that they do. Originally Park51 was appropriately called Cordoba House, invoking the city in Spain that was once a Muslim capital of a flowering multicultural and multi-religious literary civilization, extinguished by the same movement that led to the Transatlantic slavery.
Or maybe, as Jon Stewart suggests, Fox News is a terrorist command center (see here in Canada). Randazza doesn't have much to say about it, aside from invoking through Sam Seder bull-size helpings of Terry Nichols' favorite prison past-time:
Daniel Luban just calls it "The New Anti-Semitism,"
While activists like Pam Geller have led the anti-mosque campaign and the broader demonization of Muslims that has accompanied it, leaders like Abe Foxman have acquiesced in it. In doing so they risk providing an ugly and ironic illustration of the extent of Jewish assimilation in 21st-century America. We know that Jews can grow up to be senators and Supreme Court justices. Let's not also discover that they can grow up to incite a pogrom.
It was through Cordoba that toothpaste and under-arm deodorant were introduced to Western Europe, and where literary works were translated freely between Arabic, Hebrew, Latin and Greek. It was in Cordoba that the Golden Age of Judaism flourished, giving birth to rabbinic scholars such as Maimonides.
Despite being one of the most tolerant and inclusive societies on Earth today, and all the lofty constitutional and human rights ideals, the United States has yet to accomplish the same culture of tolerance and coexistence that once briefly existed – in Cordoba.
Perhaps that's something though we can all aspire to in Park51, if we're willing to open our minds to it.
—————–
Charon QC has his own little law review going on, and Jordan Furlong has six for the road. Next week's Blawg Review is by Mirriam Seddiq, a criminal defence and immigration lawyer who posts on Not Guilty. Blawg Review has information about next week's host, and instructions how to get your blawg posts reviewed in upcoming issues.
There has been a great deal of discussion among legal commentators about the failure of hourly billing for legal services and the need for alternatives. The most recent article I've seen is in the CBA's Jan/Feb issue of National. Although I'm a law student and have never billed a single hour as a lawyer, I have worked for more than a decade as an entrepreneur and I wonder … what are the alternatives, really, but masked versions of hourly billing? Given the limited amount of hours available to work in any day/week/year/lifetime, billing by the job MUST reflect the time that the task requires.
Flat fee services must have caps on the input of resources to succeed as business models and, as a result, will tend to put a floor rather than a ceiling on the cost of any given service. At best, a flat fee will reflect the average amount of time required to perform a service. Innovators can find ways of doing things more quickly through economies of scale, computer processing, outsourcing and so forth, but price reductions that service providers choose to pass on to the clients can be built into an hourly billing model just as easily as any alternative. Innovations might put pressure on hourly rates through competition, but this has nothing to do with the method of billing.
Frankly, I fail to see how alternatives to billing by the hour will change the cost of legal services. The real pressures on cost come from the the well-known forces of the marketplace … the rest is just packaging. And if clients are becoming more sophisticated, will they really be impressed by a fancy one-size-fits-all (unless you want more) gift bag?
The real issue is value.  Lawyers that provide it will gain clients and those that do not will lose clients. Those who insist on talking about how the billing is done, please explain (and be nice about it): What am I missing?