By: Shannon O'Connor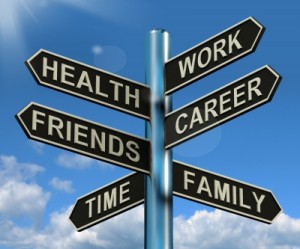 Maintaining a work-life balance has been difficult for numerous legal professionals. The question still remains: can a balance between work and life be attainable within contemporary society?
I believe that it is possible to achieve a balance between work and life. This balance ensures that an individual is able to complete work while doing the activities they love. It is quit a challenging endeavor and comes with multiple obstacles. Ultimately, this balance can be achieved through multiple avenues.
Guidelines for Achieving a Work-Life Balance:
• A work-life balance is more attainable if you run your own practice or essentially you are your own boss
• Rank your priorities in order of importance (family, health, self-actualization, and happiness etc.)
• Set your own goals and timelines
• When you discover what makes you content you will be able to find a way to maintain a balance between work and life
• Make time for your wants and needs
• It's ok to say no you can't be expected to do everything
Jatrine Bentsi-Enchill wrote an interesting article Cases and Chaos: Work-Life Balance Strategies for Busy Lawyers. The informative article is regarding the subject matter of work-life balance. The author noted numerous important tips; one important tip is creating time for oneself throughout the week. It essentially means making a date for oneself. I found this tip to be of utter importance. It enables an individual to have time to reflect, decompress, and focus on finding happiness.
Yamri Taddese wrote another enlightening article on the subject matter. Male lawyers join women in seeking work-life balance addresses men joining women's quest for work-life balance. The author posted numerous tips on how to re-enter the work force, which are helpful and should be kept in mind. Additionally, the author points out that this struggle is not just found among women but also men. The pursuit for a work-life balance is clearly evident between both men and women.
Lastly, Wolf the author of The Tyranny of Performance elaborates upon how the word balance should be replaced with "enjoyment". Less emphasis should be on "performance" and more focus and attention should be paid towards enjoying oneself and gaining an education.
I agree with all three authors and believe the recommended tips should be incorporated in order to achieve a work-life balance. It is important to reflect, and ask oneself: what would you do if you had free time?
Please find an attached video elaborating upon what I would do with an extra 8 hours a week: The Ultimate Clio Day
By Hermione Shou
Like many of us, you are tired, but you keep pushing through life.  As a legal professional or a student with long work hours, you may already be amongst the 1 in 4 Canadian workers who find their lives very stressful due to work and family obligations.
Work-life balance is a simple concept.  However, it can be so hard to execute that instead of dancing your own routine, we turn into puppets, controlled by the demands of life.  It is time for you to break out of this cycle and to control your own show…  But what does it take?  What can your employer and you do to help you achieve work-life balance and avoid burnout?
This issue is not new in the legal world.  In the last decade, the Law Society of Upper Canada (LSUC) has developed the Guide to Developing a Policy Regarding Flexible Work Arrangements to encourage work-life balance in the legal profession.
The LSUC has also created the Justicia Project with 57 Ontario law firms to give female lawyers career advancement support, since women may face career challenges if they give birth and go on maternity leave.  Recently, men are also seeking flexible work hours, as found in a study about Ontario lawyers by Queen's University professor Fiona Kay, and law firms are beginning to accommodate their requests as well.
Despite the fact that firms are implementing solutions for employees, such as alternative work weeks and child-care facilities, it is mainly up to you as an employee to make the right decisions to ensure work-life balance, as a Canadian Lawyer Magazine article suggests.
There are numerous strategies that allow you to dance around your schedule and achieve work-life balance as a legal professional.  However, my favourite are the 6 tips that Julie Stauffer recommends in Successfully Juggling Work and Family: Tips for Lawyers.  Here is a quick summary of it:
6 daily tips to work-life balance as a legal professional
Stay organized by creating and sharing your schedule, as well as prioritizing tasks.
Create a second plan for unpredictable work needs.
Take advantage of technology to complete work outside of your workplace.
Develop supportive relationships with your partner, family, and neighbours so that you can count on their help when you have an emergency.
Allocate "me-time" for yourself to do all of your favourite things with your loved ones.
Stay realistic with your expectations of what you can accomplish to avoid burning out.
Life can get busy—we all know that.  But it is your choice to either continue being a puppet that is controlled by the demands of life or to be a brightly shining star on your own stage.  So, go ahead!  This time around, don't burn out—break out and dance!  This is your show on your stage.
To get you excited for balancing your work and personal life, I would like to share this neat video with all of you:

By: Ashlin Kenuck
My biggest weakness that I will completely take full responsibility for is my own poor time management skills. Coming into the field of law I knew that this was going to be one of the biggest obstacles I would have to overcome. Time management in the legal field is absolutely crucial to success and longevity in the profession.
After some serious trial and error I have decided that in order to stay on top of everything I must take a very structured approach to my schedule.
Balancing a full time job, full time school, a mortgage, house, boyfriend, family, dogs, friends and baseball, I already want to rip my hair out some days and stay in bed. However, I know this is not an option. Organizing, prioritizing and ensuring I still leave time for myself and my family and friends are going to be the key to my sanity.
Along with proper time management, I know there will be a number of sacrifices that will have to be made in order to ensure my own success. There will not be time to go to the cottage every weekend, or go to the Jays game on a Tuesday night or have a couple drinks with friends on a patio on a warm summer night. The key is going to be finding a balance.
While some people would call legal professionals crazy workaholics, I call it passion and dedication. The question we will all be faced with is how much are we willing to sacrifice for our careers?
Do we choose a big firm that boasts huge clients with endless case work and the ability to grow immensely both professionally within the company and financially? Or do we choose a boutique firm that allow for more flexibility, but may not provide the same opportunities?
It all boils down to what we want out of our professional career and how we can fit that in to maintaining a successful family and personal life. The answers to these questions will come over time through trial and error. We will all find our paths in life with hard work, dedication, perseverance and balance.
The non-profit organization Law School Admission Council (LSAC) based in the United States was penalized $7.7 million USD to compensate over 6000 students from the past 5 years for application to accommodate. Prior practice included Law School Admission Test (LSAT) scores being "flagged" on law school applications if accommodation for extra time was applied during examination. The decision impacted domestic United States schools and many other schools abroad where they accepted LSAT scores with law school applications. The United States Department of Justice claimed of "widespread and systemic discrimination" by the LSAC where they intervened with the Americans with Disabilities Act. The LSAT continued to be a key criterion for law school admissions in the United States where excellence in the LSAT was highly prized. The LSAT scores are used throughout Canada and played an important role to determine how schools were ranked. There was no French language LSAT version so Quebec-based schools and University of Ottawa's French section were not affected. Due to jurisdiction issues, Canadian school officials do not have control over LSAT's examination policies and procedures. Lorna Turnbull, the dean of Manitoba's Robson Hall Law School indicated such powerlessness and commented on the incredible amount of money potentially required to exclude LSAT scores for law school admission. Canadian officials are required to accommodate students in accordance with the relevant human rights legislation within their respective jurisdictions. Lorna Turnbull added that Canadian schools have suffered from such passive acceptance for quite some time. The class action lawsuit was initiated by 3 students in California and ballooned to almost 40 claimants where it prompted the United States Department of Justice to issue a consent decree to the LSAC to have breached the Americans with Disabilities Act with systemic discrimination. Sarah Triano, a teenager from the state of California and the class action initiator from 1997 was repeatedly denied accommodation due to her immune deficiency disorder and battles with depression. A piece of statistic from the Osgoode Hall Law School 2013 entering class showed 8% of the students with some sort of disability. The interviewees to the article noted accommodation was meant to create equal opportunity. Ravi Malhotra, an Ottawa law professor and human rights committee of the Council of Canadians with Disabilities was concerned the practice of "flagging" accommodated students infringed the human rights of Canadians.
by Ho Cheung
Source: Canadian Lawyer Mag
Last month this blog focused on the twitter chat #CBAfuturesChat, which was a student focused consultation run by the Canadian Bar Association's Future's initiative. Now that it's November, the twitter chat has shifted to a more professional, practicing lawyer focused consultation, but law school students are of course still welcome.
Last night saw at least one familiar student still participating, @JMackenzieLaw engaged in a conversation about the use of technology in law with lawyers, professors and business consultants.
Q3 What is driving legal firm's success in innovating around #legaltech? #CBAfuturesChat

— Monica Goyal (@MonicaNGoyal) November 6, 2013
A3 I know cost is a huge factor for young firms/smaller start-ups. passing savings to your customer can aid acquisition also #cbafutureschat

— Jonathan MacKenie (@JMacKenzieLaw) November 6, 2013
If you are a law student, and interested in learning more about how your peers are using social media, consider checking out next week's episode of the Podcast Law School Tech Chat. It is a weekly podcast by faculty of American Lawschools that discusses issues of Tech use in Lawschool, and this coming week they will be discussing students and social media, so check it out!
James Wegner, a law student and editor in chief of the  at British Columbia's Thompson River's University has made this week's Law is Cool social media highlight reel.  James made the highlight reel after his performance last week at the #CBAfutureChat.  James came to the half hour session and shared his thoughts on the state of legal education in Canada with students and the broader legal community last Tuesday.  His clear answers and thought provoking followups saw him quoted in the CBA Legal Future's Initiative's  weekly summary of the twitter chat.
I followed up with James to ask him a few questions about social media and the study of law.
Q. Do you have a strategy when it comes to social media? Do you have any goals you are trying to achieve?
A. As a law student, one of the main things on my mind is making sure my profile looks professional.  I tested this a couple of days ago by googling myself, and I was pretty happy with what came up.  Using social media or blogging is just another way for potential employers and the broader legal community to get to know you.
Q. You mentioned blogging, I just read a post you wrote on 'The Sports Law Canary', what sparked your interest in blogging?
A. It was an opportunity a professor presented to my sports law class.  I thought it was a great opportunity to get my name out there and write about something interesting.
Q. Is it common for students at #TRUlaw to use social media like that?
A. I think it's something a few students do, there are a few students on twitter who are using it rather smart.  They tweet about human rights, for example, and other issues they care about.  There are a lot of people on linkedin too, which is relatively new, but also great for interacting with the legal community.  Everyone of my classmates use social media, some use it for branding and networking, while some only use it for personal connections.
Congratulations to James for being the first to make the LawIsCool social media highlight reel.  If you are a law student who is looking for a chance to be featured here, make sure to participate in the weekly twitter chats hosted by the CBA Futures Initiative.  #CBAFuturesChat, every Tuesday in October.
Washington University in St. Louis offers a chance to earn a Master of Law online, but sometimes online education lacks the seriousness and gravity of studying law in a fancy stone building with wooden floors and books on the walls.
Well, now you can at least feel fancy while you study in your underpants.  WashingtonU has posted a playlist of classical music it suggests can help increase students' concentration and retention.
In all likelihood, a student who is ready to to work towards their Masters probably has a fairly decent study routine down, but the thought is nice, and the use of spotify shows that at least this law school know's how the internet works.
Recently Omar Ha-Redeye and Simon Borys (that's me) (both contributors to this blog) were interviewed by Michael McKiernan for Articling How To, an article in the Canadian Lawyer4Students magazine.  In it, Michael discusses how students can set themselves up for an articling position in the midst of this present articling crisis.
He talks about doing something to set yourself apart from the crowd by "thinking small" (Omar's topic), "taking the initiative", "knowing your options", "embracing old technology", and "embracing new technology" (my topic).
In terms of "thinking small", Michael wrote:
Bay Street firms run their articling programs like a well-oiled machine and provide a large chunk of the available spots, so it's no surprise that they're front of mind for law school career counsellors, says Toronto lawyer Omar Ha-Redeye. But the 2011 Ontario call advises more students to think small. "I think for people who are going into litigation, smaller firms are better options. I was in court more than anybody I know. I was really thrown into the mix and was on my feet the whole time," he says.
In terms of embracing new technology, Michael wrote:
In a competitive articling environment, you have to make yourself stand out. And the earlier, the better, according to Simon Borys, a second-year law student at Queen's University in Kingston, Ont., who has put a great deal of effort into building his online profile. "Everyone comes to the table with law degrees, so you have to demonstrate to future employers what you bring in addition. Online activities are a great way to showcase that," he says.

Borys highlights his own history as a police officer on his blog, which he uses as a platform to link up with fellow students, senior practitioners, and potential future employers. He's also active on Twitter and participates in online legal discussion groups. And it's paid dividends, because he's already secured a summer position at a criminal law firm, with a strong chance to return to complete his articles. "It's been very well received and I've made lots of connections," says Borys.
All of the things Michael discusses in this article are highly relevant to students currently seeking articling, especially considering the present scarcity of articling jobs.  It's not enough in this day and age to come to the job market with just a law degree and your hand out and expect that someone will give you a job.  You don't have to use new technology, like I do, but you have to do something!  Read Michael's article and think about what might work for you.
–
Simon Borys is a law student at Queen's University in Kingston.  He is also a former police officer and an an aspiring criminal lawyer.  His Blog, Simon Says, focuses on dispelling policing myths and demystifying the law.
Recently Alexandra Kozlov wrote a great article for Canadian Lawyer 4Students on how law students can boost their job prospects with a good online profile.
You can read the article on the Canadian Lawyer 4Students site or on my blog: Simon Says.
Much has been written about succeeding in law school, but not as much has been said about remaining healthy and sane while succeeding.  Having just finished my first law school exams this past December, I thought it beneficial to engage in much needed reflection on study habits and things that worked and did not work for me in my last semester.  In recalling and pondering my previous exam and study strategies and the effectiveness thereof, what stuck me most was the considerable physiological and physical toll that the stress of exams had on my body.  Coincidentally, I recently stumbled upon an old blog post from Adam Letourneau, which reminded me and should remind all of us that it makes no sense to sacrifice health for wealth now in order to spend my wealth to regain my health in future.  Health is wealth and whatever stress-reducing routine we practice now as students will be much more easily carried forward when we are lawyers.  Although he writes from the perspective of an established lawyer, his tips are attributable to the life of a law student and many of them have worked for me personally in times past:
Lately, I have been pushing hard, trying to make everything work at the firm, trying to become accredited as a mediator and arbitrator, trying to keep my publishing house on track (we just signed 3 new authors), and coping with having four children. At work , we are trying to focus our practice towards 2 or 3 areas, rather than being a general practice. It's really paying off, especially as we forge strong relationships with business partners. We are also opening up a mediation/arbitration/coaching centre in our law office, and that is really exciting. The world is my oyster, so to speak.

However, all of this takes its toll. I went out for supper a couple weeks ago with some classmates. They seemed genuinely tired of the lawyer life. Long hours, high demands, boredom, difficulty with senior lawyers, etc. My demands are not quite the same. I do have stress, the requirement of a steep learning curve, high customer service expectations, and the challenge of keeping a full staff.

I thought I would comment on how I cope with the stress.

I work as little as possible. For me, that means a 40-50 hour work week, usually closer to the former. I learned early on in my practice that anything more for me, personally, brings with it too high a cost, to health, to mind and to my relationships. When I am at work, I try to work really hard, really fast, and really smart.

I manage my time like a freak! Every morning, I review my week's goals (which I set out on Monday morning). I review my daily affirmations (I have 7 goals that I repeat to myself 3 times each day). I then do up my daily task list, reviewing the previous day's list and accomplishments. I then prioritize that list. Then, I set aside some time to check and respond to emails, to return phone messages, and to get updates or update my staff. Once I am satisfied that the day is set out properly, I start to attack my list. I try to avoid interruptions, using my staff to screen calls, mail, faxes, etc. I try not to move down the list until the top priority items are completed. If I think that an item is just not going to happen, I make a note on my list, and then move on. I review the list at the end of each day (giving myself a grade out of 5), and then try to leave work at work.

I treat staff like gold, or at least the best that I can. Only my wife is more important to my success when compared to my legal assistants/paralegals. They make my world go round. I offer bonusses, flexibility, encouragement, and I share my thoughts, feelings and expectations with them as much as possible.

I do yoga. My wife is a yoga instructor, so that is a huge bonus. I attend her class once as week, and try to incorporate stretching, and some meditation throughout the week.

I sleep! Hardly ever less than 7 hours per night. More often closer to 8. I should try to get to bed earlier, but it's hard with kids.

I exercise. At least 3 times a week, I hit the gym, strap on the running shoes, or do some other form of rigorous activity.

I practice my faith. I go to church regularly. I volunteer regularly. I read uplifting articles, books, and scriptures regularly. I read scriptures and pray with my family every day. I meditate on the larger picture often, praying at least three times each day.

I eat really well. My wife is a fantastic cook. Different members of our family have different food sensitivites or allergies, so we don't eat much wheat, milk or sugar. My kids can't eat sugar, so I eat less as a result. We eat a lot of whole grains, fruits, vegetables, etc. We eat few saturated fats or "other" foods. We all take our vitamins each day.

I am a very motivated person, not unlike most in the legal profession. Please don't think that my comments above are meant to make me look like like a perfected being. I am by no means near perfection. These things have developed over time. I have failed at each of them on many occassions. However, my intention is to master these things so that I can maintain my health, my career, my sanity, and my family over the next 2-3 decades. My friends do often ask me how I accomplish so much with so many challenges and so little time. It is through this formation of habits, through an attempt towards self-mastery, that I find the energy, the drive, and the love for my life.

The above habits may be beneficial to you as you prepare for law school, as you push your way through law school, or as you establish yourself as a lawyer. I wish you the best of luck.

If there is something that you do to help you cope, please let all of us know. We can all stand to learn something new, positive and helpful.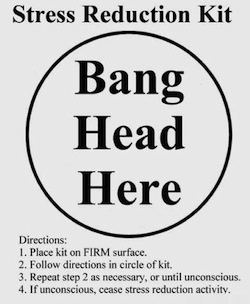 It's mid-October.  I'm halfway through the semester, and a quarter of the way through first-year hell.
One of my classmates has taken the liberty of describing what these first six weeks at McGill law have been like.  I would have written something similar, but I lack the time management skills and energy that my classmate possesses.  And so, with her permission, I have recopied her note from Facebook  and pasted it below.
N.B.: To my friends and family — if you find that when you phone me I sometimes sound tired, busy and unenthusiastic, this is why:
Three things to know if you are applying to law school

I've noticed that there have been quite a few people I know whose statuses recently read something about law school applications and/or LSATs. Some of you may have perhaps contacted me asking about law school. Some of you may have simply attempted to contact me to keep in touch and I haven't yet responded.

There's probably a couple things you should be aware of. I'll be brief. My opinions now may perhaps change soon enough and probably differ from experienced upper years. But this is what I see so far:

1)    It's hard.

People who got into law school told me it was hard. Yeah, I didn't believe them. So I'm telling you it's hard. I suppose it's out of sheer idiocy that by writing that, I'd hope you'd believe me.

Now why is it hard? There's a lot of readings. Generally, in undergrad, I made it through generally not reading stuff timely. I've only recently just fallen behind in readings in law – but the consequences are much higher than in business school. Following along in class really does not work well. You're not talking about what was the content of the readings but you're applying it and creating new hypotheticals. You're comparing legal scholars' points of view. You're comparing cases that have opposing judgments with seemingly similar facts. Not reading timely makes this nearly impossible.

2)    You're on your own

This won't make sense to you if you didn't do a group-based undergrad like business. There's no group work. Currently, it seems like it's you versus the above-mentioned hundreds of pages of readings (note: I've probably read two semesters worth of reading in the past month, I'm not exaggerating). Some people form study groups; others don't. Studying individually has benefits in that your mark doesn't depend on someone else, but there's the disadvantage of having only your point of view on a difficult subject.

Students generally seem to now disappear at lunch to bunker down in the library. In some cases, it seems to me that this takes away from a sense of community. You'll probably pass people in the halls that you somehow have half your classes with but have not said a word to in a week.

3)    Stress is in the air

There seems to be a lot of similarities to the LSAT and law school. If you've done the LSAT, you'll remember the amount of anxiety in washroom lines at the break. Nervous people chattering, attempting to compare answers or find out which section was experimental.

From what I've heard of upper years, this stress anxiety atmosphere is characteristic of first year law school. Apparently it gets better in upper years. But you can really see it in people's faces that we're all getting a little nervous somehow, sometimes. Part of it is a common fear that all our efforts currently are useless and we're spinning our wheels into the mud.

Notably, we haven't gotten to the point of Scott Turow's fragility in the opening pages of One L:

"By Friday my nerves will be so brittle from sleeplessness and pressure and intellectual fatigue that I will not be certain I can make it through the day […] I am distracted at most times and have difficulty keeping up a conversation, even with my wife. At random instants, I am likely to be stricken with acute feelings of panic, depression, indefinite need, and the pep talks and irony I practice on myself only seem to make it worse.

"I am a law student in my first year […] and there are many moments when I am simply a mess."

It certainly does not seem too far off from the possible truth. Let's see how we'll be in late November.
My two cents (since that's all I can afford right now):  Add to this post to the new words I've learnt ("scintillated," "interstitially," "res judicata," "res nullius," "stare decisis," et al) and constantly comparing common law and civil law (two legal systems + two languages = twice the mental work and a headache), and there you have it — my first few weeks at McGill law.  It's unlike anything I have ever experienced academically.  You will begin to question your intelligence and everything you know to be true (like justice, the state, and other airy-fairy notions).  I still don't know what I am doing, or how I should be reading this stuff…
Strangely enough, I love it!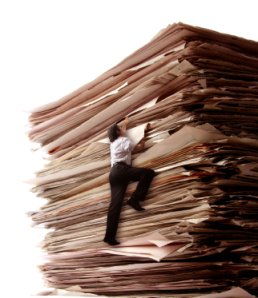 If there is one word that distinguishes a simple undergraduate degree from a law degree, then that word is TIME.
As a newly minted law student, never before has time appeared so essential, so vital, and so treasured. The extra second or two of sleep after a long night of dense reading can seem like an eternity in the comfort of one's bed.
In the classroom setting, if one loses focus for just a single second or just between the "tick" and the "tock," then you may miss the ratio of an important case or fail to comprehend the professor's explanation of a key theory. The great coefficient of human efforts does not ignore law students or legal professionals.
Looking ahead, time may become our friend or foe, as we write down how we spent our billable hour. In fact, our worth may one day be appraised by these "billable hours." Whether one is working, listening, or studying, time always seems to transform into the one treasure that will measure who we are and what we will become.
For those law students vexed with their skilled procrastination tendencies (practice truly does make perfect) and who would like to turn a new page in their lives, then seek out and learn how to wrestle with time, so you can pin it to your wall (literally and figuratively). For those individuals still procrastinating after reading the previous sentence or who are genuinely interested in learning about the real oxygen of a law student's life, this video will certainly be useful: