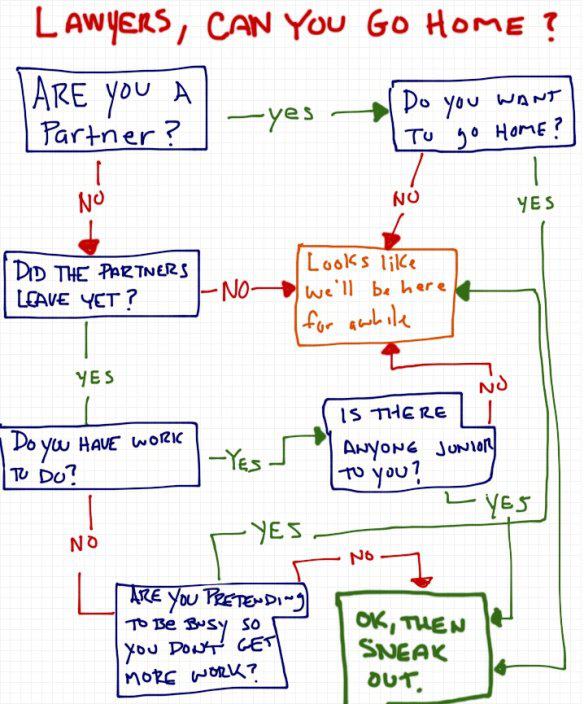 via Rob Pollak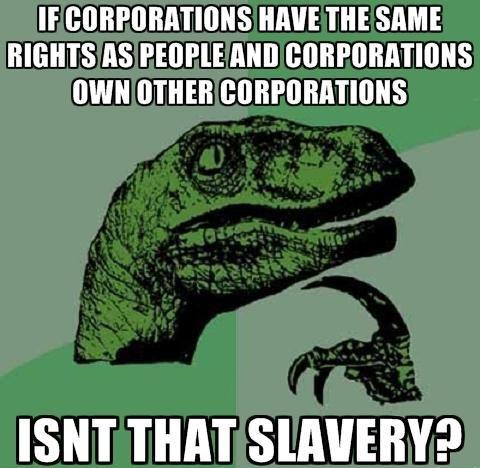 Lake Superior State University apparently has a sense of humour. On the school's website you can find an interesting regulation relating to an endangered species on campus:
Unicorn Hunting Regulations
The following regulations will be enforced by the Wildebeastle (Mythical) Division of the Department of Natural Unicorns of the Unicorn Hunters of Lake Superior State University:
AREAS OPEN TO QUESTERS

Earth
Moon (unexplored areas only)
Milky Way (SE Rim is closed odd years)
All else
BAG LIMITS:

Only one Unicorn per month. A success ratio higher than this often results in a form of euphoria, which of course requires a mental truss. This is highly undesirable.
Female unicorns may not be taken. Since no one has ever sighted a female unicorn it is believed that males reproduce asexually.
TERM OF SEASON. All days of the year except St. Agnes' Eve. This exception is to protect hares who limp trembling through frozen grass from being trampled by running unicorns. Bow and arrow season is Oct. 1 – Nov. 14, then Dec. 1 – Jan. 1.
APPROVED QUESTING DEVICES. Unicorns may be taken with:

Serious Intent
Iambic Pentameter
General levity
Sweet talk
BAIT. The only recognized legal unicorn bait is a virgin. While it is not illegal to use simulated virgins, such practice is definitely not cricket, as any student of Arthur knows.
QUESTING HOURS. Unicorns may be taken during daylight and dark except for those hours when the Tooth Fairy is about. She was once frightened by a grumpy unicorn and in deference to her attitude we make the exception.
USE OF ARTIFICIAL LIGHT. It is illegal to use artificial light to take unicorns.
BANDED UNICORNS. Some unicorns have been banded by the DNU to indicate age and level of esthetic energy. Upon taking a banded unicorn, it is required that the band be removed and sent to the Department of Natural Unicorns (DNU) of Lake Superior State University.
QUESTING UNIFORM. Uniforms may be tailored individually, but must be colored either Mordred Red or Gawaine Green, depending on whether one is chasing the unicorn or vice versa.
LICENSE. Actually, we prefer not to think of this activity in terms of license, but rather of privilege, therefore please read on to the next item.
PRIVILEGE. A Unicorn Questing Privilege may be obtained free of charge at the University's website, www.lssu.edu/banished, under "Unicorn Hunters." If you do not have computer access, call or write the LSSU Public Relations Office, 650 W. Easterday Ave., Sault Ste. Marie, Mich., 49783, 906-635-2315. License must be worn over the heart, pinned with a sprig of rosemary. The Questing License has been reviewed by the Wildlife Division of the Department of Natural Resources of the State of Michigan.
DRAWING FOR PRIVILEGE. In the event that the unicorn herd diminishes to numbers smaller than five per square dream, a drawing will be held to determine privilege holders.
QUESTING KIT. The following items are recommended for serious pursuit of the unicorn:

One small flask of cognac
A one-ounce bottle of Unicorn Lure
A pair of pinking shears
A large envelope
One airmail stamp
A nail clipper (with file)
One curry comb
A small bottle of hoof and horn polish
A pair of hoof trimmers
EQUAL OPPORTUNITY. The DNU is an equal opportunity privilege granter. No privilege may be issued before a search iIs made to insure that discrimination has not been used against members of any race or sex, with the exception that poets wearing a sprig of myrtle pinned to their underwear may be issued a privilege without a search.
A licence for hunting unicorns is also available for download on the school's website. The unicorn hunts often occur in conjunction with the school's snowman burnings.
We've checked, and Lake Superior State does not have a law school unfortunately. There is a promising pre-law program though for students interested in what is certainly a distinctive post-secondary institution.
Background via ABA Journal.
Here's what Jon Stewart had to say about the Supreme Court of the United States decision in Florence v. Board of Chosen Freeholders of County of Burlington et al.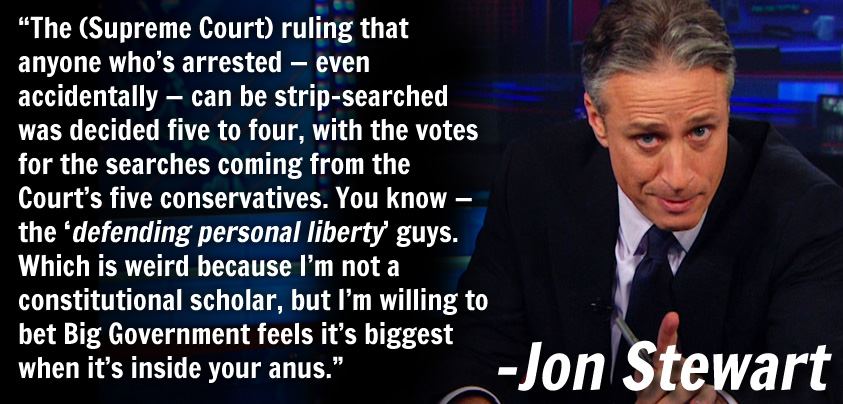 More at TMZ.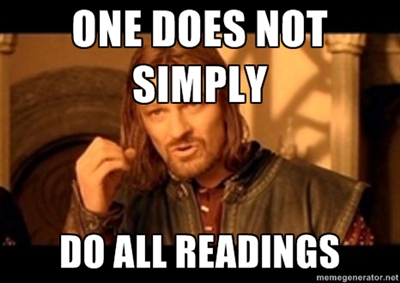 Bob Kohn, a lawyer and businessperson from New York, filed an amicus brief in the antitrust case against Apple by the American government.
When the judge limited his submissions to five pages he adopted an unusual approach – and filed a graphic novel instead. The graphics begin on page 3 below, after the cover page and table of authorities.
See more in the ABA Journal.
When the San Diego Padres sent law school dropout Taylor Grey Meyer a rejection letter, after she applied to the team over 30 times, here's what she had to say:
On Sun, Aug 5, 2012 at 11:56 AM, Taylor Grey Meyer <[Redacted]@gmail.com> wrote

Hi [Redacted],

I wanted to thank you for reaching out to me when thinking of ways to meet your quota for the Sports Sales Combine.

After careful review I must decline. I realize I may be burning a bridge here, but in the spirit of reciprocity, I would like to extend you a counter-offer to suck my dick. Clearly, I don't have one of these, so my offer makes about as much sense as yours. But for the price you're charging to attend the event, I'm sure I would have no problem borrowing one.

Managers like you have found this to be the most authentic training available. Real, hands-on experience getting you on your way to perfecting the techniques you will need to climb the corporate ladder. In these tough economic times, it's always good to widen your skill set.

Let's talk about why I wasn't a good fit with your organization. Was it my extensive education that made me less of a fit, that now paying $500 will allow me to overcome? My graduate work in sports commerce? Being a law student, working toward becoming an agent? Was it my past experience overseeing the execution of national and international events? Wait, I know, maybe it was my previous internship with Major League Soccer, and that I actually got my "start" in professional sports at the age of 15 when I volunteered at a minor league ballpark in my hometown. And given all that, I chose to apply with the Padres, at least 30 times since moving to San Diego. Persevering through countless anonymous email rejections, I continued to submit my resume despite never even being granted the courtesy of a face-to-face interview. All for the joy of making $30K a year. Maybe you're right. Maybe I'm not the best fit for your company. But here's a nice fit, my foot in your ass.

All the best,

Taylor
You can read about the complete exchange on Deadspin, and visit Taylor's site here.  Go back to law school Taylor, they need you.