Blawg Review is a blog carnival that rotates to a different law site every week, usually emphasizing a specific theme. Last week's review was by R. David Donoghue.
August 23 is the "International Day for the Remembrance of the Slave Trade and its Abolition," established in 1997 by the United Nations Educational, Scientific and Cultural Organization (UNESCO) during the 29th session of the General Conference (Volume 1).
The purpose of the day is to examine:
the historical study of the causes and workings of the transatlantic slave trade,
the clarification of the consequences and interactions to which it gave rise, and
the contribution of the project to the establishment of a culture of tolerance and peaceful coexistence between races and peoples.
This year UNESCO has developed a documentary for this day Slave Routes: A Global Vision.
A companion document has has been released with the film, and will be referred to periodically throughout this post.
The Causes and Workings of Transatlantic Slavery
The origins of the Transatlantic slave route go back to the Iberian wars, between the Christian and Muslim kingdoms of Spain and Portugal. Both sides engaged in the enslavement of captives of war. As Slave Routes notes, the institution of slavery existed well before the Transatlantic route, both internally within Africa and to the Near East. But something different began with the European enslavement of Africans from the 15th c. onwards.
The first known African slaves sold in markets of recognizable European states was in Lisbon, Portugal in 1441, obtained from what is now Mauritania. The Portuguese had good reason for attempting to circumvent the Atlas Mountains and raiding the West African coast. In 1086 a black African dynasty originating from this area known as Al-Murabitun (Almoravids in English) provided military support and temporarily halted the expanse of the Christians. Soon after, Pope Alexander II provided the papal standard (vexillum sancti Petri) and an indulgence to the Christians in the conflict in 1063, making it officially a holy war that would culminate centuries later in the Spanish Inquisition.
The motivation for European slavery of Africans was therefore initially military, as an extension of the Western Crusades known as La Reconquista, or the reconquest of the Iberian peninsula by the Christians. In reality this term was probably too broad and an exaggeration, as many of the diverse peoples in the Muslim kingdoms of Spain and Portugal included native Iberians who had adopted the Islamic faith.
A permanent Portuguese fort was established at Arguin in 1448, and the 1452 Dum Diversas papal bull of Pope Nicholas V specifically authorized Alfonso V of Portugal,
…full and free permission to invade, search out, capture, and subjugate the Saracens and pagans and any other unbelievers and enemies of Christ wherever they may be… and to reduce their persons to perpetual slavery.
This established the basis for a racialized slavery, hereby unknown to Africa or any region engaging in African slave trade. As the motivations for slavery shifted from military goals to economic incentives, sheer greed resulted in a complete and utter destruction of African civilization and society. This is what made the Transatlantic slavery exceptionally devastating and worthy of particular scrutiny.
Web resources on the subject are expanding, archiving historic documents for amateur historians looking to deepen their knowledge on the subject. J.L. Bell has a post on Boston 1775 announcing American Slavery Debate, a new database of primary source documents.
Marco Randazza thinks slavery would be a pretty good alternative to some judicial punishments out there.
In some ways we're all a slave to something. Those of us starting out in our legal careers are often a slave to the billable hour, or a slave to making partner. Norm Pattis is eying some of the pro bono work big firms are doing and wondering if they can spare him a partnership. Ronda Muir gives some tips to young lawyers on how to be a better lawyer by improving specific behaviours. Social media might boost a career, but Adrian Dayton cautions on a guest post at Above the Law that it takes time and dedication to get true returns.
If we don't make it seems like we're all likely to move back in with our parents. Stephanie West-Allen discusses these millennials on IdeaLawg. Scott Greenfield just sort of bashes them. Jordan Furlong thinks law firms should pay more attention to a workplace trend:
…a daydream about the courage to quit a job that treats you with less respect than you deserve… As Daniel Gross explains in a Newsweek commentary, "the poor labour market and workers' antagonism toward employers and customers are actually connected"
Slavery means different things to different people. James T. Harris quotes Alan Keyes, who describes the experience of slavery as a guarantee of shelter, clothing and a job. "Socialism," and Obama, is a form of slavery, if you buy the Keyes line that government-dominated largess is an infringement on freedom. Blunt Politics gives us more black Republicans who claim that real freedom comes through independence from the state, which they liken to the slave plantation,
This is not the land of guarantee, it's the land of opportunity… but when you say racism is the problem, you put the power for your future in someone else's hand.
My take is that the modern descendants of slaves are more likely to find guaranteed food, shelter and clothing in prison. The U.S. has the highest incarceration rate in the world, and African-Americans are disproportionately affected for a variety of reasons. I always wonder why Keyes doesn't talk more about that, because it seems like race is the problem. Or part of it, at least. If nothing else it makes confidence and belief in the system difficult for minorities in the U.S. Abdul Hakim-Shabazz has his own doubts about police on the Indiana Law Blog after the David Bisard case, where an intoxicated on-duty officer struck and killed a biker and somehow had the charges dropped.
Law enforcement is not always right. James Morton thinks Col. Patrick Parrish is wrong about Omar Khadr. Confessions are only valid if they are free and voluntary. Threats of gang rape in prison usually vitiate that consent.
Eric Lipman reminds us about Terry Nichols in prison, not notable for being African-American, but rather for his role in the Oklahoma City bombing. Seems he's not too happy with his food in prison due to the lack of insoluble fibre which doesn't give him regular bowel movements. Seems the judge doesn't give a…
Consequences and Interactions of Transatlantic Slavery
The most immediate consequence of the Transatlantic slavery was the dominance of European powers in the world. Western civilization as we know it today would not be possible without the hundreds of years of free labour, and the continued exploitation of natural and human resources. Operation Black Vote said,
The UK reaped huge profits for the despicable trade financing the developments associated with the industrial revolution. Britain made unprecedented profits and benefited enormously for the bloody trade. The legacy of racism remains with us some 400 years later.
Transatlantic slavery also created a system of oppression that places people of European ancestry on a higher level in a hierarchy maintained by what Slave Routes refers to as europhilia, ethnophobia and endophobia. It resulted in a far greater polarization of cultures in the world, as those attempting to restructure this hierarchy or seeking independence through an anti-colonial stance invariably adopted a counter-European philosophy. We see this pattern not just across Africa, but all of the colonized world, including the Middle East, across Asia, and Latin America.
August 23 was selected by UNESCO because it corresponded with the Haitian revolution, a major landmark in the resistance against colonialism and slavery. Slave Routes points out,
In the United States, the North America historian, Herbert Aptheker, has estimated that approximately 250 acts of sedition in all were organized by Afro-Americans to free themselves from slavery during the history of that "particular institution" in that country.
These revolts existed throughout the Caribbean and the Americas, and were a far more compelling reason for abolitionism than any humanitarian or compassionate grounds. For more on the Haitian revolution and slave revolts, see Blawg Review #249.
Although the direct domination of the developed world by European powers has largely ceased, the exploitative relationship continues to this day and is a major source of civil unrest and political tensions in the world today.
I came across this poster the other day on Queen Street West stating that "Slavery wasn't abolished in 1834,"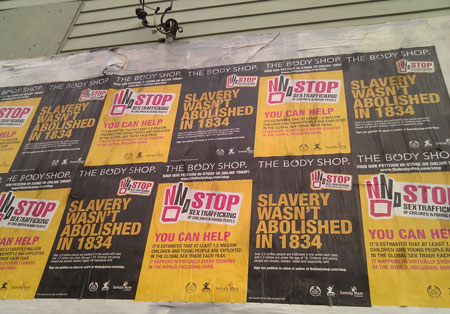 It's an advertisement from The Body Shop, who have raised over a million dollars to fight sex trafficking through partnerships with ECPAT USA (End Child Prostitution and Trafficking) and The Somaly Mam Foundation. The greatest consumers of modern sex trafficking continues to be wealthy European and North American citizens.
The Morning Quickie shares a review of Not Natasha, a photo book documenting the lives of survivors of sexual slavery in Moldova.
The key thesis behind Siddarth Kara and Devin T Stewart's Sex Trafficking: Inside the Business of Modern Slavery is not that different from the Transatlantic slavery,
…the enormity and pervasiveness of global sex trafficking is driven by the ability to generate immense profits at almost no real risk.
They suggest the most effective way to address the profitability of modern slavery is to elevate the risk.
Not For Sale | Cambodia from Not For Sale Campaign on Vimeo.
Michael Platzer of the U.N.'s Center for International Crime Prevention said,
…200 million people are victims of contemporary forms of slavery. Most aren't prostitutes, of course, but children in sweatshops, domestic workers, migrants. During four centuries, 12 million people were believed to be involved in the slave trade between Africa and the New World. The 200 million — and many of course are women who are trafficked for sex — is a current figure. It's happening now. Today.
The Not for Sale Campaign has a slavery map tracking incidents near you revealed largely through law enforcement. The campaign focuses on more than just sexual slavery, and in their 2010 "Stop Paying for Slavery Tour" uses supply chain monitoring programs and looks at various forms of exploitation and economic dependence that result in a de facto rather than de juris forms of slavery.
Or as Jason Mustian recently put it,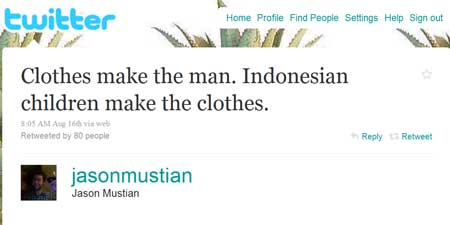 Ron Soodalter at the Huffington Post talks about The Slave Next Door, and reaffirms that slavery is alive and well today. He's calling for California to pass the Transparency in Supply Chains Act. A Heart for Justice reviews the same book.
Bruce Reilly visits the Modern Slavery Museum focusing on agricultural workers. Actually, the museum visited him, because it's on wheels,
Farmworkers in this country have been the most exploited group of folks since the Abolition in slavery in 1865. As one farm owner puts it, "Before, we used to own the workers. Now we just rent 'em."
Faces of Slavery from David Hepburn on Vimeo.
Those interested in learning more might want to attend the Global Forum on Human Trafficking in Yorba Linda, CA on Oct. 14-15, or a number of workshops being held in the UK by UCL.
My Fight Planet gives us an edited version of highlights from "Fight Traffic," a Mixed Marital Arts (MMA) event raising funds to abolish slavery and human trafficking. Maybe we can do something like that over here, because MMA fights are coming to Ontario.
Not all sports are so philanthropic. Tom Kirkendall is following the Roger Clemens case. Meanwhile, Howard Wasserman is cheering speech at the Sports Law Blog. Lilian Edwards comments on the case of the anonymous star of BBC's racing show Top Gear trying to reveal his true name to cash in on an autobiography. (Sorry, no hockey here this time).
A Culture of Tolerance and Peaceful Coexistence between Races and Peoples
Michael Lynk, one of my former profs at UWO and currently Associate Dean, has the 2009 Rand Memorial Lecture on SSRN, Labour Law and the New Inequality. The premise behind the paper is that poor labour practices that stem from global inequity leads to instability and civil strife, limiting both social capabilities economic potential of these communities. UNESCO is currently mobilizing a response for the Pakistan floods, an issue of global concern to avoid radicalization, militancy and religious extremism in the region.
An obvious prerequisite for the horrors of Transatlantic slavery was the development of racial ideology. Slave Routes notes one of the major obstacles to political independence in Latin America was persistent and divisive racial ideologies. The Human Genome Project and countless scientific studies in recent years indicate the biological impossibility of human "races," yet the resurgence of eugenics around the world is quite disturbing.
But genes can be used in good ways too. The Innocence Project announces that after 30 years DNA evidence has proven a Virginia man is innocent of rape charges due to the pro bono work of lawyers at Wilmer Cutler Pickering Hale and Dorr LLP. Another recent exoneree, Michael Anthony Green, wants to become a paralegal to help others wrongfully accused.
Speaking of wrongfully accused, Christine Corcos reports that Wikileaks founder Julian Assange was charged in Sweden for rape and molestation charges. Not so quick though, seems those charges were dropped in a hurry. Other charges of espionage against Assange are contemplated by Kenneth Anderson, but Julian Ku on Opinio Juris says in true spy form that they have to catch him first.

The most effective approach to peaceful coexistence might simply be for people to get to know and understand each other, a variation of the contact hypothesis used in sociology. But sociologists know that contact alone is not enough.
Eugene Volokh thinks Islamophobia is not quite irrational, citing a Time article indicating 46% of Americans believe Islam is more likely to encourage violence than other religions. Maybe, after several centuries of slavery and colonialism justified through religious practices, to restore some balance or equilibrium in global power. But sometimes, as Simon Fodden points out on Slaw, patience can be just as effective in the face of intolerance.
Volokh does note however that the accommodation laws invoked by many American Muslims today were intended for all religions and have primarily benefited Christians. And although Islamophobia is not a typical form of racism, it does rely on classic Social Darwinism thought.
By the way, Obama is not a Muslim, even though his middle name is Hussein (Can we get over this already?).
Slave Routes rejects the premise that racism is based on xenophobia or ignorance,
Racism can be defined as a process of suppression of the human being, based on socially selected phenotypical traits. This system classifies people according to their external physical characteristics and establishes a hierarchy of groups. In the long run, one of those groups defined as the superior race and the others are placed in inferior positions on the scale. Racism, therefore, is not a product of ignorance, the result of fear or concern over the 'other' or a natural phenomenon. [emphasis added]
Racism is more than a word, according to Marco Randazza. One word by a Dr. Schlessinger is what a lot of people are talking about right now. I'll let you guess the word, but Norm Pattis weighs in too. One of his readers doesn't agree though,
That someone as smart as yourself would join the oh so ignorant and completely off base "young black men say nigga, why can't an old white woman say nigger?" team I hope speaks only to a generational divide and a complete lack of understanding of the context in which nigga is used and that it is a different word than nigger.
Where we do typically see racism manifested today is with immigration. Kevin Johnson at the Immigration Prof Blog discusses the 14th Amendment, which gives citizenship to the children of immigrants born in the U.S. Instead of repealing it, the real solution he proposes is immigration reform. Daniel Cubias points out how difficult it is to repeal an Amendment, and the unlikelihood of it happening, while J.E. Robertson considers it an attack on all Americans. Hegemomy notes that repealing the 14th Amendment used to be the talk of the fringe-right, and calls it the rise of the "Old South." They heavy-handed tactics used in places like Arizona inevitably spill over into the general population, as evidenced by a case presented to us by Scott Greenfield.
What is needed is for group to have meaningful interaction with each other in a shared space and common goals to overcome deeply ingrained stereotypes and prejudices. It's very difficult to hate others when you have extensive and nuanced encounters with a group that demonstrate the diversity found within them. For example, Martha Minow raises concerns that charter schools in the U.S. have the potential to create self-segregation.
Maybe that's what the opponents of a new community center in lower Manhattan are really afraid of, that others won't harbour the same hatred and animosity towards other that they do. Originally Park51 was appropriately called Cordoba House, invoking the city in Spain that was once a Muslim capital of a flowering multicultural and multi-religious literary civilization, extinguished by the same movement that led to the Transatlantic slavery.
Or maybe, as Jon Stewart suggests, Fox News is a terrorist command center (see here in Canada). Randazza doesn't have much to say about it, aside from invoking through Sam Seder bull-size helpings of Terry Nichols' favorite prison past-time:
Daniel Luban just calls it "The New Anti-Semitism,"
While activists like Pam Geller have led the anti-mosque campaign and the broader demonization of Muslims that has accompanied it, leaders like Abe Foxman have acquiesced in it. In doing so they risk providing an ugly and ironic illustration of the extent of Jewish assimilation in 21st-century America. We know that Jews can grow up to be senators and Supreme Court justices. Let's not also discover that they can grow up to incite a pogrom.
It was through Cordoba that toothpaste and under-arm deodorant were introduced to Western Europe, and where literary works were translated freely between Arabic, Hebrew, Latin and Greek. It was in Cordoba that the Golden Age of Judaism flourished, giving birth to rabbinic scholars such as Maimonides.
Despite being one of the most tolerant and inclusive societies on Earth today, and all the lofty constitutional and human rights ideals, the United States has yet to accomplish the same culture of tolerance and coexistence that once briefly existed – in Cordoba.
Perhaps that's something though we can all aspire to in Park51, if we're willing to open our minds to it.
—————–
Charon QC has his own little law review going on, and Jordan Furlong has six for the road. Next week's Blawg Review is by Mirriam Seddiq, a criminal defence and immigration lawyer who posts on Not Guilty. Blawg Review has information about next week's host, and instructions how to get your blawg posts reviewed in upcoming issues.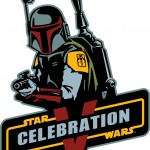 Ewok! At times I feel like legal blogging is like Mark Hamill's career. It will lead to Broadway and cartoon voiceovers rather than Bay Street or serious advocacy.
I look after my brother who is a big Star Wars fan. I've been to two Star Wars conventions because of him. So when Star Wars Celebration V ("SWCV") was announced for Orlando, August 12 – 15, 2010, I thought it may be an opportunity to do some legal blogging among one of popular culture's leading franchises. My brother had already booked the room and I had enough airmiles to make the trip cost effective.
When SWCV's official web page was launched, I immediately applied for media credentials. As a law student and a legal blogger, the idea of writing stories of importance to the legal profession from the Star Wars universe was literally out of this world for me.
I pitched my involvement in terms of the great depository of legal material available at the convention. Issues of intellectual property, copyright, trademarks, contract, and entertainment law have obvious importance. The geek in me asked, "Could Luke sue in tort for having his hand sliced off by his father?" Or for that matter, "Could Anakin have a claim as well when he lost his right arm years before during a duel with Count Dooku?" Then there was the ever complicated contractual issue involving the clone armies produced by the Kaminoans for the Jedi Council, commissioned by a Jedi long since dead.
I waited for the three week turnaround for approval but nothing. I email the contact at Reed Exhibitions, the company running the convention, and who I must say was always prompt and professional. Eventually I was notified that my request for media credentials was declined. Being a bit of a tie-fighter, I appealed. Lucasfilm's press department through Reed Exhibitions made it known that www.lawiscool.com did not match "the criteria that they're looking for to provide a media badge to the event".
What? I was at Indianapolis and Los Angeles in 2005 and 2007. My bar tabs nearly killed me. What did George Lucas have against law students or lawyers for that matter? Then the asteroid in the room hit me.
Reed Exhibitions is owned by Reed Elsevier who also owns Lexis Nexis, its legal publishing wing. The quicklaw of conspiracies entered into my mind. None of the six motion picture Star Wars films, nor the Clone Wars animation series, and not even the cult favourite Star Wars the Christmas Special featured lawyers. Sure they have bounty hunters, the Sand People, and Hutt mobsters but alas none from the learned profession.
George doesn't like lawyers. The darth of examples are abundantly clear. It is like lawyers were the Jar Jar Brinks of the money-interested professions, trying to blow up the Star Wars world through the death star of blogging.
By experience, I understand that the Star Wars Celebration gatherings are a wretched hive of scum and villainy but then I went to law school. By Princess Leia's slave costume, in Indianapolis I even had coffee at Starbucks across the street from the event with Barrie Holland, the English actor who played the Imperial Officer who quipped to Han Solo, "You Rebel Scum" in The Empire Strikes Back. A nice chap, we both were taking a time out from Star Wars fandom.
I'm sorry to droid on like this but I feel like a rebel challenging the dreaded empire. What does the Lucas brand have to lose by giving a legal blogger a media pass? I might increase the interest level in an active and professional market while addressing legal issues affecting more than just the Star Wars universe? I will never force the issue but I do look forward to a new hope.
First posted on Commercial Law International on Jan 7, 2010.
"Old pirates, yes they rob I."
The opening words to Redemption Song are as hard hitting now as they were when first bellowed by the iconic musical legend – Bob Marley - years ago. These words however may be taking on a new meaning in this era digitization and globalization where information is king. This era is all about IP – Intellectual Property – and the right to access, control and exploit for ones own benefit the concepts encapsulated within creativity.
As a matter of course the Brand – how you package and sell your IP, in fact branding itself becomes a form of IP – in this era becomes of great import. In fact one could argue that brand is not the everything but is the only thing. Consumers no longer simply buy a product or service – no, no – rather they are buying a brand.
Now this brings me to the House of Marley. The heirs of Bob Marley – the holders of the exclusive rights to the reggae superstar's image – are drawing clear battle lines in the IP war on whom can access, control and exploit Marley's iconic status. They have enlisted the aid of Canadian private equity firm Hilco Consumer Capital to package, manage, market, sell, monitor and protect the IP that is Bob Marley through the products sold under the new House of Marley brand.
Rather than attack the hawkers of existing wears, which would result in a multiplicity of protracted legal battles spread-out across the globe, Hilco and the House of Marley have instead embarked on a branding campaign. It is quite simple, the House of Marley will be authentic and all other comers will only be imitators – a potentially very lucrative strategy, if it can be pulled off.
According to reports, the Marley brand – name, sound and image – are estimated to generate $USD 600 million in a year and this is on the bootleg side alone. On the legal side, the brand generates a profitable but substantially smaller $USD 4 million a year.
With numbers like those no wonder the Marley heirs sought out and gained a partner like Hilco with a proven reputation in IP generally and branding specifically?
While I applauded this new venture, I can't help but how long will it be before we see a court case or two? Maybe a few Anton Piller orders – best described but somewhat inaccurately as a civil search warrant, that feature so prominently in IP cases – or maybe the odd Mareva injunction – a court order freezing assets -?
The reason why I am thinking this is that it is impossible to escape the fact that branding – intellectual propertization – eventually means not only the allocation of exclusive rights but also the enforcement of those rights.
It seems that SOCAN has finally decided to take a piece of the incredibly rich Vancouver transit busker pie, and has informed the Vancouver transit authority of their intent to enforce SOCAN tariffs for buskers.
The Vancouver transit authority says those tariffs could drive the cost of a Translink busker licence as high as $1,500.
SOCAN, short for the Society of Composers, Authors and Music Publishers of Canada, is a collective society whose job it is to "make sure [members] get paid for the public performance and communication to the public of their music." SOCAN does this by negotiating new royalty tariffs with the Copyright Board of Canada, and making licences available to "customers" interested in legally playing music in public.
Pretty much everything you can think of is covered by a SOCAN-negotiated tariff, outside of "Showers, Singing in, One or more other users of bathroom" and "Campfires, Guy with guitar, Compensated with beer from cooler." My personal favourite existing tariff has to be tariff 3C, the pole-dancing tariff, but there are many, many more depressingly bean-counted avenues of creative expression listed on the SOCAN tariffs page. The Vancouver buskers are likely covered under "3A Live Music" or (more hilariously) 10A Strolling Musicians and Buskers; Recorded Music.
Charging a royalty fee every time the unicycling juggler blares "Life Is A Highway" may sound absurd to some, but it's definitely the law. However, it seems clear that most (if not all) buskers in this program would find ponying up $1,500 for a licence to be a challenge. In fact, TransLink spokesman Ken Hardie said that with such a big jump in licencing fees, "We're probably faced with possibly having to cancel the program." So no performance space for buskers, no busker program at all… and no royalty fees for SOCAN. Brilliant.
It's true that artists deserve to be compensated for their work, and it's also true that the current state of Canadian copyright law encourages a royalty fee system. But after reading about SOCAN's approach to this – "that businesses that allow musical performance on their premises obey the law" – coupled with Translink's approach to SOCAN's demands (passing the cost along to the buskers) makes me wonder if anyone wanted to make this work in the first place.
In the event that the Vancouver busker project isn't canceled, I just hope SOCAN accepts payment in loose change.
The most recent controversy around Wikipedia, and there are plenty to come I'm sure, surrounds Ron Livingston, an actor in Office Space who starred briefly in Sex in the City.  Well it's Livingston's sex, or rather his sexual orientation, that is at the center of a current dispute with Wikipedia.
Livingston married Rosmarie DeWitt last month, and yet his Wikipedia entry has been repeatedly vandalized to say that he is gay and living with a Lee Dennison.  He also claims that the same individual made Facebook pages for himself and Dennison and showed the the two in a relationship together.
TMZ states,
Livingston is suing for libel, invasion of privacy and for using his name and likeness without his permission.
Unlike blogs, which go through minimal editing and scrutiny, Wikipedia has a vigorous review process which includes questioning sources and the neutrality of a point of view.  The system seems to have worked, as the references to Livingston's sexuality were repeatedly omitted.  The problem is that the reference was repeatedly re-entered.
Wikipedia does have controls for this as well, including how to deal with vandals and locking pages that have repeat problems.  We don't know if this occurred yet, but Livingston could have contacted a Wikipedia editor to invoke these stronger protection mechanisms.  Any court reviewing the case should closely scrutinize the options that were available.
Blogs face a more difficult challenge.  We often try to ensure our accuracy by linking to our sources, and searching as best we can for conflicting opinions.  But especially in the field of law, information does change with new legal development and judicial decisions.  Posts are really only valid for the time-stamp when they are published.We do not benefit from the continuous and ongoing scrutiny of editors the way Wikipedia does.
For this reason, I rely on my readership to inform me when information needs to be updated.  In fact bloggers often depend on that, and most of us are usually willing to make necessary changes.  In case of litigation, we might find sanctuary under the evolving 'public interest responsible journalism defence' described in the 2007 Ontario case of Cusson v. Ottawa Citizen and the 2006 House of Lord's decision, Jameel v. Wall Street Journal Europe.
The wonderful thing about Wikipedia for the purposes of litigation is that everything is meticulously documented on the revision history and the talk page, including when and what changes were made, by whom, and the corresponding IP addresses.  Issues surrounding the pending litigation are even raised on the talk page among the editors, including the location of the IP addresses making the changes, and news stories about the issue.
One of the IP addresses involved in the Livingston changes also made similar revisions on December 2, 2009 to the page of Sheikh Rashid bin Mohammed Al Maktoum of the royal family of Dubai, adding,
…as well as president for UAE LGBT conference as he is a known homosexual!.
Not that there is anything wrong with that.  But there's no need to add personal information to Wiki entries, especially if they cannot be substantiated with an independent source, and may cause the person involves some personal harm.
In cases where the control features described above do not work, it may be appropriate to pursue litigation, possibly including the site in order to compel them to provide further information.
But the best strategy for celebrities, corporations, politicians and professionals, as I told a group of marketing professionals at a seminar earlier this week, is to mitigate any adverse impact by establishing a social media strategy yourself.
There are some new developments in the fight to bring the hockey team from Arizona to Hamilton.
Lawyers expected to grill Bettman
David Shoalts writes for the Globe and Mail:
… Judge Baum raised a third possible outcome early in yesterday's hearing – no sale at all.

"I would say that's more than a possibility," the judge added, as an audible stir went through the courtroom. That came out in the morning while one of Moyes's lawyers, Jordan Kroop, was arguing that the financial penalties owed to Glendale if the arena lease was terminated should be capped under bankruptcy law.

If there is no sale, presumably the Coyotes would remain in Glendale indefinitely with the NHL continuing to pay the losses, which were in excess of $60-million (all figures U.S.) last season.

If you're just starting law school, law blawgs can be your best friend. In addition to this site, here are 99 other blog posts that you should read to help prepare for your adventure.  It won't help you though if you're a judge about to be tested.
Most law students want to be in the top 10-15% of their class, and there are career opportunities that depend on that. Ken DeLeon of Top-law-schools.com provides some tips for success in law school, including a handy flowchart on how to prepare for your law school exams. But keep in mind that the end of the billable hour might result in some changes to your legal education, and law students have different learning styles than the rest of the population.
Still applying to law school? An undergraduate degree in physics or math might be your best option to get a solid LSAT score. Remember that these days a law career is considered a risky option, and there are lawyers in Jersey actually working for free. Where else is success defined by more work (even for less pay), and not more recreational or family time?  Larry Ribstein still thinks law school is the cool choice.  But is it really worth it?
On the other hand  you could elect to skip your classes, get intoxicated regularly, sleep with all the members of the opposite sex, gain a reputation as being a total douche bag, and then score a book and movie deal.
Introducing Tucker Max – asshole extraordinaire – a graduate of Duke Law that claims assholes finish first.

An inspiring personality, certainly, and an approach that John Infante of Fearfully Optimistic would definitely disagree with.  It does make you wonder how many Dukes are faking the Daisy to hazard "celebrity bias."  The Bitter Lawyer has an exclusive interview with Tucker that is, at the very least, amusing.
Then again, "skipping classes, playing basketball, doing cocaine and getting drunk" might help you become President of the United States – but eventually someone might start asking for your law school transcripts.  None of this is likely to come up during the President's special advice to students tomorrow (Sept. 8).  An open and transparent government, perhaps, but not that open. Reality check: the last refuge of the persecuted crack smoker may not be in law school.
Hey, "Some people snort cocaine, others snort religion," and the latter is not necessarily better.  The Exit at My Legal Fiction suggests wearing lipstick as a law school study aid, for some very compelling reasons.  If you're a missionary in Kenya, please don't vow to go to law school out of religious convictions, unless you're going to a low-ranking religious-affiliated law school.  Happy Belated Todd, but I won't be paying $25,000 for dinner any time soon.
Still, your biggest youthful indiscretion might be going to law school itself (and graduating at the bottom of your class hardly precludes success).  If your indiscretions precede law school and include a criminal record, there are some disclosure issues you should consider.  Using stolen Social Security Numbers to steal student loans for partying, with  Tucker, Todd, or otherwise, probably isn't a great idea.  Assistant Deans at law schools?  Not a good idea either.
Robert J. Ambrogi also tells us about Branigan Robertson of Chapman University School of Law, who won $10,000 for this video in the My Inspiration video contest:
These law students are doing better than a lot of lawyers these days. When life gives you lemons (or a recession), you should just make lemonade.  Dan Markel is asking, what kind of juice are you making?
On the other hand, if you're looking to avoid personalities like Tucker Max at all costs,  you might be interested in Above the Law's Douchiest Law School Contest.
No surprise that Harvard and Duke are currently heading the pack as finalists.  Also check out Paul Caron's review of U.S. News Law School Rankings for Judicial Clerkships, which includes data from Brian Leiter's rankings. If douchiness turns you off of Yale and clerkships are really important to you, the University of North Dakota might be a good alternative.  However, great credentials don't always make more satisfied lawyers, because these guys tend to be plagued by that green-eyed monster.
Charon QC's musings might be useful in determining if a "douchy law school" is worse than a "McDonalds of law schools," while Dan Slater of the NYTimes suggests just locking the doors to all law schools because there are too few hiring positions. Still having a hard time picking a law school? The iPhone app Law School 100 is free until midnight tonight (Sept. 7). Study aids are becoming more interactive, with West's new Interactive Case Series now linking to directly to law review articles cited in the case series.
Keep in mind that law school is different than undergrad, and you should probably clean up those social networks you're on. After all, you wouldn't want your mom witnessing you pulling a Tucker Max, and some employers might require you to submit your social media for a background check. Social media is also being increasingly being used in the courtroom, and no, the judge doesn't really want to be your "friend."  Don't get rid of that social media entirely though, because "People don't find lawyers in the phone book… They find them through TV ads or friends or by searching the Internet, including blogs and social networking tools."
Apparently what clients really want from their lawyer is to "feel the love," so if someone comes to your office complaining they hurt their "tushy bone," try not to laugh too hard. Be forewarned though – that volenti non fit injuria doctrine you learn in Torts class also applies to contracting Herpes Simplex I from wrestling, also known as Herpes Gladiatorium.
That's probably not what Lauren in Law School had in mind when she suggested gladiator games as an alternative to On Campus Interviews (OCIs).  You can get a list of the guys in your university with herpes from the new Campus Gossip site just to be on the safe side.
Although the number of followers you have on Twitter is no sign of of expertise or influence, it might land you a job (or lose it) with a firm or get you published, even if Perz Hilton decides to sue you for defamation. No "love" (or wrestling) for him, sorry.  Some people do take Twitter seriously, perhaps too seriously.
Eric Goldman's interview with David Lat highlights the importance of students networking during a crisis.  Dennis Jansen also thinks that networking with your peers might be useful, but consists of more than "beaming your peers with business cards or mass-adding people on Facebook and LinkedIn." As popular as WordPress may be for blogs, it just might not be for your law firm, and you even might be held liable for content on your site to a tune of $32.4 million.
The Law Society or State Bar is probably not going to like it if you steal other people's Twitter content and pass it off as your own, like Melina Beninghoff did . Stealing content doesn't take brilliance, and it barely takes effort.  What is clever is coming up with this CraigsList listing from Los Angeles.  But is stolen content any worse than fake content?
Today is also Labour (sic) Day in Canada and the U.S.  That's the Canadian spelling, because Labour Day did originate in Canada in 1872 with the Trade Unions Act, which legalized unions.  The United States followed in 1882 with informal observance in New York City, and by 1894 it was observed by 23 states through legislation. Still, it was the American President Lincoln, not a Canadian, who said in December 1881,
It is assumed that labor is available only in connection with capital; that nobody labors unless somebody else, owning capital, somehow by the use of it induces him to labor…
Labor is prior to and independent of capital. Capital is only the fruit of labor, and could never have existed if labor had not existed.
Although most Canadian law schools start the day after Labour Day, many Americans start a week or two earlier. According to Blawg Review 122 it seems that in Dublin they start as late as October, but it might just be that everyone (students and profs) are recovering from prolonged hang-overs.
Labour relations are highly relevant for this edition of Blawg Review, since law professors at the University of California are considering a walk-out despite having the "best public education in the world." Perhaps they could use this list of 24 alternative mediation dispute resolution sites to read.
Maybe they should just settle this all over a beer. Then again, those Canadian brewers are at it again with their trade-mark litigation! Next time someone tells you "I Am Canadian," you might want to do your due diligence.
The big thing up here in Canada right now is Copyright Consultation Reform. Although over-reaching legislation is great for the lawyers, it does little for end-users of copyright material.  If you're one of those folks with a keen attention for cyberspace cases, this new blog following the 10 most important U.S. cases will probably be of interest.
But the big thing about Canada in the U.S. right now seems to be our healthcare system, which we're rather partial to, despite what they mights say (Ignore those pesky suits).  Send us your gladiators with herpes, and your perdurable impetus. All that talk over at Volokh about a "lottery system" can only be described as nonsense.
(At 1:53 Glenn Beck repeats lottery libel, and at 3:21 yells at a caller to get off his phone, "you little pinhead," for not listening to the "facts."  The remix is even funnier.)
Although she acknowledges that healthcare reform is needed, Althouse has 10 things she hates about it.  Change is always hard due to "status quo bias." Madeleine Begun Kane has a limerick she wrote just for the spats over healthcare in the U.S. (watch your pinkies!):
"Majority rule is just great,"
Said Gregg in the drilling debate.
"You've got 51 votes,
Then you win." Check his quotes.
Yet 51 Dem votes don't rate.
Seeking medical treatment is probably the first thing you should do after a car accident, irrespective of whether it occurs in Canada or the U.S.  Passen Law provides 9 other things you should do, including, of course, getting an experienced personal injury lawyer.
Another thing we have in Canada absent in the U.S. is a prohibition against the death penalty.  Perhaps the fact that 45% of wrongful convictions in capital cases are based on jailhouse snitches has something to do with it.  Mark Bennett of Defending People points out the interesting observation that a Texan executioner appears to be committing murder by that state's law,
…would you participate in a death penalty trial, knowing that, for the rest of your life, with the turn of a tide of public opinion you could be prosecuted for making what you believed to be the right decision? You may be betting your life.
Do you think that employment contract with the State would protect you?  Don't count on it, as Jeffery I. Gordon mentions that most contracts are too brittle to withstand scrutiny, even if those FirstDrafter clauses look like they can do the job.
On the other hand, if your employment contract follows an affirmative action plan that is not remedial and narrowly tailored for past discrimination, it may constitute unlawful discrimination.  We're still not sure if a stripper constitutes an employee or an independent contractor in Employment Law class.

More guys in that class would probably express their anticipation for seeing Jessica Alba as the stripper-law student Nancy Callahan in the upcoming Sin City 2 if they weren't concerned about objectifying women.
Don't lose any sleep over it, unless you've sexually assaulted employees and are settling for $1.72 million.  Be careful though – the risk of contracting gladiator herpes (and sins) rises exponentially when wrestling with strippers.  You could also get robbed or raped.
Personally, I would be okay with any affirmative action that sought to get everyone but Tucker Max and any potential douches into my law school.  Nancy Callahan might get a pass, as long as she doesn't hook up with Tucker while she's there.
---
Special thanks to David Shulman for editing on this piece.

That's it for this week's edition! Remember: Blawg Review has information about next week's host, and instructions how to get your blawg posts reviewed in upcoming issues.
I was surprised to see in numerous newspaper (here, here, etc.) that a Swedish firm called Global Gaming Factory signed an agreement to buy the Pirate Bay. For those unaware, the Pirate Bay, also based in Sweden, is the world's largest Bit Torrent tracker, providing easy access to a multiplicity of files using peer-to-peer technology. An estimated 90% of these are copyrighted, and a Swedish court held the company and its founders liable in mass copyright infringement. It's founders and financial backer have recently been sentenced to one year each in prison and millions of dollars in fines (the case is under appeal and some of the founders are no longer in Sweden).
But now, Global Gaming Factory is agreeing to pay US $7.8 million for the file sharing website, tracker, and community of users.  Global Gaming's business plan is weird to say the least. It plans to pay royalties to the copyright owners for the files that are transferred using the tracker and make money using a mix of advertizing and the selling of bandwidth on the peer-to-peer network to internet service providers and other entities. The latter means that if a user is downloading or uploading a bit torrent file using Pirate Bay, their spare CPU, memory, and internet connection capacity will be sold to a third party who can use it for anything from SETI to DDoS attacks. The company is also planning a revenue-sharing program to kick back a part of the earnings to its users.
All of this sounds great (or not so great in the case of DDOS attacks, but the company assures us that it is legitimate), there's just one problem: Global Gaming does not seem to have any plan on making this happen. Case(s) in point: they have not approached any of the copyright holders to attempt to negotiate prices. They have no idea how much they will have to pay to make Pirate Bay go legitimate. Analysts are also saying that ISPs will likely balk at buying bandwidth back from its own users. Users selling bandwith (which they are if there's a revenue sharing plan) is also against the Terms of Service of most ISPs.
To add to their problems, Global Gaming is now being investigated for insider trading. Authorities noticed an unjustified spike in the price and trading volume of the company's shares weeks before the announcement to purchase Pirate Bay was made. AktieTorget, the Swedish exchange on which the company was listed is also saying that it will broaden its investigation into the activities of the company once the sale is completed. Any illegal activities (such as distributing copyrighted content without permission) are grounds for removal from the exchange.
I find the move to buy the Pirate Bay to be a little bit weird. Global Gaming seems to be a legitimate company that owns internet cafes and produces software. It is highly unlikely that they would put out $7.8M USD if they did not have a plan. There's something missing. For now, Pirate Bay's previous owners are optimistic and there's some cautious optimism in the Pirate Bay community as well. If Global Gaming manages to pull off what they're promising, they have found a brilliant new business plan that may legalize all kinds of file sharing. The costs of failiure however, are very high. Global Gaming has a huge uphill battle ahead.
This entry is meant to act as a follow-up to my February article discussing the three-strike policy, but for those who need to refresh their memories, the three-strike policy refers to a propsal supported by various industry groups under which users who continue to share copyrighted content on the web will have thier internet access cut off after two warnings. A three-strikes-you're-out policy, if you will.
French President Nicolas Sarkozy rushed a relatively extreme law through through the French Parliament which would have seen a creation of a new agency that tracks and automatically suspends internet access to those accused of downloading copyrighted material.
The Constitutional Council of France however stated that there are several problems with this law, some of which I have already touched on in my previous article. Among the most obvious, the Constitutional Council took issue with the fact that the law removes the presumption of innocence. An alleged "pirate" of copyrighted material cannot defend herself before the internet gets cut off. Furthermore, the agency that was created by this law is extra-judicial, and hence some left-wing thinkers and politicians thought that it is wrong for it to be meting out punishment. The Council agreed, stating that having an administrative agency handle quasi-judicial issues is a breach of separation of powers under the French Constitutions.
What is most striking however is the lengths to which the council went in its decision. It declared internet access a human right by stating that "free access to public communication services online" is a part of the Universal Declaration of Human Rights (which sits in the preamble of the French Constitution). I could see this part of the decision raising several problems, most obvious of which is the fact that only 6% of the world population has internet access. It follows then that calling internet a human right is a little premature. There are some other problems with this, but they are outside the scope of this short article.
Finally, as an addendum, the article in the timesonline (UK edition) mentions that several prominent left-wing artists stood up against this decision and for the government's law that the decision overruled, seemingly forgetting the fact that the law suggested a creation of an agency for monitoring people's internet activity and meting out punishment without due process. It is amazing how fast some people give up on principles of liberty and justice when the application of these principles start to negatively affect them.
The law will come into force as planned, but without the provision for cutting off internet access. The cases will be forwarded to prosecutors and it will be up to them whether or not to try the people accused of downloading in a court of law.
First posted on Commercial Law International on March 19, 2009.
The mother of late rapper Tupac Shakur, Afeni Shakur, filed a $10 million suit against Morgan Creek, an independent production company over the rights to make a biopic of the rapper. This is a counter claim to a suit filed earlier by Morgan Creek in Los Angeles alleging Amaru Entertainment reneged on a deal to sell the rights for a biopic about the deceased rapper.
Amaru Entertainment, what is that and how did they get involved in this dispute? Isn't it between Morgan Creek and Ms. Shakur?
This is easily explained. Amaru Entertainment controls the estate of the late rapper which in turn is over seen by Ms. Shakur.
Ok, with me now.
This whole morass it would seem stems from, and you will never guess, Biggie Smalls. Yes the other late rapper and Tupac's rival, Christopher Wallis a.k.a. the Notorious B.I.G – no no please don't get me wrong, I am not trying to reignite the whole West Coast-East Coast, Tupac vs Biggie thing. I simply want to point out that this dispute, in my opinion, is highly connected and only arose after the biopic, "Notorious," about Biggie grossed over $20 million in its opening weekend earlier this January and potentially profitability of a Tupac biopic became fully crystallized in the minds of both parties.
The central legal question is this case appears to whether or nor there was a deal between Morgan Creek and Amaru entertainment. For all the present and former law students out there, yeah, offer and acceptance is rearing it ugly head out side the safe confines of a law school.
Hahahahahahhahaha.
Was there in fact a deal? You decide:
Both parties were in advanced negotiations about a biopic on the later rapper. In December of last year Morgan Creek received a final term sheet which detailed everything that would be required to reach a deal. Morgan Creek's executives in late January accepted this proposal – please note that this is after the "Notorious" opening weekend. It then began tell others in the film industry that it in fact owned the rights to a Tupac biopic. Morgan Creek then file suit in order to get Amaru to honor the deal.
Amaru Entertainment for its part claims that that there was no deal but that the final term sheet was in fact a counter offer and was the basis of further negotiations. In fact key details of a deal were not workout, such as an executive producer credit for Ms. Shakur. Because Morgan Creek was only one of many suitors for the biopic rights – others included Fox Searchlight, Paramount and Kennedy/Marshall – when they began telling others in the industry that they owned the film rights it sabotaged negotiations with the other studios.
Like I said a morass.
So he claims, in a lawsuit against book publisher Penguin.
Chuck Norris is suing the publisher for releasing a book called The Truth About Chuck Norris: 400 facts about the World's Greatest Human.
The book contains numerous allegedly "mythical" facts about Chuck Norris which were collected from the internet. The facts include:
"Chuck Norris's tears cure cancer. Too bad he has never cried."
"When Chuck Norris does a push up, he isn't lifting himself up, he's pushing the Earth down."
"There is no theory of evolution. Just a list of creatures Chuck Norris has allowed to live."
"Chuck Norris is not afraid of the dark. The dark is afraid of Chuck Norris."
The lawsuit alleges that the book resulted in trademark infringement, unjust enrichment and misappropriation of personality.
You will note that Chuck Norris is not suing for defamation. I suspect that's because truth is a defence.
What I can't understand is why Chuck Norris is bothering to sue.  We all know that Chuck Norris doesn't step on toes. Chuck Norris steps on necks.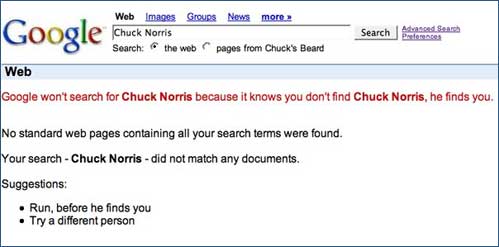 There has been increasing talk about voluntary collective licensing of media on the internet and it seems that at least some music labels are open to embracing it, albeit in limited ways. There is some opposition too.
The voluntary collective licensing solution, whereby a body collects a levy from all interested parties (in this case university students) and redistributes that money to record labels and artists, is a welcome step forward from the current (failing) strategy of litigation against those accused of copyright violation on the internet. The basic premise of the approach is what organization such as EFF have been advocating for some time, which is the legalization of distribution of copyrighted content on the internet (i.e. filesharing).
From an economic perspective, the creation of such content needs to be encouraged, so the content needs to be somehow protected…or does it? The only thing that has to be ensured is that those that create the content are fairly rewarded for it in accordance with the principles of perfectly competitive markets (most notably, no extra-normal profits). Schemes such as volutary licensing should ensure that content flows while people who create that content get fairly compensated.
If copyright holders still wish to generate extra-normal profits, they must take steps to create and market scarcities. In the past, this scarcity came in the form of on-demand performances (recordings of artists that can be viewed or heard on demand by the user). Now that these recordings may be freely distributed and copied, they are no longer scarce.
So what is scarce? Items and experiences demanded by fans and followers of given content (e.g. fans of musicians, movies, directors, actors, etc.). Merchandise (t-shirts with band logos for example), special interviews with directors, concerts, backstage access at concerts, special authentic album inserts, autographs, and other such opportunities are in great demand, cannot be copied and are entirely controlled by content owners and copyright holders.
If copyright holders were to make the bulk of their money off resources that are scarce, they may even find it profitable to give abundant content which is easily copied away for free and drum up demand for scarcities that they control. In this case, issues like voluntary licensing (and litigation) won't even come up.