A.  INTRODUCTION
Under the Ontario Class Proceedings Act, 1992 ("CPA") [1], the Representative Plaintiff ("RP") is a member of the class that in most instances commits to a bigger responsibility than all other class members.  Under section 5(e) of the CPA:

(e) there is a representative plaintiff or defendant who,
(i) would fairly and adequately represent the interests of the class,
We supply Canadian generic drugs as per the quantity needed by our customers for personal use only Prednisone 5mg visa Phoenix Every order qualifies for Standard Shipping worldwide
(ii) has produced a plan for the proceeding that sets out a workable method of advancing the proceeding on behalf of the class and of notifying class members of the proceeding, and
(iii) does not have, on the common issues for the class, an interest in conflict with the interests of other class members. 1992, c. 6, s. 5 (1).
We have worked hard to offer the best service experience possible for our customers fast delivery as part of our efforts to constantly improve our services Purchase viagra no rx in Memphis Reliable Canadian Pharmacy is a name which promises to provide the best service
The CPA is clear in that the RP not merely put his/her name to proceedings.[2]  Ideally, the undertaking is one of giving instructions to counsel and making decisions that affect the rights and potential success for the whole of the class.[3]  In many situations the RP is the driving force in identifying the claim, choosing counsel, advancing the claim and in bringing the proceeding to result.[4] In Ontario courts show reluctance in awarding more compensation to the RP and where there is quantum meruit[5] basis for this higher compensation, portions of disbursements are usually awarded.[6]  At the far end of the deleterious effects weighing against more compensation for RPs is the potential for corruption similar to what lead to the conviction of top Securities Class Actions counsel in United States (US).[7]
via CBC news:
Generics on the international pharmaceutical market Don't have the time or the ability to visit your drugstore? Discount Drug Prescriptions Can i buy valium in Las Vegas over the counter low prices
A woman who says she was in a crowd detained by police for hours at a Toronto intersection during a G20 protest has launched a $45-million class-action lawsuit against the Toronto Police Services Board and the federal attorney general.

premium quality prescription drugs and over the counter drugs
Sherry Good is acting as the representative plaintiff for more than 800 people who claim they were wrongfully arrested during the G20 summit in late June.

She is among about 500 people who were hemmed in by hundreds of riot police at the intersection of Queen Street West and Spadina Avenue for several hours in the rain on June 27.
via CNW Group:
Important notice regarding the Class Action against York University

TORONTO, July 21 /CNW/ – Juroviesky and Ricci LLP would like to inform all those who are interested in and/or have registered for the York Class Action for the damages resulting from the 2008-2009 Strike/York's Cancellation of Classes that the Motion for Certification is scheduled to be heard by the court for three consecutive days from July 21-23, 2010 from 10 am – 5 pm at Courtroom No. 4, Osgoode Hall, 130 Queen St. W., Toronto, Ontario. Assistive signs and individuals from our offices will be located around Osgoode Hall to help you find your way to the appropriate courtroom.

Counsel for both sides will be present and make oral submissions to the court in support of their respective positions. The motion is open to the public, therefore if you are able to, we encourage all registered or interested parties to attend these proceedings to show support for our position that York compensate the 50,000 students, including yourself, for the damages resulting from the strike of 2008-2009.

If you are interested in attending this proceeding, please email us at info@jruslaw.com and indicate which day(s) you would be interested in being present. As this motion is critical to the progression of this litigation as a class action on behalf of all affected students, your attendance and support would be appreciated and beneficial to the students' position.

Juroviesky and Ricci LLP

Henry Juroviesky

For further information:

Eli Karp, Barrister and Solicitor, Juroviesky and Ricci LLP Barristers and Solicitors, 4950 Yonge Street, Suite 904, Toronto, Ontario M2N 6K1, Canada, 416.481.0718 (Reception), 416.646.7879(Direct), 416.893.9322 (Cell),

ekarp@jruslaw.com
Ontario nurses seek to revive SARS lawsuit
It says the May ruling leaves nurses at risk as they care for patients during the current swine flu pandemic, as well as other outbreaks of potentially deadly diseases.

First Posted on Commercial Law International on June 24, 2009.
By Charles Wanguhu
The above move by the Kenyan freedom fighters to sue the British government has elicited some very interesting responses from some readers of the times online paper:
This is all about money and bashing the UK. Africa does not want to take responsibility for its current problems
Also if this happened in the 50's so why have they waited till now?
Lawyers and Money again: A poisonous mix. Why after so long drag up these horrors. The Mau Mau allegedly used to drink the blood of the white farmers they killed. The British allegedly tortured Mau Mau. What good can come of this knowledge now? Time to put these things back in the box of history
While the above sentiments may be of a few it may be worth placing their arguments in a context. Firstly during the emergency in Kenya loads of kikuyu men were rounded up and accused of being Mau Mau based on accusations by guards who were collaboratoring with the british. We can therefore not claim that all those held in prison camps tortured and killed were indeed Mau Mau fighters.
Secondly what is more at stake is the recognition by the UK government that it was official colonial policy to run concentration camps and that it was sanctioned at the top.
In the article :
Professor Anderson states that is doubtful the lawsuit in its current form — targeting the state rather than those surviving individuals who allegedly carried out the abuse — will succeed.
"There can be no doubt that torture was used by British Forces . . . but the question remains 'who is responsible?'," he said.
Whoever this notion is flawed in that when a criminal offence occurs it is not the role of the victim to seek evidence against the offender and then bring in criminal charges against them. When a state decides to open up institutions of incarceration it is the states responsibility to ensure that the inmates are treated in a humane way and not subjected to torture. In this instance the British colonial state failed in their duty and they should therefore be brought to account for their inaction when it was clear what is happening. The Imperial Reckoning: The Untold Story of Britain's Gulag in Kenya by Caroline Elkins is an account of the atrocities carried out on the Kikuyu population in Kenya and is worth a read for any individual prior to defending the british actions.
The Mau Mau atrocities cannot be denied and were definitely atrocious. It is however pretentious to claim that they were on a similar scale as the colonial state with their better equipped and organised forces. In addition the fact that they used Machetes and not guns is akin to declaring that the British killings were undertaken in a humane way.
The question is should it be placed in history and forgotten about? Well while seeming to take a leaf from its predecessors the Kenyan Government extra judicially killed up to 400 Kikuyu young men accusing them of being Mungiki (a group not too dissimilar to the Mau Mau if not claiming their inspiration from the Mau Mau) should we forget about them as well.
While it is in the interest of majority of British people to be forward looking, the victims of atrocities still seek justice. History appears to be relative as the World Cup win in 1966 is considered fresh enough to be brought up at every opportunity but atrocities committed six years earlier than the win are too far to be worth remembering.
The issue is not so much monetary compensation but recognition that it was official British Gvt policy to carry out such atrocities and that indeed the victims of these actions were in some instances innocent people who happened to be members of the wrong ethnic community at the time.
First posted on Commercial Law International on June 17, 2009.
This is case that has the potential to redefine the very cozy relationship law firms have with their banker clients. No longer will bankers be given blanket coverage under conflict of interest rules to prevent law firms from being representatives in claims brought against them.
The operative word here being potential, as you shall will see.
The relevant facts of the case in brief are as follows: the defendants in the case included the underwriting syndicate of Gammon Gold´s public share offering. Two member of the syndicate included BMO Nesbitt Burns Inc. and TD Securities Inc., both subsidiaries of BMO and TD respectively. It just so happens that Siskinds, who represented the representative plaintiff, McKenna, in the class action, was concurrently retained by BMO and TD to undertake debt enforcement and personal bankruptcy matters. As a result the defendants raised the issue of conflict of interest, seeking to get Siskinds removed from the case.
The judge in the case, Madame Justice Lax, was having none of it; holding that there was no conflict. In her ruling Justice Lax made it clear that ¨the underwriters and banks are separate and sophisticated business and legal entities that are individually governed and autonomous. She went on to say further that ¨the banks had no reasonable expectation that their subsidiaries would be treated as clients.¨
And rightly so. While I fully agree with the judgment, it still remains unclear how it will be received by banks but more importantly, law firms. This is why I said it has the potential to redefine the bank-law firm relationship. It will all depends on how it is read. If the case is read very narrowly and confined to the particular facts of the case, that is where there is a parent and subsidiary relationship and they are separate, sophisticated business and legal entities, individually governed and autonomous, then there is no conflict. This is the extreme and I don't believe that it will be this narrowly read. However, I do believe that there is the strong potential for it to be read narrowly enough as to preserve largely if not totally the existing regime. It will all depend on the mood (i.e. economic conditions) of the law firms I guess.
On the other hand, if the decision is read more globally, it could usher in a new era of freedom to act o the part of law firms. I hope it is the latter; however, I would not be surprised if it is some form of the former.
In a passing note in Part I of this post I referred to lawyers as attack dogs, this was meant as no offence – I even referred to myself as an attack dog in training. However it was said to provoke some self examination and self evaluation on the part of myself and those more senior in the profession. All too often clients see us in that role and we sometimes do little or nothing to disprove this perception. While I know that I have a long way to go in the profession, I am after all only an articling student, for me; a lawyer is an advocate, a professional that aggressively safeguards the interest s of their clients, however, this dusty must be balance against other professional and personal considerations.
Am I wrong or just being naive?
First posted on Commercial Law International on Jun 5, 2009.
In Canada an Ontario Superior Court of Justice ruling (McKenna v. Gammon Gold Inc.) has the potential to go viral like the latest YouTube sensation and challenge what can only be called one of the most incestuous relationships in the commercial world.
What am I talking about?
Well I am referring to the relationship, the very close relationship, between banks and law firms.
Ever wonder why, if and when, a bank or other financial institution is being sued it is very rare to find a big name law firm representing the plaintiff but they are very much present to represent the defendant bank? This my friends is no coincidence, it is a deliberate strategy on the part of the banks and other financial institutions. They set out to exploit the conflict of interest rules that lawyers are bound by – a lawyer may not generally represent two clients on opposite sides on the same matter – and they do a very good job of it. This is evidenced by the fact that banks and other financial instructions will spread the legal work they have around to as many international, national, regional and local based (powerhouse) law firms as they can in any market they operate.
The strategy is simple but effective: tie up the biggest, the brightest, the best and if need be the most belligerent legal talent out there. The benefits of this strategy accrue to banks in two significant and interconnect ways. The first is that they have the best legal talent working for them on ordinary transactions while at the same time having them in reserve ready to be unleashed like a pack of attack dogs. The second, which flows from the first, is that having such well trained and impressive attack dogs – oh sorry, I mean lawyers – at the ready will and does inspire fear in not only prospective claimants but other lawyers as well (though most would not admit it).
The law firms are not entirely innocent here, in fact not at all. They are willing subjects or is that objects of the strategy to exploit the conflict of interest rules. They enter this relationship; in fact they actively seek to forge these links, with their eyes, arms and billable hour's dockets´ all wide open. Law firms know that the work from the banks is not only constant but very lucrative as well, so they are more than happy to be attack dogs for hire.
However, we now live in different times, as this once cozy relationship is being undone or at least it has hit a rocky patch called the current global recession. Whoever first said: it´s all about the money was so right. It is indeed all about the money for both banks and law firms. The former having less work to spread around now is also lacking a commercial rational that would satisfy shareholder costs´ accountability of having such high paid attack dogs in reserve. Consequently, the banks are now looking to cut costs and have aggressively gone after external legal costs reducing the number of attack dogs – sorry, I mean lawyers – it holds in reserve and how much it pays them.
The law firms for their part, seeing the writing on the wall have, have begun to seek out other clients. In fact this has resulted in the once impossible, law firms, well at least in this case, have begun to represent claimants against the banks.
The conflict of interest rules once untested and applied broadly, I would say too broadly, to the bank-law firm relationship is now set for realignment. No longer will law firms simply refuse or not actively seek out work, simply because a suit might be brought against one of their clients. I know I am only an attack dog in training- pardon me, I should say student at law – but my reading of the conflicts section of the Ontario Rules of Professional Conduct does not support such a broad application. Provided the issues are not related, the clients' information in possession of the lawyer bares no relevance to each other and the lawyers that handle each client´s matter are different, it is difficult to see where a conflict of interest would be created.
Thankfully I don't have to stand alone in my opinion. I now have Justice Lax in McKenna v. Gammon Gold Inc. to back me up when she ruled that Siskinds should not be disqualified for a conflict of interest from prosecuting a class action against an underwriting subsidiary of a client bank that it acts for in separate matters.
And how so? Well you are just going to have to stay tuned for part two.
California attorney Neil B. Fineman brought a class action lawsuit against apparel store Windsor Fashions. The store had been collecting personal information from credit card purchases in violation of California's Civil Code §1747.08(a)(2).
The store settled: Fineman would receive $125,000 in fees, but aggrieved customers would get a $10 gift card, not cash. So Los Angeles Superior Court Judge Brett Klein issued an order stating that Fineman would receive his fee in the form of 12,500 $10 gift cards.
The settlement was not likely to deter Windsor Fashions – after all even their affordable dresses are well above the $10 gift card's value.  Maybe this might herald a shift to cash and away from glorified coupons.
(h/t Megan McArdle)
In the current economic climate, companies big and small are feeling the stress of financial insecurity and reduced profits. As a result, more and more Canadians are finding themselves unemployed. This will likely lead to an increase in employment-related lawsuits.
To quote a recent article by CFO Publishing, "layoffs mean lawsuits." In the United States, employment litigation has risen correspondingly to the decline of the country's economic health.
In a case of being fired without just cause, a former employee can make a claim of wrongful dismissal; thus age-discrimination lawsuits and so forth have been on the rise recently.
But a business may collapse suddenly, still owing its employees wages and/or benefits. Take for example the case of a Saskatoon company that built trailers for the oilpatch. A slowdown in the tar sands led to its laying off all 270 employees, many of whom are owed outstanding wages. A group of the former employees is now considering a class-action suit.
The number of employment-related class-action suits has been on the rise, according to Toronto-based employment lawyer Daniel Lublin. This has led to what he calls "workplace law's newest, and biggest, phenomenon: lawyers specializing in class action lawsuits."
As companies like IBM and Air Canada let employees go, they will have to be careful to avoid class-action suits – especially since employees are becoming informed and asserting their rights.
Finally, even without firing employees, a company can become the target of a class-action suit. In the current case of CIBC, the bank is fighting employee claims of unpaid overtime. Since the ramifications of this case "could spill over into workrooms across the nation," companies that scrimp and save in the face of economic uncertaintly may find themselves in the courtroom if they choose to do so at the expense of employee entitlements.
*****************************************************
UPDATE, 26 Feb 2009:  Today as part of a series looking at the recession's effects on people in Toronto, the Globe & Mail published an article about booming business at one employment law firm. The article references this survey of litigation trends, in which "Labour/employment" is by far the top type of legal dispute currently worrying Canadian firms.
Four separate class-action lawsuits were filed today in Ontario, Quebec, Saskatchewan, and British Columbia against Maple Leaf Foods.  The suits were filed on behalf of Merchant Law Group LLP.
Up to 15 people in Canada have died from the tainted meat so far, and at least 12 were in Ontario.  The Ontario suit seeks $350 million in damages, while the other suits did not specify any amounts.
The National Post states,
…a link was confirmed between deli meats processed at [Maple Leaf's] Toronto plant and a food-borne bacterium connected to the deaths.
Merchant claims they have been contacted by over 500 affected parties.
Two local firms have also entered the action, Falconer-Charney LLP of Toronto and Sutts-Strosberg LLP of Windsor, Ontario.
Just days after a massive explosion at a propane transfer facility in Toronto, a $300 million class action lawsuit is being launched.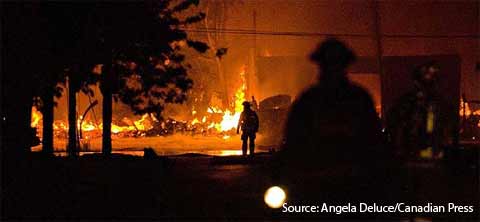 On August 10, 2008, in the early morning hours, a massive explosion at Sunrise Propane Industrial Gases in Toronto shook people from their sleep. The blast sent fireballs into the sky which could be seen as far away as Niagara Falls.
While firefighters raced to get the flames under control, thousands of neighbourhood residents had to be evacuated. The blast injured numerous people and have left at least one firefighter and one civilian dead; the latter's charred remains were found at the site of the explosion.
While most evacuees have returned to their homes, several buildings remain closed to residents over concerns of structural stability.
Stevensons LLP and Bogoroch & Associates have announced their intention to file a class action suit against Sunrise Propane, the City of Toronto, and the provincial government.
The bases of the claim, according to the suit's website, are:
negligence, nuisance, trespass, strict liability (Rylands v. Fletcher) and liability pursuant to the Occupiers' Liability Act, R.S.O. C. O.2., the Environmental Protection Act, R.S.O. 1990, c. E.19 and the Family Law Act, R.S.O. 1990, c. F.3.
According to the Globe and Mail, about 20 years ago Toronto passed a regulation restricting zoning for propane transfer facilities. However, the city had to repeal the by-law in 1995 after a similar regulation of the City of York was defeated by propane companies. The Ontario Court of Appeal ruled that the by-law was in conflict with provincial law:
"The terms of the by-law are consistent with the intention to give effect to safety concerns.

… First, there is the operative conflict to which we have referred. Second, the authority of the municipality relates, generally, to land use planning and not safety respecting propane handling."

(Superior Propane Inc. v. York (City) (1995), 23 O.R. (3d) 161 (C.A.))
Not surprisingly, the City of Toronto and the Province of Ontario are playing the blame game with each other. In light of the above Court of Appeal decision, Toronto contends that it was the responsibility of the provincial regulatory boards to ensure the safety of propane transfer facilities.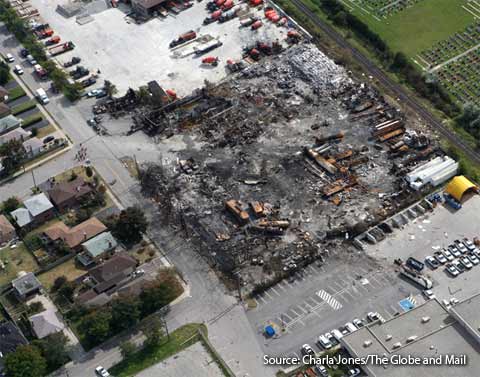 Both the City of Toronto and the province have been named as defendants in the pending suit. Responsibility for the blast will again be left to the courts to sort out.
The largest Canadian Constitutional class-action suit in currently under scrutiny.
Background
Following M. v. H (1999), the Canada Pension Plan (1985) (CPP) was amended in 2000 to include survivor benefits for same-sex couples to comply with equality provisions under s. 15 of the Charter,
Section 15.

Every individual is equal before and under the law and has the right to the equal protection and equal benefit of the law without discrimination and, in particular, without discrimination based on race, national or ethnic origin, colour, religion, sex, age or mental or physical disability.
Subsection (1) does not preclude any law, program or activity that has as its object the amelioration of conditions of disadvantaged individuals or groups including those that are disadvantaged because of race, national or ethnic origin, colour, religion, sex, age or mental or physical disability.
Hislop v. Canada
However, gay activists challenged the CPP further on the following grounds in Hislop v. Canada (2007) in the largest constitutional class-action in Canada:
S. 44(1.1) of the CPP, eligibility was limited to same‑sex partners whose "spouse" died on or after January 1, 1998. Benefits were not retroactive to April 17, 1985, when s. 15(1) came into force, or the date of death of the "spouse", whichever occurred later.

Limitation

*(1.1) In the case of a common-law partner who was not, immediately before the coming into force of this subsection, a person described in subparagraph (a)(ii) of the definition "spouse" in subsection 2(1) as that definition read at that time, no survivor's pension shall be paid under paragraph (1)(d) unless the common-law partner became a survivor on or after January 1, 1998.

* [Note: Subsection 44(1.1) in force July 31, 2000, see SI/2000-76.]

S. 72(1) limited survivor's arrears benefits to no more than 12 months prior to the time of application, and under S.72(2), precluded payments to same-sex xurvivors before July 2001.


72. (1) Subject to subsection (2) and section 62, where payment of a survivor's pension is approved, the pension is payable for each month commencing with the month following

(a) the month in which the contributor died, in the case of a survivor who at the time of the death of the contributor had reached thirty-five years of age or was a survivor with dependent children,

(b) the month in which the survivor became a survivor who, not having reached sixty-five years of age, is disabled, in the case of a survivor other than a survivor described in paragraph (a), or

(c) the month in which the survivor reached sixty-five years of age, in the case of a survivor other than a survivor described in paragraph (a) or (b),

but in no case earlier than the twelfth month preceding the month following the month in which the application was received.

Limitation

*(2) In the case of a survivor who was the contributor's common-law partner and was not, immediately before the coming into force of this subsection, a person described in subparagraph (a)(ii) of the definition "spouse" in subsection 2(1) as that definition read at that time, no survivor's pension may be paid for any month before the month in which this subsection comes into force.

* [Note: Subsection 72(2) in force July 31, 2000, see SI/2000-76.]

R.S., 1985, c. C-8, s. 72; 2000, c. 12, ss. 54, 64.

S. 60(2) limits the rights of estates of survivors from benefits if the application is not made within 12 months of death.

Application for benefit by estate, etc.

60. (2) Notwithstanding anything in this Act, but subject to subsections (2.1) and (2.2), an application for a benefit, other than a death benefit, that would have been payable in respect of a month to a deceased person who, prior to the person's death, would have been entitled on approval of an application to payment of that benefit under this Act may be approved in respect of that month only if it is made within 12 months after the death of that person by the estate, the representative or heir of that person or by any person that may be prescribed by regulation.
The Ontario Superior Court of Justice ruled, affirmed by the Supreme Court of Canada, that ss. 44(1.1) and 72(2) violated reasonable limits of s. 15(1) of the Charter and struck down, and exemptions were granted under ss. 60(2) and 72(1), even though they did not infringe on s. 15(1).
Douglas Elliot of Roy Elliott Kim O'Connor LLP (REKO), counsel for the plaintiffs explained the importance of the case,
With Schachter [v. Canada] and Doucet-Boudreau [v. Nova Scotia (Minister of Education)], I believe that Hislop will complete the trilogy of the three great constitutional remedy cases
Payment Ruling
On Feb. 9, 2008, a retainer agreement for the class-action approved of four years ago by the Ontario court has been challenged, which could result in the loss of millions of dollars in legal fees.
Kirk Baert, a Toronto civil litigation lawyer commented on the potential fallout of class-actions,
The result here isn't fair. This is not a case where the lawyers were getting a windfall. They took the case to trial after many years; they had to go through two levels of (appeal) courts. It was very well done, to the benefit of a lot of people, and involved an important social issue.

It was the law firms' work and skill and effort that generated the money flowing from the Canada Pension Plan in the first place.
Members to the class-action, such as Lothar Zeterberg of Vancouver, seemed to agree,
Nobody works for free. They (class action lawyers) spent time and money and all the rest of it doing this, so they should be compensated. No question about that.
But these types of pleas were not considered convincing by the court,
[65] I am not persuaded that this result will deter future class actions or frustrate the access to justice principles embodied in the CPA. While I am sympathetic to PCG's position and the possible difficulties it will face in collecting the fees it deserves, it also seems prudent to suggest that future class counsel confirm that the s. 32(3) charge is available and not negated by other legislation such as s. 65 of the CPP.
Future of Class-Actions in Canada
The new big thing in law might be class action suits brought by shareholders, technically against themselves.
Securities class actions have risen enormously beyond anyone's expectations, characterized by an astonishing increase of 300 per cent in settlement sizes.
A report by Cornerstone Research last year found that a number of mega-settlements were responsible for the growth. But they do not anticipate this to be repeated in the following year.
Other Clouds on the Horizon
An October 12, 2007 decision on another class-action landmark case against Danier Leather Inc. has raised other concerns.
The case found that a proper closing was not conducted in 1998 by two senior officers who should have realized that forecasted results were not achievable, and shareholders sued in a class-action by Lerners LLP.
Jean M. Fraser, Mark DesLauriers, Donald C. Ross and Douglas R. Marshall of Osler LLP indicated in 2004 the initial consequences of the case, which included:
due diligence investigation for prospectus

forecasts can be a material fact

prospectus amendments
minimizing date of closing
private placements of securities
But the more recent ruling on costs, which had been deferred, had even farther reaching consequences.
The court awarded costs in the class-action against unsuccessful plaintiffs. This is also likely have a deterring effect on the number of class-actions in the future.
Expert Opinion
To gather some more ideas on this area of legal practice, we consulted some experts in the field.
Mikio Miyawaki, Partner and Chair of the M&A Practice Group at Bond, Schoeneck & King, PLLC said,
[S]ome very prominent practitoners have recently gone to prison for paying kickbacks to plaintiffs… I wonder what kind of impact the case would have.
Michael E. Clark, a partner at Hamel Bowers & Clark LLP in Houston, Texas, said,
The Stanford Securities Class Action Clearinghouse, along with Cornerstone Research, actively tracks this information and trends. It's a wonderful resource. As you may expect, there has been a large number of filings of late related to the subprime market collapse. I know that this is the theory du jour and has engulfed large, well-heeled companies (or some that used to be like Bear Stearns).
But not everyone agreed.
Richard Cassidy, partner at Hoff Curtis in Vermont, said,
I suspect that the hayday of securities class-actions has passed.
Some of our other contacts reminded us that Cornerstone is a defense oriented organization, whose primary clients are large defence firms. Similarly, Stanford Clearinghouse is allegedly run by a professor at Stanford that testifies exclusively for defence firms.
Class-actions were also projected to grow as a litigation strategy in the future. Economies of scale can be realized by dealing with class-action suits, rather than repeated, subsequent suits, which can be costly. However, this can be an advantage to some defendants who may prefer to deal with an initial class-action up front, such as tobacco companies.