by Kate Lucoff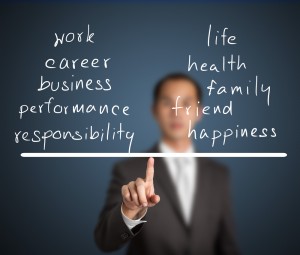 Creating the perfect balance between career and personal life has always been a challenge in any profession, but particularly when it comes to such high demanding professions as a lawyer or a paralegal. In fact one of the top reasons why lawyers are contemplating leaving the profession is to focus more of their time on family and personal lives.
Stress is part of the job
The number of hours lawyers are required to put in weekly are monumental. Firms expect a great deal from their attorneys and that means that pressures are high to meet deadlines and produce quality work. Time spend at the office becomes time spend away from loved ones and personal time. While what is balance differs from one person to another Jatrine Bentsi-Enchill's article "Cases and Chaos: Work-Life Balance Strategies for Busy Lawyers" identifies them as the following:
Feeling there just isn't enough time to effectively accomplish work-related tasks
Struggling to get through the daily work tasks while still having the energy to deal with family responsibilities
Having the time and ability to pursue hobbies and other activities you enjoy
The main struggle for balance is between accomplishment (getting the things we need done) and enjoyment (having time for loved ones and fun, rest and exercise).
Tips to get things done
Personally I do believe there is a challenge to balance a high demanding job with personal life, however it can be done. Achieving personal balance isn't easy but with the right attitude and proper organization it can be achieved and is definitely worthwhile. Here are as few steps for getting things done:
Set your priorities straight and focus on the things you truly care about
Identify the barriers and what is standing in the way of achieving your balance
Mind over matter – make sure you deal with emotions properly (guilt, worry, etc.)
Create time to do what you want twice a week – no excuses or rescheduling
If need be consider hiring a professional coach
See the big picture, daily activities help shape the future you desire
The article by Julie Stauffer "Successful Juggling Work and Family: Tips for Lawyers" provides addition tips for a balanced lifestyle. Her suggestions include proper organization, having alternative plans and using technology as a way of accomplishing tasks faster amongst a few other suggestions.
Organization is Key
In order to be successful one must also be organized. Dawn Dugan outlines some steps in his article "14 Steps to Achieving Work-Life Balance" which are very simple but yet can make a big difference in making sure balance in life is achieved. One of his steps is making sure you take a look at your daily activities as they can have a bigger impact in the long run, such as not getting proper sleep and poor nutrition choices.
Ultimately as the old saying goes "where there is a will, there is a way" and I personally think if one stays focused, organized and sets proper goals and priorities, the proper balance between work and personal life can be achieved.
Staying organized can leave more time for the things you love.