In light of our recent collaboration with The Court, we've decided to pick someone from outside the Law is Cool community this year for our annual recognition of the Student Blawger of the Year.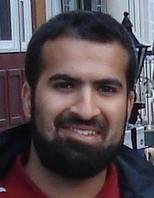 This year's award goes to Ahsan Mirza, Senior Contributing Editor (2009-10), at theCourt.ca
Ahsan Mirza recently completed his J.D. from Osgoode Hall Law School (2010). He is the recipient of the Osgoode Student Honours Award, the F.W. Minkler Prize for Integrity and Scholarship, and the Osgoode Hall Law Journal Prize.
During his final year, he was a Senior Contributing Editor at www.theCourt.ca where he wrote on a number of relevant legal issues and developments in the form of general commentary and more specific SCC case comments.
Besides working for theCourt.ca, Ahsan was also Managing Editor at the Osgoode Hall Law Journal which became one of Canada's only Open Access Law Journals under his leadership. Ahsan was also the founding President of the Muslim Law Students Association. He revived this student club which had extinguished several years earlier to create a social network for muslim law students and to bridge any gaps between muslims and non-muslims at Osgoode. Notably, he co-wrote an article in the Toronto Star with his counterpart at the Jewish Law Students Association, advocating cooperation and dialogue as opposed to the chest-thumping and fist-pumping common at YorkU during Israel Apartheid Week.
Prior to law school, Ahsan studied Political Science and Economics at Carleton University in Ottawa. He was awarded the Senate Medal for Academic Achievement and the Millennium Excellence Award for Leadership. Ahsan is the co-founder of the International Policy Forum.
Ahsan is currently articling at the Toronto offices of McMillan LLP.