The G20 summit in Toronto has come and gone, but not before leaving a trail of destruction in its wake.  I'm not just referring to all the shattered glass and burned out husks of police cars; I'm talking about Torontonians' faith in the rule of law.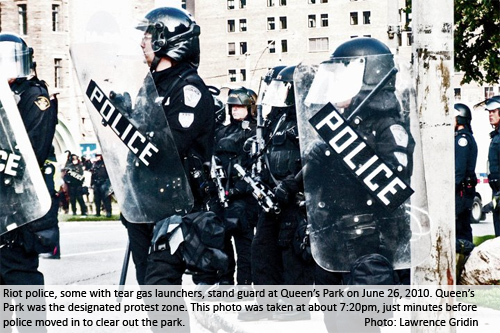 Our Ontario police forces, particularly the Toronto Police Service, are some of the finest and most professional in the world. They have worked hard to build community relations and win the respect of the public. Just as we rely on the police to keep us secure, the police rely on public cooperation to effectively do their jobs.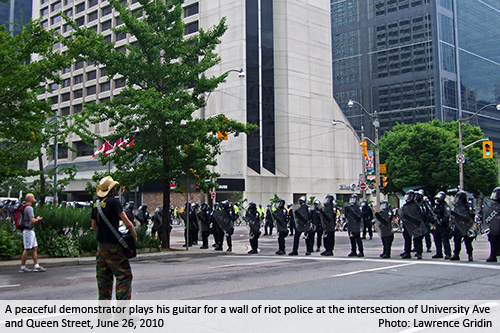 When the public trust in police is diminished, and people begin to see the police as an enemy, it puts our safety in jeopardy. That is precisely what is happening. The police are coming under heavy criticism for the perceived overzealous tactics they used this weekend. I have heard of many strong supporters of the police, some of whom were caught up in the mass detentions, beginning to question whether their support was misplaced.
The front page of the Office of the Independent Police Review Director's website has been changed to add a special notice about G20-related complaints. I suspect the new bureaucratic agency will have to expand just to handle all of them.
Preliminary reports of apparent civil rights violations are coming in from all over the city. The Canadian Civil Liberties Association says that these were not isolated incidents.
I saw many with my own eyes. I was in downtown Toronto to take photos of this once-in-a-lifetime event. What I saw terrified me and broke my heart.
The disgraceful actions of a relatively small, hardcore group of criminals running amok in the city have been used to justify the biggest suspension of civil liberties in Toronto's history.
Peaceful protesters and onlookers at the designated "free speech zone" in Queen's Park were attacked with batons, pepper spray, and rubber bullets with little or no warning (I was there; I heard none). Nine hundred people were rounded up and arrested, including credentialed journalists, pedestrians walking their dogs, and even a TTC worker in full uniform. Ordinary people at Queen and Spadina were surrounded on all sides by riot police. One by one, seemingly for no reason at all, people were snatched from the trap by force and then disappeared behind a wall of riot police. The fear is vividly captured in this video (watch the whole thing or just  skip ahead to 7:30).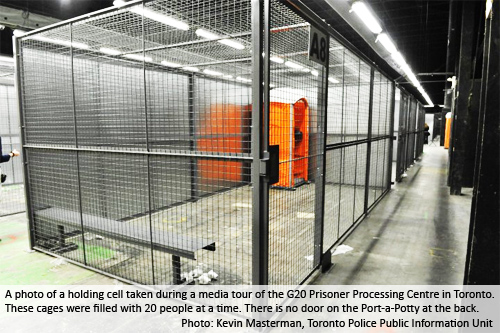 Those arrested were taken to the Eastern Ave. Detention Centre, a specially constructed temporary facility. What happened inside that facility is not yet fully known. Openly homosexual and transgendered people allege that they were segregated into separate cells by homophobic police. Women have made shocking accusations of being threatened by their jailors with rape. The unconfirmed allegations made by Amy Miller in this video are so terrifying that they defy belief.  At the very least, corroborated reports describe the conditions inside as deplorable:
Cramped and filthy cells, mismanagement and disorganized paperwork, lack of food, water and toilet paper, and denial of legal aid and access to lawyers.

Taylor Flook said she spent almost 24 hours in detention before being released without charge and witnessed strip searches of women by male officers, as well as sexist remarks made by several officers.
Hundreds of people have since been released without charge; the vast majority of those arrested weren't doing anything illegal in the first place!
And then there was the controversial G20 security law. A regulation, quietly passed by the Ontario cabinet under the Public Works Protection Act, empowered police to stop and search anyone attempting to enter the G20 security perimeter. Police Chief Blair now admits that he deliberately misled the media and public as to the scope of the law. He claimed (and the media reported) that it covered a 5-meter area outside of the fence. In fact there were only a few areas outside of the fence which were covered by the regulation. I was misled too (hey, I can admit a mistake).
Trouble is, apparently the Chief failed to tell his own officers about the limited scope of the law. They were enforcing that law all over Toronto, even though it didn't apply there. When pedestrians far from the security zone were stopped by police, and demanded to know the source of the police authority, they were told: "Public Works Protection Act, you can look it up." I myself saw people stopped and searched in this manner.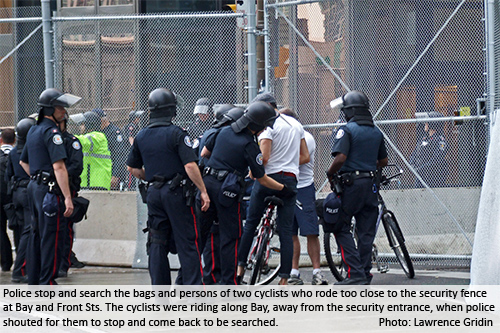 Closer to the security zone, people who were just cycling by, with no intention of trying to enter, were stopped and told they had to surrender their bags for a search or be arrested. Despite the Chief's claims that "if they refuse and they have the right to refuse, then they leave and they will leave without being arrested," these people had no option to leave.
Elsewhere, people were stopped on the street and subjected to searches without reasonable suspicion that they were involved in a criminal offence. They were told they were under investigative detention. In the video below, a woman is stopped at King and University (a fair distance from the security zone) and told she must submit to a search of her bags or face arrest. While the officer was polite and respectful, I'll let you decide whether he violated ss. 8, 9, and 10(b) of the Charter (hint: see R. v. Mann, 2004 SCC 52 and R. v. Suberu, 2009 SCC 33).
After what I saw this weekend, I believe that the government must call a public inquiry into what happened. I fear we will discover that civil liberties throughout Toronto were effectively suspended — the most troubling encroachment on civil rights in Canada since the FLQ crisis. There are lessons to be learned. The police have admitted that mistakes were made. We must have a full accounting of those mistakes to ensure that they are not repeated.