I have to admit that I called this one.  As my wife and I were watching CBC's Dragon's Den an interesting segment began.  Before I go into the relevant legal issues in this case, some background is required.
One of the "Dragons" is Jim Treliving is, among other numerous ventures, a co-owner of Mr. Lube.

Fast forward to the episode that I was watching.  Out comes Jessica Gilbank, who is the owner of Ms. Lube by Mechanchik.  She is the owner of an oil changing garage that employs women, because she found it hard for female mechanic apprentices to break into the male dominated field.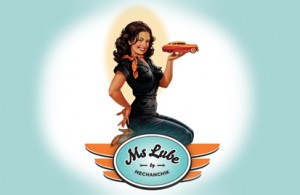 Although I know little about copyright law, Treliving clearly indicated in the episode that he did not even want to participate in the segment because he clearly felt that Ms. Lube was infringing on the Mr. Lube brand.
Fast forward again to this week, where my prediction came true.  The Globe and Mail has reported that Mr. Lube has filed a $250 000 lawsuit alleging that the use of the name Ms. Lube should be prohibited based on copyright law.
As this legal domestic dispute unfolds we shall see how the court rules.
What is more interesting to me is how this may affect the CBC and potential "contestants" on Dragon's Den.  For this, too we will have to wait and see as the next season of Dragon's Den is currently filming.