We're pleased to announce the 2008 Student Blawger of the Year.
The LawIsCool team selects an individual who has made a unique contribution for the past academic year worthy of recognition.
This year's award goes to Devin Johnston, political blogger and director of the LawIsCool podcast.
A short biography of Devin Johnston is included in the end of this post.
The LawIsCool Podcast
Despite tremendous growth in popularity since their humble beginnings in 2004, podcasts remain on the leading edge of online communication. There are currently over 100,000 podcasts available for download through iTunes; however, most of these shows are the online versions of radio and television programs. For most bloggers, podcasting remains a time- resource- and technology-prohibitive activity.
Devin Johnston broadcast his first podcast, a panel discussion concerning Stephane Dion's Green Shift policy proposal, on 5 July 2008. Within two months, he had joined the LawIsCool team as the director of the LawIsCool Podcast.
Without having access to the same resources as radio stations or other traditional broadcasters, directing the LawIs CoolPodcast takes a wide range of skills. Once the material for a show has been recorded, the director's job involves mixing, editing, selecting music, and compiling the show. A typical 20-minute episode involves several hours of post-production, all of which is done using free and open-source software. Once the episode is ready to be published, the director will write a summary of the show for the website and upload the MP3 files to the web server. The behind-the-scenes labour required to compile a podcast is far more intensive than that of researching and writing a blog post of similar content.
The LawIsCool Podcast has featured a range of topics as diverse as the blog itself over the past year. From a detailed examination of the constitutionality of Canada's polygamy laws to fixed federal election dates to copyright reform, the podcast reflects both legal and political issues of general interest to law students. With its emphasis on topical (and sometimes controversial) issues, the podcast has sparked several lively discussions in the comment threads.
In addition to directing the LawIsCool Podcast, Devin has his own blog where we writes primarily about politics, technology, and Blue Jays baseball. In the past year, his most notable blog contributions include his coverage of the 2008 federal election (and subsequent constitutional crisis), a detailed critique of Stephane Dion's "Green Shift" carbon tax proposal, and his prediction of the death of Facebook's popularity by 2012. In January 2009, Devin's blog was listed as one of the Top 25 Political Blogs in Canada.
Devin is also an active "micro-blogger" on Twitter, Facebook, and several other social networks. Posting links to law- and politics-related websites as well as offering commentary on current events, Devin has posted over 2,500 updates to Twitter since joining the site last year.
Biography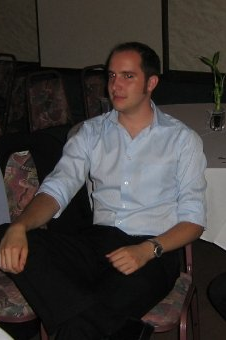 Devin Johnston is a third year law student at Robson Hall in Winnipeg, Manitoba. His law school studies have focused on human rights, poverty, and administrative law. Last year, he won the Yude M. Henteleff Award for Human Rights and Civil Liberties.
Prior to entering law school, Devin studied at York University and the University of Western Ontario. He received an Honours Specialization degree in Philosophy from the latter where his courses emphasized ethics and political philosophy.
During his time as an undergraduate student at Western, Devin became involved in both federal and provincial politics. As President of the UWO NDP, he helped guide one of the most active student political groups in the country. During that time, the group took on an active and vocal role in such issues as tuition fees, the security certificate program, and climate change. Devin also served as Director of Communications for the Ontario New Democratic Youth and worked on the campaign to elect Irene Mathyssen, the first ever woman to represent the federal riding of London-Fanshawe.
A political blogger since 2004, Devin appeared on CBC's "The National" during the 2008 election to discuss the emerging role of blogs and social media in Canadian politics. It is around this time that he began audio and video podcasts on his website as well as for LawIsCool.com. Devin was nominated for a 2008 Canadian Blog Award in the "Best Podcaster/Vlogger" category.
Currently, Devin resides in Winnipeg, Manitoba where he will begin articling in the public sector in summer 2010.