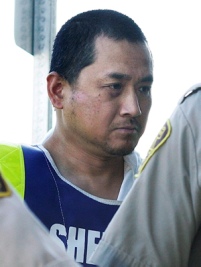 Justice John Scurfield ruled Thursday that a man accused of beheading and cannibalizing a Greyhound bus passenger is not criminally responsible ("NCR") due to mental illness.
Vince Li's trial lasted only two days and heard from two expert witnesses, both psychiatrists, who testified he is mentally ill.
Both the prosecution and the defence argued that Li cannot be held criminally responsible because he was suffering from schizophrenia and believed God wanted him to kill the victim because he was a force of evil.
Li did not know the victim, Tim McLean, before sitting beside him on the bus, nor did he speak with him during several hours before the attack, which Scurfield J. described as "grotesque",  "barbaric", and "strongly suggestive of a mental disorder."
A psychiatrist called by the prosecution Wednesday testified that Li cut up McLean's body because he believed that the victim would come back to life and take revenge.
Having been found NCR, Li will be institutionalized without a criminal record. He will be reassessed every year by a mental health review board to determine if he is fit for release into the community.
McClean's family are vowing to fight the law that allows those found NCR to be released into the community if they are rehabilitated. The family argues that these people should instead serve a minimum sentence in jail.
Howard Barbaree, Phil Klassen, and Padraig Darby, experts in the areas of law and mental health, have written a terrific commentary on this issue published in the Globe and Mail. In it, they argue that "Canada should be proud that it has developed a thoughtful, balanced and fair treatment system for mentally ill individuals who commit criminal acts." The commentary is entitled, "The mentally ill who break the law deserve 'all mercy and humanity'".
In my own opinion, this proposed punishment, dubbed "Tim's Law," would be unconstitutional. It would violate a person's Section 7 right to liberty under the Canadian Charter of Rights and Freedoms.
A finding of 'not criminally responsible', pursuant to Section 16 of the Criminal Code, is just that. A finding that the person is not a criminal.
The proposal by the McClean family is this: once released by a mental health review board, a person becomes capable of meeting the fault requirement for the past act that they commited while suffering from mental illness. The illogic of the proposed punishment is that a person who is now capable of appreciating right from wrong should be punished for what they did when they were not capable.
In common law countries such as Canada, the test of criminal liability is expressed by the Latin phrase, actus non facit reum nisi mens sit rea, which means that "the act does not make a person guilty unless the mind is also guilty". Not explicitly stated in this this phrase is the requirement that the actus reus (act) and mens rea (guilty mind) must overlap in time.
In the case of Li, if he recovers from schizophrenia and is released by a mental health review board, he will merely have the capability of having mens rea for present actions. This capability of having mens rea will obviously not overlap in time with his past actions. Therefore, the punishment proposed by the McClean family, although perhaps understandble on an emotional level, would be cruel and unconstitutional as it would be inflicted on a person who has committed no crime under law.
Criminal Code, R.S.C. 1985, c. C-46, s. 16:
No person is criminally responsible for an act committed or an omission made while suffering from a mental disorder that rendered the person incapable of appreciating the nature and quality of the act or omission or of knowing that it was wrong.
Canadian Charter of Rights and Freedoms, Part I of the Constitution Act, 1982, being Schedule B to the Canada Act 1982 (U.K.), 1982, c. 11, s. 7:
Everyone has the right to life, liberty and security of the person and the right not to be deprived thereof except in accordance with the principles of fundamental justice.