The Globe & Mail recently reported on a recurring event that flies in the face of the popular stereotype of lawyers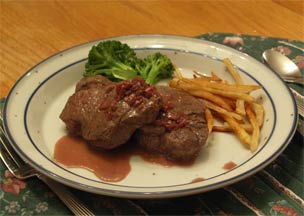 being vile creatures beyond salvation.  The Lawyers Feed the Hungry program has been providing several free meals per week to the hungry for ten years now and there's no end in sight despite a slowing economy.
Since its inception, the event has been funded by donations, operated by lawyers, judges and law students, and located in the cafeteria of the Law Society of Upper Canada.
So this event is nothing new, but the pièce de résistance of this delectable deed has to be the upcoming Christmas dinner, including a savory serving of filet mignon, purchased personally by Martin Teplitsky, the event's founder (no more alliterations, I promise).
As if the deed wasn't kind enough, Teplitsky will also be giving ten dollars of his own money to each of the 600 expected guests.  The Globe & Mail quoted him as saying that people who have nothing would be grateful "just having ten bucks to buy cigarettes or a bottle of wine."
I think that's the fact that gets me the most.  It runs completely contrary to the most famous cop out so many of us use to justify not giving money to the poor:   "They're just going to blow it on cigarettes and booze."
Teplitsky clearly recognizes that people who are down on their luck have just as much of a right to some vices as the rest of us.  And I don't know about everyone else, but if I was dependent on charity for Christmas dinner, I'd probably want a little wine myself.  I'm also willing to bet that the proportion of lawyers plagued by alcoholism is probably close to that of the homeless, so be wary of lawyers asking for loans.
Speaking of wine, this Christmas dinner I'll be raising my glass to all of the good folks involved in the program, working hard to help the hard up.  Here's to another ten years.
If you're interested in making a donation, you can send a cheque or questions/comments to:
The Law Society Foundation
130 Queen Street West
Toronto, ON, M5H 2N6
lsf@lsuc.on.ca