For everyone who has followed and supported Law is Cool over the years, there is a small change in content that you will see over the next few months.
Facilitating access to justice has always been a primary mission for this site. The creation of the paralegal profession in Ontario was intended to promote access to justice as well, and we will be working with paralegal students to help teach them communication skills online so that they can continue this mandate when they are licensed.
You will see content from these paralegal students on this site over the next few months as they explore and learn more about blogging and the Internet.  We hope you enjoy observing their growth and their journey as well.
By: Hilary Bowser
It can be extremely difficult to work in the field of law and make time for our family and friends. Many believe that to be successful in our careers we must make sacrifices in our personal life. Is there truly a way to balance work life and the rest of our life?
In the article "The Tyranny of Performance " by Allison Wolf  http://www.slaw.ca/2009/07/11/the-tyranny-of-performance/ , it is outlined that to help improve the balance between work and our family is all about learning. If we are learning new information through all of our daily interactions we can make our work more enjoyable.
I agree that making our work interesting and fresh involves learning all the time. If we keep doing the same boring task over and over it is easy to see why we become unhappy at work. We focus too much on how many hours were working or on how much were making that we allow it to make us unhappy. Shifting our focus to how we do our work and how we are learning can be a valuable tool to help relive stress.
Nicole Garton-Jones's article "The Myth of Work Life Balance in Law" http://www.slaw.ca/2009/11/10/the-myth-of-work-life-balance-in-law/,outlines how the choices we make influence how we balance our work and personal life.
I think that we need to really think about where we are going to work and how it will influence our home life. Do you want to work at a small firm? a large firm? or for ourselves? how far away from home? These are all important factors in how we balance our lives. If we have a smaller work load and live closer to home, our personal lives would surely be improved. Sometimes we need to make the decision to take a position that pays less or that isn't as prestigious, for the benefit of our family.
Having a good relationship with your employer can make managing your family life much easier. Julie Stauffer's article "Successfully Juggling Work and Family: Tips for Lawyers" http://www.cba.org/cba/practicelink/bwl/balance.aspx, outlines how making important arrangements with your employer can help you maintain balance.
I agree with Stauffer that it is very important to make sure that your parental leave is adequate if you need it and that you can be flexible with your work hours. The idea of being able to work from home is very appealing to me, as I've seen my own family be able to use these "flex" days to work but not have to spend half of the day travelling downtown.
We all have to make sacrifices sometimes but it is important to remember that we often have the option to make choices that will help us balance our work and personal life, and to be happier.
by Stephanie Hannah
If you're like me, you're passionate about having a career that challenges you and a family to share all of life's accomplishments with. But, is there really an opportunity for both? More and more commonly individuals are experiencing difficulty being able to juggle both a demanding career and a growing family. It's no surprise then that individual's in the legal profession are experiencing the struggle. I'm currently a second semester paralegal student, and already I've learned the importance of time management and the value of time.
While the general consensus, is that finding the right balance between the two is difficult, individuals should remain optimistic that it is in fact possible. Nicole Garton- Jones in "The Myth of Work Life Balance in Law" summarizes it perfectly. It all stems down to personal choice. Individuals can choose to preoccupy their time meeting the demands of large law firms, or choose a career position that offers more flexibility.
Allison Wolf suggests that perhaps the choice is less about our performance accomplishments and more about what promotes our own personal growth. In "The Tyranny of Performance", Wolf focuses on the aspect of personal enjoyment and one's occupation, but too this factor can extend to family life. The basic premise is that, we should not lose sight of what attracted us to that choice in the first place, whether it's in relation to one's work or family life. It's important to recognize and highlight the components of our career and family lives that really speak to our purpose and pleasures. It is when we've come to realize what we want out of our experiences that makes making our life choices a little bit simpler.
For myself, I aspire to have a career that is always testing my capabilities so that I can be the best version of myself. But I too know that the best version of myself will also be influenced by things just as, and if not more important than my career. And I will not sacrifice those just for a hefty pocket.
If you too struggle with trying to find a meaningful balance, perhaps these guidelines can too help you determine which choices are in your best interest.
By George McLaren
You must have heard the clichés repeated many times over. "There's no rest for the wicked, (or the righteous, for that matter)," depending on the degree of fondness ascribed to the subject. Or perhaps, "Time is money". Still, another says, "No romance without finance". My personal favourite goes something like this: "Life is hard, and then you die". Looking beyond the ominous forecasts of doom which is common to these clichés, an identifiable theme arises which holds some semblance of truth. The common thread seems to indicate that although financial reward generally comes at the expense of time sacrificed, most will inevitably conclude that it is just not worth it.
Work: An Occupational Hazard
Lawyers are not the only professionals who experience time management conflicts http://www.cba.org/cba/practicelink/bwl/caseschoas.aspx. Every professional with a demanding job will attest that there just aren't enough hours in the day to remain on top of their game while meeting the demands of competing interests. And just in case you think juggling the demands of work and family responsibilities is the ultimate challenge for any professional, try adding other commitments to the mix like religious obligations, school and community involvement for a crazy concoction.
Religious Demands as a Competitor
My colleague belongs to a religious group that requires strict time adherence. The Sabbath, which is the observance of the seventh day of the week as holy time, plays an integral role in his religious belief. The Sabbath commences at the setting of the sun on Friday evening and ends at the same time on Saturday evening. No secular work or activities is allowed during these hours. Although Sabbath strictly means rest, he assures me that he gets less rest on Sabbaths and has fewer opportunities for family time during these hours than any other time during the remaining days of the week because he is actively involved in the church work. He effectively has six days each week to accomplish the secular stuff that most do in seven.
Something has to give
Yet another one of my colleagues is heavily involved in community development while he studies full time with a part time job. His balancing act is pretty good for the most part but he suffers fatigue from the sheer volume of hours he puts in each day http://www.cba.org/cba/practicelink/bwl/balance.aspx. He has become an absentee husband and father to his three year old, while still living at home.
What then?
There is no panacea to the dilemma; no quick fixes; no 'one size fits all'. We must each make the best use of the tools relative to our individual circumstances http://www.slaw.ca/2009/07/11/the-tyranny-of-performance/. If family ranks in priority to your other interests, consult family members on decisions that will affect the family unit and constantly evaluate whether your present course of action is yielding the desired results. Alternatively, decide earlier on whether work will trump all other interests and pursue your ambitions rigorously. No man can serve two masters. The balancing act may just be an illusion
By: Iaroslavna Serenko
Working at a large law firm in Toronto, I sadly observed tens of files on every desk each day. With such enormous amount of work, feelings of accomplishment, happiness, and relief are so short lived. Long hours and working weekends, pressure and stress, tension and frustration – like best friends – are coming hand in hand.
Satisfying demands and expectations of clients and partners, and constant competition with other law firms puts a huge pressure on the employees, and an extra weight on the work side of the work-life scales. Thus, it becomes a question of how to achieve a balance in life and succeed in one's career pursuit without sacrificing personal life.
With so many articles and books dedicated to this problem, it still seems like an unsolvable dilemma, a constant struggle, an impossible balancing act. But is it really?
Allison Wolf in her article "The Tyranny of Performance" defines a performance as a key component in evaluation of work at a law firm and at the same time its main evil. She suggests that the enjoyment of one's work is the pillar for improving the work-life balance. According to Wolf, combining performance with learning and enjoyment can help to recover comfortable work atmosphere.
While some disagree with Wolf's theory, there is a rational thought that the improvement of work-life balance should start from the feeling of happiness at work. This will restore the balance to the work-life scales by removing an extra weight associated with negative side of work.
Every person sees happiness in their own way. Happiness is a state of mind that differ from one individual to another. For some lawyers, work at a large law firm and becoming a partner is seen as a pursued for real happiness. Others on the contrary, view themselves as truly happy persons only beside their loved ones at home.
In his article "Work-life balance up to lawyers, not firms", Stephen Mabey concludes that the decision about work life balance is resting solely on the individual. The law firms simply cannot dictate their associates how to live their lives. It is up to us – lawyers and paralegals – if we want to be sucked into this whirlpool of stress, or not.
Let's face it, we voluntary put ourselves in a position when too much work is no longer possible to bear. In trying to succeed, we lock ourselves in a rat race chasing the better wellbeing. And what does happen to us then? We simply cannot relax and enjoy the achieved wellbeing. We are so much impacted by work, that we don't have time or strength for anything else.
So is it really an objective struggle to manage the work life balance? Or is it more of a choice of a particular individual? "To be, or not to be" – the question that everyone answers differently. What to choose: large or small law firm; be your own boss or have a boss; be at work or with your family and friends; raise our expectations and needs or lower them down? There is no right or wrong answer. Everyone should decide for themselves.
Below is my video – my choice of what is right for me. Thank you for watching.
by Kate Lucoff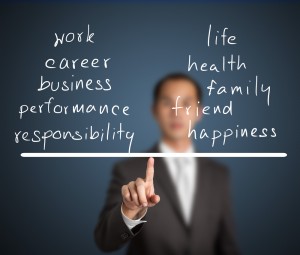 Creating the perfect balance between career and personal life has always been a challenge in any profession, but particularly when it comes to such high demanding professions as a lawyer or a paralegal. In fact one of the top reasons why lawyers are contemplating leaving the profession is to focus more of their time on family and personal lives.
Stress is part of the job
The number of hours lawyers are required to put in weekly are monumental. Firms expect a great deal from their attorneys and that means that pressures are high to meet deadlines and produce quality work. Time spend at the office becomes time spend away from loved ones and personal time. While what is balance differs from one person to another Jatrine Bentsi-Enchill's article "Cases and Chaos: Work-Life Balance Strategies for Busy Lawyers" identifies them as the following:
Feeling there just isn't enough time to effectively accomplish work-related tasks
Struggling to get through the daily work tasks while still having the energy to deal with family responsibilities
Having the time and ability to pursue hobbies and other activities you enjoy
The main struggle for balance is between accomplishment (getting the things we need done) and enjoyment (having time for loved ones and fun, rest and exercise).
Tips to get things done
Personally I do believe there is a challenge to balance a high demanding job with personal life, however it can be done. Achieving personal balance isn't easy but with the right attitude and proper organization it can be achieved and is definitely worthwhile. Here are as few steps for getting things done:
Set your priorities straight and focus on the things you truly care about
Identify the barriers and what is standing in the way of achieving your balance
Mind over matter – make sure you deal with emotions properly (guilt, worry, etc.)
Create time to do what you want twice a week – no excuses or rescheduling
If need be consider hiring a professional coach
See the big picture, daily activities help shape the future you desire
The article by Julie Stauffer "Successful Juggling Work and Family: Tips for Lawyers" provides addition tips for a balanced lifestyle. Her suggestions include proper organization, having alternative plans and using technology as a way of accomplishing tasks faster amongst a few other suggestions.
Organization is Key
In order to be successful one must also be organized. Dawn Dugan outlines some steps in his article "14 Steps to Achieving Work-Life Balance" which are very simple but yet can make a big difference in making sure balance in life is achieved. One of his steps is making sure you take a look at your daily activities as they can have a bigger impact in the long run, such as not getting proper sleep and poor nutrition choices.
Ultimately as the old saying goes "where there is a will, there is a way" and I personally think if one stays focused, organized and sets proper goals and priorities, the proper balance between work and personal life can be achieved.
Staying organized can leave more time for the things you love.
By Carlos Vera
Balancing the professional and personal life could be a difficult goal in the modern life. In some professions this could result almost impossible. One of the most demanding and time consuming professions is the law. In a first place, why law is so demanding?
There is a lot of factors and reasons for that but we can summarize the followings as the possible reasons why lawyers and legal professionals spend so many hours per week working:
Financial pressure, debts!!! After law school, a lot of recent graduates keep a lot of debts on their shoulders, so, they need to work and make a lot of money, what is equal to more hours at the office and more cases to take.
Competitiveness. If you are a recent graduate you want to be the best on your work, or if you have more years in the legal profession you want to show to the new ones that you know more than them and invest more time to be the best.
Client pressure, the clients could be dictators of their time, and law professionals can find clients that can result in a real headache.
Now  we know some of  the reasons, but, what could be possible solutions? Here we have some:
Law firms can have some flexibility about the working hours, so maybe you can slip away for a couple of hours and share with your family an important event and come back later.
Negotiate parental leaving with your boss, you can choose (if you work in a law firm or an office) to work from your home, by digital media, so you can take care of your baby and your home and work at the same time.
Consider what is better for you in any time of your life, maybe at the beginning of your career you are single and you do not care about spending a lot of hours working, but at some point you want the time to build your family, so you can consider work by your own, work in a large or small law firm, or maybe work for the government, which tends to be more flexible with work hours.
 Do not put so much pressure over yourself, if you are trying to be the best mom or dad, the best lawyer at your firm, or take a lot of clients, earn a lot of money, go to the gym and have the perfect body , and be the best friend, the result it is going to be frustration! So, avoid to be the "perfect one" in all the activities of your life.
There is not a magic formula to balance your personal life and your profession, but, in any case, depends of you in try to find what is better for your life and what makes you feel happy and satisfied. We have to say, that nowadays women in law profession feel more pressure to be successful and good mothers, the "superwoman", so women in law profession maybe need to be more relaxed and do not try to the better than men, just do the best you can and do try to be the best and better than your male co-workers.
By: Maneet Salh
Lawyers have one of the toughest jobs when it comes to balancing work and life. It has become very difficult to live the life one wants and the life one needs to live in order to put food on the table.
When we think of work-life balance we mainly think of women and their children, but men are also joining women with this stuggle. Both men and women alike are seeking flexible hours that will allow them to enjoy their lives.
I believe that with the proper techniques that it is possible to attain a worklife balance. According to Jatrine Bensi-Enchill, some of the easiest ways to attain a work-life balance is by taking the following 6 steps:
• Determine your values and priorities
• Identify "blockers"
• Balance your mind
• Creat "non-negotiable" time blocks
• Hire a professional coach
• Create a vision
Sometimes it can be the smallest thing that can make a difference in your work-life balance, for example picking a suitable practice. Consider whether a larger firm will work with your lifestyle, and consider the individuals within the firm- have they experienced some of the same problems as you? What about a smaller practice? Working for yourself? Let employers know about personal commitments that you may have, consider other work arrangements.Julie Stauffer talks about these adaptions in more depth in her article, "Successfully Juggling Work and Family: Tips for Lawyers". She also goes over 6 steps that can help you achieve a work-life balance:
1. Be organized: You need to start being more efficient with your time, do not waste it on little things that can put you behind in work or family time.
2. Have a plan B: Its always best to have a backup plan, especially when it comes to kids. Have a few phone numbers on hand, if you need to stay late at the office and cannot make it back to pick up the kids.
3. Make use of technology: Use all the technology we have to your advantage- laptops, cell phones, e-mails, etc.
4. Foster supportive partner and family memberships: Respect one another's work schedule, be understanding.
5. Carve out time for yourself: Do not forget about yourself! Fuel yourself once in a while, get a way, go for a jog, plan a mini vacation.
6. Keep your expectations realistic: There will never be that perfect balance you seek for, and remember that.
I believe that it is possible to achieve that work-life balance though it will be difficult, it can be done!
Please take a look at my Clio Video.
By: Amber McVittie-Quinn
It is no secret that the legal profession is a demanding one. Although it is glamourized in the media, it is well known that the practice puts a large amount of pressure on both men and women to maintain taxing schedules. This inevitably leads to them feeling overworked and rundown.The articles and blogs discuss an immense difficulty experienced by legal professionals to balance a successful career and a fulfilling home life. One of the main issues that continued to present itself throughout the literature was that the lawyers do not receive much, if any, support from the law firms for which they work. Based on the competitive nature of the practice, if there is a case that you cannot take or something else inhibits your participation, there will always be someone else eager to prove their competence and demonstrate their financial value to the firm.
Some say there is a choice that must be made and it isn't necessarily an easy one. They suggest that the idea of balance may be appealing, but generally remains unattainable without making sacrifices. This means that many legal professionals are faced with the decision of either choosing to work an excess amount of hours and earn a comfortable living, or choose to have more time for the things life has to offer but sacrifice your salary.
It seems almost tragic that this existing struggle to balance the joys of life and the responsibilities of life is still a problem, and not just in the legal profession. Too many individuals sacrifice time to do the things that bring them enjoyment because they have an obligation to ensure that they can support the lifestyle they want. Ironically so many men and women don't even get to enjoy the things they are working so hard to get."The legacy of work-life balance"
As a second semester paralegal student I have only seen a glimpse of what this profession has to offer. I am not naïve to the fact that there is a potential for the job to become all-consuming, but I am optimistic that there is a way to have an accomplished career and a fulfilling personal life. Bentsi-Enchill's article "Cases and Choas: Work-Life Balance Strategies for Busy Lawyers" proposes that finding a balance is a process. It does not occur overnight but it there is potential for an individual to find success in their pursuit for work-life balance. To me, it seems that balance truly is attainable as long as there is some preparation and hard work involved.
It is insinuated that there is a correlation between having a fulfilling work life and a fulfilling personal life. I believe that if you are happy at home, then you are much more likely to be more productive in all aspects of life, work included. For that reason alone I think balance is worth striving for. With that being said, I think that everyone has a different definition of balance, which is why it is important to figure out what works for you, in order to guarantee a good healthy life."The Tyranny of Performance"
By: Vicky Sparks
The idea of work life balance is whispered about with the awe and mystery of the loch ness monster in most professions, but especially law. What is this mythical balance they speak of? For most, it is the idea that you can have it all, a work life that is challenging and fulfilling but leaves enough time in the day for a personal life and all the commitments that come with it.
The balance seems particularly difficult for women to achieve. Despite living in an age where parenting is considered not just women's work, most large law firms tend to operate with old fashioned views on the subject. Women are harshly judged and their careers affected for taking time off to have children and requiring more flexible schedules after doing so.
A study done by Fiona Kay of Queen's University has shown that in her study of 1600 lawyers over a 20 year period, showed that it wasn't just the women of the law looking for change – men want a more balanced life as well.  Yet, while many firms offer parental leave "male lawyers may feel that taking a parental leave is out of the question" as it sends the message that they aren't committed to their careers.  
I think that the idea of work life balance is often branded a women's problem or an entitled Gen Y problem.  Yet I can't help but wonder if in a field where employees are forced to bill a huge number of hours every month/year and as a result have brilliant minds burn out all of the time if a shift towards a more balanced lifestyle couldn't be helpful to even the bottom line of large law firms.
Until such a time, experts have ideas on how to cope with the stress of work and life.
1.  Create appointments with yourself for relaxation – keep them like any other appointment
2.  Find a qualified therapist to talk to about the stresses of your life.
3.  Stop putting pressure on yourself to be perfect – you can't bill 100 hours a week and be super mom!
4.  Foster a support system of friends, parents and paid professionals who can help pick up the slack when you           need it.
By:  Inna Maister
Nowadays it is difficult for women to be an excellent worker and mother at the same time. Especially it relates to women, who work in sphere of law.
It is commonly known that government job is not rigorously from 9 a.m. to 5 p.m. So, sometime it is very difficult to build your schedule including childcare and housework. There are main points women have to pay attention searching for a work – life balance:
Working in a big low firm or as a sole practitioner
Working environment
Full – time job or part – time job
Which type of childcare to choose
Working in a big low firm or as a sole practitioner
Definitely, an important factor on which work – life balance depends is type of work women have. There is a big difference in working in law firm or as a sole practitioner. In law firm it is almost impossible to build schedule in accordance with your plans and needs. There are tons of work and it should be done due determined period of time. So, being a sole practitioner is much more flexible than working in the office. You may shorter you business day of make it off at all.
Working environment
Colleagues in law firm play important role in your possibility to leave the workplace earlier or take a day off in case when they have family and children, accordingly. Often such an understanding between employees is just a human factor and not all women in law are fortunate to have the opportunity to work in such pleasant working environment.
Full – time job or part – time job
Part – time job is excellent option for women who are searching for time to deal with childcare and household chores. But it should be mentioned concerning salary reduction. Also it may be difficult to "pour" in the previous busy workflow after curtailing of clients.
Full – time job limits women in their family obligations and as a result they need to seek for other options.
Which type of childcare to choose
Main option for busy moms is hiring a nanny. Another option is less expensive one – daycare. Daycare is not the best solution for childcare problem, as its business hours do not refer to your working hours and there is no individual approach in caring for your child.
Actually, work – life balance is not only women's issue, but as usual only mothers attend parent-teacher interviews and take parental leaves as well. Almost all men do not want even to consider parental leave question.
In my opinion, children play the most important role in our life. So that, every woman in law must be very organized to be able to perform all necessary tasks and remain successful in legal career. Working day must be no longer than till 5 p.m. and the rest of the day and weekends have to be spent with family. This is the best work – life balance.
By Valery Turyshev
In my  essay I have summarized the points of view of three lawyers who wrote about a work-balance problem. I agree with their position relating to the issue of how to  balance  work and home. The answer is up to the individual.
By  Jordan Furlong "work-life balance" is a lawyer's personal choice and responsibility. If money and "prestige" are that important to you, you'll sign up to work 3,000 hours a year at a law firm, and you can reap the rewards and suffer the personal consequences accordingly.  When we talk about "balance" in lawyers' lives, we're really talking about the tradeoff everyone has to make between compensation and lifestyle. If WLB stood for anything, it was for the fact that we all have the right and the obligation to make that tradeoff on the terms we want.
According to Nicole Garton-Jones, it will be up individual lawyers themselves to decide what balance means to them and then make it happen. She supports the position of the pervious writer.
Additionally their colleague Stephen Mabey a law firm should explain to its associates what the economic fallout will be from choices they make to balance what is meaningful to them and their paycheque. But they should not tell an associate what the proper balance is. This is a decision best left up to the individual.
Nicole Garton-Jones and Furlong state that talented lawyers have a good chance of solving this problem because "firms change their working conditions as the talent market dictates" (Furlong). Nicole Garton-Jones adds "more flexible arrangements will be offered to retain scarce and valuable talent. Instead of the lawyers advocating for it, law firm employers will be leading the charge to attract and retain their most valuable asset: their people".
It is interesting to note that both articles were written by Nicole Garton-Jones and Furlong in 2009. Stephen Mabey wrote his  article in 2013. Work-life balance, says Peter Block in Answer to How is Yes: Acting on What Matters, is "about more balance between engaging in what has meaning to the individual and doing things that are useful and practical, or in a sense, instrumental."
I think this is a great solution to the discussed problem because a lawyer has an option to make a  decision based on  what   has meaning to the individual. This is a practical and useful approach. I think first it is necessary to set  a goal as to what is important for a person in a particular period of his or her life; whether  to make a career or spend more time outside the work. After that an individual can divide his time between work and home and consequently, to balance his targets in life and time devoted to them. So, a person will avoid a conflict with himself and other people who are not satisfied with his or her life style.
By Lisa-Marie Hill
Are you the 1 and 4 Canadian workers that admits to being highly stressed in your day to day life? Do you find it hard to balance your career with your ever growing list of demands that life throws at you? Take a deep breath, because you are not alone.
There is an increasing number of professionals experiencing the dreaded "burnout", along with many other health problems, both physical and mental. And it isn't just women feeling the stress. I know many men that share the household and child responsibilities while juggling long hours at the office.
Jatrine Bentsi-Enchill wrote a fascinating article on the chaos of the work-life balance for legal professionals. She stresses that more and more lawyers are developing stress related illnesses such as insomnia due to a lack of balance between their professional lives and their private lives.
Although many large firms have begun implementing incentives for lawyers with families such as alternative work weeks and easy access to child care, there is still a pressure to keep up with long billable hours. Why hire two lawyers for the same job when one can just work longer to finish it all right? Wrong. There doesn't seem to be enough hours in a day to do it all.
Bentsi-Enchill outlines some tips to help professionals prioritize and balance their work with their personal lives:
1. First, you must determine what is important to you. Think about what your priorities are. There is no point in wasting precious time on something that does not make you happy. It is much easier to find a work-life balance when you set out your goals and priorities.
2. Identify what is standing in your way to achieving your goal. She calls these "balance blockers". Once you identify what is holding you back, you can begin to cut out what isn't important, and spend more time on what is.
3. Set personal time for yourself every week. This is non-negotiable and it is important not to reschedule. This is you time. Go for a hike, drink copious amounts of wine, whatever you need to do to calm your mind.
4. Consider hiring a life coach, or therapist. Everyone needs someone to talk to. Therapy is very effective, just try it.
5. Last but not least, have a vision. Sit down with a pen and write down what is important to you, and what you want to achieve out of your life. Now get to it!
Be patient with yourself. This magical "work-life" balance that you hear of will not appear over night.
If you are in the legal profession or will be soon, consider researching a program that will help you multi task. There are programs out there that can shave lots of time off your work week. Just watch this video and see what you could do with extra "you' time!