Vancouver.  West Coast Environmental Law is inviting law students from across Canada to participate in a unique social media competition.  The "Twitter Moot", to be held on Friday, February 28th, 2014, at 10am PST, will see teams from Law Schools from all across Canada participate in a mock court hearing over the Twitter social media platform, arguing an appeal to the Supreme Twitter Court of Canada.   Students are invited to audition – over Twitter – by December 6th, 2013.
"We want to get people talking about mining, Aboriginal Rights and environmental law," explained Andrew Gage, Staff Lawyer.  "This is taking an important legal debate out of the court room and onto Twitter."
This year's Twitter Moot will focus on an appeal of Ross River Dena Council v. Yukon, a precedent-setting decision of the Yukon Court of Appeal which last December held that the Territory's mining laws did not provide for adequate consultation with the Ross River Dena Council.  Similar (although not identical) laws are in place in many of Canada's provinces, making the case an ideal one for the Twitter Moot to focus on.
The Twitter Moot is scheduled to be held at the same time as North America's largest Public Interest Environmental Law conference, held each year at the University of Oregon, and will be profiled at the Conference.  "This will give the students unparalleled exposure to some of the top environmental lawyers in North America."
The hashtag for the Twitter Moot is #twtmoot.  West Coast Environmental Law made social media history when it held the world's first Twitter Moot in February 2012.  The event was a trending topic in Canada, with an audience in the thousands.  The second Twitter Moot was held in November 2012.
West Coast Environmental Law invites inquiries about sponsorship opportunities.  For information about how to field a team, visithttp://wcel.org/competing-twitter-moot.
- 3
Last month this blog focused on the twitter chat #CBAfuturesChat, which was a student focused consultation run by the Canadian Bar Association's Future's initiative. Now that it's November, the twitter chat has shifted to a more professional, practicing lawyer focused consultation, but law school students are of course still welcome.
Last night saw at least one familiar student still participating, @JMackenzieLaw engaged in a conversation about the use of technology in law with lawyers, professors and business consultants.
Q3 What is driving legal firm's success in innovating around #legaltech? #CBAfuturesChat

— Monica Goyal (@MonicaNGoyal) November 6, 2013
A3 I know cost is a huge factor for young firms/smaller start-ups. passing savings to your customer can aid acquisition also #cbafutureschat

— Jonathan MacKenie (@JMacKenzieLaw) November 6, 2013
If you are a law student, and interested in learning more about how your peers are using social media, consider checking out next week's episode of the Podcast Law School Tech Chat. It is a weekly podcast by faculty of American Lawschools that discusses issues of Tech use in Lawschool, and this coming week they will be discussing students and social media, so check it out!
Last week's #CBafuturesChat was a discussion of the articling in Canada.  The focus of the talk shifted from Law School to recent grads, and with that, the conversation shifted to students at law instead of law students.
@OmarHaRedeye because law students think there is a crisis, and we're all desperately trying to get/keep jobs #cbafutureschat

— E Alderson (@emalders) October 8, 2013
Coming to the front of the Student's at Law last week was Jonathan Mackenzie, who just completed his articles. I sat down with him briefly to talk:
Q: As a lawyer who is just starting his career, what role do you see social media playing?
A: For me, the draw of social media is in the opportunity it gives you to brand yourself and establish yourself as an expert in a certain area. Prior to the emergence of social media, it took a tremendous amount of work and a certain amount of luck for a lawyer to build a solid reputation prior to emergence of social media – print publications were one of the only sources for brand building. I have been to many senior lawyers' offices and seen newspaper and magazine clippings all over the walls. While print publications still hold their prestige today, social media has made advertising and brand building more accessible to newer lawyers that are just starting out. I am fortunate to be in a firm where I can be involved with business development and client acquisition processes and am excited to help my firm use social media, among other tools, to build our brand and ultimately, acquire more clients.
Q: You seemed really active and engaged in the twitter chat, have you participated in one before?
A: This was actually the first twitter chat I have been involved in. I have been interested in using social media to build a personal brand for quite some time but did not feel that I had enough to offer. Now that I am finishing my articling and becoming more involved with the business operations of the firm, I am able to begin my efforts in earnest. I haven't had any formal training with social media but I do enjoy picking the brains of my colleagues who work with social media for a living to find out what tips and tricks they have for me.
Q: We saw more articling students and young lawyers show up, but not as many students who had yet to start their articles, do you have any advice for them on articling?
A: I would say that it is very important to find your "fit." I know that this is a frustrating thing to hear for prospective articling students – I hated being told to find my "fit" when I was looking for articling. Having gone through the process, I can appreciate now that this was truly a very important piece of advice. I am not necessarily speaking about the type of work you will be doing, because I think it is almost impossible to know straight out of law school what type of law you want to practice. I am speaking about the culture of the firm and whether you can see yourself being happy there. Look for a place where you think you will be accepted and where you will be able to learn both about the law and about yourself.
Q: I noticed a couple of practicing lawyers from the chat spoke with you during the chat, and are now following you on twitter. Was growing your follower count one of your plans for the chat?
A: I got a chance to have some great interactions with some of the participants in the #cbafutureschat. This is one of the things I like about twitter – the ability to interact with large groups and use these interactions to connect with people you are interested in connecting with. Increasing my followers per se was not one of my goals for the chat, but connecting with interesting people in the legal field was certainly a goal of mine and I'm happy to say that this was accomplished.
Here at Law is Cool we are keeping an informal tally of which schools are participating the most in #CBAFuturesChat. Schools get 1 point if atleast 1 student participates in the chat. Schools get an additional point if they have the most students participate (In week 1 that was uOttawa) and an additional point if one of their students is featured in the weekly 'social media highlight' here at LawIsCool (Last week's winner was Thompson River's James Wagner).
| | |
| --- | --- |
| Law School | Week 1 |
| University of Ottawa | 2 |
| Thompson Rivers University | 2 |
| Queen's University | 1 |
| Lakehead University | 1 |
| University of Victoria | 1 |
There are some pretty big name schools missing from this list, what does that tell you?
James Wegner, a law student and editor in chief of the  at British Columbia's Thompson River's University has made this week's Law is Cool social media highlight reel.  James made the highlight reel after his performance last week at the #CBAfutureChat.  James came to the half hour session and shared his thoughts on the state of legal education in Canada with students and the broader legal community last Tuesday.  His clear answers and thought provoking followups saw him quoted in the CBA Legal Future's Initiative's  weekly summary of the twitter chat.
I followed up with James to ask him a few questions about social media and the study of law.
Q. Do you have a strategy when it comes to social media? Do you have any goals you are trying to achieve?
A. As a law student, one of the main things on my mind is making sure my profile looks professional.  I tested this a couple of days ago by googling myself, and I was pretty happy with what came up.  Using social media or blogging is just another way for potential employers and the broader legal community to get to know you.
Q. You mentioned blogging, I just read a post you wrote on 'The Sports Law Canary', what sparked your interest in blogging?
A. It was an opportunity a professor presented to my sports law class.  I thought it was a great opportunity to get my name out there and write about something interesting.
Q. Is it common for students at #TRUlaw to use social media like that?
A. I think it's something a few students do, there are a few students on twitter who are using it rather smart.  They tweet about human rights, for example, and other issues they care about.  There are a lot of people on linkedin too, which is relatively new, but also great for interacting with the legal community.  Everyone of my classmates use social media, some use it for branding and networking, while some only use it for personal connections.
Congratulations to James for being the first to make the LawIsCool social media highlight reel.  If you are a law student who is looking for a chance to be featured here, make sure to participate in the weekly twitter chats hosted by the CBA Futures Initiative.  #CBAFuturesChat, every Tuesday in October.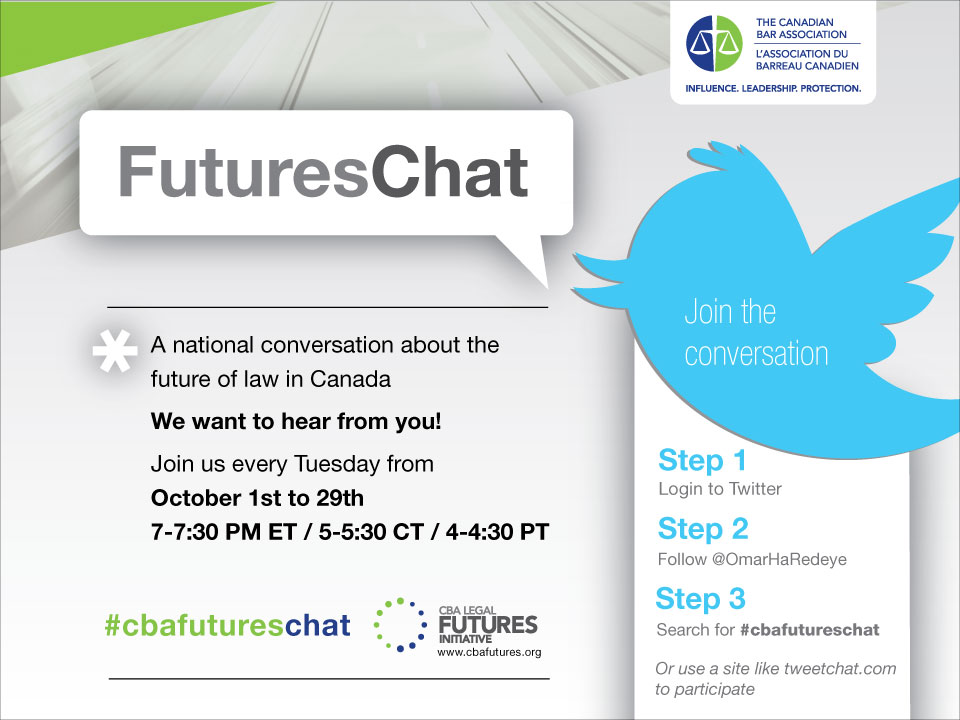 Every Tuesday in October is #CBAfuturesChat, hosted by Law is Cool alumni Omar Ha-Redeye of Fleet Street Law.
The CBA Futures Initative is a project that is reaching out to lawyers across Canada to talk about the future of the legal industry.  The twitter chat is one of the ways they are reaching out to engage with students to get input on topics that are relevent to their lives like:
the primary objective(s) of legal education
the advantages and limitations of the articling system in providing an appropriate level of professional training to prospective lawyers? Are there other options?
the necessary changes with respect to legal education in Canada
how legal services can be changed to improve access to justice
how to achieve more equitable representation of historically under-represented groups
We're super excited that the CBA is reaching out and trying to engage with students, and we encourage everyone to chime in on Tuesdays at 7pm.
Law is Cool is offering a chance for students to publish their thoughts and experiences around the law on a nationally recognized blog.
Law is Cool is a student centred website focused around Canadian Law.  It's a platform for student's to discuss their experiences with the law school and law in general.  Law is Cool is over 7 years old, and many of it's founders have moved on to diverse careers in the Canadian Legal industries.
Blawging (blogging about the law) has changed a lot in the past 7 years, what was once a niche activity is now something that most firms embrace.  Good blawging requires many abilities that young law students want to showcase:
The ability to research topics quickly so you can are prepared to join a fast moving conversation before it moves on.
The solid judgement to be comfortable putting something up online under your name that will be there in 5 years.
The ability to express yourself succinctly and convince your audience to pay attention to what you have to say.
If you are interested in taking your publishing to the next level, try reaching out to us with a writing sample or link to an existing blog at admin@lawiscool.com

The Ontario Bar Association is hosting a 1 day convention to learn about the technical and ethical issues involved in using technology in the practice of Law.  Students members get in at practically half price, and being tech savy is a great way to set yourself apart from your cohort, and get a leg up when you exit law school,  so check it out!
Program Details

Date:
Monday, September 30, 2013
Agenda
8:15 am Registration and Coffee
9:00 am – 12:00 pm Program
Location:
Twenty Toronto Street Conferences and Events (OBA Conference Centre)
20 Toronto Street, 2nd Floor | Toronto, ON | M5C 2B8
Washington University in St. Louis offers a chance to earn a Master of Law online, but sometimes online education lacks the seriousness and gravity of studying law in a fancy stone building with wooden floors and books on the walls.
Well, now you can at least feel fancy while you study in your underpants.  WashingtonU has posted a playlist of classical music it suggests can help increase students' concentration and retention.
In all likelihood, a student who is ready to to work towards their Masters probably has a fairly decent study routine down, but the thought is nice, and the use of spotify shows that at least this law school know's how the internet works.
INDEPENDENT OFFICE OF PROFESSIONAL RESPONSIBILITY: GREATER POWER ; ACCESS TO RESOURCES MUST BE BALANCED WITH GREATER RESPONSIBILITY AND INSPECTION OF PUBLIC LAWYERS SUCH AS PROSECUTORS 
Introduction
What is the proper scope of state power and its agent the public lawyer in Criminal law?  Moreover, are there enough incentives for public lawyers such as prosecutors to remain vigilant in upholding their higher duty?  This paper will consider the emergence of contemporary debates about criminalisation in the context of a concern with concepts such as over-criminalisation.  It will look at the possibility of creating narrowly defined prosecutorial discretion and policy making with oversight from an independent administrative body.
It is possible to imagine a system that can monitor the discretionary powers of the public lawyer in his/her role to decide whether to proceed with a criminal charge for example through considerate policy making.  When it comes to prosecutors, it is often argued that the aim of the criminal law is to protect particular rights, interests or goods – notably property, the person, and sexual autonomy.  It is important to comb through the range of interests or goods that are protected by the modern criminal law through public lawyers and find ways to ensure that they act ethical at all times.
In his critical investigation into the administration of law in Canada Adam Dodeck differentiates public lawyers from those practicing in private sectors.  Public lawyers are government lawyers.  Their only client is the government.  Any lawyer that exercises public power has a higher duty to act with transparency, accountability, and with regards to Rules of Professional Conduct.  Dodeck reports that in the past few decades the number of government lawyers and their proportion in the Canadian legal profession has continued to rise.[1]
The reason it is important to ensure a more efficient discretionary and prosecutorial policy making system in Canada is that statistics indicate many individuals are wrongly convicted or found not guilty every year.  The question is how did those "not guilty" individuals were forced to go to trial in the first place?  In their book Manufacturing Guilt, Barry and Dawn Anderson quote criminological evidence that on the back of best estimates one percent of all convictions are in fact wrongful.[2]  Andersons write that these include cases that do not distinguish between personal and property offences or between violent and non-violent crimes.[3]  By applying this estimate to Canada, in 2010, 87,214 cases resulted in a sentence of incarceration.[4]  Using the assumption that one per cent of those imprisoned were innocent, the data suggest that there were 872 individuals wrongfully convicted in that year.[5]
Archibal Kaiser presented a paper in analyzes some of the reasons behind wrongful convictions.  He points out to contributory factors such as false accusations, misleading police investigative work, inept defence counsel, misperceptions by Crown prosecutors of their role, factual assumption of an accused's guilt by actors in the criminal justice system, community pressure for a conviction, inadequate identification evidence, perjury, false confessions, inadequate or misinterpreted forensic evidence, judicial bias, poor presentation of an appellate case, and difficulty in having fresh evidence admitted at the appellate stage.[6]  This paper focuses on ways to reduce misperceptions by Crown prosecutors of their role and increasing their vigilance while administratively punishing their mistakes.
Criminal Law is Public Law
First, it is important to focus on the role of public lawyers in particular, prosecutors.  This branch of public lawyers have the opportunity for an extensive career in the criminal law and are afforded a great level of discretion in our liberal criminal justice system.  The publicness of the criminal law is one of the important differences between criminal law from all other areas of law.  According to Markus D Dubber in his article "Criminal Law between Public and Private Law," the formal publicness of criminal law is reflected in the title of criminal cases.[7]  To Dubber, this is proof of the procedural and institutional framework for criminal law's resolution: based on a state official's investigation (the police officer), the case is brought by a public lawyer (the prosecutor) before yet another (the judge) who— generally except in a few cases that include a jury— decides the case.[8]  It is important to consider whether the normal ethical duties of lawyers are sufficient given the obvious publicness of the role of prosecutors and the current lack of an independent watchdog office that could comment on their policies and individual decision-making.
The overwhelming result of all trials ends in a verdict of guilt for the accused and at that point another state official (bailiff, prison warden, parole officer, etc.) is obligated to apply the decision.[9]  However, Dubber clarifies that the reference to the State in the style of cause is not thought to be a requirement for the publicness of a dispute.[10]  He cites German cases that refer simply to the 'Criminal Case against X'; a reference to 'the People' emerges only in the judgment deciding the case ('In the name of the people').[11]  Quoting Andrew Ashworth regarding the publicness of criminal law Dubber also concludes that it is "the existence of a machinery of enforcement (police, prosecutors, courts, prisons, etc.) which marks out the difference between criminal and civil liability."[12] There is no doubt that in Canada public lawyers are the individuals entrusted with a public prosecutorial role funded by the taxpayers of this country and this adds strength to the argument for an independent office of professional responsibility for public lawyers such as prosecutors.
Problems with Prosecutors who misunderstand their Role
The role of prosecutors is sensitive.  First, it is important to point out that offenses that are more serious worsen the consequences of a wrongful conviction for the defendants.[13]  The presumption of innocence affirms that the State, with its great power and ability to denunciate and punish individuals depriving them of their liberty should access these powers once it has sufficient evidence to charge.[14]  An example of the dangers of the prosecutor's role can be found in cases where it is argued that the defendant should bear the burden of proving matters that lay "peculiarly within his own knowledge."  Although Wigmore has denounced this idea as impractical,[15] it reappears from time to time for the sensible motive that it helps lower the amount of work that prosecutors are obliged to complete.[16]  When charged, an innocent individual may be forced to prove his/her innocence of some of the elements of a crime.  This seems to fly in the face the idea of presumption of innocent under section 11(d) of the Canadian Charter of Rights and Freedoms.[17] Although the idea of guilt beyond a reasonable doubt at trial seems to help an accused, this is not the same standard that a prosecutor has to use in deciding whether to charge someone – the standard is lower: "reasonable prospects for conviction."[18] Taken together with the general lack of human infallibility, these facts should lower public confidence in the Canadian prosecutorial system because it may lead to an arbitrary and unchecked level of power for the individual prosecutor.
Second, from a prosecutorial discretionary policy perspective, sometimes various allegations such as the over breadth of a section of the Criminal Code are dismissed as relatively unimportant in the real world.[19]  One of the main arguments that is used for dismissing these allegations in Canada is the claim that it is hoped that prosecutorial discretion will prevent enforcement of Statutes and Legislation in circumstances in which liability would be unwarranted.[20] For example, in the case of polygamy, the Attorney General (AG) of British Columbia, indicated that "simple polygamy" – described, as "polygamy without some direct harm to the participants or others, such as children" would not be prosecuted.[21]  The AG said that, "experience and logic both suggest that a polygamy investigation could never even result in charges without some serious aggravating factors."[22]  This calls attention to how allegations of over-breadth raise issues of first, fair notice and second, respect for legality – two of the most serious problems caused by the phenomenon of over-criminalisation.[23] Prosecutorial discretion may be a source of help in minimizing the injustice otherwise caused by over-inclusive statutes.[24]  Clearly then, there is a reliance on prosecutorial discretion, however the prosecutors are given no ethical public lawyering guidelines.   Their policies and individual decision making is not independently scrutinized.  Commentators suggest that reliance on the good judgment of prosecutors is no substitute for getting our laws right in the first place and arguably ensuring that prosecutors fully understand their role.[25]
If one of the primary policy aims of prosecutorial discretionary powers are truly the reduction of over-criminalisation then an independent body should be able to monitor the aforementioned shortcoming of legislation and the Justice system's reliance on discretion.  It is necessary to reinforce the point that prosecutorial discretion, attached to a higher duty and responsibility of public lawyering is only providing a second – best solution to the imprecise drafting of Criminal law.  Public lawyers such as prosecutors however can only achieve even this second – best role when they remain vigilant and are not afforded arbitrary powers in upholding their truth seeking higher duties.  This solution offers a way in reducing the level of Crowns who misunderstand their role and exercise their discretion.  An independent monitoring of the conduct of public lawyers beyond Tort reliefs such as Malicious Prosecution that may be intimidating to citizens ignoring the fact that they are expensive and lengthy is of utmost importance.  The results of various investigations can then go towards the evidence that would allow for quick settlements in situations where wrong doings have been proven and documented.
Dangers of not having a Higher Duty
Certain evils are associated with a system that does not keep its public lawyers in check.  Commentators uniformly complain about the politicization of United States' Criminal Justice system.[26]  The democratic character of criminal justice in that country is the cause of many of its best and worst characters.[27] For example, no other country has a legislature system that micromanages decisions about sentencing and parole, and few other democracies elect their prosecutors and judges than in the US.[28]  The input of academics is rarely applied by the American Criminal Justice system.[29] Husak discusses the problems with a politicized criminal justice system in his article "Too much Punishment.  Too many Crimes."  The most important thing to Husak is that neither the Republican nor the Democratic Party in the US has been willing to allow the other to earn the reputation of being tougher on crime.[30]  The same political dilemma may occur where a political interpretation of the Criminal law by a Canadian prosecutor may create arbitrary situations with certain individuals who are charged and hauled in front of courts for certain crimes while others are not prosecuted for the very same acts.  An independent office will help take politics out of the job of the public lawyer and the prosecutor by narrowly defining the higher duties and by ensuring that policy manuals are respectful of public interest concerns.
Another important evil that can arise out of a system that is not independently monitored is the problem of what may fairly be characterized as scare tactics applied by public lawyers on their day-to-day activities at work.  It is no secret that prosecutors over-charge persons of interest in order to increase the possibility that he/she will bargain down to admission of guilt for one of the charges or a lower form of the same crime.  Why are overlapping offenses objectionable? As long as overlapping offenses contain distinct elements, no rule or doctrine of the criminal law requires that different counts be merged in order to prevent the state from bringing several charges at the same time – even though the defendant may seem to have committed one crime.[31]  As a result, prosecutors have been delegated an enormous level of power to charge defendants with multiple offenses and without vigilance and awareness of the higher duty that can be produced by an independent watchdog, it will be difficult to hold prosecutorial powers in check.[32]
Husak writes that the main effect of these overlapping statutes is to allow charge stacking that endangers the defendants with onerous punishments.[33]  Offenders prosecuted for several crimes that cover much the same conduct face more lengthy sentences than could have been imposed had they been charged with only one and this tactic seems to be able to force defendants to plea to something lower in face of heavy handed punishment for the one crime that they committed.[34]  Clearly, such tactics do not seem to be the purest path towards seeking the truth and the higher duty that every public lawyer is sworn to uphold.  Furthermore, defendants have greater incentives to bargain and plead guilty to a single offense in exchange for having the other charges against them dropped.[35] The elimination of overlapping and potentially conflicting criminal laws should be an important change in the way Canadians criminalize human behavior.  The independent watchdog would monitor what tactics could be applied, guarding the truth seeking mechanism and ensuring more courteous prosecutorial discretion and policymaking.
Towards a Code describing the Public Lawyer's Duties and Canadian Offices of Professional Responsibility
Adam Dodeck writes that on both a descriptive and a normative basis relating to an ideal standard or model, the work of government lawyers has changed the image of the profession.[36]  In other words, public lawyers are not meant to be working as keen advocates or impartial partisans, instead they are guardians of the rule of law in whom we have entrusted substantial funding and power for constructing, interpreting, and conserving our laws."[37]  It is therefore important to think about lawyering in a fluid manner: in such an atmosphere public lawyers have no choice but to use their personal judgement in interpreting the evidence and law that comes before them in every case
As aforementioned, the private lawyer's fiduciary duty towards a client is different than the public lawyer's duty towards the public.  There is a need for practical steps that hold public lawyers accountable to those higher responsibilities.  The higher duty is owed in response to a set of standards considering the great amount of power and resources at a public lawyer's disposal.  The idea that with great power comes great responsibility is intellectually consistent with the need for more checks and balances and scrutiny.
Two paths that can achieve this goal are either the creation of an independent watchdog as suggested by Adam Dodeck or by creating more checks and balances in the work of public lawyers is a mechanism similar to the Principle of compulsory prosecution in Germany theoretically guiding the work of public prosecutors.[38]  With a German style prosecutorial system, less independent monitoring of the activities is necessary because of the much lower level of discretion in who gets charged and what satisfies the various tests.  However, the alternative of an independent office for ethical and responsible lawyering for public lawyers seems to be an easier approach for reducing the misunderstanding of Crown of their role.
At this stage it is important to study some of the differences between public lawyers and other kinds of lawyers that creates the basis for an office to increase the incentives for ethical lawyering.  The statistics are self-evident: the rise over the past fifty years of the government lawyer as a diverse sub-group of lawyers is further justification for the need for such a procedural Act.  In 2009-10 an estimated 15-25% of Canadian lawyers worked in the public sector, depending on the jurisdiction (taken from specific law societies).[39]
It must be asserted here that the role of prosecutor excludes any notion of winning or losing: the prosecutor's function is a matter of public duty which in a person's civil life there may be none charged with a greater personal responsibility.[40]   This duty is to be efficiently performed with an ingrained sense of the dignity, the seriousness and the justness of judicial proceedings is at stake.[41]  In fact, the source of this heightened ethical duty is found in Public law: in the constitutional responsibilities of the AG.  Dodeck writes that as delegates of the AG, lawyers such as prosecutors have a positive duty that extends far beyond minimal general duty of the rest of the legal community. [42]  Government lawyers must guarantee that all action of government complies with all laws: civil, criminal, and administrative.[43]  The question that needs to be asked is whether this is too big of a task to be put in the hands of an individual and his/her affiliates without an independent group of citizens with a diverse background who could comment on the individuals actions and the policies that have allowed for those actions?
Some of the reported irregularities and incompetence at the investigatory, pre-trial, trial, and appellate stages of the Criminal Justice system can be tackled through a procedural mechanism legislated by the Parliament of Canada.  Even one wrongful conviction is a problem – the stakes are simply too high given that the over-whelming majority of people who are charged will be found guilty.  This is why Parliament must become more involved in legislating the level of discretion of a prosecutor or have an independent office monitor those actions.
Public lawyers such as prosecutors also owe a higher duty because of their great amount of access to public resources.  They are not only asked to ensure that the state and its officials comply with the law, but they are also involved in creating law in a way that private sector lawyers are not.
The mandate, mission, and values of the Department of Justice provide that its lawyers should "provide high-quality legal services while upholding the highest standards of integrity and fairness."[44]  Thus, the official policy of the Department of Justice would seem to support the idea of a higher duty for all government lawyers codified in an Act of the Parliament or monitored by an independent Office of Professional Responsibility.
Furthermore, in The Public Service Lawyers, Tait suggests that Government lawyers have a higher duty to the law and to the Constitution: they are the protectors of the rule of law as it applies to government in a parliamentary democracy such as Canada.[45]  In practical terms, this means that government lawyers must provide independent and impartial advice.  This is different than the role of a private lawyer perhaps best defined by Lord Henry Broughum: "an advocate in the discharge of his duty knows one person in the entire world, and that person is his client."
Another important distinction is that public lawyers' client is not in the business of making money.  The government is supposed to be enhancing the "public interest" no matter how ambiguous that term may be.[46]  An Act or code that discuses exactly when the prosecutor should feel the he/she has the requisite discretion, evidence, and legal basis to prosecute individuals would implicitly ensure that public interest scenarios analyzed by the legislative body. The mere existence of wrongful convictions and not guilty verdicts is enough reason to suggest that relying on a prosecutor's experience and understanding of the law and the criminal justice system's aims and principals without a codified higher duty risks over-criminalisation and inefficiencies as well as forcing citizens to stir up an intimidating, lengthy, and expensive litigation process for Malicious Prosecution.  Such cases need to be reduced or at least provided with an evidentiary background that could be provided by the independent Office of Professional Responsibility.
Let us not forget that while self-regulation of the legal profession is very strong in Canada, especially in comparison to other countries, self-regulation is not coterminous with the independence of the bar.[47]  The public does have a right to request that the government lawyers be scrutinized for the exercise of power that is given to them from the resources that comes directly from the public.
Here also is an opportunity for the Parliament to close a loophole in the criminal justice system for potential over-zealous prosecutors who overcharge persons of interest with overlapping multiple accusations arising out of a single behaviour of the accused.  The prosecutor may lose sight of the proper scope of his/her discretion for a variety of reasons such as the reduction of workload given that trials may be more complicated or in order to get the accused to admit guilt to one offense instead of several false accusations realizing the expensive and lengthy prosecutorial process that is funded by tax payers only on the side of the Crown with the reality of the cuts to funding for Legal Aid for the defendants.
Tort Law is not enough to deal with Prosecutorial Misunderstanding of their Role
As briefly mentioned earlier, another source of accountability for government lawyers is in punitive damages, duty of care, and more broadly Tort law.  In addition to its primary function of compensation, Tort law can also serve an educative function, reminding professionals and the public of their duties.[48]  Tort law may also function as an ombudsman as Allen Leinden has written, "[Tort law] can be used to apply pressure upon those who wield political, economic, or intellectual power."[49]  The problem is that it is not clear who has the ability to hold government lawyers responsible in Tort when injustice is served?  Would it not be those who can afford to bring an action in Tort?  The cases for successful malicious prosecution are rarely seen and given the high rate of wrongful convictions and not guilty verdicts, this statistic should be surprising.  The plaintiff must demonstrate on a balance of probabilities that the defendant Crown prosecutor commenced or continued the impugned prosecution with a purpose inconsistent with his or her role as a minister of justice.[50]
Perhaps the Canadian government at all levels should institute a proactive disclosure of legal advice by prosecutors.  The public has a right to know how government officials are spending their money.  Similar arguments regarding chilling effect of the expenditure of public funds are necessary.[51]  Existing accountability mechanisms within government is likely to ensure a higher level of competence and ethical conduct by most government lawyers however an organization that can assure accountability of government lawyers is a necessary next step in the legal profession.
Canadian Offices of Professional Responsibility (OPR)
In the words of Dodeck, Canadian Offices of Professional Responsibility (OPR) would receive and investigate complaints about the conduct of government lawyers.[52]  They could take a variety of actions: dismiss the grievance as groundless, discuss the issue with the affected government lawyer, defer the matter to the government lawyers' managers for action, if found to have violated a government rule so regulation, mention the matter for correction within Government if they conclude that there cause to believe that the government lawyer has violated a provision of Law Societies' rules or Code of Conduct, refer the matter to the suitable Law Society.[53]
Prosecutors working as part of the branches under the AG have special higher duties in comparison to lawyers from other sectors of the legal profession.  The usual practices of separating government lawyers' public law duties from their ethical responsibilities do not make sense.[54]  Unlike other lawyers, government lawyers take part in the making and the interpretation of the law.  This unique responsibility requires a higher ethical duty of Government lawyers.
Ever want to take on an opponent in court from the comfort of your living room?  This legal themed chess set might provide an outlet.
"Approach the Bench" was designed by a lawyer's son as a gift to his dad.  After realizing there aren't many legal-themed chess sets out there, the man behind the idea decided to make his own.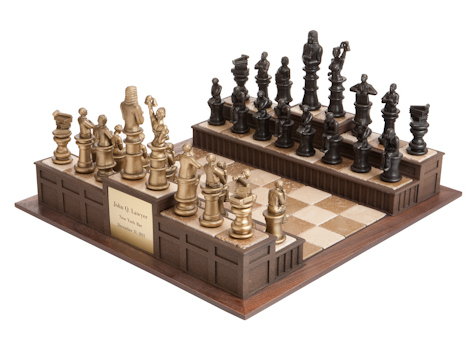 From the website:
The chessboard is uniquely "stepped" to resemble a jury-box and a bench…  handcrafted from cold cast bronze and Italian stone tile.
You can also see Lady Justice as the Queen, a bailiffs as knights, attorneys as bishops, and casebook piles as rooks.
My favourite: the small army of sleepy jury members as pawns.
Maybe if real-life chess games were brought back into style, the image of an advocate as a civil, patient, strategist would come back into focus.  What do you think?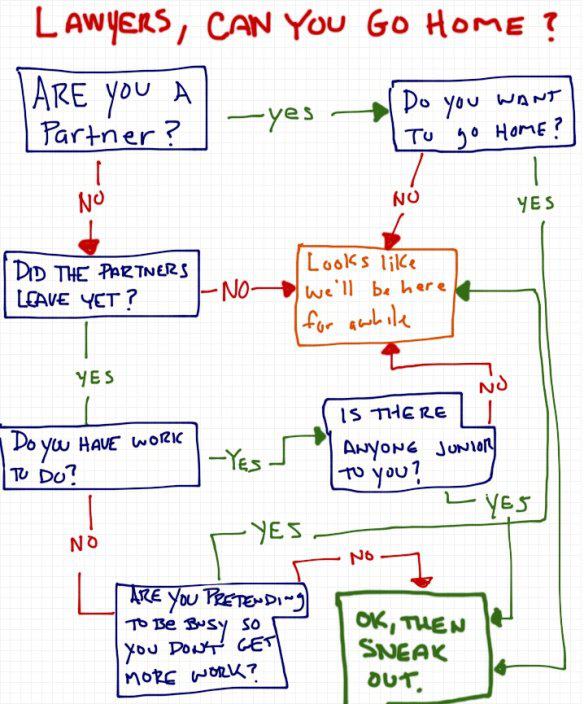 via Rob Pollak